Hello and welcome to my website.
I am sure you realize that when it comes to business online, we know that advertising is very important.
Obviously, to get clients, we need to promote the service and products, whether on social media, Youtube, or using Google ads and Bing Ads.
But it might be very expensive to hire an agency or professional with many years of experience in graphic design.
When it comes to small businesses or small websites, there is actually no need to hire a digital agency.
Quite often such a person needs only one time gig or does advertising only occasionally.
I am sure you are aware of design tools like Photoshop or Corel.
But do you know how to use it? Maybe you have learned it in school but who remembers that?
If you do then good for you.
My point is that these tools are often too complex and also quite expensive.
How about a free image editor, that also has pre-designed templates?
With such, you don't have to scratch your head since you see these templates in front of you and you can easily remodel whatever is already pre-designed.
On top of it, you don't have to download anything.
There is actually one tool that can create:
Flyers,
Charts and diagrams,
Banners,
Images for advertising
and it is available online.
We are talking about DesignCap.
What Is DesignCap?
DesignCap is a great alternative when it comes to advance or intermediate advertising.
It is free and anyone can use it without previous experience.
You can easily sign up, either with your FaceBook account or email.
With many pre-designed templates and available fonts, you can get your flyer done and read in a few minutes.
Within templates, it is possible to customize the following:
Images,
Texts,
Colors,
Shapes.
Any Disadvantages?
Yes, there is one, especially for those using browsers other than Google Chrome.
But I believe it is not a big deal. If you want to use DesignCap, go ahead and start using Google Chrome.
If you for some reason don't feel like using Chrome, please let me know in the comment section at the bottom of this article.
I would like to know your opinion as well.
Back to the DesignCap.
How To Use DesignCap?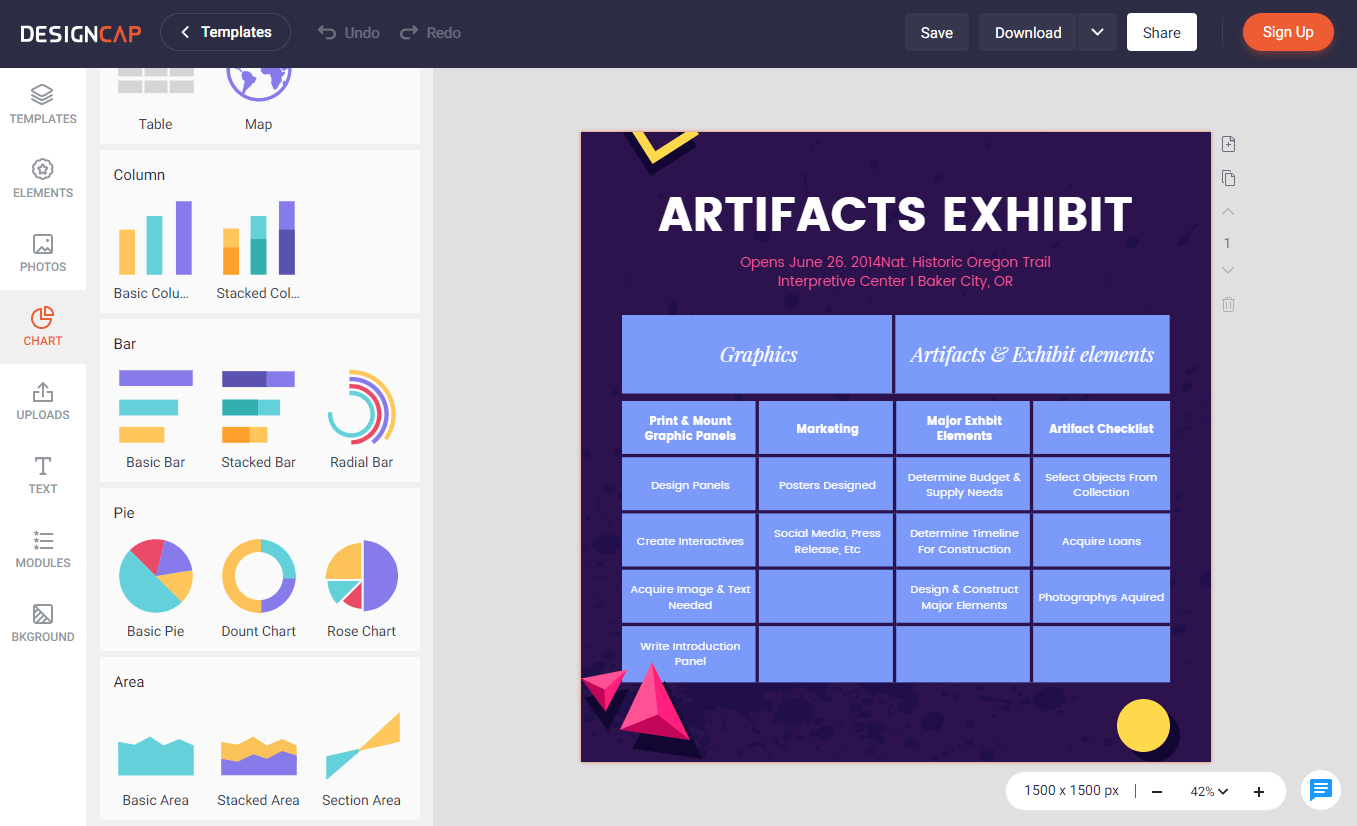 By now you probably know that this tool is easy to use.
Just go to the DesignCap website to sign up.
Right after that, you can start creating new graphics.
It is recommended to use the following steps:
Choose a template
You see there is a lot of stuff to choose from, for example:
social media graphics
presentations
flyers
and more
Choose the template that suits your needs the best and then add the elements.
Add elements
Now you can add the text or images.
Feel free to use the photos/images from the DesignCap gallery or you can also upload your own images from your desktop.
Additionally, you can use shapes that are available in the database, as well as your own text.
Then the font, size, color is up to you.
In case you don't like the template, you can always adjust it, change it or edit it.
Make The Design Pleasant
As mentioned, this tool offers editing features that are comparable with professional systems.
It is easy to rotate the element or move it to a different place.
Features like shadows, and changing brightness are today's Must-Effects, right?
What I find useful is the fact that these elements are like layers, you can change the position backward or forward.
So spend some time, and pretty soon your results will be just great.
This is pretty straightforward so after you are done and happy with the work, don't forget to click on the Save button.
Now it is possible to share it on social networks or you can manually download the graphic into your computer.
It also contains a link that can be used on your website.
Hopefully, you find the tool useful and you can certainly share it with your colleagues or folks that are interested in the same niche as you are.
Conclusion
DesignCap offers plenty of templates, that can be customized. So even if you work for a client and he or she is not satisfied it doesn't take too much to modify the graphic.
This tool comes with a cloud-based service, so it is easy to store the work and of course, you can easily share it as well.
One last thing, the link that directs to the images or graphics can be set for private use or public view; The public can be set also to "public-editing only".
It can be used on different devices so when you have a meeting with clients or colleagues online the design can be changed simultaneously.