Imagine you're starting your own affiliate website and you want it to show up high on search engines like Google. But here's the thing – you're not sure which course or platform will actually help you do that.
Well, I totally understand because I was in your shoes back in 2017. I've gone through a bunch of digital courses, some good and some not-so-good. Now, let me give you the lowdown on the Affiliate Lab.
Jump to:
Let's get started.
Disclaimer
Please note, that I am not a member or an affiliate of Affiliate Lab. This review is based on research and information available online in the public domain.
Any recommendations and conclusions are only opinions and may not apply to all persons or situations.
Affiliate Lab Review – Summary
Affiliate Lab is a digital platform that teaches about making money through affiliate marketing, growing businesses, and making money from websites.
The training is divided into different parts, each with modules that fit together well. Most of the course is videos, but students can also get downloadable papers to learn more.
A problem is that you might need to pay more for SEO tools. Other platforms include these tools without extra cost.
Affiliate Lab costs $1,000, which might seem like a lot. But it's not bad compared to other courses that cost more and give less value.
There's another option that might be better (I'll explain soon), but still, Affiliate Lab is really good for both beginners and advanced learners.
So, Affiliate Lab is a strong way to learn about affiliate marketing, growing businesses, and website stuff.
It teaches with videos and extras, even though SEO tools might cost more. It costs $1,000, which is okay when you look at other courses.
There's a better option, but Affiliate Lab is awesome for beginners and pros.
What Is the Affiliate Lab?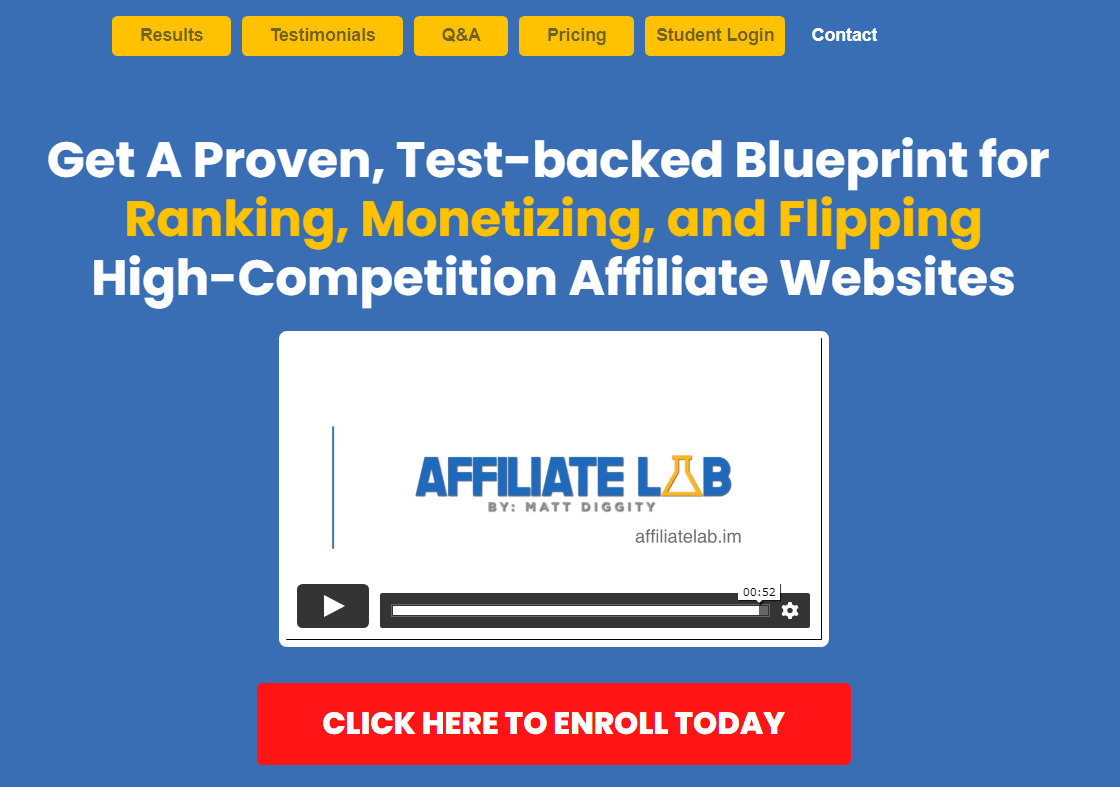 Affiliate Lab is a real course that teaches people how to make steady money online using affiliate marketing.
It's been around for a good amount of time, and the creator has worked on improving it over the years.
Inside, you'll find both beginner and more advanced stuff that you need to become an affiliate marketer.
Who Is Behind Affiliate Lab?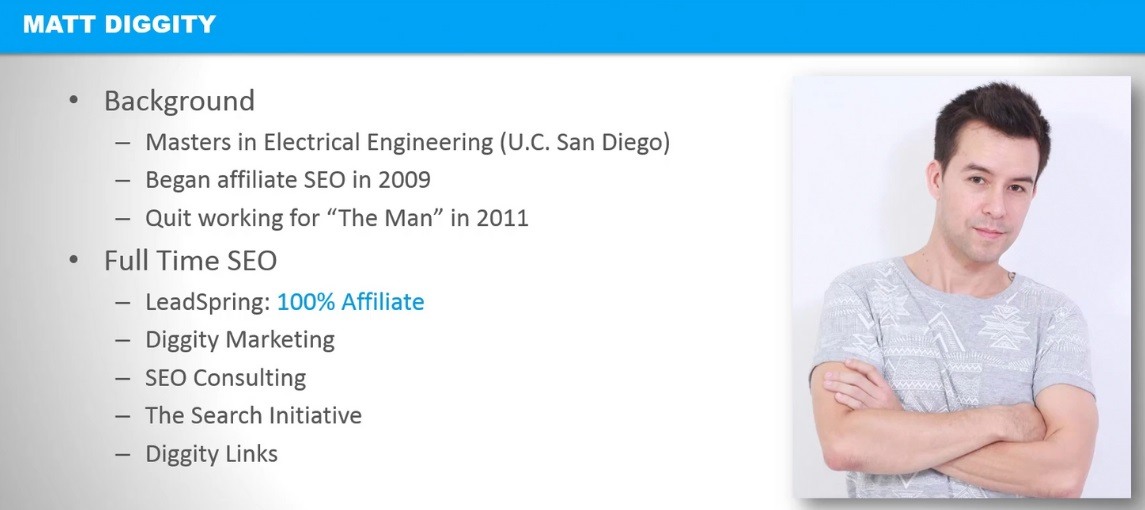 The guy who created Affiliate Lab is Matt Diggity.
He is a digital marketing and professional affiliate marketer; Matt is also the author of two books on Affiliate Marketing.
Before he got into internet marketing he was an electrical engineer working 60 hrs per week.
I can kind of relate to that (sometimes including the working time). But in my case, it was on and off (depending on workload).
Anyways, Matt left his job and moved to Chang Mai in northern Thailand.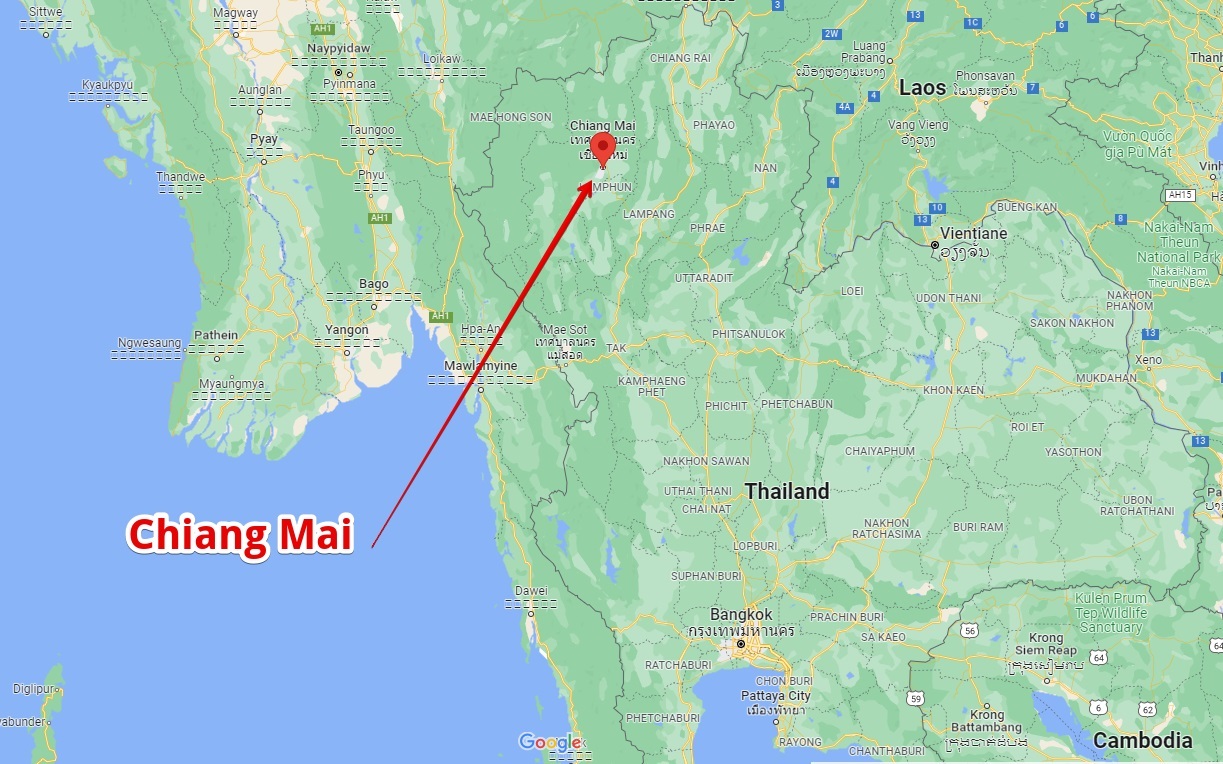 Chang Mai used to be an unofficial capital for Digital Nomads. Not sure if it still holds the nickname but it definitely did when Matt went there.
He was also a Keynote Speaker at Chiang Mai SEO Conference in November 2020.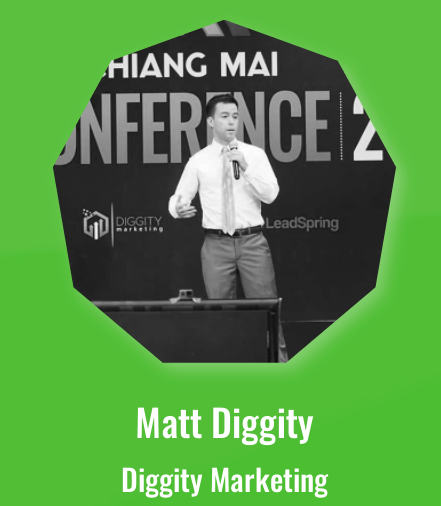 Other than that, Matt is the founder of:
Diggity Marketing
LeadSpring LLC
Authority Builders
Ther Search Initiative
and of course Affiliate Lab
So very active fella.
Who Is Affiliate Lab For?
According to Matt, this is meant for beginners, but I've noticed that the training might be a better fit for someone with experience in internet or affiliate marketing.
Explaining things like backlinks to newcomers can be confusing. It's like speaking a different language to them.
As you progress in affiliate marketing training, you start encountering more advanced tips and techniques, which can feel overwhelming.
Why?
Because when it comes to details, there are many differing opinions. Someone new can easily feel lost in the mix.
So, if you're new to internet marketing and want to learn about creating a website, gaining free traffic, and eventually making money from that traffic, I suggest considering a more user-friendly platform.
Feel free to share your thoughts in the comments below if you're open to an alternative option.
But back to the Affiliate Lab
Before diving into Matt's course, it's important to note that you'll need more than just the course fee – a bit of extra budget is necessary.
Building an affiliate site that consistently brings in money takes time. Sometimes, it could even be a year before you start seeing substantial returns.
Because of this, it's a good idea to have a budget prepared for at least 12 months ahead. Alternatively, having a secondary income like a part-time job or a supportive partner can be really helpful.
In general, if you're not ready to invest in your own growth, it might be wiser to hold off on taking this course or any other course.
How Does Affiliate Lab Work?
By now, you're aware that this course is all about teaching affiliate marketing, right?
This includes:
Picking a specific topic (niche)
Researching keywords
Learning to create posts that rank well on Google
But wait, there's more:
Affiliate Lab also dedicates attention to constructing affiliate websites that can be later sold or "flipped."
Here's the deal – when your site starts yielding profit, even if it's in the lower four-figure range (like $1,000), you can potentially sell it for approximately 30 times its monthly profit, and sometimes even up to 40 times.
Now, let's break down the course step by step, so you get an idea of what to expect once you get Affiliate Lab.
Just a heads-up: I won't bombard you with all the details.
Instead, I'll highlight the important parts of the course to give you an overview (and maybe even a chance to compare it with a longer-standing platform).
What Is Inside the Affiliate Lab?
The course is a video-based program, packed with numerous videos covering various topics.
Simply select any of these classes, and you'll have access to the video training.
Let's delve into a few topics found within the dashboard.
We'll begin with a closer look at the Affiliate Lab.
As for the other parts of the course (to save time), we'll provide brief overviews that still give you a clear understanding of their content.
The Affiliate Lab

The initial lesson kicks off with an Introduction video, giving you a glimpse of what you'll be learning.
Matt Diggity and Jay Yap, the trainers at Affiliate Lab, begin by introducing themselves. Then, they lay out the fundamentals of affiliate SEO, the process of constructing and ranking a website, and delve into Matt's specific ranking approach.
The video training is neatly organized into several sections, complemented by supplementary resources.
Here's a breakdown of the first lessons:
Introduction – Comprising 5 videos, with a total runtime of approximately 20 minutes.
Niche Selection – Consisting of 6 videos, lasting around 70 minutes.
Niche selection is notably significant. Taking your time to choose the right niche is crucial.
I say this from my own experience.
I spent nearly a whole year and launched 3 different websites before finally deciding on the right path.
The key elements are:
You must be passionate about the niche (or microniche) or at least have an interest in it
It must be profitable
Let's check further what is inside the Affiliate Lab:
Onsite SEO: Introduction – A short 2 min video
Onsite SEO: Domains And Hosting – 3 Videos (up to 30 min)
Onsite SEO: Keyword Research – 6 Videos (up to 40 min)
Note Regarding the Keyword research.
Below I mention the importance of keyword research and that it is necessary (for newbies) to spend more time on such training.
Onsite SEO: Site Architecture – 4 videos ( 45 minutes long)
Onsite SEO: Content Building – 7 videos (up to 40 min)
Onsite SEO: Site Building (Single Page) – 8 videos (about 45 min)
Onsite SEO: Site Building (Site-Wide) – 12 videos (almost an hour long)
Onsite SEO: Onsite Optimization – 9 videos (1 hour and 15 minutes)

And a Michal Suski Webinar on how to use Surfer – 1hour and 40 min)
Onsite SEO: Featured Snippets – 3 Videos (almost an hour-long videos)
Onsite SEO: Affiliate Links – 3 Videos (less than 15 minutes)
Onsite SEO: CRO (Conversion Rate Optimization) – 11 Videos (More than 3 hours)
Onsite SEO: Website Maintenance – 5 videos (25 minutes)
OffSite SEO: Introduction – just one 2min 30sec long video
OffSite SEO: Creating a Google Persona – 3 videos (14 min total length)
OffSite SEO: Social Media Creation – 14 videos (about 45 min)
OffSite SEO: Anchor Text Analysis – 3 videos (about 25 min)
OffSite SEO: Local Citations – 3 videos (8min)
OffSite SEO: Social Signals – (up to 10 min total length)
Offsite SEO: The Bulletproof Backlink Strategy – 13 videos (More than 1.5 hours)
OffSite SEO: Optional PBN Linking – 5 Videos (less than an hour)
OffSite SEO: Tier 2 Link Building – 4 videos (up to 30 min)
Technical Audits: 4 videos (up to 25 min) regarding:

Google Search Console
Negative SEO
Technical Onpage and Offpage Audits
The Kitchen Sink: 5 videos (less than 25 min) concerning issues like:

What to do when your Site gets stuck
Site size explosions
Content and Mark-up injections and a bit more
The Medic Buster – This concerns information about the Google Algorithm update that focused on sites with a Medical type of niche.
The Authority Site Module – A lot of information about what to do when your site becomes an Authority Site.
And you also get Bonuses
Sleep Hacking
A 6 figure flip story (a presentation that takes almost an hour)
Core Alghoritm Update
A lot of stuff, right?
Website Flipping MasterClass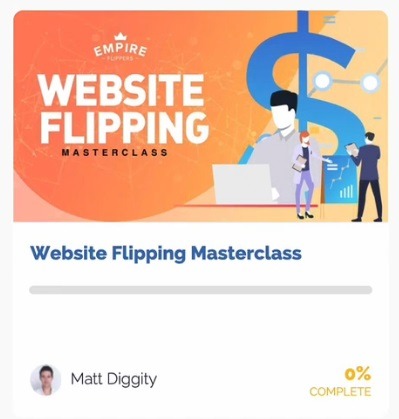 Flipping websites can turn into a highly profitable venture for those who grasp the art of driving traffic and effectively monetizing their sites. This way, the website becomes a valuable asset that can be sold for a profit.
Moreover, it's entirely plausible to start from scratch, nurture a new website, and witness it generating $1,000 per month within a span of 12 months.
And the intriguing part lies in the potential value when you flip it. Websites like these can be sold for a staggering 30 times their monthly income.
Just imagine owning a site that brings in a five-figure profit. This kind of success is attainable in the realm of affiliate marketing.
However, it demands dedication and effort. Hence, the courses imparting such skills don't come at a low cost.
The Beginner Lab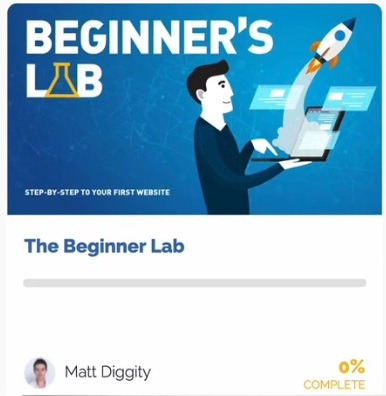 This module is actually for beginners.
Matt keeps upgrading the course, and in the past, people were complaining that he doesn't cover the basics and therefore it was mostly meant for intermediate marketers.
But with this course, even newbies are covered (well, they should be).
Checklists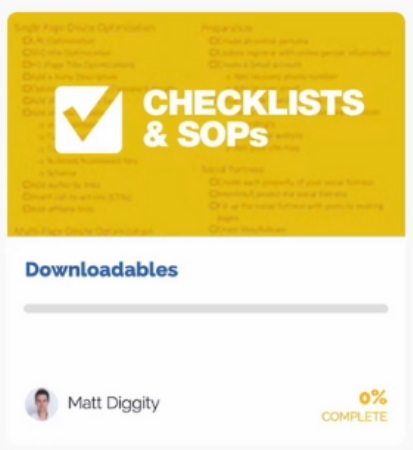 Here you find a lot of downloaded documents, checklists, and Xls sheets (or google spreadsheets) with great info regarding some specifics.
The Truth About Penalties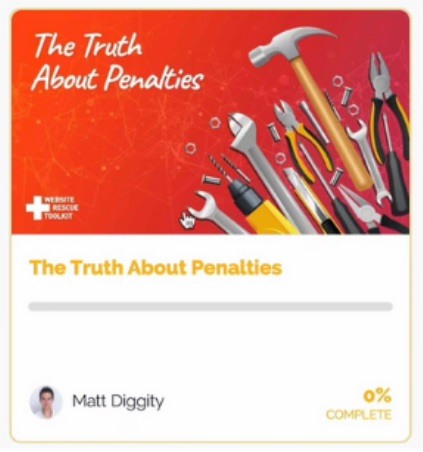 This is actually a very good module.
The thing is Google keeps updating the algorithm on a constant basis and once or twice per year he comes up with a core update.
As a result of that, some sites can be penalized, and they lost traffic or the traffic dramatically dropped.
In this course, it is explained how to "unstick" websites and how to deal with the new algorithms.
Outreach MasterClass
Here Matt's students are taught how to build links that will raise their domain authority and how not to be penalized by Google.
The thing is that creating/building/buying backlinks might be tricky and if not done correctly you can get into a lot of trouble.
Affiliate Email Marketing
Email marketing!
I am sure you have already heard about his method. Even some people say that this is an outdated method, guess what.
It still works.
The trick is to provide value first.
The person on the other side of the screen must trust you and must be interested in the information he or she receives from you.
Only after that, you can send him an offer.
A Question:
Would you rather buy a coffee machine from your friend?
Or from me?
Of course, you don't know me and most people would buy it from their friends. It makes sense.
So in the same principle, you must become "friends" with your prospect.
The Affiliate Portfolio Playbook
This module is for people with more experience. Meaning here he explains the steps when you want to hire someone to outsource the work.
If you have done some content marketing (creation) you know that is time-consuming and today if you want to come up with good-quality content you need to spend hours and hours of research and actually writing.
This method shows how you can have more free time so somebody else creates content for you.
And do note that it is not just a guy that you find on Fiverr.
You want to have a professional that doesn't cost a lot and you can rely on.
How Much Does Affiliate Lab Cost?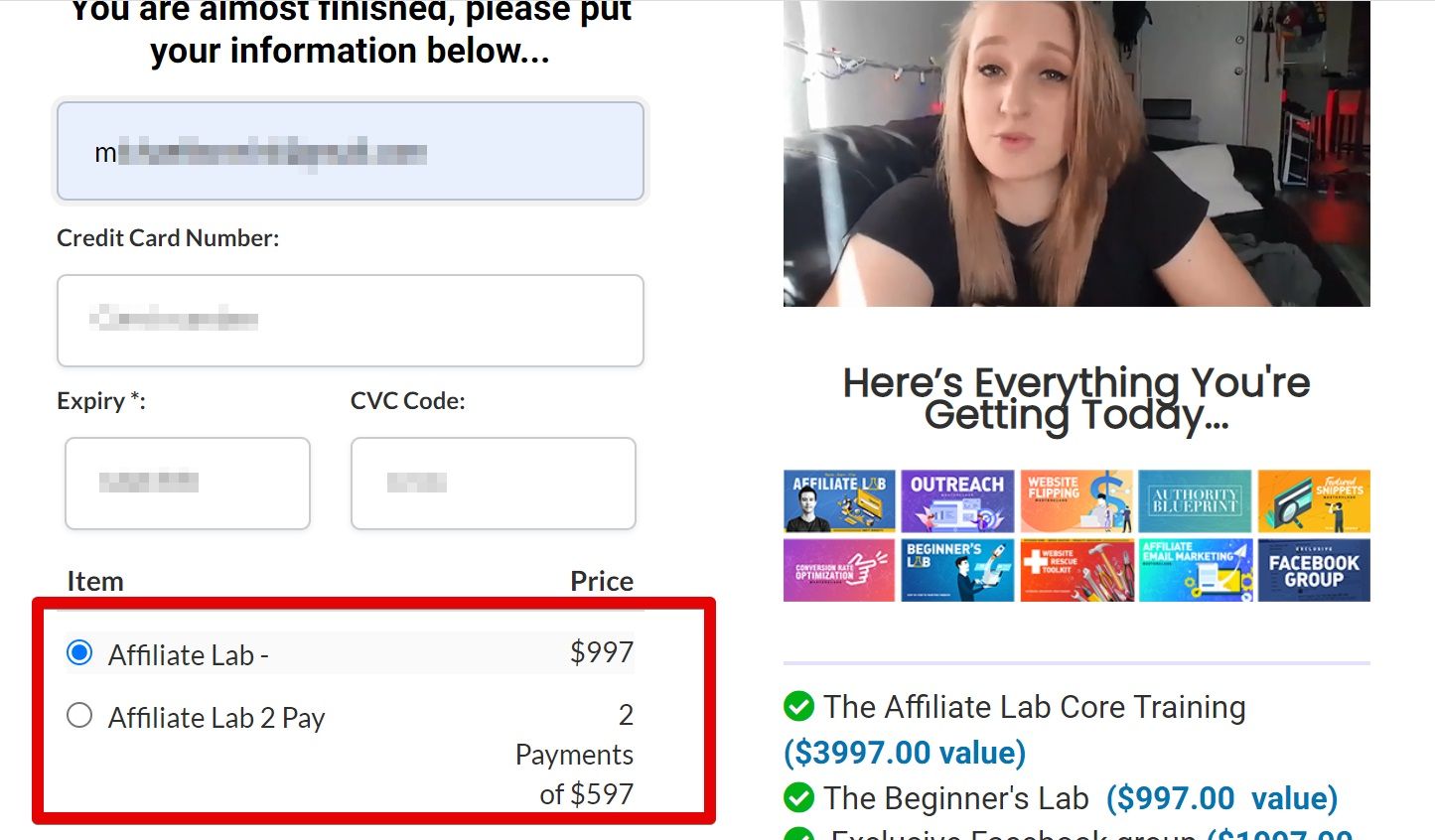 The price is $997 ($797 for an early bird).
Actually, you can get it for $797 if you sign up through an affiliate link.
Meaning people who promote Affiliate Lab have a chance to offer this product with a $200 discount.
It is not a bad strategy.
Please bear in mind that you are going to need additional resources for tools like Ahrefs, or hosting.
Affiliate Lab Pros

1) Comprehensive Affiliate Marketing Training
In my experience, only a few platforms offer such tremendous value.
It covers a lot, and you can find there also a few tips that I have not seen in any other courses on affiliate marketing.
2) Q&A Session
Matt personally participates in Q&A sessions, so whenever there are questions from students he gets to answer that.
This is extremely valuable since there are always some questions from students. And here they get the right answer right from the source.
3) Up To Date Course
Matt keeps updating the course since marketing changes.
As we have seen, he also teaches how not to be penalized by the Google algorithm that happens all the time.
Affiliate Lab Cons
1) Price
For some people, the price might be too expensive.
I get that, and I would also think twice before using my credit card. But compared with other courses on affiliate Marketing this is basically a "normal" price.
2) No Refund
It is unfortunate that there is no money-back guarantee.
Sure, you as a potential student are promised to get help until you succeed… but who knows.
It is very unfortunate that they don't offer a refund or even a free trial.
3) Additional Cost for Tools
This is not an outright upsell, but you have to invest additional funds in certain tools that will help you to estimate your competition, keyword tools.
And these are not cheap.
To mention a few:
AHrefs – the cheapest bundle is for $90 per month (and it goes up to $960)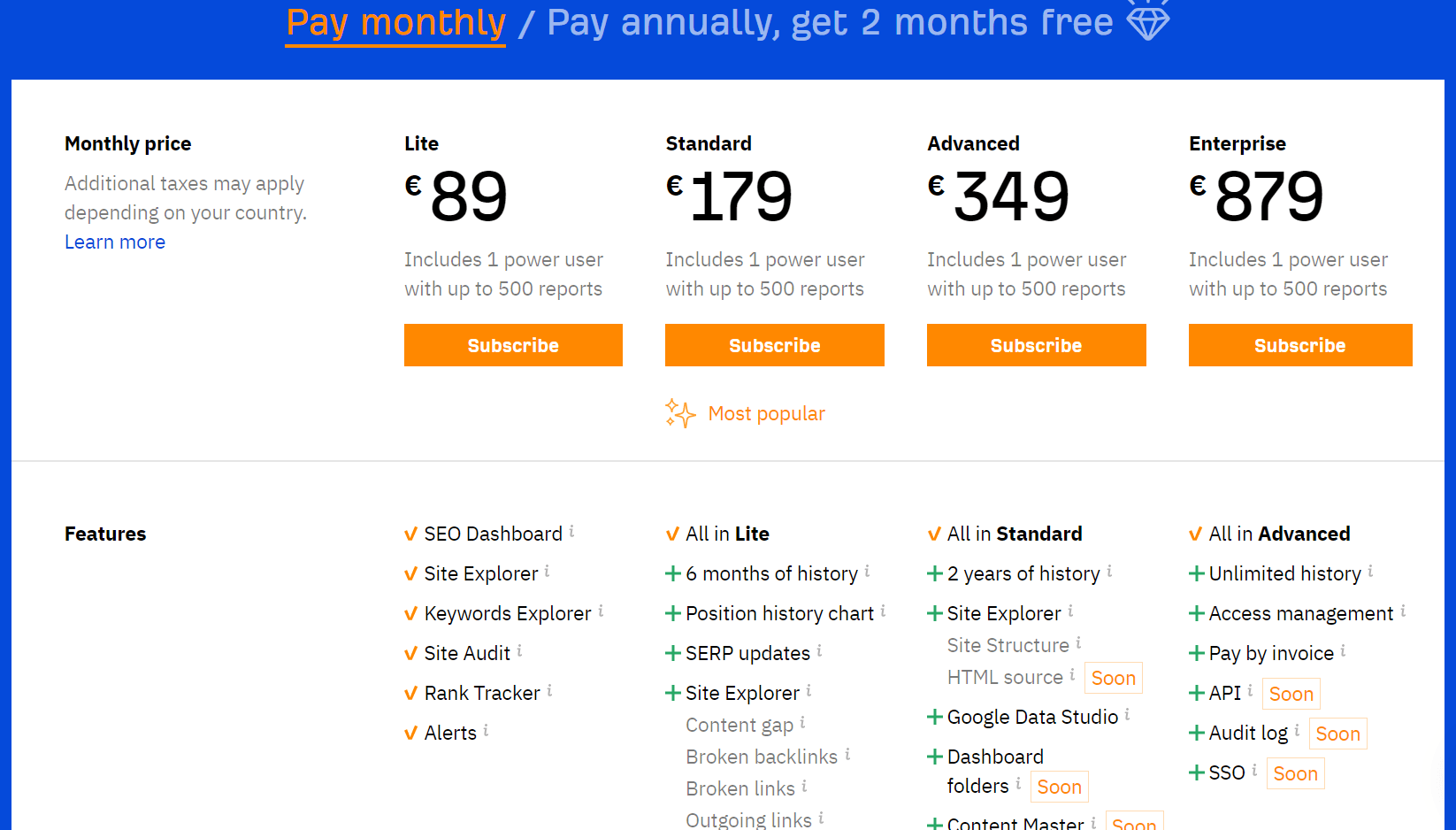 It is a great tool, but in my opinion, it is too expensive, especially for a beginner that doesn't generate any revenue.
(Inside the platform that I have joined in 2017, such tools are included).
MozBar – you can actually use also a free version to check the domain authority of your competition. So I don't see a point to pay an extra $100 per month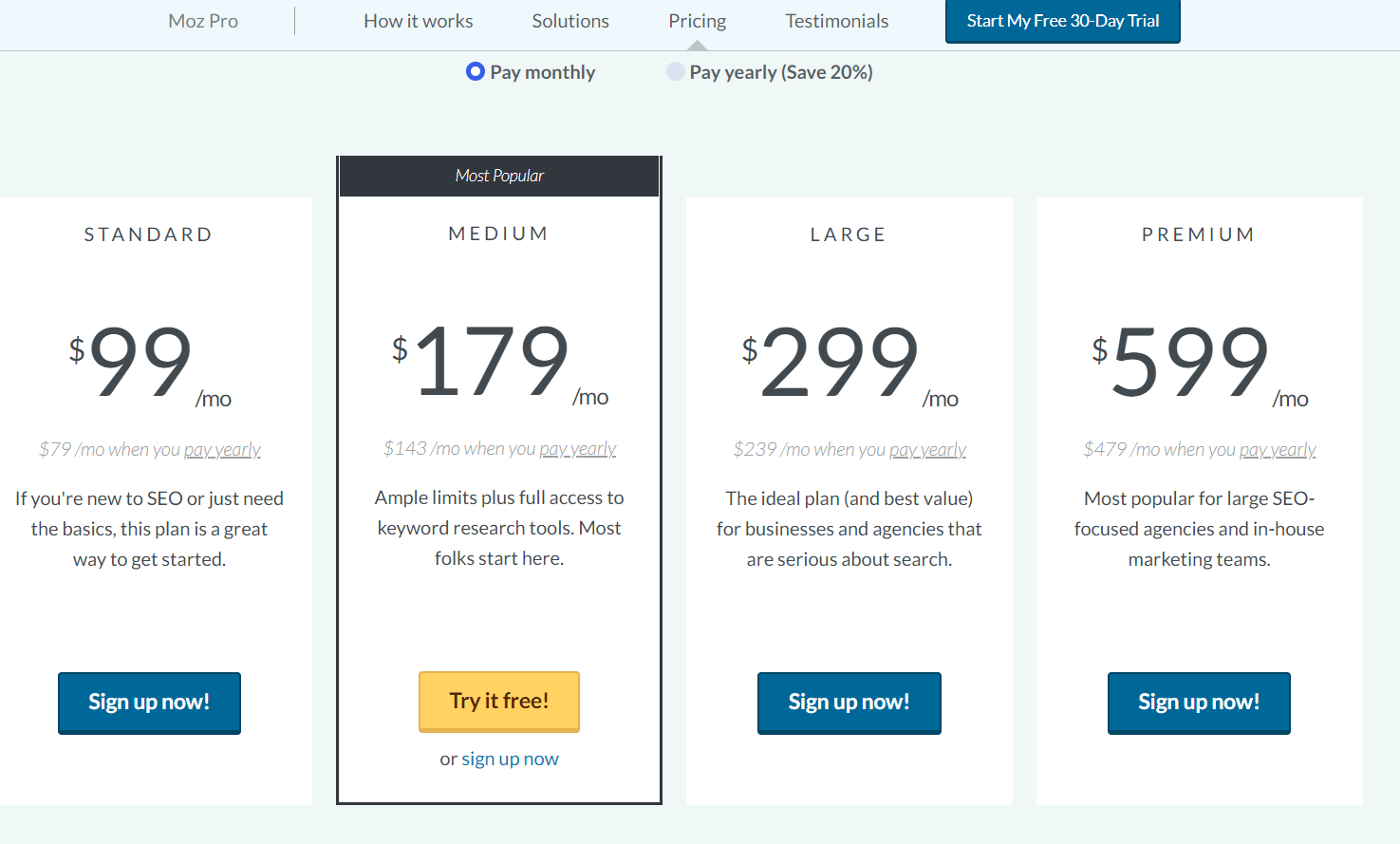 Note:
Moz offers 30-day free trial, but you have to reveal your credit card information.
As it says:
"Today's charge: $0
Then a total of $179 per month + applicable tax beginning on April 25, 2022″
4) No Website (No Hosting)
As a student of Affiliate Lab, you will need your website. Unfortunately in this case you are on your own where you have to pick your own hosting company (check the best web hostings) and create a website.
To me, that is a big drawback, because, in the platform that I have been a member of, this is included.
To be perfectly clear, inside Wealthy Affiliate you have a site builder where you create your own site within 30 seconds, but you have to pay for the hosting.
That's about $15 per year – so not a big deal.
5) Complex Training in Horizontal direction, but not in Vertical
Let me explain.
We have gone through what is inside each course.
There is certainly valuable information but from what I have seen, they spend only a few minutes on each topic.
It is necessary to dig a bit deeper and explore each topic much further.
For example, the Niche selection.
It is so important that it may take 4 different webinars (each at least 1 hour long) to comprehend.
Or Keyword Research.
I have watched at least 4 webinars regarding the keyword research that included:
The Basics of Technical Keyword Research
Breaking Down Keyword Research
Getting Use Out of Alphabet SOup Keywords
Finding Keywords Ideas from Authority Sites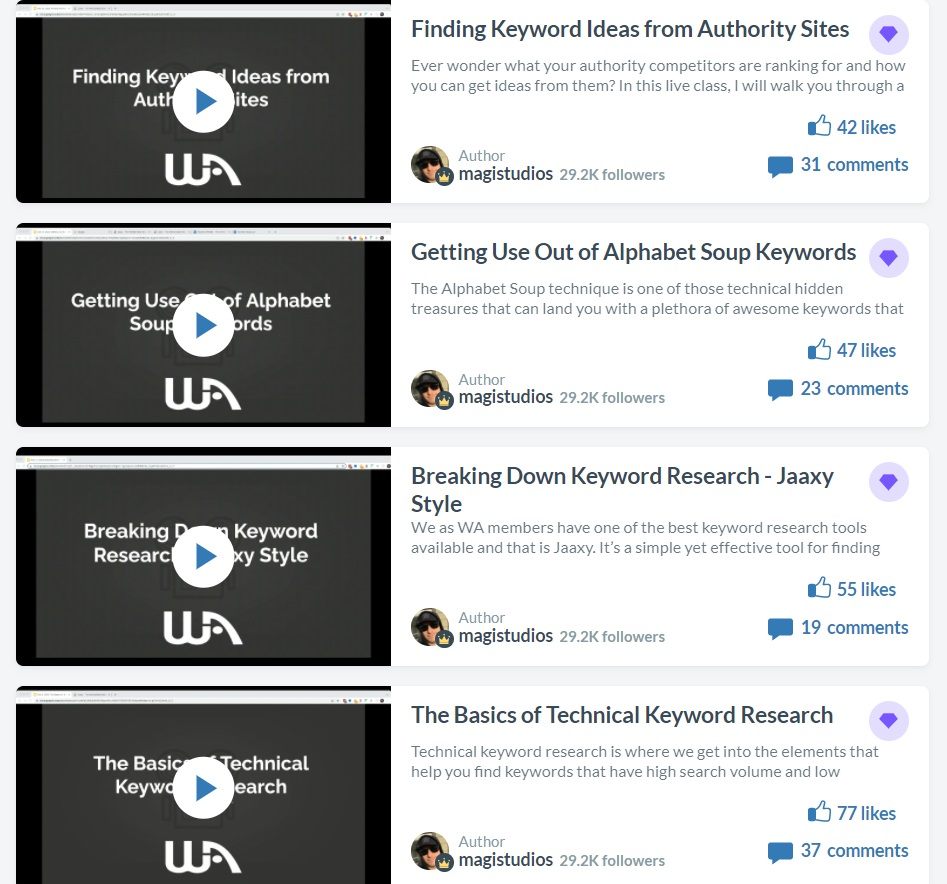 And this was a sequence of webinars back to back.
This is how I see proper training. On top of regular step-by-step training, you should have access to extra webinars as I described above.
Affiliate Lab doesn't have such a deep approach.
And don't get me wrong.
I am not trying to downplay the Affiliate Lab.
The thing is that there is in my opinion a better platform offering better training. And that is just because this specific educational platform has more people working behind the scenes.
And it has been around for more than 15 years.
The Best Part?
You can test it out for free.
It has a free trial and you don't have t use your credit card (just like AHrefs requires) to get access to the first 10 lessons.
Affiliate Lab – Conclusion
Affiliate Lab is a legitimate platform that teaches you how to make your website rank well on search engines like Google, Bing/Yahoo, DuckDuckGo, and more.
Matt, the creator of Affiliate Lab, is the real deal – he's not one of those fake gurus like Jamie Lewis.
For a lot of people, the price is actually quite reasonable. The course is packed with marketing training, making it a good value.
However, some folks these days prefer trying out platforms and courses for free, but Affiliate Lab doesn't offer a free trial.
But here's an alternative I can tell you about that won't cost anything upfront. It's a test trial that's free, but after the first part, there's a fee – though it's way less than $1,000.
The initial month only costs $19, and you won't have to pay anything if you don't like the first ten lessons (which are free).
I hope this review is helpful. Feel free to ask any questions in the comments below, and I'll be happy to give you feedback within 24 hours.
Thank You For Reading,
Mike.
Affiliate Lab FAQ
1) Is Affiliate Lab Legit?
Yes, it is a legit platform, teaching not just affiliate marketing, but also strategy on how to build up a site and sell for a profit.
Students of Affiliate Lab have a chance to learn a lot of tricks and tips that can speed up the process of crafting a successful affiliate website.
2) Is The Affiliate Lab Worth It?
It depends on your budget and how hungry you are for new information.
Generally speaking, this is a great course offering a lot of value, and the price of less than $1,000 is not bad.
You might even stumble upon an affiliate website promoting this course and get it for $797.
3) How does Affiliate Marketing work?
Affiliate marketing is one of the simple business models where you don't (have to) sell anything.
With your content (website or Youtube channel) you inform potential buyers about certain products and services.
From your website or YouTube video, you send them in the right direction where they get the best deal.

When they purchase the products or services, you make a commission.
4) Who is Matt Diggity?
He is the CEO and Founder of Diggity Marketing and many other companies, including, The Affiliate Lab, The Search Initiative, Lead Spring, and others.
Matt is a former electrical engineer who quit his job and found his passion in affiliate marketing. He learned how to flip sites generating profit.
What he has learned, he now teaches others.
He is aware that such knowledge is valuable and therefore he charges almost $800 for his course.
You find out more on his own website:
diggitymarketing.com
Since there is no such a thing as a perfect product, let's check the Pros and Cons of Affiliate Lab