Are you looking for a new business opportunity and do you wonder whether joining Optavia would be a good move?
I am glad you find time to do research. This is the only way how to avoid scams and misleading products online.
So, Is Optavia a pyramid scheme?
The company has been around for a while so it seems like a legitimate MLM company.
But how much do people really make?
In this review, we are going to check what is Optavia, what is the price to join, what is the earning potential, and what are cons and pros.
In the end, you will be informed about Optavia from the business point of view.
With that being said, this review covers Optavia as a business opportunity so you will be able to decide whether it is worth joining this company or not.
Jump to:
Disclaimer:
Please note, that I am not a member or an affiliate of Optavia.
This review is based on research and information available online in the public domain. Any recommendations and conclusions are only opinions and may not apply to all persons or situations.
Optavia Overview
Name: Optavia
Website: www.optavia.com
Price to Join: $199 + Price for products
Recommended: Not Really (low success rate)
Optavia MLM Review – Quick Summary
Optavia is an MLM company selling weight loss products and deals within the Health Niche. It might work since participants of the program are allowed to eat only about 1,000 calories per day(?)
Anyways, the MLM products are quite expensive and it makes them difficult to sell.
The marketing is saturated and the only way to make money, being an Optavia "business partner" is via recruiting.
The model then resembles the pyramid scheme, although Optavia has a product to sell, technically it is not a pyramid scheme.
Most people don't make money at all, and some of them even lose money.
That is due to the monthly subscription.
I personally do not recommend Optavia as a good source of income.
There are other ways to make money where you don't have to bother your friends and family.
What is Optavia?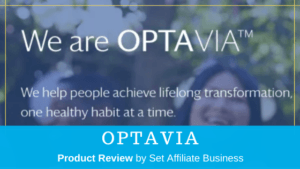 Optavia is a Weight loss Multi-level Marketing company that offers health and wellness products. It was founded by Dr. Wayne S. Andersen and Bradly T. Macdonald. Optavia LLC has been already 17 years in the business (it started in the summer of 2002).
According to BBB, this company started locally only in 2017.
In other words, Optavia was known as "Take Shape for Life". The change has happened in 2017, but the portfolio of the products has been the same.
If you wondering what connection there is with the company called Medifast, well, Medifast is the parent company.
The CEO is Mr. Daniel Chard.
Optavia sells meal replacements or "fueling".
Instead of a regular meal, I mean food, you can eat the Optavia products which should provide you with enough nutrients, and yet they supposedly help with losing weight.
How Optavia Works?
Optavia's diet replaces daily meals with 100-calorie "fuelings" five times a day, with one real whole-food meal for dinner. It was initially designed for people with dietary restrictions before being repurposed for rapid weight loss.
Although it promises fast results and convenience, it has unsafe calorie intake, overly processed food, restrictive rules, and risks of nutrient deficiencies, muscle loss, and more.
Optavia has different weight loss components and one of them is described below.
Habits of Health System
Dr. A's Habits of Health System is designed to help you develop a sustainable and healthy lifestyle.
It emphasizes six essential habits:
managing your weight in a healthy way,
eating nutritious foods,
staying hydrated,
staying active,
getting quality sleep,
and nurturing your mind and surroundings.
Adopting these habits can pave the way to a healthier lifestyle and set you up for long-term success.
Is Optavia Legit MLM or Pyramid Scheme?
Many people think that the MLM company is automatically a pyramid scheme. Technically is not the same model, but I understand where it comes from.
Multi-level marketing has routes in the pyramid schemes due to the several levels where money floats from the lowest level all the way to the top.
Pyramid schemes are illegal since there is no real value that is provided to the end customer.
Besides, when it reaches a certain level, it is not sustainable any more – it reaches more people than the world population.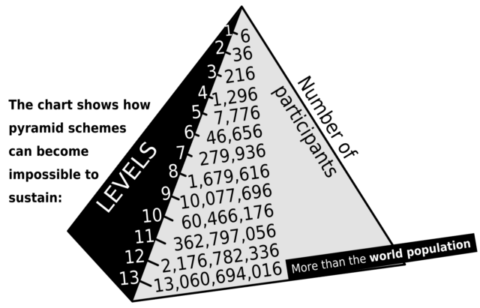 So 13 levels would be impossible to reach (at least for 2020:) )
Here is a short video explaining what the pyramid scheme is.
https://www.youtube.com/watch?v=W1Q3Fx9nWOk
Legit MLM companies do not rely solely on recruiting.
They offer a bunch of products that are distributed through all levels of network marketing.
And that is the case with Optavia.
It is a legit MLM type of business.
Products offered by Optavia are pricey compared to the competitive products available in a regular store. What makes the MLM or in this case Optavia products special?
Generally, nothing particular – they are made in a way to look unique and special but that is it.
Besides the products, Optavia offers also a health plan or a weight loss program.
And let's not forget about the way how they are advertised – meaning you won't see any commercials promoting Optavia products.
The only way to find out about them is through the distributor, or in Optavia they call it Health Coach. (And how to become a health coach? -> We are about to find out soon)
So this is another way how you can make money within Optavia – to sell the products and programs. While you are into it, it does not hurt to offer a new "business opportunity" to your client, so he can become your downline.
What is the Price to Join Optavia?
This is a common and legit question when a person wants to start a business.
Probably the #1 reason for becoming an independent business owner within MLM is the initial investment, comparing a for example franchise brick and mortar type of business.
Some MLM companies have a forgettable price to join, but it is not the case with Optavia.
To start as an Optavia coach you need to get the business kit.
Optavia Business Kit – Cost $199.00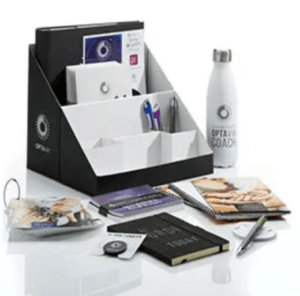 Here is what the kit contains:
Business tools (coaching guide, optimal weight plan)
Plan Information (Guide, products cards, brochure)
Accessories (4 Pens, Journal, coach bottle, notepad)
Free access to your personalized website for 12 months, support training videos, and standard subscription to e-Newsletter service for 3 months
So once you purchased the kit you are officially a Health Coach of Optavia.
Yearly Business Renewal – Cost $99
This is a sort of administration fee, or membership fee if you will. It gives you the right to sell Optavia products.
Monthly Orders
This can be compared to the Personal Volume.
It is common within other MLM as well. That means that you have to maintain a certain level of PV to keep that position. In the case of Optavia, it becomes a bit overpriced in my opinion since the price tag for one package (or kit) is about $400.
When we add all the requirements on top of each other we end up with a price of $5,000 per year.
Not a bad business opportunity – for those at the top.
Products, That Optavia Offer
Let's take a closer look at the products within Optavia to have at least a general overview.
Before we start just one note:
Beginning of 2020 the price for Optavia products increased by more than 5%.
Here is the list of Products
Optimal Weight 5&1 Plan – form $416.60
You will learn what good nutrition looks like so your body gets only what it needs. According to Optavia, with this program, your bet will get to an efficient fat-burning state.
As the name of the plan says – you will eat 6 small green meals per day. These meals consist of Fuelings (mac and cheese, pancakes, brownies, shakes, and more).
This plan has been recommended by more than 20,000 doctors since 1980.
As you see this kit is not cheap. You can choose one of these 3 kits.
Just to give you an idea of what such a kit includes:
Peanut butter, and chocolate chip Bar
Drizzled Chocolate Fudge Crisp Bar
Wild Strawberry Shake
Chewy Chocolate Chip cookie
Roasted Garlic Creamy Smashed Potatoes
Rustic Tomato Herb Penne
Honey Mustard and Onion STicks
etc.
Optimal Weight 4&2&1 Plan – $408.00
This is a flexible green meal plan for you to reach a healthy weight. According to this plan, you should eat 6x a day.
4x Fuelings
2x Lean and Green
1x Snack
Again this plan contains, shakes, bars, pancakes, bards, mac and cheese, and more.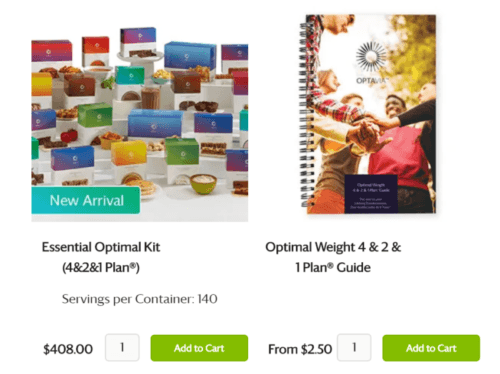 This kit costs again over $400, and it is for 30 days.
Here is what it includes:
Silky Peanut Butter and Cholocate Chip Bar
Raisin Oat Bar
Cream Chocolate Shake
Roasted Garlic Creamy Smashed Potatoes
Wild Rice and Chicken Favored Soup
Mocha Blast Shake
Sharp Cheddar and Sour Cream Popcorn
You are offered also other products, like a chocolate shake for $239.40 (84 servings) or a mandarin orange energy infuser for $432 (504 servings).
Optimal Health Kit (3&3 Plan) – $333.00
3& 3 stands for 3 Optimal Health Fueling and 3 Balances Meals.
With this plan, you are supposed to eat nutritionally balanced small meals. All are free from colors and sweeteners from artificial sources and most of them are gluten-free.
It is a 3 steps process:
Calculate your total energy expenditure using Optavia Calculator (available on the Optavia site)
Chose your meal according to your total energy expenditure
Make yourself familiar with the plans' food groups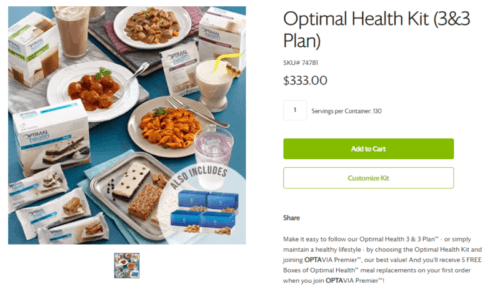 The kit includes:
Dark chocolate bar
Strawberry Yogurt Bar
Chocolate Peanut Butter Shake
Pina Colada Smoothie
etc
Purposeful Hydration – $159.80 for the entire kit, or $39.95 for one pack
There 2 main purposes to be hydrated:
To cue you when to hydrate and why
To hydrate yourself throughout the day
You can either choose the entire Kit for which you have 120 servings. Or to buy them separately.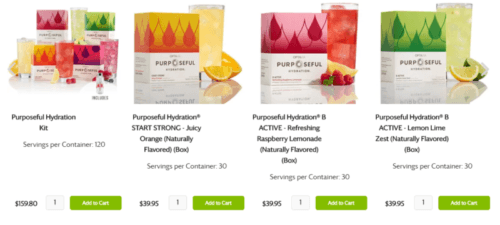 Stay Strong – contains as much Vitamin C as 6 oranges
B Active – is a source of B Vitamins
Replenish – helps restore key electrolytes lost throughout your active day and it is a source of Magnesium
Regardless of which program you choose, it seems like a pretty expensive way how to lose weight.
What is good though, Optavia offers a full refund within 30 days in case you are not 100% satisfied with the order.
How Can You Make Money With Optavia?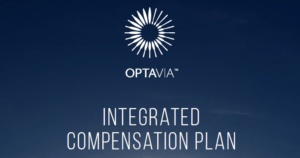 Maybe it seems lucrative.
And you may be thinking, that you can make a nice living if you target the right people.
But it is important to be realistic when it comes to making money.
First of all, Optavia operates as an MLM.
So you make money from the products/programs you sell and also from the direct sales of your downline. With Optavia you don't get any commission when you enroll a new member.
It is actually a good thing so the "pyramid scheme" aspect is dimmed.
At this point, I don't think that you need to know deeply how the compensation plan works. However, if you find the time you can read this 20-page-long Optavia Integrated Compensation Plan.
The bottom line is that you as a Coach can buy the 30-day meal plans and then sell them at retail prices. You would be earning a 15% commission.
How many meal plans do you have to sell to make a living?
One option would be to sell them online, but there are restrictions due to the Optima Terms and Conditions.
You can't create a website and promote these products without a prior agreement with Optavia.
This is one of the limiting factors within the MLM, I described in my article the other day (Which one is better MLM or Affiliate Marketing).
Recruiting
So the only way how you can increase your income is by having a large team working for you. And that means you need to build your downline, so the commission will flow to you.
Your income relies on your team, and how they are doing.
Now theoretically it looks nice – see the image.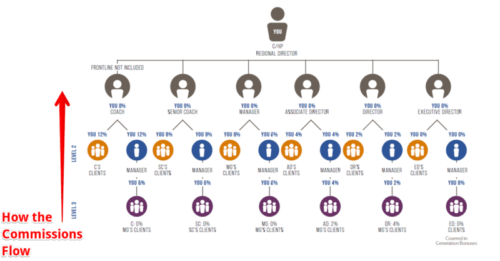 But in reality, you need to be in touch with your downline, and on the other hand, your upline is in touch with you. I am sure these are nice people, but when something happens, a bad month or something, who is to blame?
People have a tendency to blame others – and this causes friction within the team and stressful situations and many people leave such an environment.
Then they go to choose a different business model, for example, affiliate marketing.
Bonuses
In Optavia you can be awarded some Bonuses.
If you continue to undertake the course and gain more knowledge about the program you become a certified coach. Having such a certificate you get an additional 3% bonus paid.
There are a bunch of bonuses such as
Client Support Bonuses
Optavia Coach Consistency Bonus
Client Acquisition Bonus
As an example, here are details regarding the consistency bonus: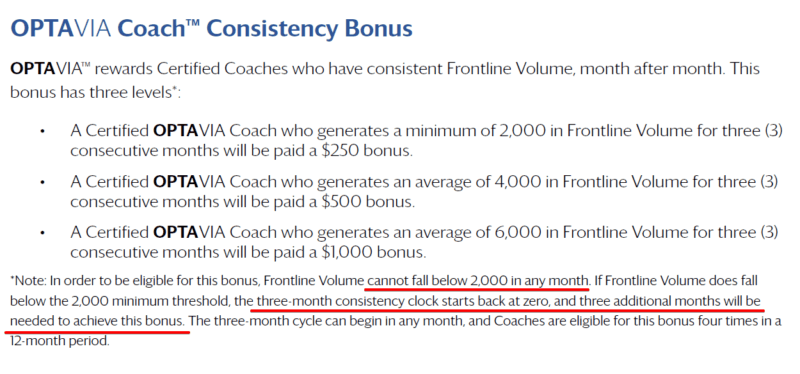 You can read the entire compensation plan if you want to (the link is above), but as I say all MLM companies have such complicated documents made on purpose. It is full of "if's" and "buts" and these little stars, explaining in smaller letters, that one needs an entire week to fully comprehend what is in there.
How Much You Can Make with Optavia?
Let's take a look at the Income Disclosure Statement;
As we describe above it is difficult to make a decent income from selling the plans, therefore many of the coaches have to find other coaches who sell the plans to other people as well.
Let's have a look at the facts.
Here is the screenshot of the income disclosure for 2017.
We see that about 30% of coaches made no money at all.
But how about those who made earnings? Let's do a little comparison:
What are the average annual real wages in the United States?
According to the website Statista, we see that it was 62,727 in 2017.
The income report says that only 1.33% make more than $50,000. It is safe to assume that only around 1% of Coaches made more than the average American.
(It took them approximately 6 years and 9 months to get to that level)
We can have a look at the income report for 2018.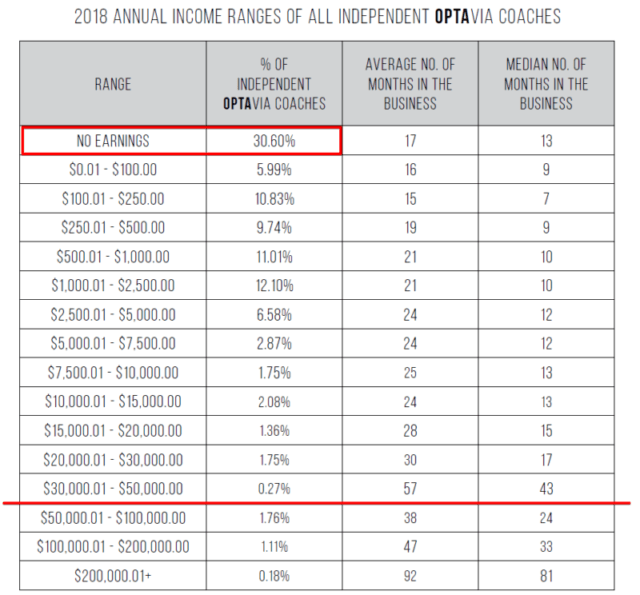 Some people (or percentage of people) with no earnings slightly increased.
But at the same time, we must say, that the percentage of people with more than $50,000 a year increased as well.
It is 3.05%, which is 2 percent more than in the previous year and it took them less than 5 years to reach that level.
Now can we assume that this business opportunity becomes more lucrative?
Well, you decide.
Note Regarding the average time within the Optavia.
– We know that Optavia as a company is active only since 2017. That means that that statistic applies to people who brought distributorship from Medifast, as a parent company.
Optavia Income Disclosure 2021
And let's have a look at the latest income disclosure for 2021.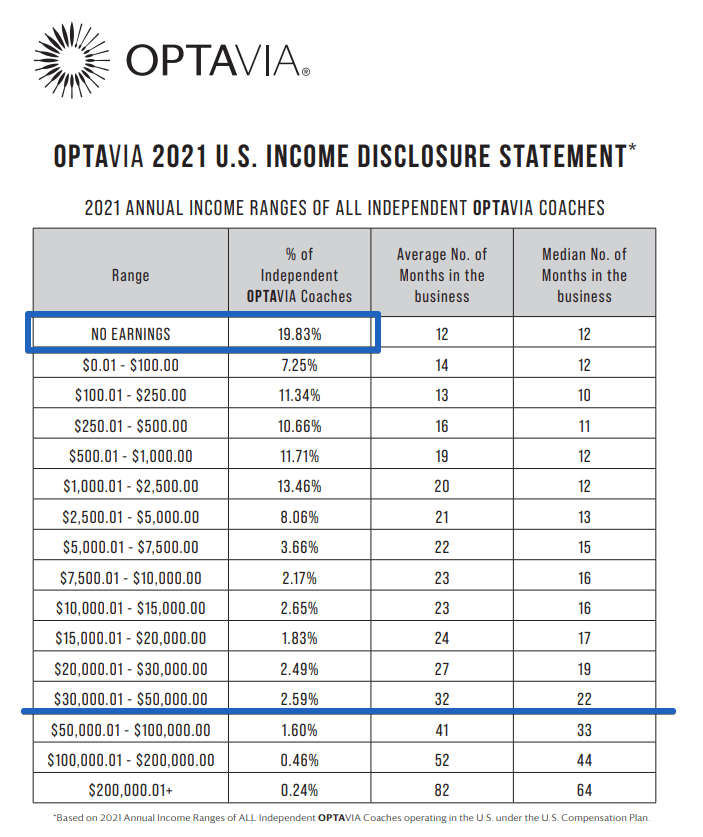 And we see that the percentage of members that made more than $50,000 per year is again less than 2.5%, actually only 2.3%.
And 88.14% of members made less than $10,000.
Also, bear in mind that these are earnings before costs.

Here you can check Income Reports for 2017, 2018, and 2021.
What do I like about Optavia?

Being a partner with mentioned Medifast leaves a clue that Optivia is a well-established company.
30 Day return policy
What I don't like about Optavia?
Unreasonable restrictions
You as a coach are not allowed to promote the products via your blogs or vlogs that contain the Company name or trademark or to describe Company products or programs without written Company approval
Personal Note: This is one of the aspects I don't like about MLMs. I prefer more freedom when it comes to my business and therefore affiliate marketing is a better opportunity than MLM (as I describe in this article: MLM Vs. Affiliate Marketing)
Expensive products
How many people can afford to spend $400 for meal replacements, per month?
You have to know a lot of people with good incomes who are determined to lose weight and yet would like to join you as a coach.
Low Earning potential
We have seen the income report – those who made it are in business for more than 5 years, and we don't know the other circumstances that brought them to the top.
With that being said, it is extremely difficult to make a decent living.
Most of the coaches lose money
Besides the fees we have covered above, there are additional costs like paid seminars and training, recruiting activities ( f.e. parties), etc.
Is Optavia a Pyramid Scheme?
No, Optavia is not a pyramid scheme.
They reveal to you all the information upfront, including the compensation plan (even if it is difficult to comprehend) and income reports. So if a person wants to join Optavia he/she has all the information available.
But is important to realize whether it is worth it.
A little bit of planning and calculation in advance would be an appropriate thing to do.
Some Thoughts at the End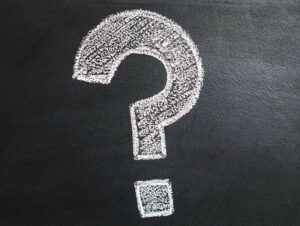 As you know there are zillion weight-loss plans, and every one of them is unique, special, and "the one", so we won't go much deeper into this.
My point is that losing weight is primarily about discipline and determination.
Sure people are willing to pay for programs since it is much easier with a coach or supportive member. But it does not make Optavia more special than other similar programs (which BTW does not have to be MLM in the first place).
I am not going to judge the products or the program this company offers. l
Let me just mention 1 thing- the price. It is really expensive.
The thing is that this is an evergreen niche and people struggle with weight problems more and more.
That could mean that with the Optavia program, you can sell easily. But the facts (given in the income reports) say otherwise.
Without real experience and proper psychology, it is difficult to convince a person to buy or enroll.
If you are tired of all the MLM "opportunities" you maybe want to look at a different way how to make money.
It does not require any recruiting, not even selling (at least not directly).

What I have in my mind is called affiliate marketing. In this article, I compare both, the MLM Vs. Affiliate marketing.
I do mention the pros and cons of both systems, so you can assess how objective the article is.
Take your time and feel free to leave a comment.
Conclusion
If you are interested in the weight loss niche – you can make living online as well. If you like meeting people, great.
But there are only 10 – 12 hours a day when you can go out and talk to people.
You could certainly reach more people online by having a website.
Your website.
Actually, let me rephrase: people will find you – your business means your website.
You can be "passively" helpful to thousands of people online, every day. Sure it takes time till you get 1,000 per day to your website, but it is maybe easier than you think.
First of all today you can have a website ready in minutes. Then, of course, it takes work and determination.
But within 5-7 months your website can get some traffic and with more traffic, you have more sales you can make.
How this all can be done I explain in a different review, (I will also leave one more link at the very bottom of this post)
I would like to know what is your opinion about Optavia.
Do you find it a good business opportunity?
I admit that I may be a bit biased and the thing is that I am not a fan of any MLM.
I tried such a model when I was a student, and the only reason I joined was my friend who was my upline (he left the company 3 months after me).
So please if you have a chance leave your message or question in the comment section below. I make sure to give you feedback within 24 hours.
Thank you for your time and let me share with you what in my opinion is the best business model