You may also like:
Many individuals have made investments in the company known as NovaTech FX (NovaTechFX broker review).
Based on my extensive research, I have uncovered numerous red flags. It's important to note that most of their flags strongly discourage investing in this company.
In this NovaTech FX review, I will delve deeper into these red flags, including:
the company's lack of registration with the SEC
the founders' involvement with a questionable company
indications of a pyramid scheme-like structure
Additionally, I will share information from January 2023, highlighting a significant number of people requesting cashouts.
Note:
You can think of this review as a helpful guide that you can use when assessing different platforms that promise to help you make money online.
If you come across a platform or website that you want to learn more about, you have a couple of options:
– You can use the search button on my website to see if I've already reviewed it, or
– You can leave a comment, and I'll do my best to provide feedback within 24 hours.
Let's begin exploring these concerns, including the evaluation of trading assets.
What happened to NovaTech FX?
Recent Legal Developments – November 2023
NovaTech FX and owners Cynthia and Eddie Petion face securities fraud charges in Washington.
The Securities Division of Washington's Department of Financial Institutions issued a cease and desist order on October 27th, stating that NovaTech Ltd, operated from Florida, and the Petions were involved in an MLM trading bot Ponzi scheme.
The collapse of NovaTech FX was confirmed in February 2023, with the Petions reportedly going into hiding in late 2022
NovaTech FX and Cynthia Petion Miss Regulatory Hearing in Canada – September 2023
On September 28, 2023, a hearing concerning NovaTech and Cynthia Petion took place via video.
The Ontario Securities Commission (OSC) staff were present, but no one appeared to represent the respondents.
The Capital Markets Tribunal ordered the following steps:
By November 17, 2023, OSC staff will submit a request and documents regarding waiving service and additional assistance.
By November 24, 2023, the respondents have the opportunity to submit their own documents in response.
Another meeting is scheduled for November 27, 2023, at 9:00 a.m. via video, or they might agree upon a different date.
The original document is below:
Jump to:
Disclaimer
Please note, that I am not a member or an affiliate of NovaTech FX.
This review is based on research and information available online in the public domain.
Any recommendations and conclusions are only opinions and may not apply to all persons or situations.
NovaTech FX – Quick Summary
The company was registered in 2019, so it is still relatively new as of the time of publishing this article. However, it is important to note that the founders have a history of involvement in at least one scam.
Despite my best efforts to remain unbiased, there are several red flags associated with NovaTech FX. Some notable concerns include:
There is no evidence to support the occurrence of actual trading activities, raising suspicions that member payouts may be funded by contributions from new members.
The company is not registered with the Securities and Exchange Commission (SEC).
Please refer to the dedicated section below for a more detailed exploration of these red flags.
Having discussed the concerns surrounding NovaTech FX, it is essential to explore alternative options in the market.
One such alternative worth considering is Forex Signals.
In general, NovaTechFX is a trustworthy trading platform that provides access to the forex and cryptocurrency markets.
By utilizing Forex Signals, individuals can access valuable insights and analysis, ensuring a more secure and transparent trading experience.
What Is NovaTech FX?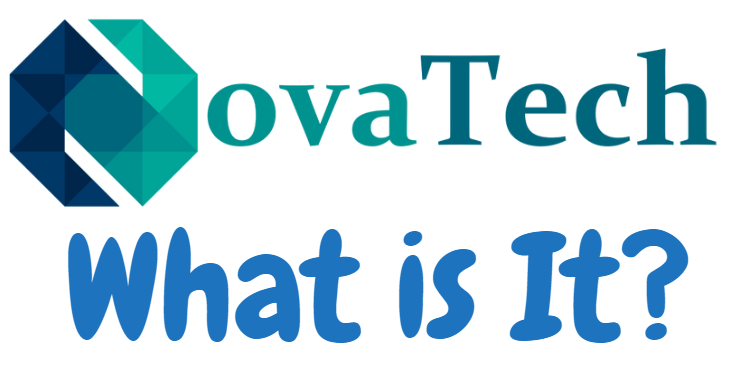 NovaTech FX is a brokerage firm that provides its own platform for trading in the crypto market as well as forex, offering a range of trading software and services.
Apparently, NovaTechFX grants traders entry to the realms of forex, cryptocurrencies, and indices.
Their platform, designed for both desktop and mobile, ensures ease of use.
Traders can enrich their knowledge through video tutorials and trading tips, fostering the ability to make well-informed trading decisions.
To join, you need a sponsor who can guide you through the process.
They provide three types of plans:
You can let NovaTech FX handle the trading services for you through their PAMM service
Trade on your own
or become a partner in their affiliate marketing program and refer others to join
You might be wondering if NovaTech FX operates as a multi-level marketing (MLM) company.
The answer is yes, but participation in the MLM aspect is optional.
So, at this point, it doesn't appear to be a Pyramid Scheme.
Apparently, At Novatech FX, both early and recent investors can earn money. This is different from many schemes where you need a lot of new investors to make profits for the earlier ones.
Some users of the platform claim an average return on investment (ROI) of about 3% per week.
They say that by regularly reinvesting, it's possible to double your money in around 5 months.
It sounds like a tempting opportunity, but as with any investment, it's important to consider if it's too good to be true.
January 2023 Update
Just a quick update regarding the announcement shared by NovatTech Admin with the members on January 24, 2023.
It seems that there has been an "unusually high volume of cashout requests."
In simpler terms, members are experiencing difficulties in withdrawing their funds.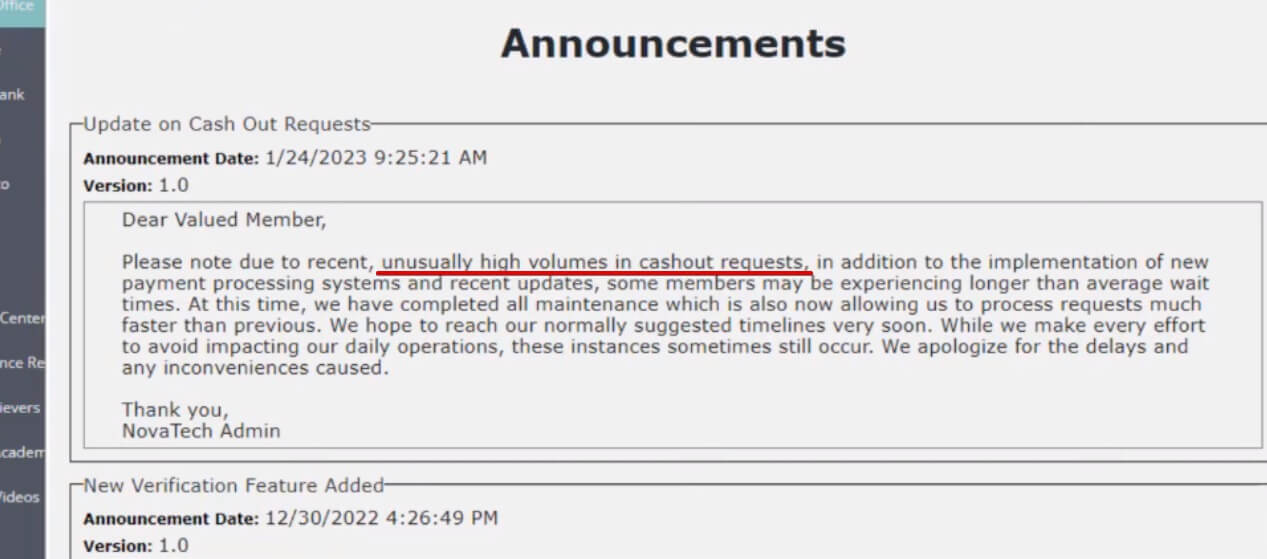 The most likely reason is that they are running out of funds, indicating a potential collapse of the Ponzi scheme.
So Is NovaTech FX Legit?
Unfortunately, no, it doesn't seem so.
It is important to take immediate action to retrieve your funds if you have the opportunity.
If you're genuinely interested in trading, I recommend exploring ForexSignals as a reliable alternative:
Who Owns NovaTech FX?
NovatTech FX is backed by three key individuals who play crucial roles in the company.

Cynthia Petion CEO
Eddy Petion as COO
Ricardo Roy as CTO
These details can also be found on their website.
However, what you won't find on their website is the past history of certain individuals.
For instance, Eddy has previous involvement with a company called AWS Mining (Automated Web Services), as shown in this video:
(AWS means Automated Web Services)
Was Cynthia also involved with AWS?"
Absolutely.
She held the position of Vice President at the company.
According to a petition on Change.org, which has garnered support from over 2,000 individuals, there is a demand for an investigation into AWS Mining and those responsible for alleged worldwide fraud.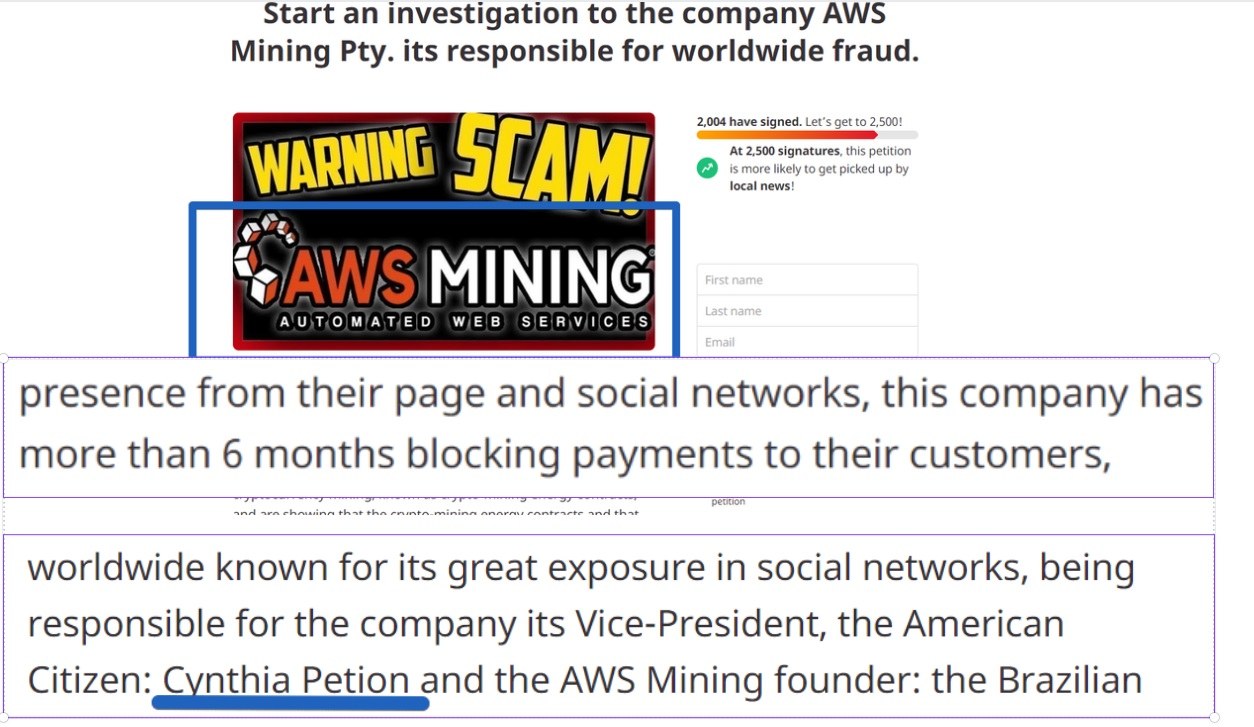 The full article, Start an investigation to the company AWS Mining Pty, can be accessed on their website.
So, here's the thing:
the very same individuals are now at the helm of a "new" venture called NovaTech FX. Given their past history, would you place your trust in them?
For me, this info is like a big warning sign telling me to stay away from this company and the people running it. It's totally possible that in a year or two, they could come up with another scheme just like this one.
Where Is NovaTech FX located?
According to their website, NovaTech FX claims to be located in St. Vincent and Granada. However, this raises concerns about the company's trustworthiness.
The company also lists two additional addresses on its website:
one in Florida
and another in Talin – Estonia
Interestingly, there have been reports of abuse related to one of these addresses.
I personally reached out to the representative of the complex and they confirmed that no such company is based there.
This discrepancy raises a major red flag.
Is NovaTech FX an MLM?
When it comes to NovaTech FX, it's hard to ignore the MLM vibes.
I mean, they use all this MLM jargon like "team" and "network," which definitely raises some eyebrows.
And let's not forget their compensation plan that rewards you for bringing in more people;
Sounds a lot like those MLM schemes we've heard of, right?
So, even though they might deny it, all signs seem to point toward NovaTech FX being an MLM.
Is NovaTech a Pyramid Scheme?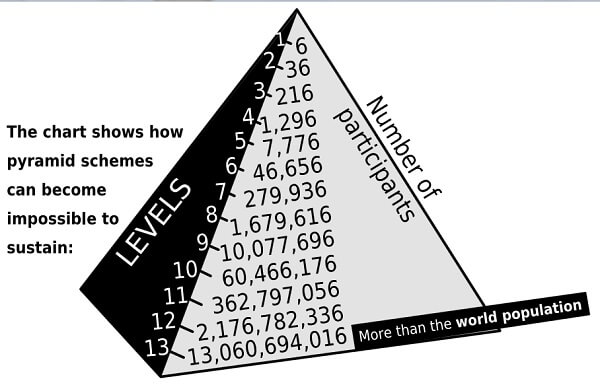 Novatech's offerings are unclear.
They promote an investment opportunity, but there's little evidence of members using their other products. Their focus seems to be more on the P.A.M.M. account for investing.
It's important to highlight that the majority of Novatech's revenue doesn't originate from product sales.
Instead, their primary source of income revolves around the NovaTech investment, which includes a $25 monthly fee for the investment opportunity, alongside referral bonuses and commissions.

When you invest in their P.A.M.M. account, they take a 30% performance fee from your profits. It's worth mentioning that a portion of your profits also goes to the people above you, which resembles a pyramid scheme.
Pyramid schemes are illegal because they rely on recruiting new members for money. When the number of new recruits declines, the scheme collapses.
The problem with Novatech is that their commissions heavily depend on recruiting rather than actual product sales, which raises concerns.
Is NovaTech FX Registered?
The company lacks proper registration, which means there are no regulations in place for NovaTechFX. Consequently, the funds and individuals involved are at risk and lack any form of guarantee.
Although some individuals may currently be able to withdraw funds, this temporary success is a characteristic of a typical pyramid scheme. Such schemes often appear functional for a couple of years before eventually collapsing.
While it cannot be definitively proven as a Ponzi scheme, there are compelling signs indicating its resemblance to one.
NovaTech FX Website Information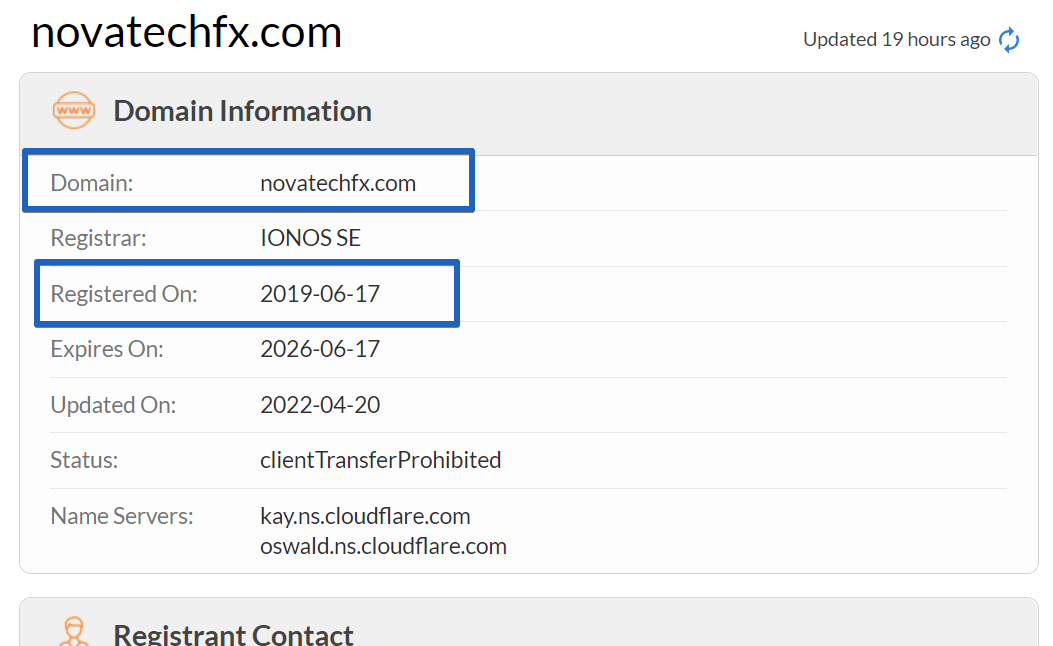 NovatTech.com, the second domain used by the company, was registered in June 2019, while their previous domain, novatechfx.io, used to redirect to the .com domain.
As of this update (May 2023), the .io domain might not work in some regions.
While this change may not raise immediate suspicion, it is somewhat unusual for legitimate businesses to switch domains within such a short timeframe
Despite a significant drop in April 2023, their website continues to attract a considerable number of visitors, with an average of about 35K people per month.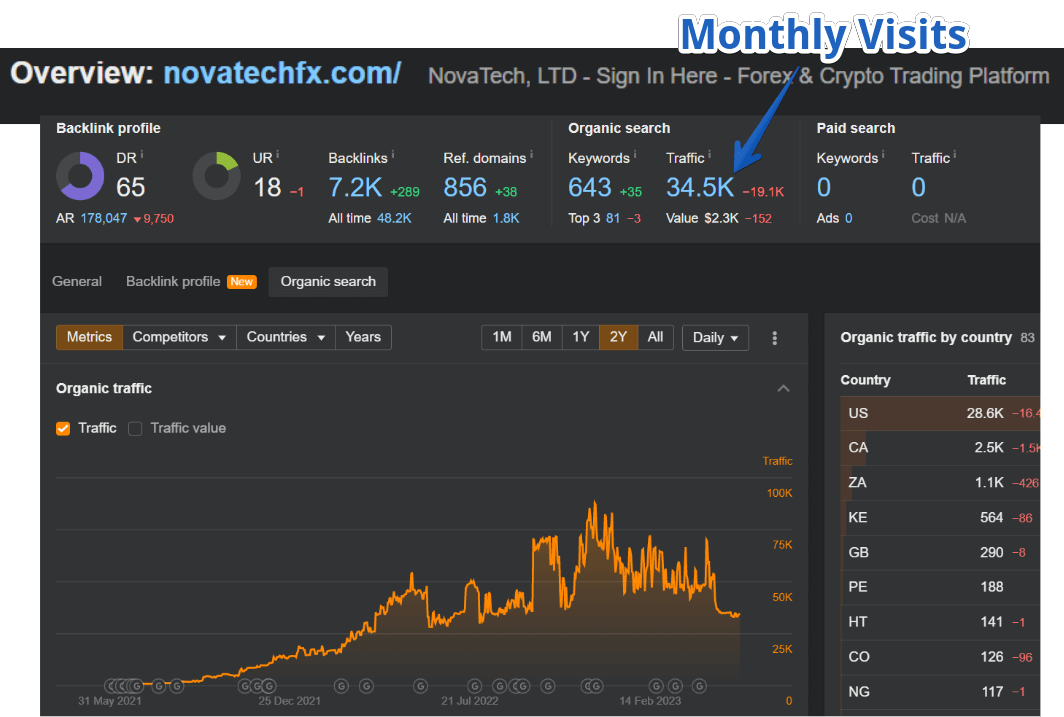 This suggests that the promised return on investment (ROI) remains tempting to individuals.
A NovaTech FX Walk-Through Video – Taken Down
I had a video embedded from YouTube featuring individuals associated with NovaTech FX, but unfortunately, it has been removed.
It's unfortunate because viewers could have formed their own opinions based on the content.
However, it is worth noting that the individuals in the video were promoting the company.
The removal of the video seems strange, as one would expect more videos, including testimonials if the platform was successful and profitable.
How to Make Money With NovaTech FX?
Let's assume that the company is legit and one is interested in how to make money with NovaTech.
When investing with NovaTech FX, you have the option to act as an individual based on your region or let the company handle the trading for you, allowing them to place funds wherever convenient.
According to the CTO, they do not co-mingle funds from different investors into one trading account.
Some investors, like the individuals from the removed video, claim to receive an average weekly return of 3.25% and have had no issues with withdrawals.
They kept repeating it and to me, it raises questions about whether it's just a sales pitch.
The company deals exclusively in cryptocurrency, requiring members to purchase and withdraw using digital currency.
Converting to local currency must be done through a third-party system.
Other Ways To Make Money with NovaTech FX
There are reportedly nine different ways to earn money with this system, but they all seem to be associated with the MLM structure.
For instance, members can create sub-accounts to recruit family members or others.
Given the nature of the individuals involved with NovaTech FX and the presence of numerous red flags, it may not be worthwhile to delve into the details of their compensation plan.
NovaTech FX Reviews
When you browse User Generated Content websites such as SiteJabber or Trustpilot, you'll often come across mixed ratings, with opinions on both ends of the spectrum.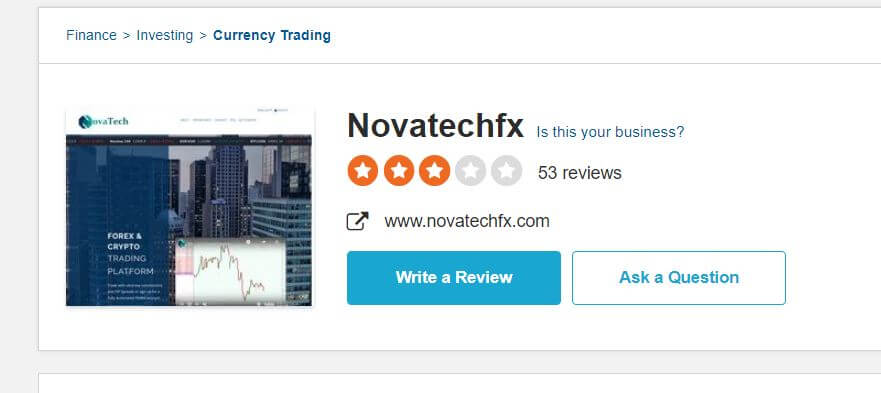 And, unfortunately, fake reviews are a concern.
So, who can you really trust?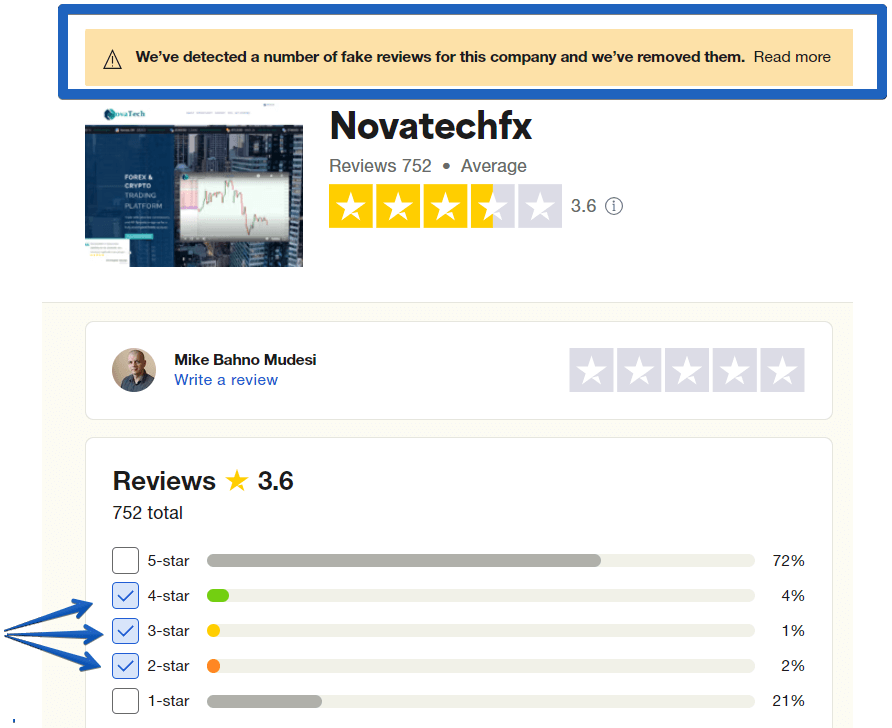 It appears that Trustpilot does make efforts to remove fake reviews, or at least a good portion of them. However, even if some fake reviews are removed, the presence of such reviews is never a good sign.
One approach is to filter out the extreme 5-star and 1-star reviews when there are enough of them. Instead, focus on the middle ground, where you'll find 2, 3, and 4-star reviews.
These often provide a more balanced and reliable perspective.
And here is the summary of Novatech FX reviews:
Category
Key Concerns
Withdrawal Issues and Lack of Communication
Difficulty withdrawing funds
Lack of customer support
Delays in processing withdrawals
Website login issues
Mixed Experiences and Concerns
Varied experiences from positive to concerning
Questionable high rates Issues with deposits and withdrawals
Suspected fake reviews
Region-Based Restrictions and Account Cancellations
Account cancellations due to regional restrictions
Difficulty retrieving funds
Lack of customer support
By the way, individual reviews like this one:
are not really relevant, since you see the email address there It is just a promotion of that individual.
My Thoughts on NovaTech Fx
To me, NovaTech FX is similar to other crypto MLM companies like Beurax, many of which have already collapsed.
The allure of quick money is understandable, but it raises concerns.
These companies operate like a house of cards, relying on new investors to pay the earlier ones.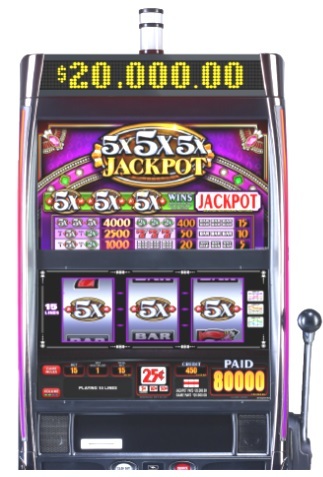 I'm skeptical of companies promising high returns, especially when combining crypto and MLM.
The lack of transparency regarding fund trading and the absence of live trades make NovaTech FX appear shady. Legitimate companies provide evidence of trading, which is not the case here.
NovaTech FX Red Flags
There are a few essential things you need to consider when it comes to investing:
Check the background and history of the people behind the company.
Ensure that the company you are investing in complies with regulatory requirements.
When we come across these red flags, it's a clear indication that Novatech may not be a legitimate trading platform.
Let's explore why!
Individuals with a shady history
Undoubtedly, Cynthia and Eddy have been associated with previous illegal schemes'
Notably, AWS Mining has already garnered significant information and reviews on platforms like Trustpilot.
Changes the domain from io to com
The switch from the .io domain to .com might seem like a minor detail, but it raises questions about why they made this change within just two years.
Login Problems
A common complaint among users is the difficulty in logging into their accounts.
Numerous individuals have reported being unable to access their accounts, leading to frustration and an inability to withdraw their funds.
Interestingly, this mirrors the login issues faced by users of the company's previous venture, AWS.
It strongly suggests that the company might be deliberately holding onto users' funds.
No Trading
Users have raised valid concerns about the lack of evidence regarding trading activity on the NovaTech platform.
Without concrete proof of live trades, doubts arise about the legitimacy and functionality of the platform.
Transparent evidence of active trading operations is essential to build trust and assure users that their investments are in capable hands.
Not Registered
The company is not registered with the SEC.
Based on Canadian securities regulators, it has been identified that Nova Tech Ltd. is an unregistered trading platform as of March 17, 2023.
That means they are not authorized to offer trading in securities or derivatives to individuals in Canada.
Novatech Reviews (Summary)
NovatechFX, an unregulated broker, has faced numerous complaints from traders, including allegations of scamming, withdrawal issues, manipulative practices, and poor customer service.
Here is a short summary:
Losing life savings to an online investment scam is a regretful experience; conducting thorough research is essential.
NovatechFX is an unregulated broker accused of scamming traders, manipulating prices, and withholding withdrawals.
Issues with NovatechFX include difficulty withdrawing funds, account restrictions, and unresponsiveness to withdrawal requests.
The initial positive experience turned sour with NovatechFX's unprofessional behavior; reporting and complaining led to a resolution.
The quality of their customer service varies, and many of them have expressed dissatisfaction with slow response times and unhelpful assistance.
Is NovaTech FX Legit? – Conclusion
NovaTech FX raises significant red flags and exhibits characteristics commonly associated with crypto MLM schemes.
The lack of transparency, reliance on new investor funds, and absence of live trading evidence undermine its credibility as a legitimate investment opportunity.
Exercise caution when considering involvement with such companies, as the risks outweigh the potential rewards.
If you remain convinced that this presents a promising business opportunity and you are prepared to make a minimal investment with them, please let me know in the comment section below.
Thank You For Reading,
Mike.
Whether you're an experienced trader or a complete novice and you're looking for a reliable and convenient solution to enhance your Forex trading experience, I can recommend checking out Forex Signals.
With its user-friendly platform and real-time insights, Forex Signals can provide you with the necessary tools to make informed trading decisions.
FAQs

Is NovaTech a legitimate company?
NovaTech FX raises red flags and concerns, suggesting it may not be a legitimate company.
Making money with NovaTech is not as easy as it seems, and it might be wiser to explore other options rather than taking unnecessary risks.
Is NovaTechFX regulated?
NovaTech FX is not regulated by the SEC, indicating a lack of oversight.
Canadian securities regulators have also warned the public about the unregistered trading platform Nova Tech Ltd, advising caution when dealing with their services in Canada.
Who owns NovaTech FX?
Cynthia Petion, one of the co-founders, serves as the CEO of NovaTechFX. Additionally, Eddy Petion serves as the COO and Ricardo Roy holds the position of CTO within the company.