There are so many products online, systems, and companies promising you to make easy money online or claiming to sell you ways how to have a passive income. 
I am sure you are aware of the fact, that a lot of them are scams or at least very misleading.
You have stumbled upon this product called MyBitcoinTube wondering whether is it a scam or not.
In this review, we are going to check this company, how to join, what is the compensation plan, and what is the earning potential.
Disclaimer
Please note, that I am not a member or an affiliate for MyBitcoinTube.
This review is based on research and information available online in the public domain.
Any recommendations and conclusions are only opinions and may not apply to all persons or situations.
Overview
Name: MyBitcoinTube
Website: www.mybitcointube.com
Price to Join: $0 to $19.95
Recommended: No!
I recommend Affiliate Marketing. Check the Pros and Cons of both business models (Affiliate Marketing vs. MLM).
MyBitcoinTube Review – Summary
MyBitcoinTube is a platform that claims to pay its members to interact with marketers or advertisers.
They offer 2 ways to make money,
Watching videos
Recruiting others to join the MyBitcoinTube
In reality, they don't pay for watching the videos – there are a lot of complaints that people did not get their money.
The only money that flows into the system is money from the new and existing members. There is no retail product and this makes the MyBitcoinTube a Ponzi Scheme.
These schemes are illegal almost in every country, so I strongly recommend, not joining the MyBitcoinTube. 
Their Website is shut down already and the domain is for sale.
There are many legal ways how to generate consistent income.
Here is a link to the method I have been using since 2017. 
Get Started for Free and I will guide you through the platform.
No Credit Card Needed – Just your email.
What is MyBitcoinTube?
MyBitcoinTube is a company promising you to pay for watching videos. As per their homepage, you should get up to $21 per video.
You are told that it is very easy, all you have to do is watch all the paid videos for about 20 seconds.
Then you get instant bitcoins.
This is an absolutely ridiculous statement as it does not make sense.
And what I find really strange is that they used to promise $210 for watching videos.
This is a screenshot of the homepage from a few months ago:
Most likely whoever is behind this system realizes that it sounds too good to be true, to pay more than $200 for watching the videos.
There are companies or websites (GPT – Get Paid to) that pay for watching videos, but these are just pennies.
MyBitcoinTube also promises to give you a commission when you recruit new members into this system. And there is more than 1 level, which makes the entire "business model" shady.
Whenever you see a company that has a multilevel structure and deals with cryptocurrency, the chances that this is a pyramid scheme are very high. 
Who Runs the MyBitcoinTube?
When it comes to systems/websites that promise to make money with them, always make sure to find out who runs the company.
Legit companies do not have any problems revealing the identity of their CEO or founder.
In fact, they are proud to share this information with you.
On the other hand, if the company does not disclose who runs it, you can be almost certain that you are dealing with some kind of scam.
As is the case with the MyBitcoinTube.
There is no information about who is behind it. It is a red flag.
I have reviewed hundreds of products from outright scams (check the list here) to misleading products (that promise you something for a fixed price but eventually you have to pay 10x more to get the results – f.e. 12-minute affiliate).
And I would never recommend a company that does not disclose the person who runs it.
How Much to Join the MyBitcoinTube?
It is free to register with MyBitcoinTube, but this way there is no way how to make money (assuming that the system works).
However, if you pay $19.95 you will have access to a lot more videos you can watch.
In other words, you can join for free, but you won't get any videos to watch.
So the only way how (in theory) to make some bucks is to pay the membership.
How to Make Money with the MyBitcoinTube?
There are 2 ways how you can make money
Watch videos and earn Bitcoin
Refer other people and make commission (based on the money they spend within the system, like upgrading or buying ads)
You are promised to get $21 per video.
This is absolute nonsense. No one pays for just watching the videos.
People who really make money on YouTube must have a Youtube channel that has at least 1,000 subscribers and 4,000 watch hours.
Then the potential is about $2 to $8 per 1,000 views.
But in no way a company can pay $21 for watching a video.
The other way is to recruit others into this scheme.
You should be making 10% on whatever your referral spends.
What Other People think about the MyBitcoinTube
Let me share with you other people's opinions about MyBitcoinTube. One of the sites where people share their opinions about different products is Trustpilot.com.
You probably know this site.
It seems that the reviews are not so bad. I mean average is OK, but let's check further.
Let's take a look at the positive reviews.
It is inevitable that these guys leaving the super positive reviews are just promoting this scheme. Some of them even use their referral link, thinking that they will make money off the new members.
And here are some real ones.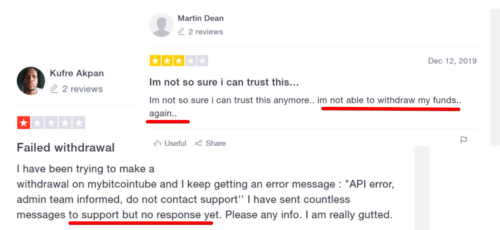 And there are a lot more complaints, on other review sites as well.
My estimation is that the MyBitcoinTube will eventually die out and most likely, whoever runs it will create a new system, very similar to this one to get other people's money.
What I like about MyBitcoinTube

There is nothing I like about this company
What I don't like about MyBitcoinTube
This is a Pyramid scheme (most likely Ponzi Scheme).
Recruiting as the only way how to make money (no retail products)
People are not getting paid
Is MyBitcoinTube a Scam?
It is.
People complain about not getting their money back. 
If people will stop paying the fees, this entire scheme will collapse in a short period of time.
The majority of people will lose their money.
This kind of scheme is illegal because they are just not sustainable.
There are many ways how to make money online but remember in order to make sustainable income online one must be willing to put effort into it.
And patience.
One of the easiest methods is affiliate marketing. 
It does not concern recruiting or building a team. People making money with affiliate marketing simply have a website ( or more) and they monetize the traffic that comes to that website. 
I did not know anything about internet marketing, or affiliate marketing but I took a course where I have learned everything I know today.
At the bottom of the article, there is a link that shows the method I have been using for quite some time.
If you have questions, or you want to ask something more about the MyBitcoinTube, let me know in the comment section below.
I will be glad to provide you with feedback.
Thank you for reading,
Mike