We all want to have our content to be ranked first on google and other search engines as Bing/Yahoo as well. But how can we do that?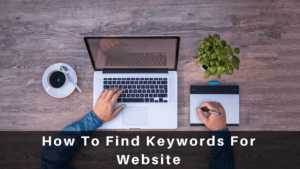 How do we "convince" google that our post/page/article is worth being on the first page? With millions of websites, blogs, articles on the internet; Is it still possible to rank first on google?
The answer is: Yes, it is.
There are seven simple steps you want to obey. We won't go through all 7 though. In this article, we will be covering only one and that is the proper selection of keywords. You can check the seven steps as well, if you are interested.
One of the most crucial factor when it comes to the SEO  is the properly chosen keyword.
So, how to find keywords for a website?
The easiest way is to use a tool, called keyword research tool. There are many such a tools available these days.
But first of all let me explain you the phrase "keyword".
Keyword is not just a single word. In fact, it is a structure of few words which makes sense. With the voice search , it is becoming more and more common to use short sentence.
That means, instead of searching for term like "Start Online Business" we might rather use "how to start an online business".
As an example let's take a look at this long keyword. Note the suggestions that google offers:
These suggestions underneath our Long Tail Keyword, are based on what people look for. Few of these keywords make perfect sense for my next article and I want to know which one would be the best.
What I mean by best?
I want to use such keyword on my website that will trigger the traffic and at the same time I want to make sure that there is not too much competition.
How do we check the number of competitive websites that shows in the search engines, after using our specific keyword?
– Manually, by typing the phrase in the search engine and counting how many sites are out there.
Well – Don't Worry I am just kidding!    🙂
Quick Preview
Short Review of Keyword Research tools
Seriously;
There are many available tools how to check the competition, and not just the competition. By using good keyword research tool (I use Jaaxy) you can also find out how many times people type that keyword into search engine bar. In other words you can check the average number of searches that the keyword received per month.
You will find many keyword tools out there. I am aware of at least 15 great Keyword Research Tools.
We won't go through all of them though. I just have prepared a short list of 5 keyword research tools which you can take a look and try. Then decide which one you like the most.
Keyword Research Tool(s)

By using such a tool you will be able to pick specific keyword and thus you can increase your traffic by 20-50% over few months.
As you already have noticed, it is essential to use great keyword. The question is how do I know which keywords is the best to use? What parameters I should be looking at?
Good KW research tool provides you with certain types of data or parameters. Based on these data we can easily determine whether we are about to use a "good keyword", or we want to choose a different one, but still related to the initial keyword. Let me explain;
Here is an example of KW Research tool I use (this one is called Jaaxy), so you can get a better conception. I have used a keyword (phrase) "business online".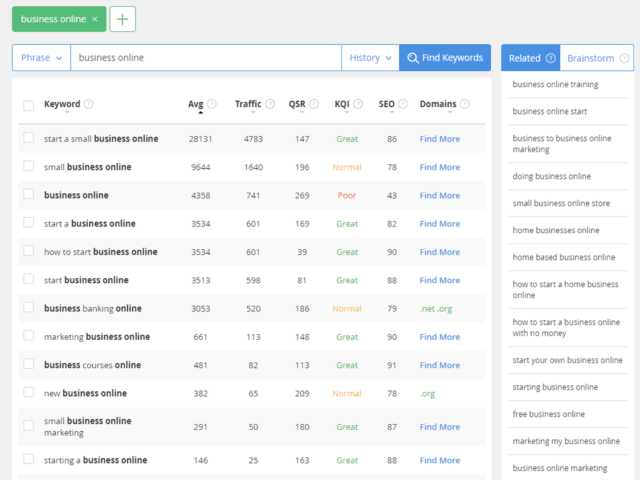 You see that besides some numbers, we get also phrases related to the initial keyword. These are generated automatically by the tool itself. This tool gives us more suggestions which might get better results comparing the initial phrase, we came up with at first place.
Looking at the numbers we might feel bit confused at first, but don't worry about it at this point. The screenshot is taken from Keyword Research Tool called Jaaxy, and we will talk about Jaaxy later – down below.
What Makes KW Research Tool a
Good

KW Research Tool

Good KW research tool provides you with following parameters:
Average search per months
Number of competitive sites which are triggered by that phrase
Potential visits to your sites if you are at 1st page of search engines
Overall keywords quality indicator
List of suggested keywords which are similar to that one you just typed
Related keywords to your targeted keyword
Option to save the list of your favorite keywords
Availability of domains that are related to your keyword
The thing is, that not all the available keyword research tools are able to generate all these parameters above.
Let's go to check most common keyword tools. Some of them are free, some of them are paid. But even the paid ones you can try for free (there are like 30 searches available.)
1. Google Keyword Planner by Google Ads
Google Keyword Planner of GKP, is for free.
First of all, you need a Google Ads account. If you do not have one, just click on the link and proceed as requested.
If you ever tried PPC (Pay-per-click, also known as cost per click – CPC) with Google Ads, you are familiar with this tool. You most likely even tried the Keyword Planner.
(As a site note; You are using Google Keyword Planner, you will be getting data directly from Google, which is very useful, I guess – right ?  😉 )
Google has recently updated their platforms, so when you want to get into the Keyword planner, after login in, just follow simple steps: -> Planning -> Keyword Planner
You have then 2 options:
Find new keywords OR Get Search Volume and Forecast.

For sake of simplicity we focus on the 1st option: Find New Keywords. (We decided to have a dedicated post to GKP only).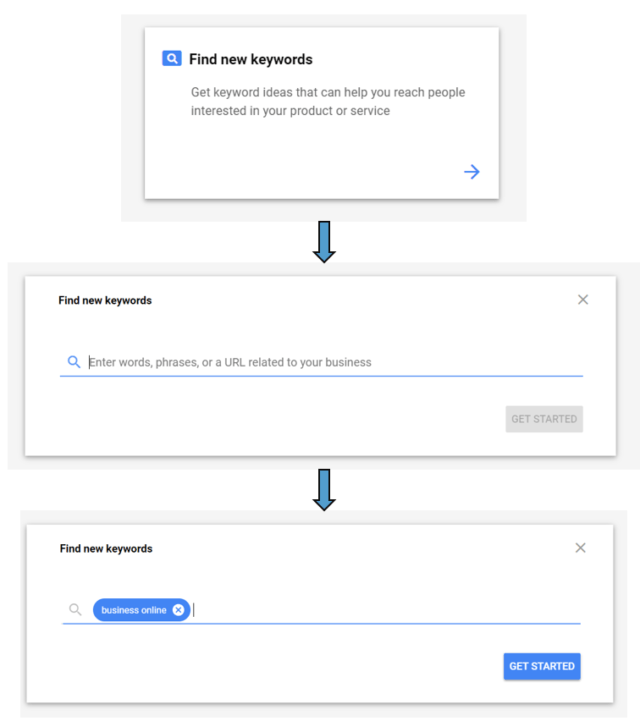 By Entering our KW we will get into the Keyword Ideas.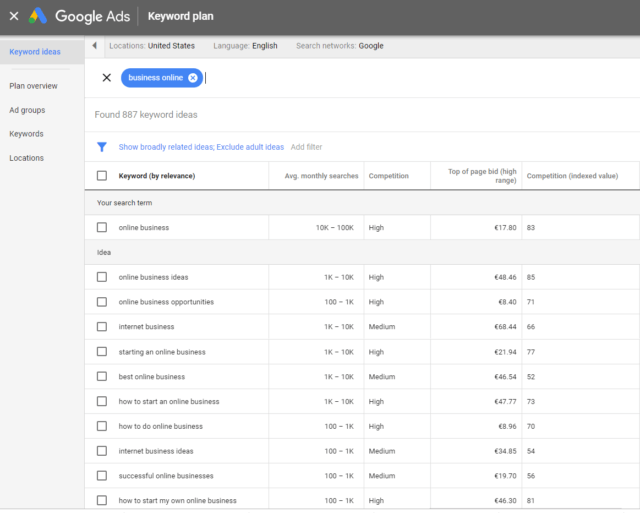 So we see the results such as Average monthly search, Competition or Top of page bid. The Average monthly search gives us the popularity of KW during the year. As you can see it is pretty wide range – not really accurate number. There is a trick how to get more specific data out of GKP (Google Keyword Planner).
How about the column with Top of page Bid information. That is the amount people are willing to spend on ads. Higher number means more lucrative keyword. That means that advertisers are willing to pay more than $48 for a word like "online business ideas".
If you would like to learn more about GKP, you can go to check my article dedicated to GKP only. You will also learn some exciting tricks how to get much more detailed data out of the GKP.
2. Google Trends
Google Trends is not exactly a keyword research tool. But it gives us a suggestions and most importantly, we see whether the keyword is becoming more popular or less over a time.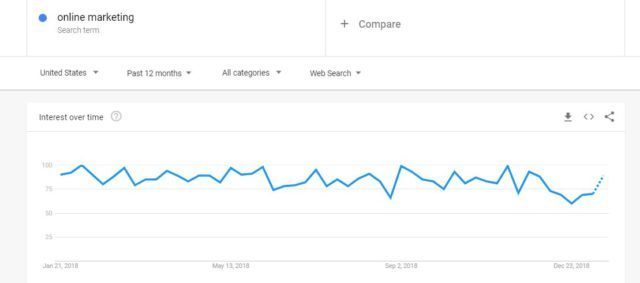 Actually you can even choose the location in the world and check the popularity of that phrase. Add similar phrase to see which ones is more popular in the specific country/region.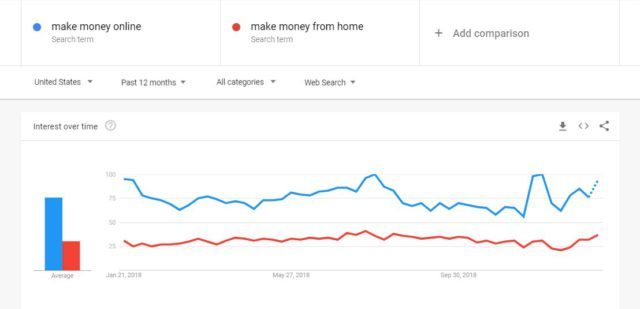 Scroll down and you see specific location where your phrase popular is. Also, you have some keyword suggestion to check.
Again, all these results are coming directly from Google, so you can't go wrong with that.
By comparing 2 similar keywords (KW) you clearly see which one makes better sense to go after.
As a tip – You are probably already aware of the fact that YouTube is 2nd most popular Search Engine. Having said that you might appreciate the option in Google Trends – YouTube Search:
3. Soovle
Soovle is very-easy-to-use tool for Keyword ideas. You can get new ideas when it comes to similar keywords.
Have you noticed I misspell the Soovle word? I just could not remember the proper spelling. I only knew that it has something to do with solving and that there is double "o".
And – Google found it for us 🙂 
Type your Keyword, and you will get results in several Search Engines simultaneously. You get nice overview right in one place: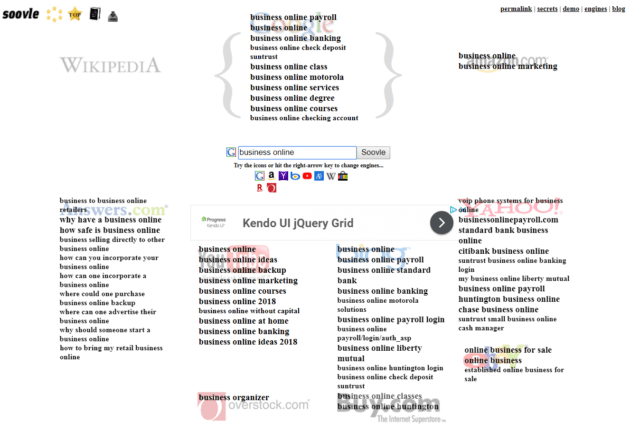 You can now click on one of the phrase and you will be directed to the specific website/Search Engine, as you would search for that specific keyword inside the same website/Search Engine.
TIP:
You can save your favorite KW in Saved Suggestions and then call it out. Soovle remembers the save keyword phrase, even after you leave the Soovle website.
You can even download your KW list as a CSV File.
As mentioned, very easy to use, so no more explanation needed. And to me using Soovle it is also fun.
The downside is that you will not get enough parameters about specific keyword as you will get out of GKP or Jaaxy.

4. Jaaxy
Jaaxy is uncomplicated and easy to use keyword research tool.
You type your Keyword inside the Jaaxy and it automatically gives you 20 different search results, based on your original KW.
That gives you more ideas, and what is most important you see how well you will rank since the tool determines difficulty of competition (remember we have talked about above).
What I love about Jaaxy is that all results you have at one place as per screenshot below.
Let's mention only most important data Jaaxy gives us:
Avg.: this is the average number of searches that the keyword receives per month.
QSR stands for Quoted Search Results and this number gives number of competing websites using the very same keyword – very important information, right?
So basically you want to have a large Avg (ideally above 100) and low QSR (below 100). You can get more familiar with Jaaxy in this dedicated post.
5. Alphabet Soup Technique
I am sure you are already familiar with the Alphabet Technique. Maybe not by this specific term but the technique I am about to share with you is very common.
It is great and very simple way to get ideas for keywords. And we have shortly touched this technique at the very beginning – remember the suggestions that google gave us?
Well to get the most out of this suggestions, we can proceed systematically.
What I mean by that:
We take our phrase "Online Business" and we start adding letters A, B, C, D … in front of the phrase.
Online Business + a
Online Business + b
Online Business + c
..
..
Online Business + ab
Online Business + ac
..
..
We can even start to add the letters after the phrase.
a + Online Business
b + Online Business
c + Online Business
..
..
ab + Online Business
..
af + Online Business
Some of them will not make sense, but eventually you will get tons of ideas like the one where I typed AF "phrase":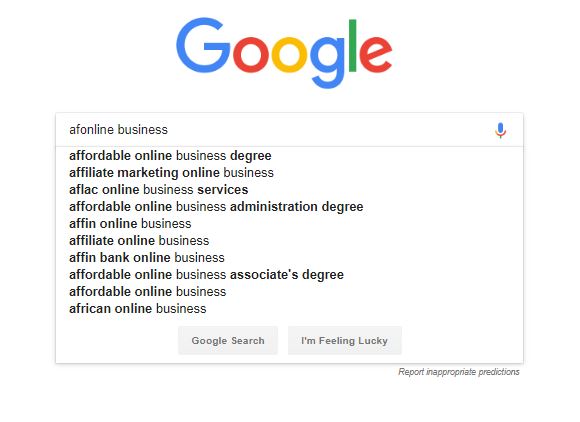 My personal favorite is not exactly the Alphabet technique; rather I use the keyboard "QWERTY…" technique. To me it is little bit easier.
Online Business + q
Online Business + w
Online Business + e
Online Business + r
Online Business + t
…
You will get literally tons of new keyword ideas and as there are more and more people online, there will be only more suggestions for us.
6. Ubersuggest
Last but certainly not least let's not forget about Ubersuggest.
This is a free keyword research tool. It was obtained by Neil Patel in February 2017 for something over $100,000. That is just a side note.
What I probably like the most about this keyword research tool is that you can even choose the region. If you do for example a business worldwide using also other language than English, then this is the easiest tool you want to use.
But let's stick in the English speaking environment 🙂
Ubersuggest gives you 2 different results right in one place.
Firs of all you see the the search results over last 12 months. You can determine whether people search more for that specific keyword or the tendency has decreased.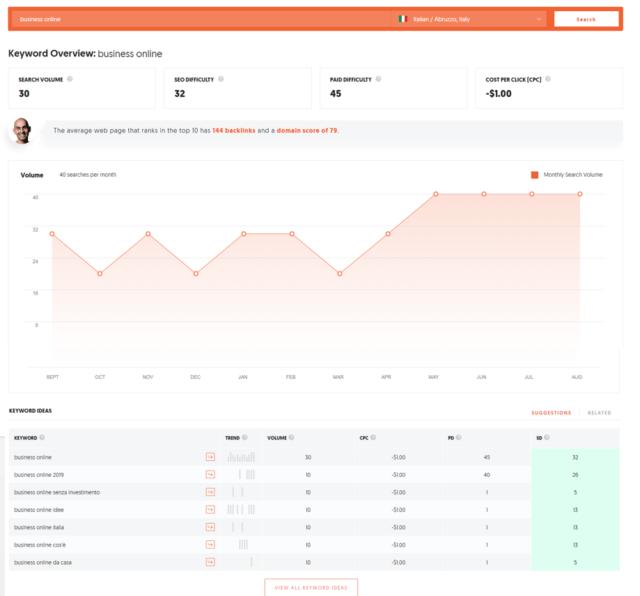 Right below you see the Keyword ideas. These are suggestions for you and they are based on what people type in google sear bar. Besides that you several useful data:
Trend – This is search volume of that keyword over the last 12 months
Volume  – this is a number of how many searched this keyword has per month
CPC – or Cost per Click is the average cost if you wanted to run google ad and you want your ad to be visible
PD – or Paid Difficulty is estimated competition in paid search. higher number there is, the more difficult the competition is
SD  – SEO Difficulty. This is also estimated competition, but in the organic search. Again higher number the more competitive website there are for that particular keyword
I suggest you to check out the ubersuggest by your self. It is pretty easy to use and there are many interesting features which will help you with the proper keyword selection.
Other Tools
There are of course other tools you can try. What comes to my mind, there is for example Moz Keyword Explorer. It is considered a very powerful tool, but you have to pay for it. I believe there is like 30 day free trial.
SEMrush is also great tool, but again bit expensive. If you have a full time income from online business you have probably already thought about getting the SEMrush.
But if you are still not very familiar with the Keyword Research I suggest to start with the free tools. Go ahead start to do some keyword research and soon you get that feeling that you know what you are doing.
Conclusion
It is very important to use the "right" keyword within the content. In order to have that done, it is recommended to use a keyword research tool. We have covered few of them. It doesn't matter which one you choose, feel free to find out which is your favorite tool and use it.
I can't help myself but I have a feeling that I might have missed something. I leave the comment section below open, so you are welcome to ask me questions or if you feel like share your ideas as well.
Please follow and like us: