This site contains reviews of more than 200 digital products (including MLM companies, surveys, affiliate marketing courses, and so on). 
In one of my reviews, in the comment section, I found a question regarding a company called Bixinfinance. 
In case you are interested in cryptocurrency and how to make money, I am sure you have stumbled upon Bixinfinance already.
Is it a scam or legit? 
In the following Bixinfinance Review, you are going to find out everything you need to know about Bixinfinance. 
I won't bore you with details, so in a few minutes, you will have a nice overview of this site. 
The product/company is not available. It was just another scammy system like many others.
This system has a lot of common signs with existing pyramid schemes, so you can read on.
Disclaimer
Please note, I am not a member or an affiliate of Bixinfinance. This review is based on research and information available online in the public domain.
Any recommendations and conclusions are only opinions and may not apply to all persons or situations.
Bixinfinance Review – Quick Summary
Name: Bixinfinance
Website: www.Bixinfinance.ltd – the website is down
Price to Join: $25 up to $10,000
Recommended: No
Bixinfinance is supposed to be an investment company where clients are promised to get 15% to 18% daily returns.
Besides these ridiculous promises, there are other red flags.
There is no information about who runs the company.
It has no retail products and the only money that flows into the system is money from its clients
As of this writing, there is news that Bixinfinance does not pay out. Meaning it is a matter of time until this shuts down, completely. (Actualy it is happening).
Hopefully, you have not invested in this company, since you would be a victim of an outright Pyramid Scheme.
What is Bixinfinance?
Bixinfinance is a company that trades with many cryptocurrencies, meaning Bitcoin, Ethereum, Litecoin, and so on. According to their site, they use different strategies to generate profits and that is shared with their clients.
They promise up to 18% returns daily!
Well, this is where one has to be careful.
Whenever a company makes such a promise, be aware. There is a high chance that you just came across a scam.
There are many "investment" companies dealing with cryptocurrencies promising high returns but the truth is that most of them are pyramid schemes (For example PGI Group, or Auvoria Prime).
These are still new companies, and most of them don't last more than a year.
Bixinfinance's website was registered only in June 2020, so it is still a pretty new company.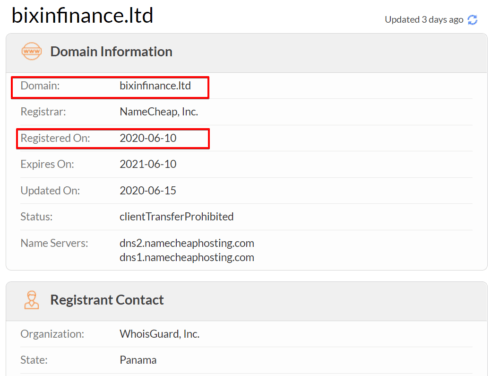 Research shows that the site does not have a lot of traffic.
The company is headquartered in Hong Kong.
At least that is the address they use on their website.
Founder of Bixinfinance
There is no information about who the founder is on their website.
So I wrote an email to Bixinfinance support asking who is the founder of this company.
The answer?:
"Bixinfinance is owned by a group of top Hong Kong-based bitcoin traders licensed to operate under strict compliance of the Hong Kong investment law"
and about 10 minutes later I get another email saying:
"Bixin was initially founded by a veteran mining expert Wu Gang who began mining Bitcoin during its infancy at early 2009."
Well, I am not convinced.
Wu Gang is a founder of a different company called Bixin Global.
It is pretty evident that the guy writing that email simply has taken (almost copied and pasted) the information from the MarketScreener website and send it to me.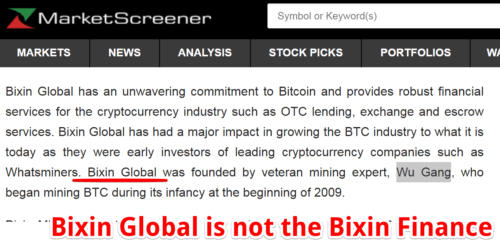 The email has no structure. He does not say hello, with best regards, nothing.
So it is safe to say, that there is absolutely no information about the founder of Bixinfinance or the people who run the company.
The About Us Section page shows that there are these three people, but it is just a stock photo.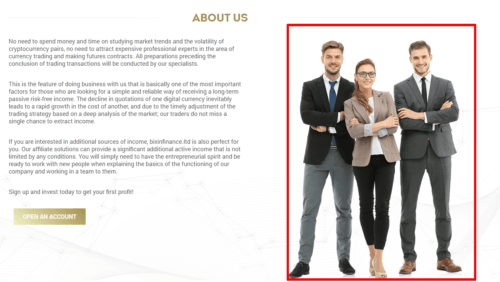 And here is the proof:
Would you invest your money in a company with questionable headquarter and you don't even know the people behind it?
On top of that, take into consideration the unrealistic returns – doesn't it sounds too good to be true?
I don't know about you, but I would stay away from Bixinfinance.
How does it work?
As I said I don't want to bother you with details.
By now we know that there are too many red flags to consider this company trustworthy.
There is no evidence that Bixinfinance has an eternal source of income.
So the only money that allegedly their clients earn is money from new "investors".
The company has no products to sell, so it makes it a Ponzi scheme.
How much does it cost?
Bixinfinance has several plans and the price ranges from $25 to $10,000.
Any More Red Flags?
Well, we have covered already a few of them. Enough to convince anyone that this is not a good idea to send money to these guys behind the Bixinfinance.
As a Hong Kong-based company, they need a license from the regulator SFC in Hong Kong. Otherwise, they can't operate legally. 
There is no sign of Bixinfinance on the SFC website. 
In other words, Bixinfinance is not registered with the SFC. 
We have mentioned already the promises they make when it comes to returns. 
I am sure you know that any trading is risky and no one can guarantee you daily profits. It goes up and down, that is its nature of it. 
Bixinfinance has no other income than the money they take from their "clients". That makes it an outright Ponzi Scheme and it is just a matter of time until this system collapses. 
What I like about Bixinfinance

There is nothing I can like about the Bixinfinance
What I don't like about Bixinfinance
No information about who runs the company
Unrealistic income claims (daily returns they promise are just ridiculous)
The company is not registered with the SFC
Bixinfinance – Conclusion
In this Bixinfinance Review, we have covered enough to show that there is absolutely no point in getting involved with the company.
Too many red flags and there is not a single positive point about his company.
My advice – stay away from Bixinfinance.
In case you have questions, or you want to know how to make money online, please use the section below.
I will do my best to give you feedback within 24 hours.
Thank you for reading
Mike