Hello and welcome to the Torque Trading Review.
In about a few minutes you are going to find out what is this company all about, whether there are any red flags, and how much can one earn (if anything).
I have done more than 200 reviews, mostly on digital products, courses, and MLM companies, and recently there is a boom when it comes to MLM cryptocurrency companies.
Let's take a look at Torque Trading or Torque Superwallet.
Disclaimer
Please note, that I am not a member or an affiliate of Torque Trading.
This review is based on research and information available online in the public domain.
Any recommendations and conclusions are only opinions and may not apply to all persons or situations.
Overview
Name: Torque Trading / Torque Superwallet
Website: www.torque.asia
Price to Join: 1ETH, which is about $1,500.00
Recommended: No!
I recommend Affiliate Marketing. Check the Pros and Cons of both business models (Affiliate Marketing vs. MLM).
Torque Trading Review – Quick Summary
Torque Trading is supposed to be a cryptocurrency investment opportunity. It was registered in 2019.
They basically offer their "investors" a passive income.
The problem with Torque Trading is that it is not registered in any jurisdiction and therefore this company can't operate legally.
On top of that, the only money that flows into the company is money from the new investors to pay the original investors.
There is no retail product no service that the company has to offer.
With that being said, Torque Trading operates as an illegal pyramid scheme (or Ponzi Scheme) and it may collapse at any time.
By the time you read this, it most likely has already collapsed.
People who want to learn how to make an additional income stream spend a lot of time researching what is the best path.
There are many methods, and in 2020 we have witnessed that it is a good idea to build an online business.
Affiliate marketing is in my opinion one of the best ways how to generate income in the long term.
Anyone can take a look at the platform teaching how to make money with affiliate marketing:
The first lesson is for free and in order to get started, your best email address is enough. See below:
What is Torque Trading? Or Torque Superwallet?
Torque Superwallet or Torque Trading is an online platform dealing in Cryptocurrency trading. It supposed to provide investors with services that will allow them to earn a passive income.
Apparently, it is easy to get started, you only need to create an account, invest in ETH (or other cryptocurrencies) and you are going to receive daily rewards.
Here is an introduction video:
[The video is not available anymore]
Here is one of 2 videos that are available on the Torque trading system Youtube channel:
It sounds pretty easy.
You send your money and just watch how your account grows.
A perfect way how to make passive income from home.
They have their own account, it is called Torque account and it is estimated that you can get 0.1 to 0.4% daily rewards.
Additionally, you can earn also from your referrals.
So this works like an MLM company.
In that case, they should have some tangible (or at least) digital products, right?
Otherwise, it would be a Pyramid Scheme.
But let's check first who runs the Torque Trading.
Who Runs the Torque Trading?
On their website, there is no information about the founder. However, it is not like they don't want to show us who runs it.
It is clearly stated on the 2nd website, called torquesuperwallet.asia.
This 2nd website was registered only in August 2020.
Bernard Ong is the CEO of Torque Trading.
Recent research shows that daily returns have been disabled, meaning that this Ponzi scheme is about to collapse (most likely it has already started to collapse).
And the CEO, Bernar is blaming an employee.
What a great way to deny responsibility.
Is Torque Trading a Pyramid Scheme?
Sometimes it is not easy to find out whether we are dealing with a pyramid scheme or not.
As a thumb of rule is, a legitimate MLM company has to have some retail products. In theory affiliates with such a company must generate some revenue from selling these products.
And of course, they receive a commission from their referral and from the referral of those referrals.
But if you have a multi-level structure where existing affiliates are paid from new "investors" only, then it can be considered as a pyramid scheme.
Torque Trading has no products to sell, so the only way how affiliates are getting paid is from the membership of their downline.
How Much to Join the Torque Trading?
Well in order to be part of their game it is necessary to invest at least 1 ETH. As of today's writing 1, ETH equals $1,509.37.
Actually only $1,504.05.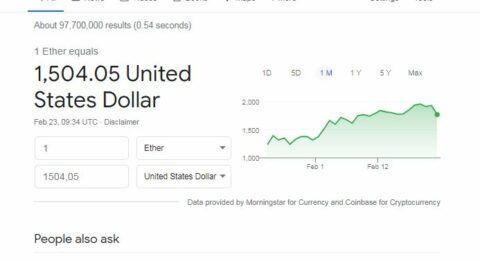 Then, allegedly you earn advertised 0.15% to 0.45% daily ROI.
Compensation Plan
Compensation plans are usually very complicated and I don't want to bother you with all the details.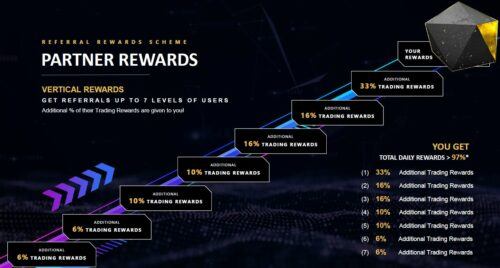 Just briefly, to mention that Torque Trading/SuperWallet uses a uni-level compensation structure that looks like this:

In theory, a person who is recruited directly by you is automatically placed on the 1st Level.
If anyone from the 1st Level recruits new members, these "newbies" are placed on level 2.
If these guys from level 2 recruit new members these are placed on level 3 and can go deep down until in theory the entire population is involved.
Of course, it is not sustainable and therefore these pyramid schemes are illegal in most countries.
However, Torque Trading pays down to 7 levels.
In case you want to read the whole document, it is available here.
It has almost 40 pages.
What Others Say about the Torque?
You may have already seen the reviews people writing at Trustpilot.com.
There are many positive ones for sure, but have you noticed that since February 9th, 2021 there are only negatives ones?
Let's check the negative ones first.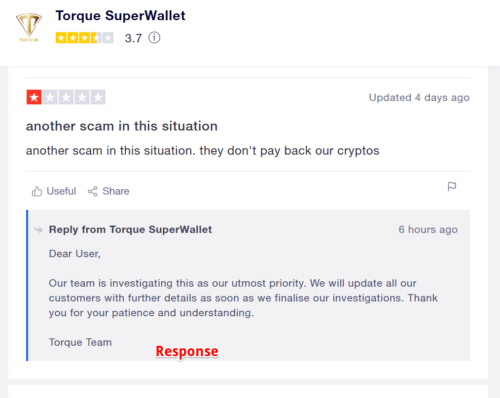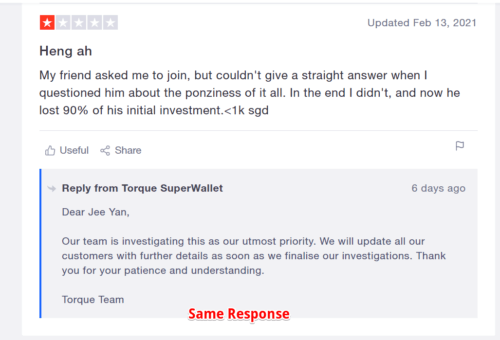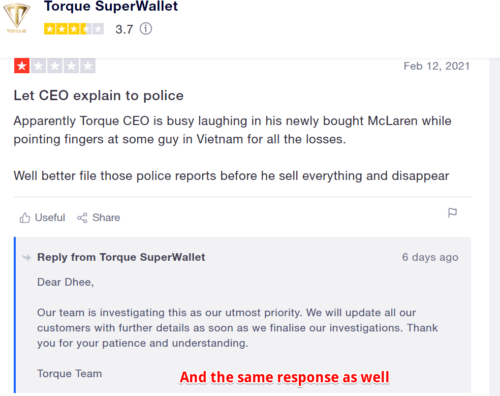 People behind the Torque Trading replying to those reviews, obviously make sure to be as specific as possible.
(Hopefully, you have noticed my ironic tone in the sentence above).
And here are two positive ones.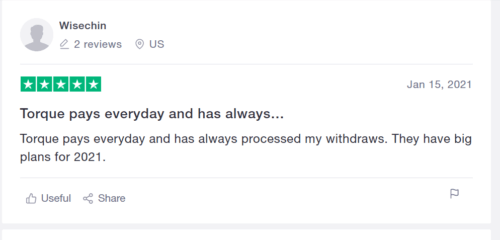 The 2nd one is obviously a member trying to recruit new investors.
We know that the company was registered in 2019. Such Ponzi schemes usually last a year (maybe a bit more), so this is actually the time when people start to realize that is the Torque all about.
A Scam.
What do you think?
Please share your opinion in the comment section below.
What I like about Torque Trading

There is nothing to like about the Ponzi Scheme
What I don't like about Torque Trading
Not registered in any jurisdiction and therefore Torque Trading can't offer passive returns legally
All signs of Ponzi Scheme
Not transparent about the founders
Is Torque Trading a Scam?
This company offers passive returns and that means that Torque Trading must be registered in order to offer securities.
The truth is that Torque Trading is not registered in any authority.
Also, note that this company depends on funds from the new affiliates to pay the existing ones.
Torque Trading has no retail products, so to sum it up this is a Ponzi Scheme.
The bottom line?
Don't get involved with Torque Trading, nor Torque Superwallet.
There are many ways how to make money online.
I am not going to linger about the method I use (if you are interested you can check the link at the very bottom of this article).
I believe we have covered enough about this Torque company.
So stay away from it.
Before we wrap up let me just mention a few fundamental rules when it comes to investing:
Make sure that you have a way out quickly
Don't invest more than you can afford to lose
Note that you are on the outside of the system, looking in; and people who inside have a plan, you don't know about.
If you have any comments regarding this article or you want to share your opinion about a similar company, please use the comment section below.
Thank you for reading,
Mike