I have received a request to check this site out.
It is called StakeXChain and in the following review, we are going to check whether this system is legit or not.
I will do my best to not bother you will the details.
This will be a short review.
We will go through the pros and cons and after that come up with a conclusion.
Let's get right into it.
Disclaimer
Please note, that I am not a member or an affiliate of StakeXChain.
This review is based on research and information available online in the public domain.
Any recommendations and conclusions are only opinions and may not apply to all persons or situations.
StakeXChain Overview
Name: StakeXChain
Website: www.stakexchain.com
Price to Join $45 to $1,440
Recommended: Not Really. 
I recommend Affiliate Marketing. Check the Pros and Cons of both business models (Affiliate Marketing vs. MLM).
StakeXChain Review – Quick Summary
StakeXChain is an e-commercial company operating online and offline. It seems that it is based in the Philippines, although the address they use on their site is not accurate.
Apparently, they use a new innovative business concept, but the truth is that they have incorporated a network structure within the company. Meaning they operate as an MLM company, where you can recruit other 3 people and earn 10% of the shopping volume of these 3 guys.
There are many red flags, including questionable CEO.
This is still a new company so it is not quite clear whether it is a scam or not
Considering that many red flags, though I don't recommend joining the StakeXChain.
There are many ways how to generate consistent income.
The best way is to be in a content creation business. It does not matter whether written content or video content.
If this is something you are interested in check the link below where you can explore a specific education l platform for free. 
What is StakeXChain?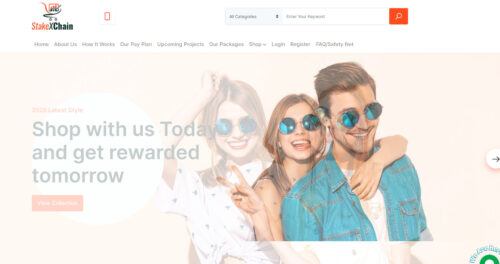 StakeXChain is an e-commerce platform where customers can purchase a lot of different products.
The disadvantage is that only members can purchase the products on their site. Later we are going to see how much it costs to be a member of this site. 
According to their website, they have a "new innovative business concept". In other words, it has a multilevel structure, meaning that besides the membership you can recruit 3 people (or more), and you will get a percentage of what they buy.
This goes many levels deep and we will get to that in a bit.
It seems that the company is based in Philipines, although the address of their headquarters is not quite clear.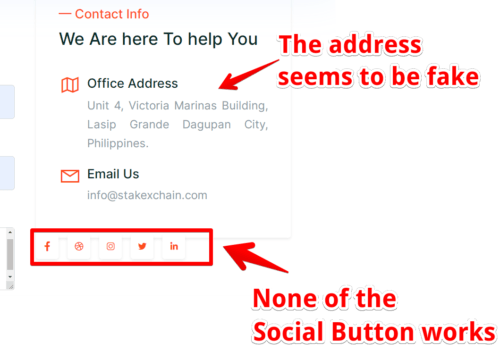 The thing is that there is no Victoria Marinas Building in Lasip Grande Dagupan City.
(The only Victoria Marinas Building I have found is in Canada. )
I have contacted them using the email above, still waiting for a response. 
Based on their website, the StakeXChain internal training program has existed since November 2017.  The e-commerce company was launched 2 years later in 2019, and the pre-launch was in August 2020. 
This website was registered only in July 2020, so I am not sure what platform did they use prior to July 2020.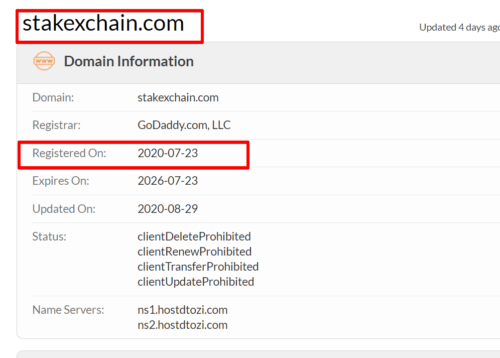 What is quite unprofessional – One would assume that such a "great company" would have no errors on their website.
I mean, that none of the social buttons right under the addres does work, at all (please see the 2nd image above).
Besides, their "contact us" page does not work either.
They do have a chatbot available, but I did not get feedback there either. 
How about in 2022?
They did change the platform and it looks nicer.
However I tried to get in touch with them (again), and their contact form doesn't work.
Also, I did write them an email, but no response (yet).
Who Runs the StakeXChain?
Apparently, a person named Florence Rosales is the founder of StakeXChain.
I could not find any more information about this individual, and also his photo seems to be on a few different platforms.
I mean he might the right person behind this platform, but considering their address and other errors, I would be don't be surprised that he is just a fake CEO.
This is a screenshot from one Pinterest account.
Social Media Presence
His profile is nowhere to be found and I have checked Facebook, Instagram LinkedIn, and Twitter – Unfortunately did not find any trace…
I did find the same image on Twitter, but with some links that do not work. 
The company has actually a Facebook account but it does not seem to be very active.
As of today's writing, there are only 290 people who like it. That is not a lot.
As already mentioned Twitter and other social icons within the StakeXChain website do not work.
Is StakeXChain a Pyramid Scheme?
This system has tangible products so at this point we can't say that this is an outright pyramid scheme. 
People do purchase the products and even though StakeXChain has a multilevel structure, the commission is from the sales of the product. Not from the recruiting, 
However, there are other red flags I am going to point out in a bit.
How to Sign up?
You need to have your sponsor's id before signing up. That is actually normal within any MLM company.
Then there is a bunch of information you have to fill in.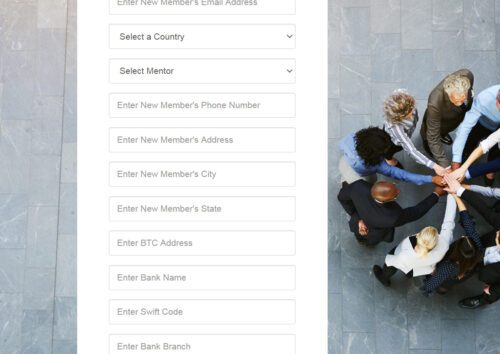 Besides Your Telephone number, addres, city, and BTC address you need to enter also your: 
Bank Name
Swift Code
Bank Branch
Your account number
I have never seen such a requirement while signing up for a membership.
They ask for your bank details – I personally see this as a red flag.
Why can't I just pay with my credit card?
Or Payal?
Well, apparently they have 2 payment options,
E-Wallet
Online
The online does not work.
How Much to Join the StakeXChain?
Right at the registration process, you have to choose your package.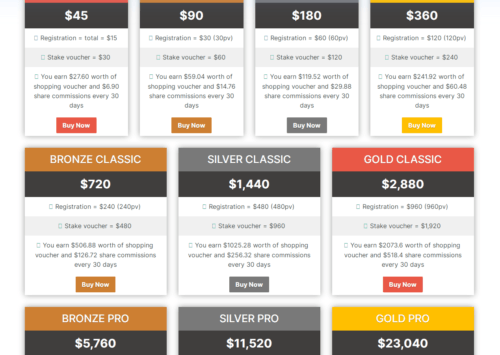 The cheapest one costs $45.
Then there are the following options:
Bronze Basic $90
Silver Basic $180
Gold Basic $360
Bronze Classic $720
Silver Classic $1,440
Gold Classic 2,880
Bronze Pro $5,760
Silver Pro $11,5205
Gold Pro $23,040
What is inside the cheapest package? 
– Registration
– Stake voucher
– Shopping voucher worth $27.60 and $6.90 share commission every 30 days
How about the most expensive one?
For more than $23,000 you get:
Registration
Stake Voucher
And you can earn $17,694.72 worth of vouchers and a $4,423.68 share commission every 30 days.
Note:
When I click on the "buy now" button it does not work…
Compensation Plan
Compensation plans are not fun to read – and that applies to any MLM company.
Concerning the StakeXChain, here is just a short description of how it works.
Let's assume that you already have 3 people and each of them has found another 3 people (very difficult but let's go with the example). All of them did a purchase worth $100.
You are going to earn 10% from the 1st level, so it is $30.
From the 2nd level you are going to earn 15%, so based on the Price tag we have used above ($100 package) you are going to earn $15 from each person in the 2nd level, which equals $135.
Your total earnings are supposed to be $165. 
But Company keeps part of that money as their profit and pays the rest to you in portions every 30 days. That way they keep you as a member. In other words, they keep you a hostage. 
To sum it up
You pay $100 just to get into the system.
Now you have to find 3 people who'll find another 9 – Based on that scenario you earn $124 to $129.
Now is this a sustainable business model?
Besides, it is extremely difficult to fund so many active members within a short period of time.
The only way how to earn real money here is to have tons of people beneath you.
It resembles a pyramid scheme.
My advice – Don't get involved with the StakeXChain- most people lose money when it comes to such a system.
StakeXChain Red flags
There are other red flags we have not mentioned.
For example according to their Terms and Conditions page, here is what it says about refunds:
Refunds within 0 days of the original purchase of the contract.
What does that mean?
My understanding is that there are no refunds whatsoever. Once there is a zero days, it means zero hours and the sentence makes only one sense: 
– No Refunds. 
Another one is their chatbot.
I did not receive any feedback.
And their email addres do not work. Here is a screenshot of a message I got after several hours: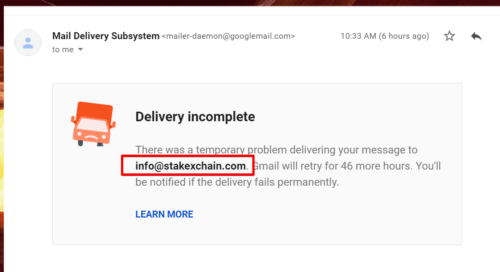 It reminds me of a bunch of scams I already have reviewed, although those were a lot easier to identify.
Not mentioning the questionable CEO (founder_ and a lot of errors on the website (social icons don't work). 
What Do Other People Think?
Here is how you can determine whether that accompany is a scam or legit.
Check Trustpilot, and read the reviews.
Please bear in mind that sometimes the reviewers are biased (they could be affiliated with the company) but in many cases, one can make an objective opinion just by looking at the general rating:
Let's check the most positive and recent ones:

And here is another one:

To me this means nothing.
now the late ones seem to be much more trustworthy.
The first one is from July 2022: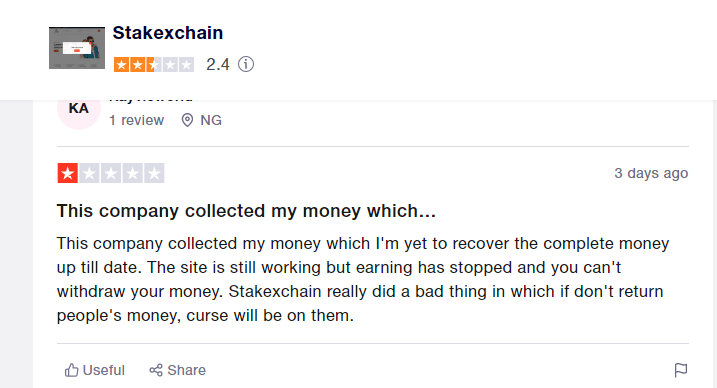 This one is a bit older:
Now you don't have to trust my opinion but compare it with other reviews, and then form your own opinion. Then decide what you will do with your money.
What I like about StakeXChain

There are some positive reviews (although they might just promote the StakeXChain )
A company seems to sell products online
What I don't like about StakeXChain
The founder is hiding his real identity
A lot of errors on their website
The email address does not work
The address of their headquarters is most likely fake
Is StakeXChain a Scam?
StakeXChain is as till a new company and it is not quite clear whether this is an outright scam, or not.
However, there are just too many red flags, for me, to consider this site trustworthy.
That is why I don't recommend joining the company.
Also, the price range for signing up is too high and whenever I see a system where membership costs tens of thousands of dollars I tend to be very careful.
If you have questions concerns, or maybe even experience with the StakeXChain please share them with us, using the comment section below.
It will help others to decide where to go from here.
Thank you for reading,
Mike