You might have already heard something about the Keen…or to be more specific, Google Keen?
What is it actually?
Is it a replacement for Google+?
Or is it a direct Pinterest rival?
And how to use it, what is the purpose of it?
Well, in the following Google Keen review we are going to answer all these questions and beyond.
Let's get right into that.
What is The Google Keen?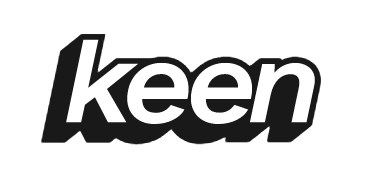 Keen, also called Google Keen, is a tool where users can collect text, images, or also content from the internet and organize them in their own way.
The platform was launched in June 2020, but only in the middle of 2021, they did remove the Beta version.
Keen can be compared to Pinterest. But in my experience, Google Keen is much easier to use.
And even the environment might remind Pinterest, some people might think that it is a replacement for Pinterest.
No, it is not.
It is another product, to be specific Keen is a Google Product.
You are probably familiar with the platform called Google+ that was launched in June 2011. It was discontinued on April 2nd, 2019.
Is there any direct relation?
Not really.
Keen is not a direct response to Google+, but it is considered as a new type of service from Google that has the following attributes:
It is free
It is easy to set it up – just use your google account
It is benefficial for your rankings (remember, it is a Google product)
Great for posting your content
We did mention Pinterest before. Within Pinterest there are Boards and Pins, right?
Analogically, there are Keens and Gems inside the Keen.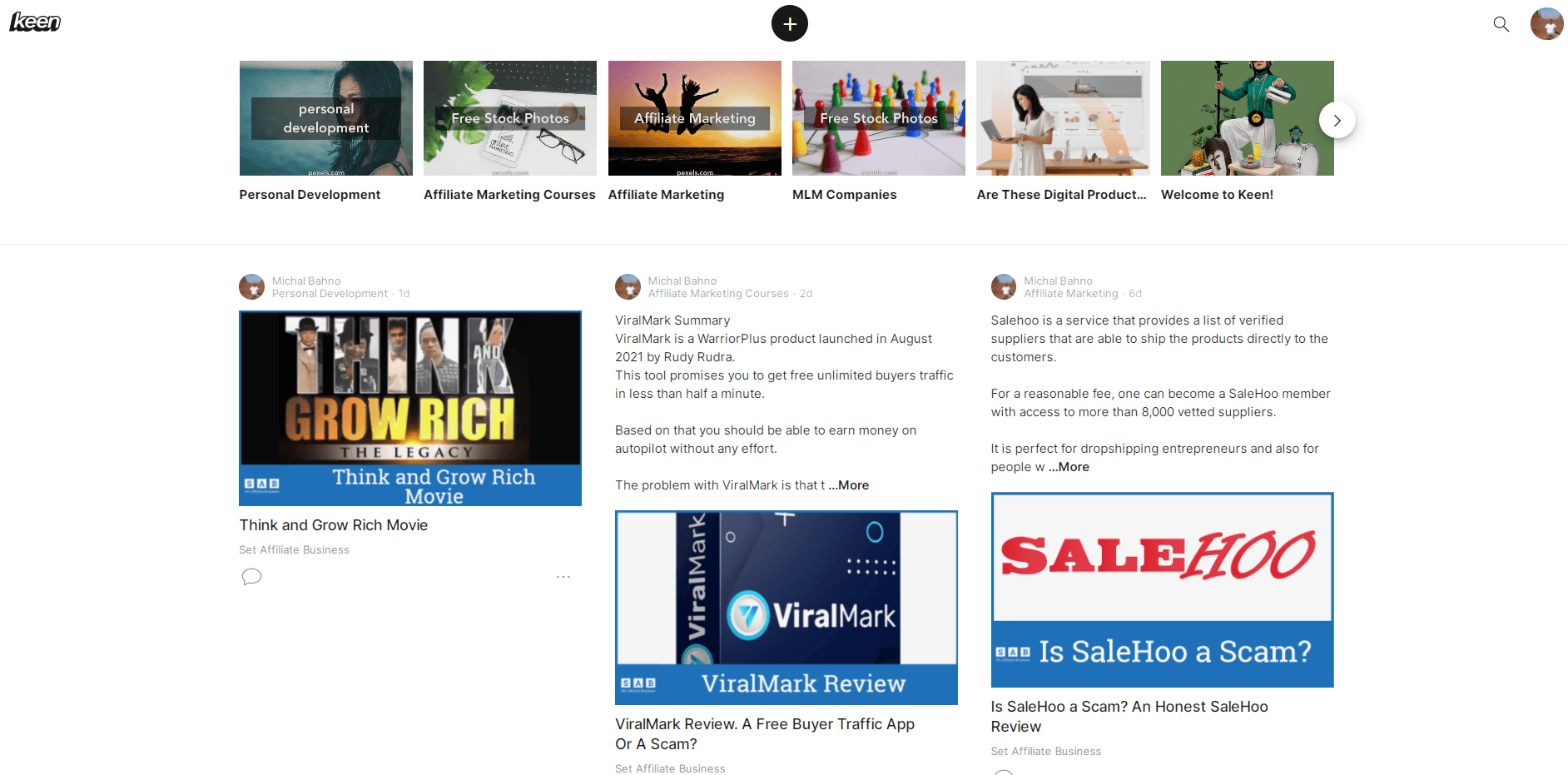 Without elaborating too much about the theory, let's actually have a look at how to create Keen from scratch.
Where To Start?
First of all, we want to log in to Keen.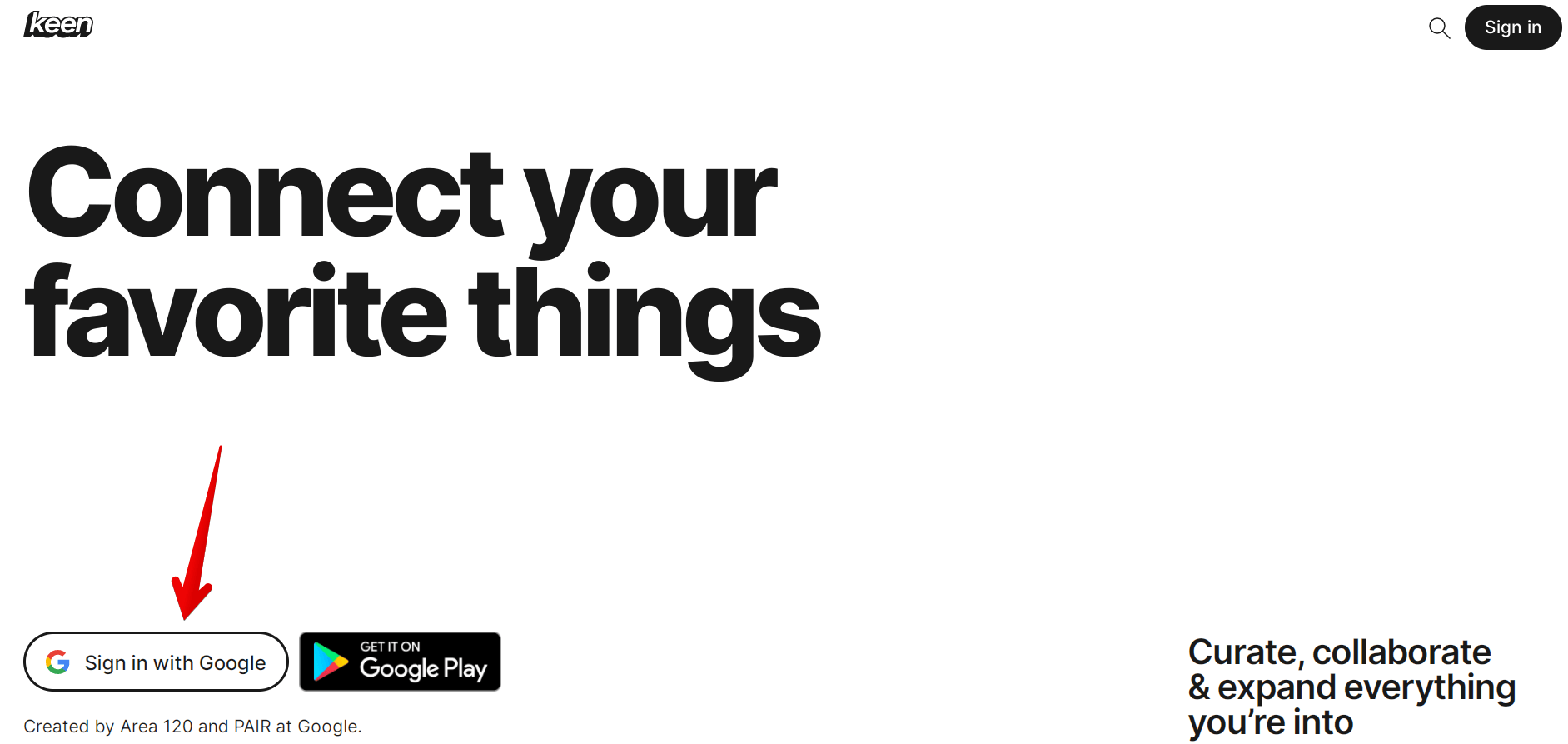 It can't be any easier.
Just go to www.staykeen.com and if you have a Gmail account, just use that and you are signed up within a few seconds.
How To Create a Keen?
What I like about Keen, is its simplicity. You can't get lost – it is a very user-friendly environment.
Simply click on the plus icon and select new keen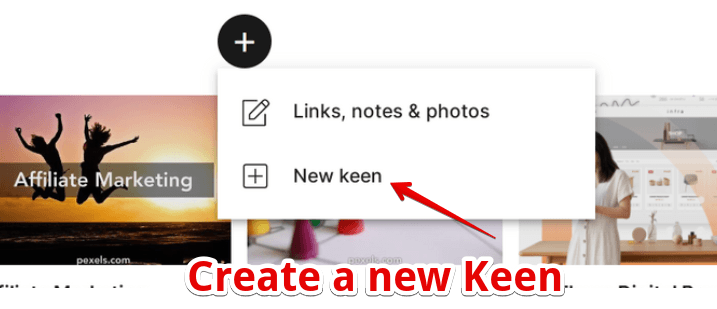 Type your niche, as your new keen:
and you see suggestions.
Choose any suggestion that suits you well, or you can also type your own as well.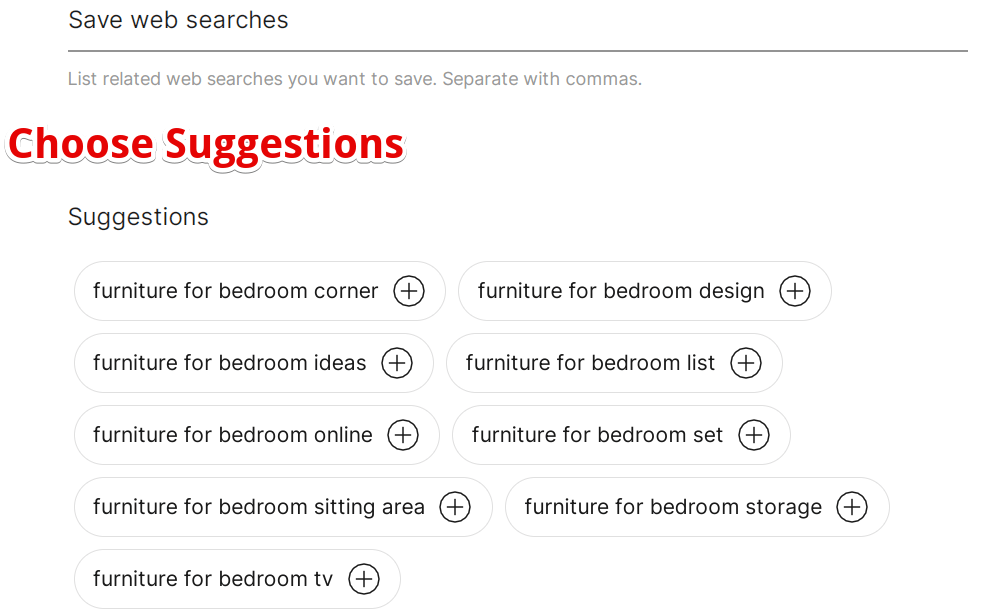 You then go Next and choose an image you want to have associated with your new keen.
Or just leave the preselected image, if you are happy with that. It is related to the niche, anyways.
In the description field, write a few words about your specific topics. What are the benefits, or the purpose… and so on. A few words are enough.
Now the "Private" Button:
When you click on it, you will see 3 options:
Private (Only you and people you add)
Shared (Anyone with the link)
Public (Discoverable on search an keen)
Which one to use?
You remember at the beginning, we mention that Keen is good for rankings. And this is exactly the part related to the search.
Therefore check "Public" and you will give a little boost to your rankings.
In other words, it is a backlink to your website. A backlink that comes from a Google product is always valuable.
"Email me new finds up to twice a week"
In case you want other boards to be sent to your email, twice per week, leave this checked.
Otherwise uncheck it.
(I personally recommend unchecking it, since I don't want to receive such emails).
And just press Create and you are finished with your first Keen.
How To Add Gems?
This is actually the most interesting part.
Here we are going to show how to add Gems to the Keen. That means we are going to add our existing articles (from our website) and link them to the Keen.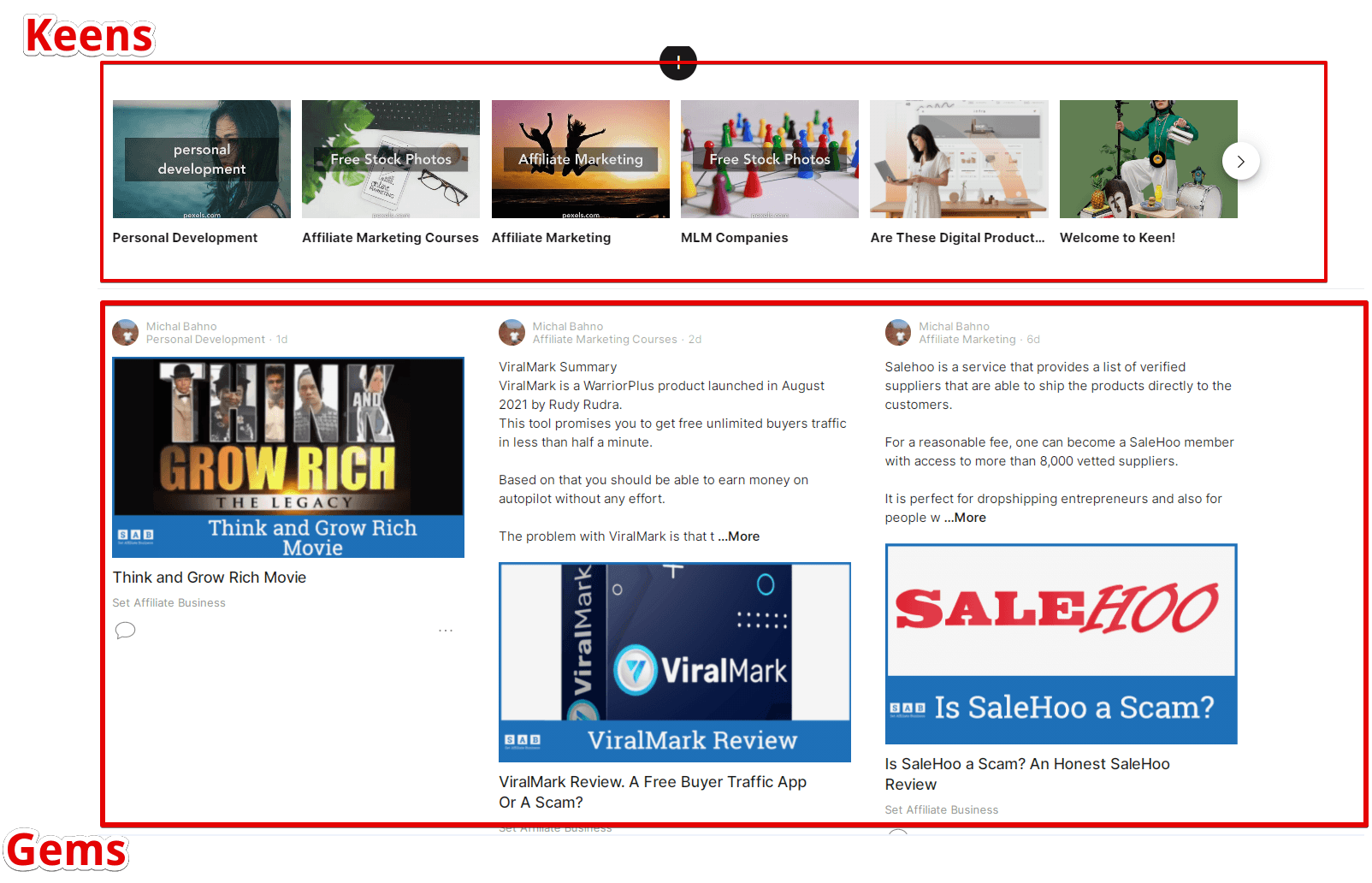 Go to a specific Keen or the one you have created.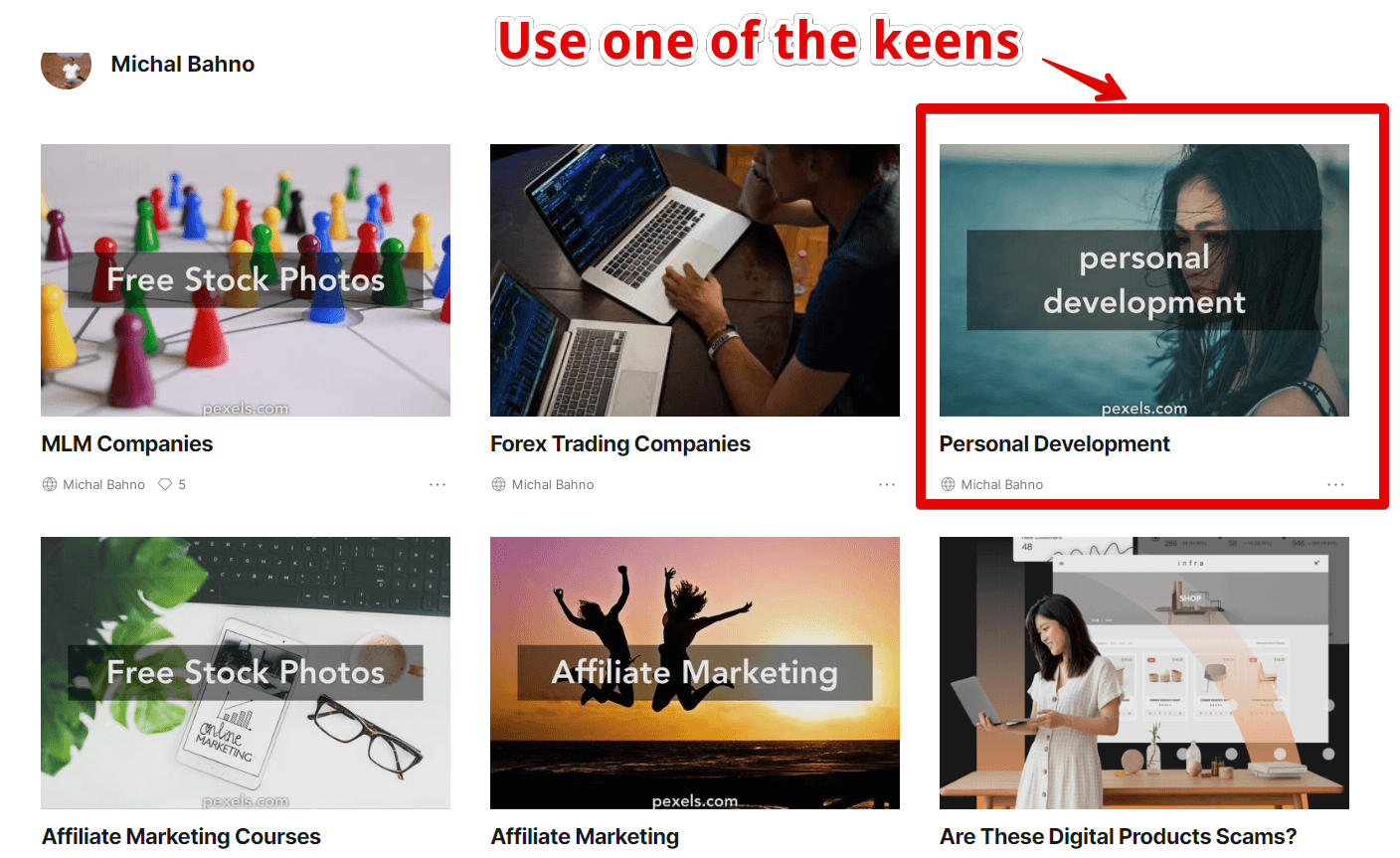 On the right-hand side, there is a "Plus" icon, saying "Add links, images & text".
You see a little pop-up window where you add the link from your website.
(In my case, I want to add a Gem related to Top Motivational Audio Books into the Keen, named Personal Development).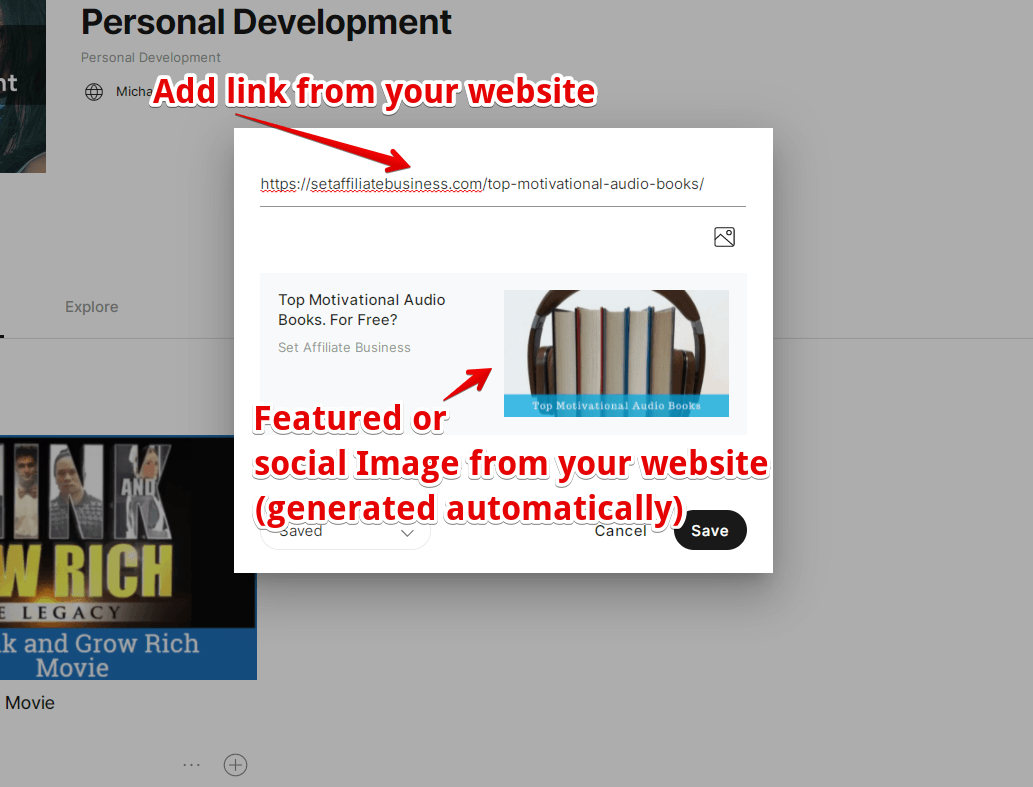 The featured image is taken from the Social section of the All in One SEO Plugin. The same should be applicable for similar plugins, such as for example Yoast.
If you don't have an image source in the Social Section, there won't be any image inside the Gem either.
What Is Keen (or Gem) Good for?
As already mentioned, this tool is great for researching new topics.
Within the Gem, we see there are 2 additional Tabs:
Once you have created your Gem, you can go ahead and explore the "Explore" tab 🙂
You are going to see very similar Gems to the one you just created.
Now, as you go through them you see they are linked to different websites – your competition.
Tip:
Check the competition, and create new keens based on your research.
Then within the Explore area, you will find even more ideas, related to your niche.
And here is another interesting thing with gems.
Whenever you add a new Gem, the "Explore" and "Searches" area is updated accordingly.
Other Functionalities
Just briefly let's mention what else you can do with Keens and Gems.
We have shown how to create a Gem using a specific URL.
If we are not happy with the image that is generated automatically (from the Social section within AIO SEO Plugin), it is also possible to add a specific image.
Please note, that in case you upload the image, separately it won't be clickable inside the Gem.
Here are other features.
Let's take a specific Gem: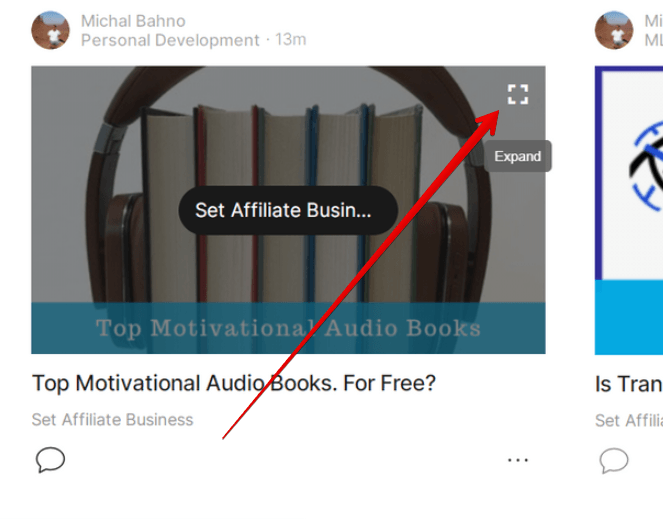 At the upper right corner, there is something like an "expand" icon. Click on it and you get the entire Gem in from of you.
You can now:
Edit the Gem
Create New Section
Save to different Keen
Share it (f.e. on social media)
and Delete it
FAQ
Q: I have several google accounts. Which one do I use to sign up for Keen?
A: Generally speaking it doesn't matter. But it is suggested to use that account associated with your Google Search Console.
Q: Can I use my existing Pin (from Pinterest) in Gems?
A: Yes, You can. You can link your Pinterest pins in Gems as well as for example a link to your Youtube video.
Q: Do I have to upload the image inside the Keens/Gems?
A: No. You just post a link and the image is shown automatically (assuming you have selected an image source within your WordPress).
Q: Is it possible to upload videos to Keen?
A: Actually not directly upload the videos. But one can add the link to the specific Youtube video.
Conclusion
We have learned how tow to create Keens, and what are the main purpose of this tool;
Mainly:
Great source for research (it shows direct competition)
Helps with ranking (quality backlinks creation)
Is it something you are going to take advantage of?
The tool is very easy to use and considering the benefits, one gets (actually his or her website), it would be foolish not to use it.
Let me know in the comment section below, what are your thoughts on Keen. Or is there something you want to know more about?
Either way, use the section below and I will be more than happy to provide you with feedback.
Thanks a lot for reading,
Mike.