I am member of Wealthy Affiliate since November 2017. My closest friends did not know about me being a member of this platform until recently. I also showed the Wealthy Affiliate platform to my
girlfriend only few weeks ago. I did mention to her what I was doing before, but she did not pay attention to it. And I don't blame her.
When I joined Wealthy affiliate, I was suspicious as well. I am kind of conservative person and I intend not to trust the online courses, gurus and stuff like that.
I think many of us are just like that.
No wonder, since majority of the courses on how to make money online are scams, or at least misleading products (without value). Some of them are just ridiculously expensive (like couple thousands for few weeks' courses) so it is perfectly normal that we are very careful when it comes to any of the "make money online" opportunity.
Now, looking back, I must say that it took me about 2 years (it was before joining the Wealthy Affiliate) until I found a decent platform with lots of education material, supportive community and what I like most – video tutorials.
But even-though I did explained the above to my girlfriend, she wasn't sure, what is wealthy affiliate about.
I must admit, that I was not sure where to start.
Wealthy Affiliate is a complex platform so in order to give a thorough explanation I had to take a deep breath.
Community – The Most Helpful in the World
Wealthy Affiliate has been around since 2005. Over the time the community of WA has reached to more than million members. This platform was created as an initiative to help other people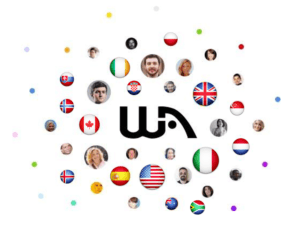 succeed online.
One of the greatest thing about Wealthy Affiliate is the community. There are people from all over the world which means that there are people online 24/7.
I must admit I was truly surprised by the approach of most of the members. They are being very helpful and supportive.
The platform is partially made as a social platform. People write their blogs, or ask questions. They talk inside the online chat area, about different topics (not always related to online marketing). This is also a great source for finding relevant information for your particular problem.
You choose who to follow and when this person post a blog or ask question you get notification. You can also write private message to certain person.
I found the community very helpful. I remember when I wanted to create my own website, I had to seek the help somewhere else. In many cases I spent hours until I found the exact answer. Within the Wealthy Affiliate platform, you also have the search bar where you type your request.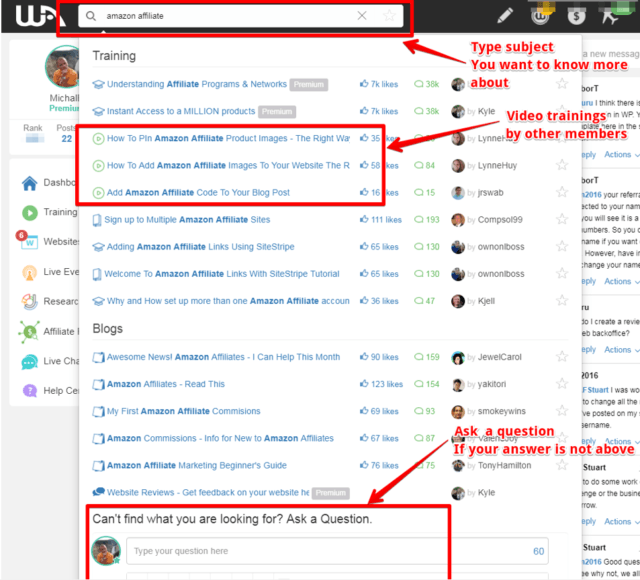 You see that relevant blogs and answers pop down, so you don't have to raise the question again. There are members inside the community with many years of experience in digital marketing field, and I mean they do have experience before they joined the Wealthy Affiliate.
As I said there are people from all over the world. For many members English is not their first language. Yet they have been able to achieve great accomplishment.
The important is that your English is on communicative level. When you write a blog or you do a product review, it is as you are talking to your friend. If you still feel like you need a feedback, you can ask other members. You can request a feedback and there will be 2 or 3 randomly selected guys who will give you opinion about your blog. In my experience, they all have been very objective.
What would be the better school than constructive feedback, right? That way you can keep improving. That is the power of the community.
If you would like to take a look inside the Wealthy Affiliate platform, you are welcome to do it – Click Here and Get Started For Free.
Training – It Simply Works (It Must – You Are Taught What Works)
The training is the most comprehensive I have found on the entire internet. Everything what you need to know about affiliate marketing is right there. Of course you can check also other sources. It is perfectly normal and people within Wealthy Affiliate do that as well. Usually they share their knowledge in their blogs, so it is available for everyone.
There are 2 main training inside the Wealthy Affiliate. On top of that you have a 52 Live classes per year (every Friday there is Jay ready with his webinar). All webinars are recorded, so you can watch it as many times as you wish.
Core training is called Online Entrepreneur Certification. It has 5 levels. Each level contains 10 lessons. It is series of courses walking you through the process of creating a business within any niche you want, you are interested in.
I don't want to overwhelm you here with the training structure. You can learn about it in my guideline. I just want to mention some key objectives:

Choose Niche
Setting Up Your Website
Understanding Keywords
Creating Keyword Rich Content
The Traffic Breakdown
Low Hanging Fruit
Understanding the Money in Online Business
Affiliate Programs, Links
Earning Pennies or Dollars
Social Media
People need to read your content
Bing and Yahoo – still 33%
Articulating a plan for months and year…

Second type of training is called Affiliate Bootcamp. This training has 7 Levels, again each level contains 10 lessons. Affiliate Bootcamp is series of courses walking you through the process of creating business in a niche related to the promotion of Wealthy Affiliate. Here are the key objectives of Affiliate Bootcamp:

Building Your Website (Website Look Around, Plugins)
Getting Your Website Ready for SEO
Creating Readable Content that Converts and Using Targeted Keywords
Understanding Affiliate Programs & Networks
Making Your Social Profiles Brand friendly
Social Waste vs. Productivity
Creating Your Own Videos
A Lesson on Customer Perspective
Incorporating Your Custom Sign-up Forms
Helping Folks is Critical
PPC on Bing Ads (Paying Traffic on Bing & Yahoo)
Understanding the Google Adwords Opportunity
Creating a Long Term, Scalable PPC Campaign
As I mentioned earlier, the Live Events inside Wealthy Affiliate are awesome. You literally watch over Jay's shoulder, how he does things.  Jay is a training chief at Wealthy Affiliate. He offers spectacular live training.
Each Webinar is more than 1 hour long, even it is scheduled for 60 minutes only. It always lasts 10-15 minutes longer. At the end of each webinar there is a FAQ section so people get the answers right away.
I just want to mention some topics that are covered:
SEO Strategies to Explode your rankings
Changing WordPress Themes
Email Marketing (4 hours stretched over 4 webinars)
YouTube (Ranking, Producing Video, Streaming, Advertising on YouTube)
Google Analytics (Introduction, Tracking)
The 2019 SEO Checklist
Researching of Competition
My absolutely favorite webinars are the Case study series. You can literally start your own business just from watching these 4 webinars (if you are little bit familiar with WordPress and what is going on in the online world).
I was also talking about feedback when it comes to creating your website. Four times a year there is a "Hot Seat" session webinar where Jay is checking your website and gives you an honest feedback. If your website is not selected, you can still apply the feedback on your own. The mistakes we do, have often very similar pattern.
So regarding the training I can go on and on. If you would like to find out more about training, you can take a look inside the platform. Just use your email address and you are all set. I will be there as well 🙂
Please note that you have an access only for 7 days.
If you decide to continue, you would have to sign up for a Premium membership. Once you pay for premium you have full access to entire Wealthy Affiliate Platform.  Here is the price structure.
And if you will sign up via this link, (or via that one above) as a bonus I can offer your 1st month special offer for $19 only.  You can then decide to pay the membership monthly, yearly or for 6 months.
As a Premium member, you are allowed to create your own training and share it with other folks. Depending on the complexity of your training you get credit. This credit you can either cash out or also pay for the membership or use it in different way.
If you would like to know more about Wealthy Affiliate, I suggest you to watch the 30 minutes Platform Walk-through video (after like 10 seconds there is a pop up window).
In case of additional questions, you can ask me down in the comment section.
Keyword Research Tool – Independent Tool Embedded Within Wealthy Affiliate
We all know that in order to monetize the website, we need a traffic. Wealthy Affiliate focus is on organic traffic. To simplify it:
We are building website – adding content.
Now people go to google or Bing and they ask questions or looking for a help. We at Wealthy Affiliate are taught how to get our website on 1st page, so people naturally click on our website. Being on 1st page of any search engine means traffic. Once we have the traffic we can monetize our website without being salesy.
One of the essential key how to get on a first page of the either Google or Bing/Yahoo is the proper Keyword Research. If you have not heard about keyword research you can check this post where it is explained what the keyword research is about.
If you are at least little bit familiar with Keyword research principle, here you can check out the Jaaxy tool for free. You have 30 free searches:
Website Builder – Free SSL
People usually tend to freak out when it comes to creating a website. When I wanted to start my business back in 2014 I had to pay for building website. Too complicated I guessed, so I rather hire a company.
Today, with the knowledge I can do that within few hours including the content and few pictures.
But still, there are many folks who prefer the website builders like Wix, since it may seem easier. But the truth is that it is more expensive than website platform inside Wealthy Affiliate.
Here is the overview about Wix including the pricing
Inside Wealthy Affiliate you pay approximately $15 per year.
Try to build your website for free – you see how easy it is.

Create your website with SiteRubix website platform. Wealthy affiliate offers some of the most useful and integrated tools for website analysis, ranking and security. Have you tried it already? It is really easy to use.
Success Stories
Here I am going to add some examples of current success stories, or if you will a financial achievements of some members. I have included the first sales as well. The first $1 made on internet is the most exciting one 🙂
And none of them is promoting WA.
By clicking at each image you actually will get directly to Wealthy Affiliate bog section where you can read the whole story, if you want to.
Dylan sold his website for $30,000. And this is not his first website he sold. You can also check my guideline – at the end I share another Dylan's story – he sold his website for $40,000 in April 2018.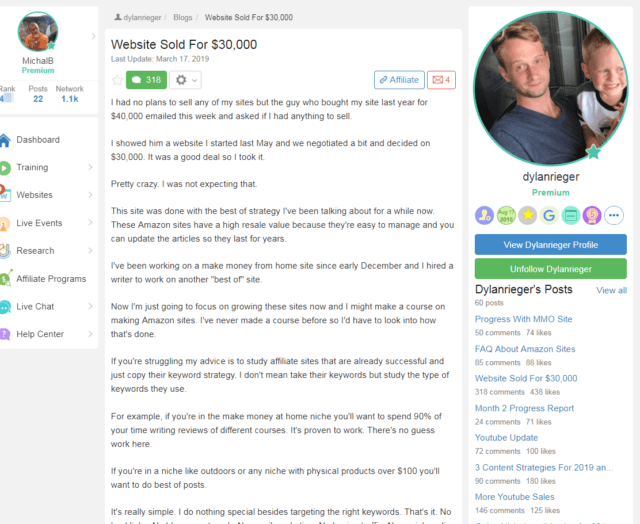 Amazon is great for beginners. It require an effort but with consistency you will hit the 4 digit income.
Here is bit different example. Chris made $2,000 with YouTube Ad-sense.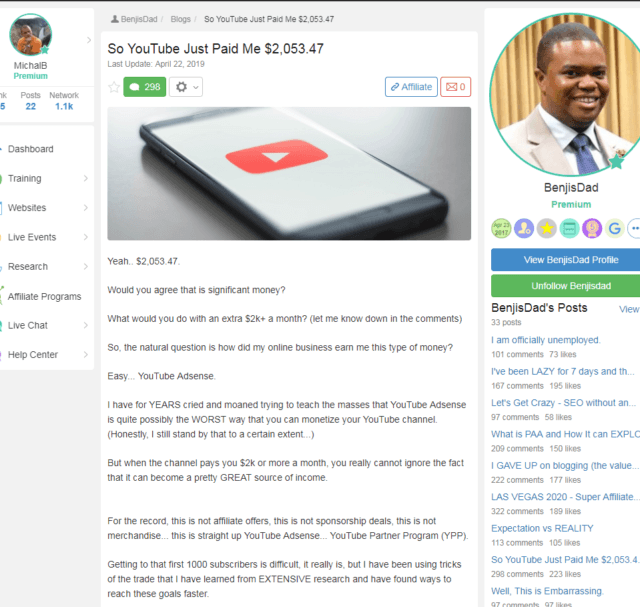 Here are the first sales examples. In many cases the first sale is much more excited then those after 🙂 It is the same like the saying goes: "second million is always easier".
But for now let's share joy with these fellas:
You can make some income also with Adsense . You drive traffic to your site and your Adsense makes you money – nice "passive income". I have added bracket on purpose, since you have to work in order to get the traffic.
And last example has something to do with the social media. In this particular case, Eric explains how to become an Influencer on Instagram.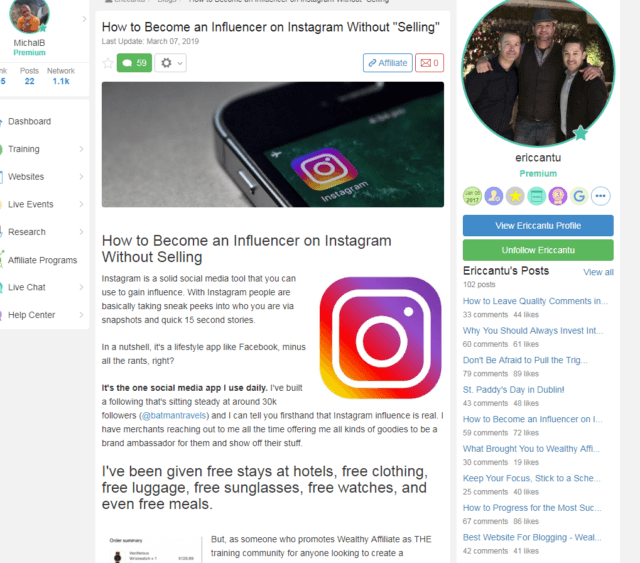 I can go on and on with such examples, but I guess you got the picture.
Conclusion
Being a member of Wealthy Affiliate, is not being just a member of some educational platform.
You are part of the community. You can become friend with some of the members, or you don't have to. It is perfect for introverts (like partially myself) but also for persons who love to create a video training and feel good in front of the camera.
I have reviewed many online courses, high ticket products, low quality digital system, but Wealthy Affiliate is truly the best option for beginner and for advanced marketer. It is also due to very reasonable price.
Actually the price for Wealthy Affiliate has not changed since 2008! The founders Kyle and Carson want to make this platform accessible for all people.
Wealthy Affiliate is one the most comprehensive affiliate program on the internet.
Let me know what your thoughts about Wealthy Affiliate are. You can test the platform and get back to me, or just get started for FREE and I'll see you inside 🙂
Cheers, Mike
Please follow and like us: