You have probably found Trenzy on ClickBank or JVZoo's website and wondering what is this all about.
Do you want to find out whether Trenzy will help you with your financial situation?
Can you make money using Trenzy?
Trenzy is software that helps you to create a website and bring massive traffic in just a couple of clicks.
I know it sounds promising, so we will be going over this product and soon you will find out whether is it worth investing in this software or not.
Also, we check the price and how much are the upsells.
Name: Trenzy
Website: www.trenzy.io
Price: Advertised Price $38.95 or $29.99 with a discount (using a coupon) + Upsells
Owners: Dr. Amit Pareek and Er. Ashu
What is Trenzy?
The entire idea of Trenzy is about automation.
It is a done-for-you system that can automate the entire process including:
Finding the Right Content
Posting it
Publishing it on the right platforms
Trenzy is software that uses the power of hot trending topics. It creates and publishes free trending content from top authority sites for unlimited traffic and steady passive income.
That is at least the definition by the owners of this software.
Taking about the owners; Unlike most ClickBank products (for example Digital Income System), the creators of Trenzy are real people.
Dr. Amit Pareek, and Er. Ashu has been for more than 12 years successful marketer with thousands of customers. They have decided to build this Trenzy system.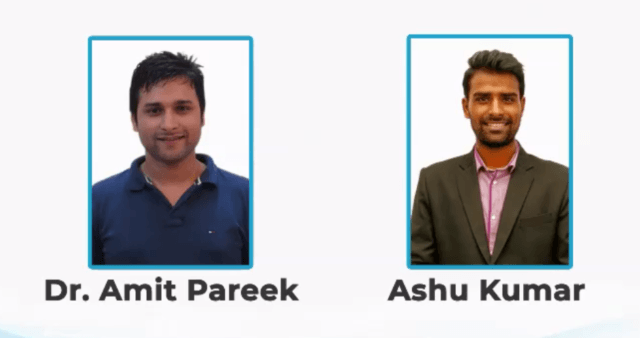 Apparently, with Trenzy you have the advantage that you don't have to create any content, funnels, or SEO or you don't need any investment budget.
What caught my attention, is that you don't even need a domain or hosting.
Well, I don't know about you but I am of the opinion that these days having your own website is a Must.
Not because somebody told you to, but because you want to. Assuming that you want to create your own independent online business.
If you think about that – what are the troubles with having your own website?
The cost is about $15 a year
For this price, you can have your customized site SSL (HTTPS), including Spam Blocker, with accelerated Site-speed and many other Features.
You can easily create your own website within a minute or less.
But I digress.
Let's get back to the review of Trenzy.
I totally understand that not every person wants to have his or her own website. That is also the reason why so many people are using Wix (cloud-based web development platform. Source: Wikipedia)
Here are specific aspects of what Trenzy is going to automate for you:
Create unlimited self-updating sites with DFY hot trending content
Find hot and trendy content in seconds within any niche and spin it to make it Unique*
Legally use other people's trendy videos and profit from it
Make trendy content viral to drive tons of targeted traffic
Set and forget system with just one keyword
Get unstoppable leads in your favorite autoresponder or the dashboard
Done-For-you, Color Themes to create your beautiful content-rich viral sites
Loaded with proven converting, ready-to-use lead and promo templates
Access to 1.3 Million Royalty-free images integrated
Market your content in more than 15 languages
Create SEO-friendly pages automatically
No Domain or hosting required
Precise analytics included
Complete A-Z training
* – To be honest I am not sure about the uniqueness of the content. If it is done by some kind of software, most likely there will be some mistakes or sentences which does not make sense.
Also, you have to be careful about finding the content elsewhere.
Google, including other search engines, doesn't like duplicated content.
They can easily ban your site and you would have to start all over again.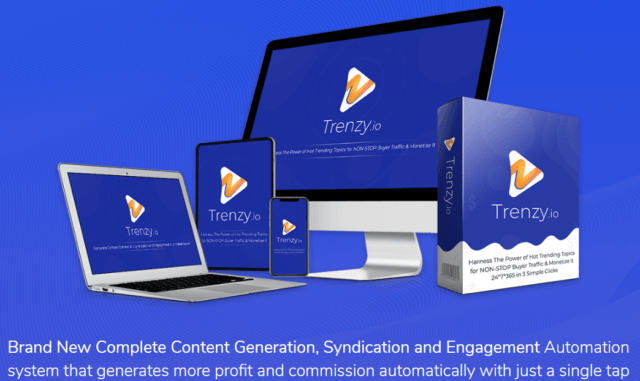 That is a long list of what might be automated. In my own experience, with so much automation there is always something that might go wrong.
For sure you can automate the emails by using an autoresponder and certainly some other stuff as well.
But automated content creation and automated SEO pages might not work as easily as promised.
Who Is Trenzy For?
Trenzy has been created for newbies as well. There is no prior experience in internet marketing needed.
Well, the creator did their best to make Trenzy as simple to use as possible, but in my opinion, one needs some time to get familiar with the software.
Even WordPress is pretty easy to use now, but I remember when I first logged in. I was afraid to click on a certain button 🙂
Trenzy Tools & Training
After you purchase the product you get access to the back office of Trenzy, where you create your own web pages. The environment is similar to WordPress, but it is simplified.
Here are 3 steps that you need to do in order to set up your page:
Log in to the cloud-based software and enter your keyword or select the category.
Select if you want to curate top training videos or articles from authority sites.
Select the social media networks you want to post on and set the frequency
Now let the software do the "magic". It will automatically start to post engaging content on social media. That is supposed to bring traffic to your cloud-based website.
Well, I do believe that at the beginning you need some more time to get used to it.
It seems that there are many ways how to monetize your content.
For example, Amazon.
You could also add an Amazon code to your website so you will start to generate income from Amazon.
Well, first you need to become an Amazon affiliate (which is not difficult at all and almost anybody can be a partner with Amazon).
Or what is also interesting is the translation of the content into different languages.
I am not sure what tool they use for the translation.
I believe Google has invested a lot of effort into the Google translator. If you speak more than 2 languages I am sure you are aware of the quality of the translated text.
In many cases, the translation is not perfect and I would not use such automated translation on my website. I can only guess how other automated tools might work.
I want to point out that within the Trenzy, you do have the option to create your own article. It does not have to be automated, or as they say "From Content Provider"
The way I see it – you either can create your own blog or you will use copied content.
In the first case, you don't need to pay for Trenzy since you can get WordPress for free with a bunch of themes, again for free.
OR
You rely on Trenzy's automated content, where you have a risk that your content will be duplicated.
Training section
Or you can go to the menu on the left-hand side where it says Help. Under the Help, you will see the Training.
Under the Step by Step section you can watch a video on the following topics:
The article, Video Site, Automation, Get Traffic, Integration, Library, List, Monetization, Settings, Stats, and Social Integration.
Bonuses
There are a bunch of bonuses they offer. I will mention them just briefly, with a description:

Superstores – Create self-updating stores within any niche, or market. No technical expertise is required. It builds stores from e-com giants like Amazon, eBay, Walmart, and of course AliExpress as well.
ProfitFox – This is a notification system that shows your offer to visitors according to their needs and generates more leads. It "forces" the visitor to take the desired action.
Done-For-You Setup Service – Complete setup service
Live training – (for the first 1,000 buyers only) – with this bonus you are promised to build 6 figure business from scratch.
Support
There is a section in the menu where you can get support.
There is also a FAQ where you can get answers to your How's and Whys.
There is also a Trenzy Facebook page, but to me, it does not seem very active. Maybe it is still new, with more members to join.
Trenzy Price Structure
The price for basic access is something less than $30. This is the price you get once a coupon is applied. Otherwise, it costs $38.95. But that coupon in my opinion is always available for everyone.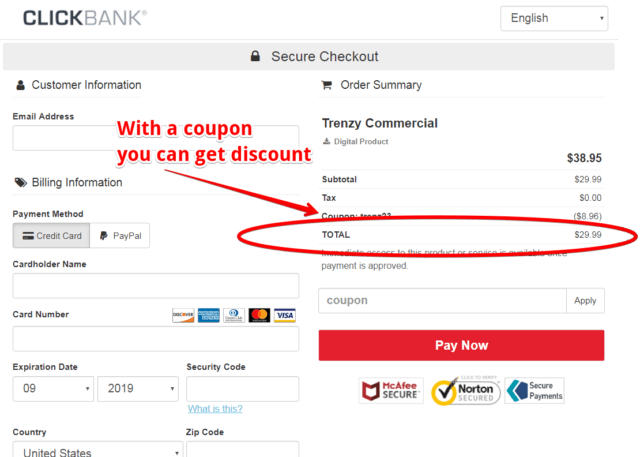 On top of the front-end price, there are 4 Upsells, or OTO (one-time offer). Unlike most the other digital products (available on ClickBetter or ClickBank) with Trenzy, one can see what he buys.
OTO1 – Trenzy Pro ($47-$67)
More sources for content
Integration with 15+ platforms
Boost engagement and instantly capture leads from all your visitors
Video and article comparison
Advanced and detailed analytics
Custom video player
Assets Library, Team Management
OTO2 – Trenzy Template Club (same price range as OTO1 – $47-$67)
Banner Ads
10 more premium website color themes
Pexels integration and 70 templates
Animations (on scroll, delay, time)
OTO3 – Trenzy Agency License ($197 – $297)
Agency License for $197 – serve 100 clients and add 100 team members
The more expensive one – serve 250 clients and add unlimited team members
OTO4 – Trenzy Reseller Edition ($97)
Let People sell Trenzy further and keep 100% of the profits
So that is a list of upsells and what you get for them. You see that if you want to get a full package you would have to pay from $388 to $528, plus the front-end price of 30 bucks.
It is quite a lot of money.
If you have a budget of $500 you can also check one specific educational platform, compare it to Trenzy and form your own opinion.
My Final Opinion of Trenzy
I think the idea of automation is not bad. But do we already have such a great technology that can create unique content or have it translated without any errors? (I do mention the unique content since you don't want to be punished by search engines for duplicate content)
I am afraid that Trenzy software might not work as promised.
Also, it is said that Trenzy is a newbie-friendly and no-brainer system.
I can't really imagine how my mum would sit in front of the PC, picks a theme, type keywords, choose social media where she is about to share the content (which by the way is not unique), and watch how the traffic flows to the website.
In my opinion, the sales pitch oversimplifies the process of generating traffic and thus monetization.
The entire Trenzy project is nicely wrapped up, giving you an idea of automation and that you don't have to work hard.
The results are questionable though.
Also please note that your page is a cloud-based website, so you are not an owner and therefore you don't have entire control over the site.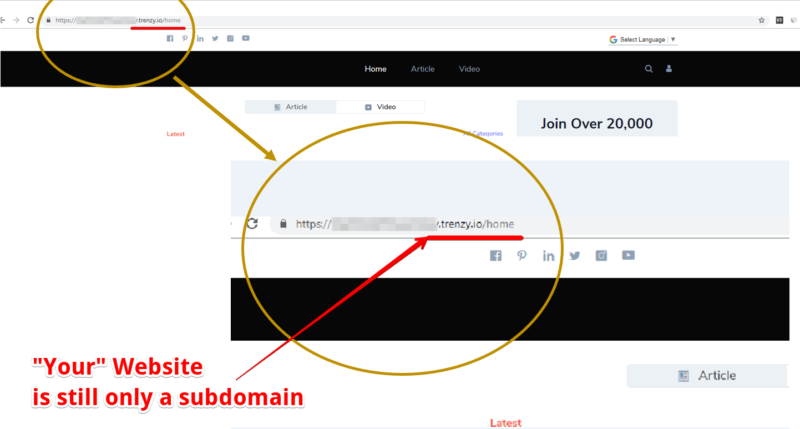 Not to mention that with such a sub-domain, it is also difficult to get ranked in search engines. Without ranking, you will not get much traffic/visitors.
A store with no customers does not make any money.
You can even become a starter member for free.
Trenzy Pros

The basic Price is low
Money-Back Guarantee
Automated process of site creation (although I think this might be disadvantageous at the same time because of possible plagiarism )
Trenzy Cons
Risk of duplicated content
Traffic not guaranteed
Several Upsells (Final price over $500)
Conclusion
First of all, I am not a big fan of automated software. There are so many issues that might go wrong.
But if someone prefers an automated system, I have nothing against it. More power to you.
Here is my final verdict, and the way I see it:
The creators of Trenzy had an idea to wrap up the entire process of website monetization into one package, which includes:
WordPress – Content management system which is free
Content creation – If you want to have unique content on your website (or YouTube channel) you don't need to have any software
Images selection – Trenzy uses the images from Pixabay which is available to everyone for free.
Sharing content on social media – Sharing your content on social media doesn't take that long. Also, you want to be careful how often you share it. You don't want to spam.
With Trenzy you can choose the frequency, and how often the content should be shared, but still. If people engage with your content, you want to reply to them back. And that can't be done through an automation tool.
Analytics – Google Analytics works just fine and it is for free.
Let me know in the comment section below if there was something unclear.
The bottom line is, that with such an automated tool you have no way of knowing what kind of traffic you get to your site, and if any.
In my opinion, the best way to generate traffic is by quality content creation on your own website. Either by videos or text – the best in both ways. This way you get organic traffic, meaning that people will find your website naturally in search engines.
What is your opinion about Trenzy?
Can such an automated process work?
Let me know in the comment section below. I will provide you with feedback within 24 hours.
Thank You For Reading,
Mike
Are you Interested in How To Make Money Online?
First of all please realize that there is no such thing as a push-button system that generates money on autopilot,
It is essential to choose a specific business model that works in the long term.
Search no More.
One of the simplest business models is Affiliate marketing.
You simply create a website about a specific topic and inform your readers about the product or service.
When someone makes a purchase via your affiliate link you earn a commission.
But there are also other ways how to make money, so with one website, you can have several money-making opportunities.