Have you found this product on ClickBetter or just in your post box and are you wondering whether Million Dollar Replicator is a valuable program? I can tell you right now that MDR (Million Dollar Replicator) is just one of those low-quality products, like many others recently found either on ClickBank or ClickBetter. 
Data from their website also shows decreasing traffic. That is just a sign that the quality is very low.
The website has been created in late 2018. The highest peak in traffic was in January 2019 (more than 160,000 visitors per month) and since then it went down to a couple of thousands of visitors per month only.
One may wonder whether this is a scam, right? So let me show you in this review what is Million Dollar Replicator.
Technically it is not a scam since you can get your money back (if purchased from ClickBank), but other than that it has many signs of a scam.
First, they tell you how you can change your life, how you can make more than $1,000,000 a year, but they do not show you how. They have no strategy, anything.
The sales video is full of unrealistic promises, and cheap marketing tricks. And the product itself? Let's take a look.
Name: Million Dollar Replicator
Website: www.milliondollarreplicator.com (Site Is Not Available)
Price: Advertised Price $37 with downsell $17. Then upsells – Update as for July 2019, the price is $9 only.
Owners: Michael Sachs (identity is not confirmed)
Product Overview
I should walk you through the platform or online training, but I am afraid I have nothing here for you. Well, it may be a good thing,  so we do not have to waste our time I guess 🙂
Well seriously, I can show you some unrealistic claims, or some cheap marketing trick as fake scarcity, but it will be only for fun. I am pretty sure nobody would believe that stuff.
Once you land on their sales page you see this fake scarcity red flag, saying that "this page will be removed by midnight" this day. And by "this day" they mean today. Tomorrow is the same. And it goes like this since November 2018. Funny, they either forget to put the site down, or it is a simple lie.
In the sales video in 1st minute you see 3 testimonials.
These guys are actors from Fiverr. There are more than 400 actors and you can hire them for $10 or more.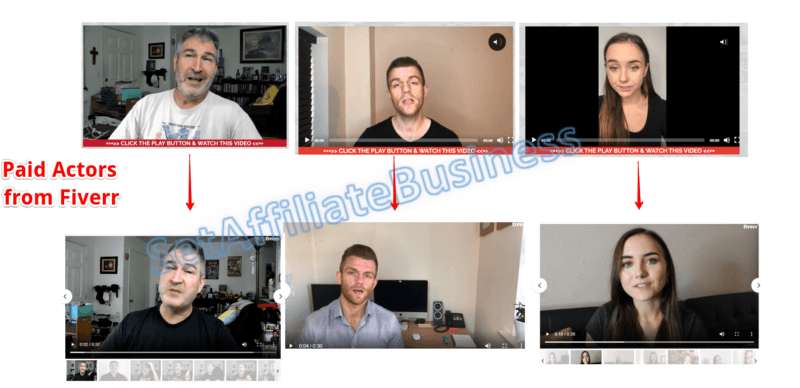 You may even already seen them in other reviews, and not necessarily million dollar replicator.
Here is  just a short part of the sales video, so you can have a clue how does it look like (if you have not seen it already)
"I know what you're probably thinking" …  He apparently knows what you are thinking.. and I do believe you are right. Just a bunch of BS. You can watch the entire video at their site – the link is above. (I would not dare to include my affiliate link, meaning I do not get any credit in case somebody would purchase this thing).
The owner supposed to be an individual who calls himself Michael Sachs.
Not a bad name for a fake person. If you check his photo you might end up on many different sites, but most importantly on the page where you can download many similar photos -> https://pxhere.com/en/photo/675843
Well, I do not know about you, but when I see 3 red flags within a short period of time, I leave the page for good.
Who uses paid actors for testimonials? Unfortunately, many similar products do hire actors from Fiverr.
Let me mention just a few examples, like Digital Formula. Also, Spring Profit used the hired actor and the same actor is to be found at Secret Online Goldmine as well.
This is a common practice along with such low-quality digital products.
The Good & the Bad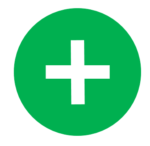 Money-Back Guarantee
In the Sales video they do mention, that you have to take action – that is always good advice.
N/A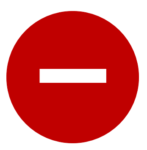 Fake scarcity
Upsells
Fake testimonials
Fake owner
Who is it For?
I just want to keep the structure of my websites pretty much the same, so one can compare one product with another. That is why I left the section here. Otherwise, I would delete it.
But to be fair – who is this for? Let me know what you think in the comment section below 🙂
To me, this product is intended for people who want to earn some extra money online, but they don't know where to begin. That is why you see so many unrealistic claims about income. Newbies naturally tend to believe such statements. I used to be the same.
I remember how frustrated I was when I wanted to find a legit course on how to make money online. There are not so many such legit platforms.
If you are interested, what does it take to start your online business, I highly recommend you to read my guideline.
In case of questions, let me know as well.
Million Dollar Replicator Tools & Training
Usually, I reveal how the members' area looks like in this section.
The thing is though, that there is no platform, no training whatsoever. You will not find a single PDF file. Only a link to upsells.
Also what I find "interesting" is this: I have used an email to sign up for the product. You get the notification on your email with a link to your VIP access.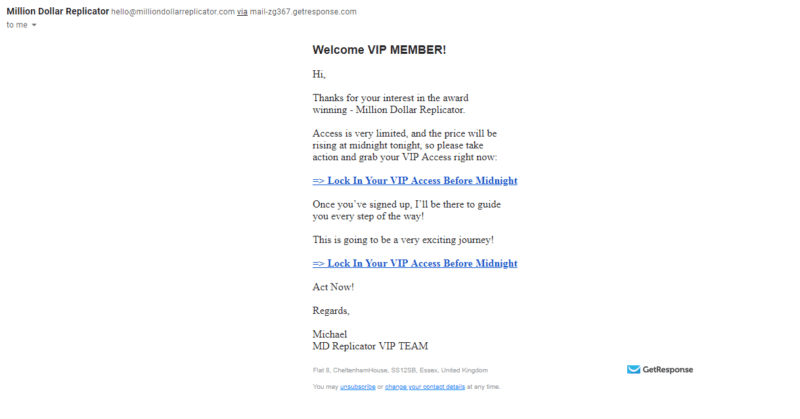 It directed me to the very same sales page, like at the beginning. Really I could not see the difference between the 1st landing page and this "VIP access".
UPDATE: About 5 days after I signed up for the million-dollar replicator I received an email from them:
Guess, where that link (both of them) redirects me?
I would not know – but it gets me to a different ClickBank product called 7$ Shanghai Secret: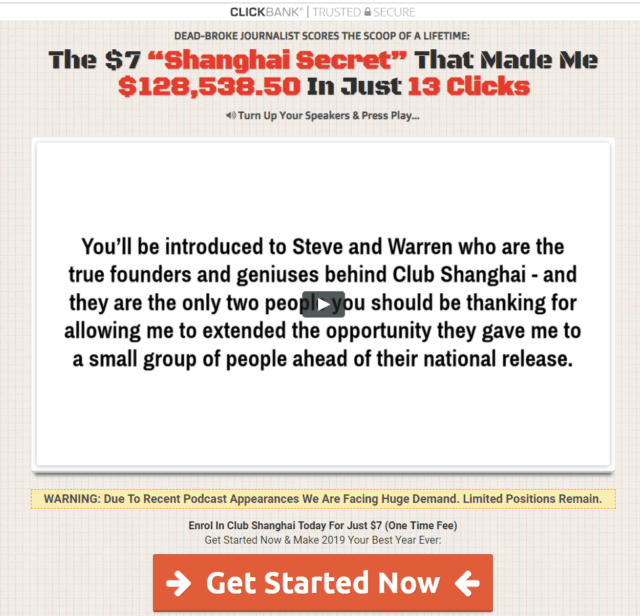 So, not only they get your money, but they also use (sell or give away)  your email address to 3rd party which will hit you with other scammy products. And on top of that, they (owners of MDR) get a commission if someone buys this Shanghai club thing.
This is ridiculous.
Well, I can also show you the screenshot from their sales page regarding the FAQ.
It is said, that  "you just need to follow the training" – But what training?
There is none.
Support – Forget About That
I don't know if I should laugh or cry, but MDR is one of the worst digital product which used to be sold on ClickBank. Currently, it is available on ClickBetter, but I think it will not last long there either.
There is no training, material to read, and Support?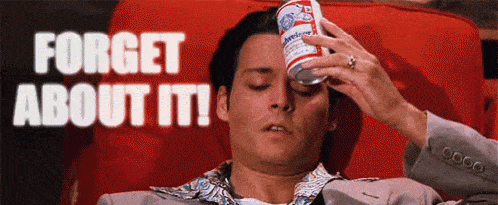 Just forget about that. Niente – nothing.
Price Structure of Million Dollar Replicator
It is claimed that the price is $37 months. You can get a discount when you are about to leave the page. A pop-up window appears with a discount. Then you get $20 off.
I mean for that price you can try the system out by yourself, but make sure that you claim your money back on the same day.
I would not buy this product again. As a recommendation for you – keep away as well.
Simple because of so many red flags right at the beginning.
UPDATE July 2019, I just want to let you know that there has been an update in the price structure. I believe it has something to do with the decreasing popularity of MDR. Or maybe more and more people start to realize that this product is not worth trying. I mean check out the current price.
It is only $9: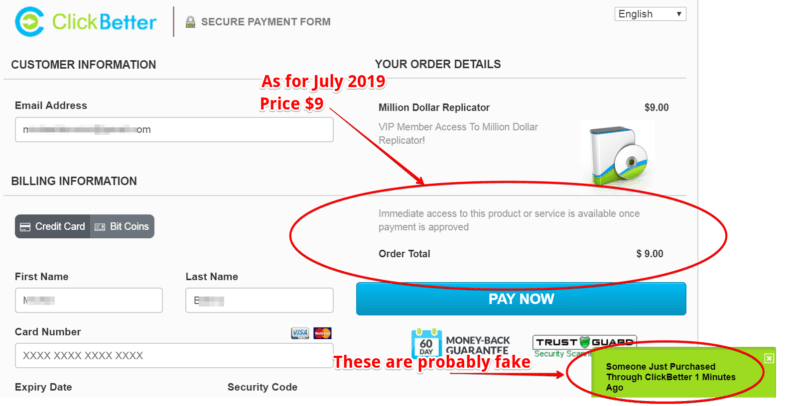 Continuing now with the price structure.
Obviously, there is an upsell. That is obvious from their affiliate sites. So anybody who would promote this product will get a commission. The commission is $450!  – Then how much is the total price of this scam?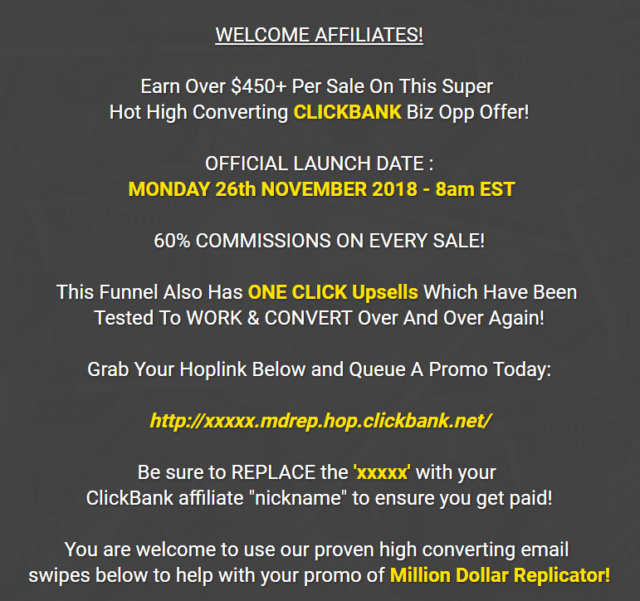 My Final Opinion of  Million Dollar Replicator
Stay away from this "product." That is pretty much what I have to say about the Million Dollar Replicator.
It had been available since Autumn 2018 on ClickBank. I am curious how much longer the MDR will be available using this name (Million Dollar Replicator). Apparently the owners did not change the name but they certainly changed the retailer.
As for July 2019, it is no more available on ClickBank, but you can check the product on ClickBetter. ClickBetter is very similar to ClickBank, but it is newer and the number of products is much lower.
Is there a Better Alternative?
I know how disappointing it can be to find out that there is again a scammy digital product. Jut empty promises and a waste of time and money.
I would like to help you and show you a better digital platform. The good news is that you can join for free and you don't have to use your credit card. There is no catch. In order to check out this training platform you only need your email.
You will have access for a full 7 days and if you don't like it you don't have to do anything. Your account will still valid with limited access. You only need to pay $350 a year if you decide to take full advantage of this platform.
No hidden fees, no upsells, no hyped-up videos.
If you have questions, let me know in the comment section below and I will be more than happy to give you feedback – hopefully within 24 hours 🙂
Million Dollar Replicator at a Glance…
Name: Million Dollar Replicator
Website: www.milliondollarreplicator.com (Site's not available anymore)
Price: Advertised Price $37
Owners: Michael Sachs (allegedly)
Overall Rank:

VERDICT:
I strongly do not recommend the Million Dollar Replicator.
It has no platform where you can learn something. In the sales video, you are shown, that this is a no BS product, but in fact, it is precisely such a product.
I am still wondering who might believe such unrealistic claims – like earning a couple thousand on autopilot. Just because the internet is around "only" for like 30 years it does not mean that there is a magic way how to make money. I believe if you put money in lottery, each month 50 bucks, you have pretty much the same chance to "make a profit".
If you are interested in how to make a profit online, I must warn you that it is not that simple as shown in the sales videos of such products.
Building a business online as well as any other business requires time and patience. Fortunately building a business online does not require much of an investment. You can take a course, apply what you learn and if you are persistent you will see results within 6-10 months.
How to Get Started with Affiliate Marketing Business?
I have been a member of Wealthy Affiliate since late 2017 without a prior marketing experience.
Beginning of 2018 I have learned how to build a website that drives traffic and makes sales.
Since the summer of 2019, I am a full-time internet marketer and I work from anywhere I want, whenever I want.
Training within Wealthy Affiliate teaches how to generate a consistent income in the long run.