I have decided to check some products on the ClickBetter website.
Recently I have reviewed dozens of them and unfortunately, the quality of these products is very low. I don't have many expectations from the Secret Profit Club, either.
But in order to let the potential customers know, I have decided to go through this product and crate an objective review.
Secret Profit Club (SPC) is available on ClickBetter, only. While doing my research I have seen that SPC used to be available on ClickBank as well, but for some reason, it has been removed.
The website is quite new, in fact, it has been created in June 2019. Also, website traffic has increased significantly in July.
So let's have a look at what the person who decided to buy this course will get.
Name: Secret Profit Club
Website: www.secretprofitclub.com
Price: Advertised Price $9 + Upsells
Owners: Jack Robertson (his identity is questionable)
Product Overview – What is the Secret Profit Club
If you have a chance to check the sales video, you will spot the hype claims right at the beginning.
It is said that newbies with no prior experience can earn thousands of dollars per day. Such a statement alone is a deal-breaker for me.
Their hype goes on saying that "you are one of the few lucky people who will get to access the revolutionary "done for you" money-making system SPC.
SPC is available on a site called ClickBetter, so there are no restrictions whatsoever.
So there we go – another red flag.
Regarding the product, unfortunately, it is not clear what is it that SPC can teach. They just keep talking about the earnings on and on.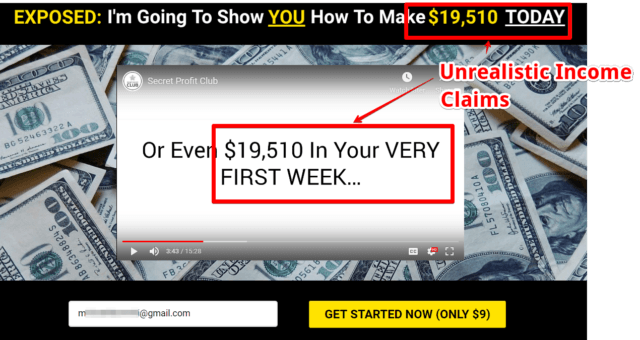 One will find out after signing up.
SPC supposed to teach you how to sell as an affiliate marketer with ClickBank and Amazon.
The Good & the Bad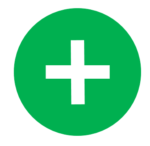 Money-Back Guarantee
Low Front End Price
N/A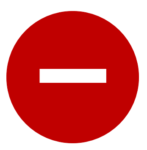 Unrealistic Income Claims
Hyped up Sales Pitch
Educational Material" Available Also for Free (f.e. o YoutTube)
Who is it For?
You are told that you don't need any prior experience with internet marketing. This statement is backed up by some short stories, which in my opinion are made up.
A 21-year-old student from Canada, how made $9565.55 last week.
Julie – a 37-year-old single mum from the UK. She received her first payment of $1,232 into her bank account the other day.
Brian 68, who lives in South Africa made $15,126 last month.
All of these guys apparently made that money using the SPC system.
Owners of SPC don't use the paid actors as we have seen in other similar products such as AZ Millionaire Method or Secret Online Goldmine.
The thing is that no one can verify the authenticity of those stories, nor the earnings. My guess is, these are old fake.
They just want the potential customer to believe that making money online is very easy with this system and anyone can do it for the rest of their life.
This is a very exaggerated statement.
Secret Profit Club Tools & Training
Let's look at how the back office of SPC looks like.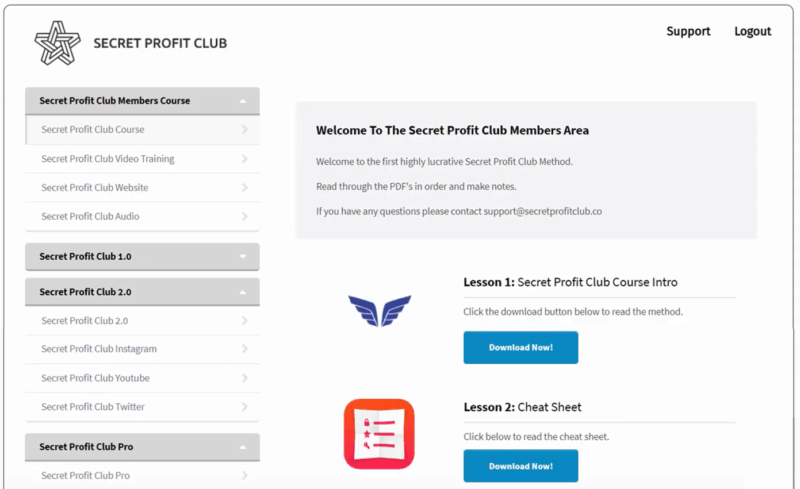 We will go briefly through the menu on the left-hand side.
Basically there is a bunch of PDF files and videos as well. As I was checking the videos, most of them are available on YouTube, which means there are available for free.
Secret Profit Club Website – here you can download your ready-made website and graphics.
Secret Profit Club Audio – you can find here 3 lessons, called Secret Profit Club audio, Website and Graphics.
That actually was part of the previous section as well.
I must point out that it is a bit confusing.
With the Secret Profit Club 2.0, you might learn how to become an Amazon Affiliate. Right below you have several videos regarding:
Instagram – 4 videos
YouTube – 4 videos
Twitter – 4 videos
When you scroll down, you find more material, regarding Social Media Marketing, Facebook, FB Marketing, Snapchat and Bing Ads.
Support
There isn't really a support page where one can raise a question. There is only an email address where you can write.
I am not sure how responsive they are.
In case you need help with your refund, I highly suggest to go directly to the ClickBetter support page.
Secret Profit Club Price Structure
The basic price is really low. You pay only $9 for the main product.
On top of that you have 3 Upsells with the following price structure:
Upsell 1: Secret Profit Club 2.0. Price $99
Upsell 2: Secret Profit Club Pro. Price $79
Upsell 3: Secret Profit Club Social. Price $49
This is a common technique. For the basic price, you get access to the basic platform. Within the platform, you soon find out that it does not work the way you were told. So you are promised to get the promised result after the "upgrade". Then one more and once again.
You end up paying a couple of hundreds with no results. Fortunately, you can get a refund and in most cases, that includes the upsells as well.
My Final Opinion of Secret Profit Club
The identity of the SPC owner is questionable since I could not find any proof that the guy really exists. Apparently he is a writer, researcher, and online business expert.
I am not a big fan of John Crestani and his Supper Affiliate System, but at least John is a real person. The same with Robby Blanchard with his Commission Hero product.
So why in the world would someone hide and not reveal his true identity? On top of that, the exaggerated income claims together with the chaotic "training" platform, I must say that the SPC is not a product I would recommend.
I know that it is not easy to find a legit platform that delivers real value, like step-by-step training. Both guys I have mentioned above do have legit training (although a little overpriced).
Regarding the platform, you will find many videos about different stuff, like Facebook, Snapchat, Instagram, and so on. But having such an overview makes you an expert in the internet marketing field?
For the $9, you may gain some knowledge, but there is not a step-by-step method on how to monetize your website.
Secret Profit Club at a Glance…
Name: Secret Profit Club
Website: www.secretprofitclub.com
Price: Advertised Price $9 + Upsells
Owners: Jack Robertson (his identity is questionable)
Overall Rank:

VERDICT:
Even though I don't recommend this product I have decided not to give the worst ranking. The reason is the low price and also that they have some material you can go through.
Also, the fact that you can get your money back helps the overall ranking.
If you are a newbie in the internet marketing field, you may gain a certain level of knowledge with the Secret Profit Club. But It definitely will not teach you how to make $1,000 a day as it was promised in the sales video.
To me, it seems that the sales video is not related to the product/platform in the back office. I really don't see the connection between those two.
Regarding the back office, I am almost sure that I have seen that already but it was before June 2019.
And SPC has been around only since June 2019. So it is a kind of mismatch.
If you are looking for a platform where you can actually learn step-by-step how to build an online business, I would recommend you to have a look at the different reviews.
Let me know if you have any sort of questions, regarding the reviewed ClickBetter product or any other opportunity online. I'd be more than happy to help you out.