We are going to review a new product called Insta Profit Hack or IG Profit Hack. It is probably a new product and you can find it at ClickBank. This one does not have any sales video, there is only a sales page. We will look at that as well.
You probably already know what this product is for. It is supposed to teach you how to make money using Instagram. Obviously, Insta (or IG) stands for Instagram. So let's see if we will be able to earn money using this product.
What Is IG Profit Hack exactly?
The website of this system has been created in December 2018. There is no significant traffic to this website. It is basically a one-page website without any Privacy Policy, Disclaimer – nothing.
That is not a good sign at all.
Update
Like many similar systems, this one did not last very long.
The reason?
A lot of platforms like IG Profit Hack do not deliver any value. It is created only to lure people in, take their money and that's it.
Therefore, please always do your research about the product and only then make a purchase decision.
Name: Insta Profit Hack (IG Profit Hack)
Website: www.igprofithack.com
Price: Advertised Price $7 (+1 Upsell)
Owners: Joseph Paul (made up person)
Product Overview
You should be able to monetize an Instagram once you apply the knowledge you are about to learn. Well, that is what the owner wants you to think. Also in my experience, I dare to say that even the name Joseph Paul is probably made up.
Just let's google the image at the bottom of the sales page.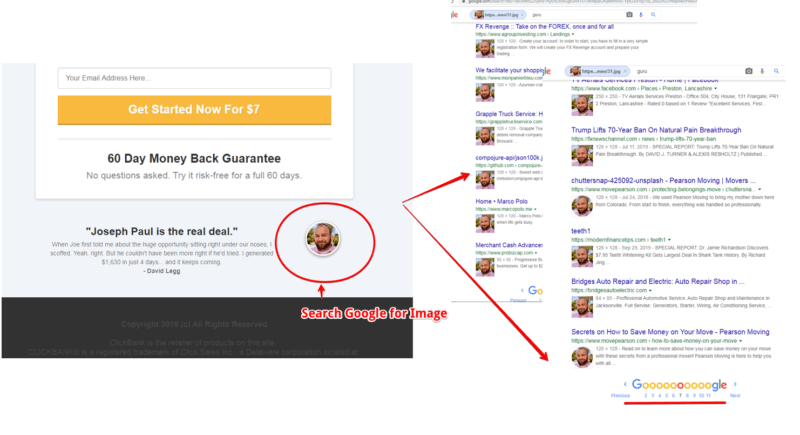 We see that this particular image is all over the internet, so that means that it is fake.
When it comes to the earnings they claim, I am not that convinced either.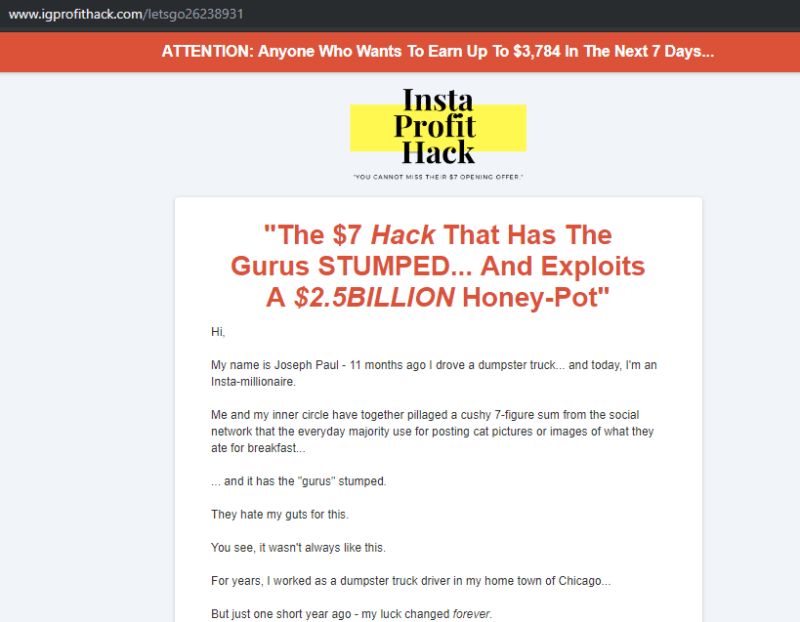 Earning more than 3G is really tempting.
But that is just misleading, related to this specific product. I think the biggest advantage is the price.
A Little Tip For You
I understand that at this point you might be already disappointed that you bumped into "another" scammy product.
If you are interested in the process of how to really make money online I suggest you check my Number One Recommended platform. It is very easy to follow and you get started for FREE.
Back to the IG Profit Hack:
The Good & the Bad
Price
Money-Back Grantee
n/a
No video course
Fake Owner
Upsell with no explanation
A website without Privacy Policy, Disclaimer, About Me/Us…
Who is it For?
"Anybody can do this"
That is probably the most used sentence you hear or see when you review such a product. Well, yes. Anybody can pay 7 bucks and read a bunch of PDF files. Does it guarantee you income? I have my doubts.
And it is not easy to make money on Instagram either, even when IG is a pretty easy-to-use social networking services. You have to try things out – what works and what does not. If you are gonna make some money in a few hours that is just a bit of luck.
I mean, even when you want to play video-game, there is a learning curve. The truth is that I do not play games anymore, but I remember that games like Transport Tycoon took me several hours until I was able to earn a dollar. 🙂 (I mean dollar within the game of course lol )
IG Profit Hack Tools & Training
Here is the actual platform. As like already said, nothing fancy.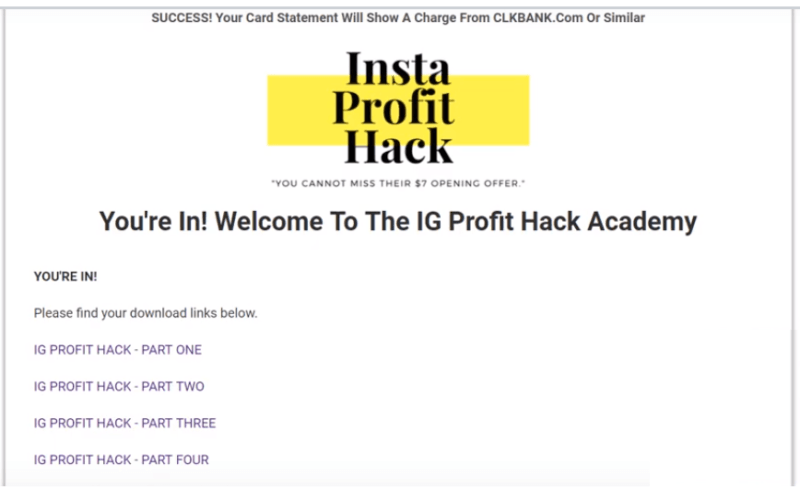 What I found interesting is the link inside of these PDFs. There is an offer with a link where you can download a video course, but that just does not work.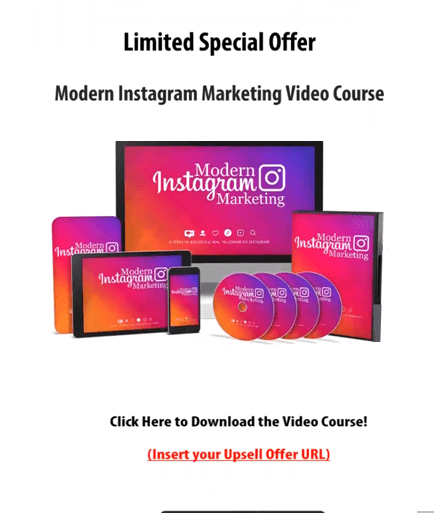 So I am not sure if that is a mistake, or it is not finished yet…
Let's take a look at the content of the 1st PDF called IG Part ONE.
10 Key Reasons Most Marketers Fail on Instagram
You Don't Have to Fail
Instagram Success is All About Persona
Find Your Competitors on Instagram and Reverse Engineer Them
Curate Top Notch Content and Mix n Your Reverse Engineered Content
Adopt a Content-First Sales Funnel
Use Facebook's Ad Retargeting System to Pull Instagram Users Deeper Into Your Funner
Pay and Interact with Niche-Specific Instagram Influencers
Continuously Optimize All Parts of Your Funnel
Best Practices
Actually that "Limited Special Offer" you find at all the PDFs.
IG Part TWO is much shorter and it is a cheat sheet consisting of a few short steps:
Step 1 – Find your competitors on IG and Reverse Engineer them
Step 2 – Curate topnotch content and mix in your reverse-engineered content
Step 3 – Adopt a Content-first sales funnel
Step 4 – Use Facebook's Ad Retargeting System to Pull IF users deeper into your funnel
Step 5 – Pay and interact with niche-specific IG influencers
Step 6 – Continuously optimize all parts of your funnel
Then the 3rd part of the IG
Profit Hack is also short and it seems like is pretty much the same as the 1st part.
The 4th part of IG Profit Hack has 18 pages and it is about traffic.
Here is the content:
The Instagram Demographic
The Secret to a Successful Post
How to Get People to Do What We Want
How To Get Your Instagram Generating Traffic
Promotional Strategies For Instagram
Social Media Reputation Management
And then you have the Inner circle – That is an upsell for $167, already.
Support
I do not think there is support inside the platform.
If you need support to ClickBank, because you decided to claim your money back, just follow the instructions, by clicking on Contact Us in the "Order Support " section.
IG Profit Hack Price Structure
As mentioned at the beginning, the price is really nothing. It is only $7. Although I was not able to go and buy that product for 1st time. I got this message on an empty site…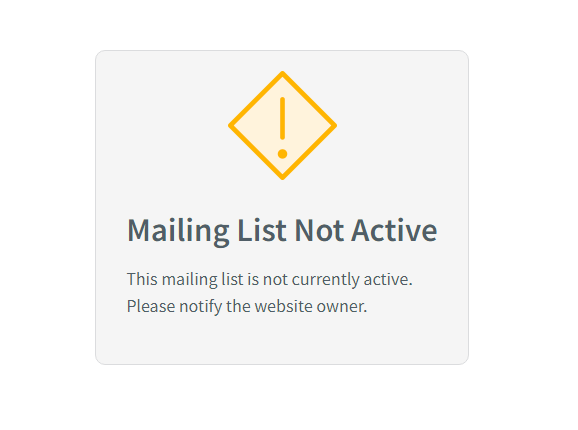 Nevertheless, there is also one upsell for $167 called "Inner Circle". Unfortunately, I could not get any more information about that.
My Final Opinion of the IG Profit Hack
I don't have anything against educational material – even the price is fair I think. I think though, that the strategy or the owner is, that nobody will claim the money back.
I must point out, that after reviewing the IG Profit Hack, I left with the feeling that, not much effort was made.
There are these minor mistakes, or flaws inside the product and even on the sales page. I mean is this even grammatically correct?

Or maybe he did that on purpose to create the impression that everybody is able to make money with his system?
But also the offer for the video course inside the PDF does not work, so I really do not know…
It is comparable to the other product related to Instagram, called Easy Insta Profits.
Which one is better?
Well, Insta Profit Hack Reviews is cheaper you can download the pdf files.
Easy Insta Profits that are affordable as well – you find there a bunch of videos.
But, in my opinion, even the $17 is already too much for what you get.
IG Profit Hack at a Glance…
Name: Insta Profit Hack
Website: www.igprofithack.com
Price: Advertised Price $7
Owners: Joseph Paul
Overall Rank:

VERDICT
Instagram is definitely worth trying to monetize. I am not sure if Insta Profit Hack will teach you everything you need to know. Sure you can go and read that stuff, but I believe you can get the same amount of information for free.
It is a ClickBank Product, so you have your money-back guarantee so if you feel like you can check those materials out.
I do not recommend spending too much time with this system.
If you have any questions regarding this product or any other related to Instagram let me know, right in the comment section below.