Build sales funnel, marketing funnel, how do I create funnel, how much does it cost to build a funnel… These are questions you probably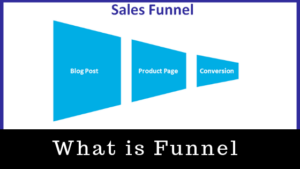 keep seeing in the digital world.
So what is the funnel?
Let's elaborate a bit:
You probably already own a website or you are just about to build one. Well, what is the purpose of this website of yours?
Most of the websites are like stores. Some of them are huge, some of them are smaller.
But ultimately, most of the websites are businesses. We can divide these businesses in two major categories:
Direct Business – It can be site as Amazon. People go to Amazon most likely because of 1 intention which is to buy stuff.
Indirect Business – Mostly these websites have profit from affiliate marketing. Where the intention of visitor is to learn something or he seeks for a more information before he decides to buy some stuff or sign up for something like a newsletter or guidance, tutorial etc.
In both cases they need visitors. These visitors are visiting these sites, they behave in certain way – ideally they do action as a purchase, or sign up for newsletter or training.
Well, that procedure is called funnel
On the left hand side of the funnel we have traffic. That traffic comes from many sources. It could be organic, Facebook, YouTube, paying ads, even emails or other websites as well.
At the end of funnel is an end result, either purchase of product or click on affiliate link (depending in what kinds of business we are)
How Does Such Funnel Work?
You want to make sure that you will get your visitors to a certain place on your website. Of course not by force, right 🙂
Rather by showing them what they need or what they want. Let's take an example a highway. Cars are passing buy through your territory (rest area). You want at least part of that traffic to make a purchase in your store to have a meal. Say, you will have this sign saying that today your wife / spouse has 50% off. That is called a lead magnet.
Many people especially couples will stop buy and will make a purchase. Ideally they enjoyed themselves and they come back or they pass the word.
It works same in online world. You want to have your post or video to attract certain portion of the traffic coming to your site.
In online world we have a blog post. After the post we have a pop-up or email signup page. Once we receive our visitor's email he is directed to the thank you page.
Blog post –> Email sign up –> Email funnel
Direct business has the funnel little bit different, since their end result is the profit:
Blog post -> Product page -> Purchase
This funnel (actually both of them) has 3 steps. You can also have more steps, but it has been proven that easier funnel (meaning fewer steps) is more effective. More steps just mean more places where visitors can drop off.
Tools and Components – Email Funnel, Tracking
First of all the entire funnel is crated in your mind as a thought – that means an idea.
You want to have that idea related to your post, video or presentation. Then you need to know what your end result. Is it purchase, or is it a click on your affiliate link?
Now we need to fill out the gap between the idea and end result.
You want to have content on your site. It can be post, or video.
Lead Magnet – In order to ask your visitor for an email, you want to give him something for exchange – Remember that example with 50% off for your wife/girlfriend above?
You want to send out an email to your visitor with some valuable info. If you have tons of visitors you are going to need an Autoresponder.
Now it goes into secondary funnel – email funnel. With email you want to keep you visitor subscribed.
The secondary funnel in nutshell is again a process of your email campaign. Once you have a list of emails, you build a relationship and after that you sell to these people.
Every other day contact your list with some value information. Do not sell.  You can even say hi, drop me something question or let me know what you are interested in. And let's say after 5 emails you will send them info where is stated – hey here is something, if you are interested go check that out and let me know.
Here is an example how your email campaign could look like:
1st email contains an introduction and also there is no harm if you offer them some kind of bonus
2nd email send 1 day later with a valuable information.
3rd email send 3 days later. Write about yourself – short story
4th email send another 3 days later saying "Hey, here is a bonus for you"
5th email send 3 days later with a promotional offer
6th email you send 1 day later with industry insight and by promotion
7th email send a week later. Here you want to connect on a personal level and it should contain a valuable information as well.
This is just an example of email funnel. You can of course change the sequence of emails, but try to send them regularly at the beginning and then less often. But make sure you do not have a 7 days gap between two emails.
Tracking is very important. The easiest way is to use google analytics. In google analytics you see exact data where the visitor is coming from, on which page he landed. Where he dropped off the path and so on.
If you for example see that many visitors leaving certain page again and again, you want to look at that page on your website and figured out what might be wrong.
On the other hand if people are "gathering" at one page – you want to leverage that and maybe try to do an ad for that particular post.
Another tool is the email Autoresponder. 
There are many services offering such autoresponder, for example Aweber.  Aweber as well as many others are not for free. You don't have to invest in such tool yet, if you do not have a budget. With lower amount of traffic you can handle it manually as well.
Once you have income – by all means go and invest in such tool. It is better than using that income for a used car, right 🙂
Such investment will make your life easier and you can focus on more important things.
To Recap Briefly
We have learnt what the funnel is. Basically is the procedure of (usually) 3 steps.
At 1st stage we have a blog post where the visitor learns what solves his problem.
For example he has a mattress on a metal bed frame and he does not like that during the night and/or adult activities his mattress slides around. He reads this post where he finds out, that in order to prevent the sliding, he should use the non-slip pads for mattresses.
At second stage he goes to check some specific non-slip pads. He reads about them he checks the dimensions and so on. Eventually, he likes one and he adds it into the card.
Last stage of this 3 steps funnel is a purchase. Or generally called also a conversion.
There are many ways and tools how to build the funnel. The most important thing is to keep our content interesting enough so we do not lose the visitor. Ideally visitor became a customer. At that point we would like him to have in our email list. That we do with certain tools like Aweber where we will keep informing him about news or other solutions – like how to maintain your mattress.
Hopefully this post had shed a light on the definition of the funnel. If there is anything unclear, or you have any comment, please let me know below.
Please follow and like us: