You are doing some research regarding digital products and most likely you would like to know whether the Five Minute Profit Sites is a legit course or not.
I have done lots of reviews about products like these, most of them are to be found on ClickBank or ClickBetter.
Five Minute Profit Sites is a typical low-quality digital product that has been around since the beginning of 2018.
UPDATE AUGUST 2019:
They have recently updated their website. The former website was 5minutesprofitsites.com, but this website is no longer available. I have updated this review with a new website that is not five-minute-profit-sites.net.
We are going to do a full review of this product, from checking the red flags, price, upsells, and how many and we will take a look also inside the members' area so you will get a full picture of this program.
So what is the Five Minute Profit Sites about?
Many people want to know whether this or that product is a scam or not.
FMPS (Five Minute Profit Sites) is not a scam in my opinion and that is because you have the money-back guarantee policy. This policy applies to all products featured on ClickBank. ClickBank guarantees your money back within 60 days if you are not satisfied with the quality of the product.
Some products are not worth buying at the first place, so you can save the troubles with the refunds. Although I must say with ClickBank is a matter of a few clicks.
Name: Five Minute Profit Sites
Website: www.five-minute-profit-sites.net
Price: Advertised Price $37 + Upsells –
!!As for AUGUST 2019, This is available for Free for 7 days!! Then $7 + Upsells
Owners: Sam Smith
Product Overview – What Are Their Claims
There are many red flags right in the sales video.
First of all the lady in the picture supposed to be an owner. Her name is apparently Sam Smith. Based on my previous experience I am almost sure that this person is made up.
The sales video is full of hyped claims like for example: "this is going to be a little goldmine for you, hidden away from the public" – well, I assume that it sounds dubious to you as well.
It goes on like this:
"You need to manage to get their free license to use the secret software which builds a done for you website. It supposed to be a point and click software app designed to make fast money from affiliate marketing"
Well OK let's stop here for a bit. They basically say that is a get-rich-quick scheme, aren't they?
In the sales video, they promise you that you are obliged to use their license for free. In fact, it costs $37 a month. And there are 3 upsells (we will take a look at upsell in the price section)
I will be emphatic here and I will try to explain what they mean by "free".
They claim that you can make a few hundred of dollars within a few days – let's say within the 1st week. They even show you the "proof" that with their software and only 17 clicks you make a few thousand in 1st week.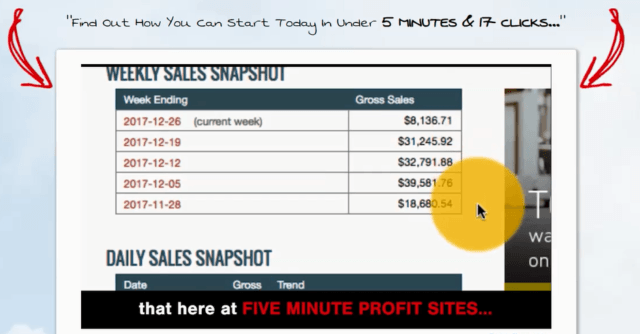 If you were to earn a few thousand a week then, of course, $37 a month is nothing – That is probably what they mean by free.
But is it really possible to earn that amount of money within just a short period of time? Well, it is possible but for someone who already has a few years of experience in internet marketing. Every person who has at least a little bit of knowledge about affiliate marketing knows that such a claim is a lie.
The Good & the Bad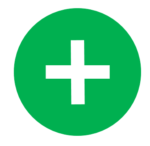 n/a
You can get your money back
n/a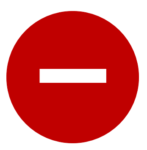 Unrealistic claims about the quick profit
Poor training platform
Upsells
Fake Scarcity – like "if you leave our site, somebody else will take your spot"
Who Is It For?
They say that they made this program so easy to use it, that even a newbie can benefit from it. And that the age doesn't matter. They show an old lady in the sales video, but I doubt that a particular person has something to do with FMPS.
Their cheap marketing techniques are obvious. To lure as many people as possible, because hey – who does not want easy money?
But the truth is different. All their claims are not realistic and there is no automated system that makes money for you.
It is like when someone talks about how much he made by passive income. It sounds great, but the term passive income doesn't mean that you are doing nothing.
Their training platform seems easy, that is for sure.
But it is not enough to start making money online. They do not show you any strategy, they do not show you how to build a website which should be the first thing you need to do in order to start with a sustainable online business.
Five Minute Profit Sites Tools & Training
Here is how the platform looks like.
As already mentioned it really looks pretty easy – simple 3 steps and you should be all set.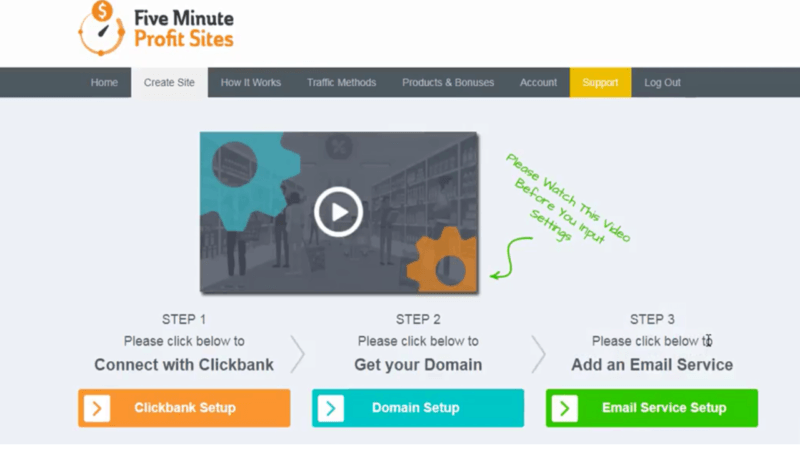 Let me quickly walk you through these 3 steps:
Connect with ClickBank – You are required here to register a new ClickBank account to manage your affiliate payments
Get your Domain – You need to choose the domain name you would like to use for your website
Add an Email Service – On this step, you are required to register with an email service to manage your email content
The website is set up for you automatically in 5 minutes. That is why the product is called Five Minutes Profit Sites. At this point, I must mention that you do not own the website. And if the product is not around anymore you are left out with bare hands.
Anyways, the "done-for-you" website is a simple website with a video and actress in it plus the affiliate link.
Now you need to drive traffic to this site. There are 6 videos to show you how to do that:
Introduction to Solo Ads
Solo Ad Services
Solo Ad Strategies
Getting Ready for Traffic
Other Solo Ad Sources
Ad Swaps & What's Next
The thing with solo ads is that you might be put on a spammy list. Besides you never know what kind of clicks you may get. In many cases, the traffic comes from unrelated sources so you may get many clicks, but zero conversion. That means you can easily spend hundreds of dollars with no results.
Support
There is an email for support – you can try to contact them in case of issues. Although I am not quite sure how that works and if it works.
According to the spokesperson they have dedicated support. Hopeful you will not need it.
Five Minute Profit Sites – Price Structure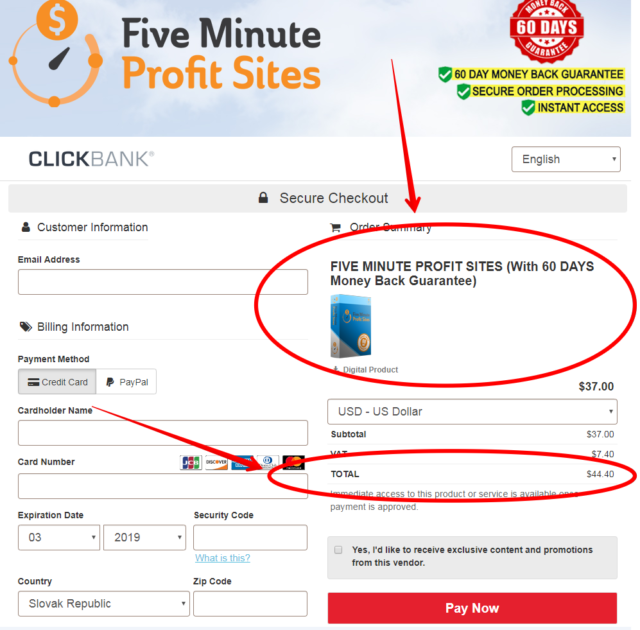 Depending on your location, you purchase the product either with VAT or without it. With your VAT it is as advertises $37.
In my case, I would be charged the VAT on top of (as in most EU countries).
Okay; by now you know that it is not for free. For the price of $44.40 you get:
Site building software
Copy/Paste content – Here you ought to be careful. Google does penalize duplicated content
Dedicated support
Free website hosting
Free traffic methods
Besides the basic platform there are 3 upsells, all together costs an additional $481.
Well, you also get a bunch of bonus material.
That is for free – But only for the 1st month. Starting 2nd months they will charge you the respective amount as per screenshot:
UPDATE AUGUST 2019
This is now offered for $0 for a week. But be careful as you have to "show them" a credit card. It is not honest in my opinion because you will be charged after this 7 day period.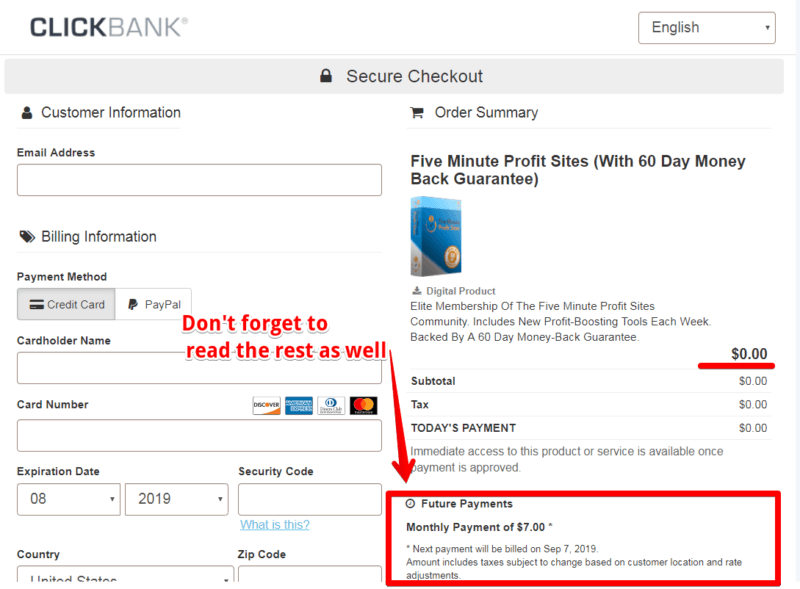 What do you need a credit card for?
I thought it supposed to be for free. Apparently, they will charge you automatically after a week, right?
As a side note;
The platform I am a member of offers a 7 free trial period as well, but you don't have to use your credit card.
If you want to create your own account, just use your email and you can keep your starter membership for a lifetime.
My Final Opinion of Five Minute Profit Sites
This is just one of those platforms (which I don't recommend) promising huge earnings with little to no effort.
Claims like "5 minutes and 17 clicks later you earn money already"; or that they have this secret software, that works…
I can't help myself, but these claims are very misleading and I dare to say it is just a bunch of lies.
First of all, there is no way that a beginner can make a lot of money in a short period of time. In order to make money online, one must be experienced in the internet marketing field. And for sure it is not done through some automated program or software.
Second, if you want to know what it takes to make thousands of dollars in a relatively short period of time I have news for you.
It takes an effort and a few months of preparation before the money starts to roll in. I am going to share an interesting story with you: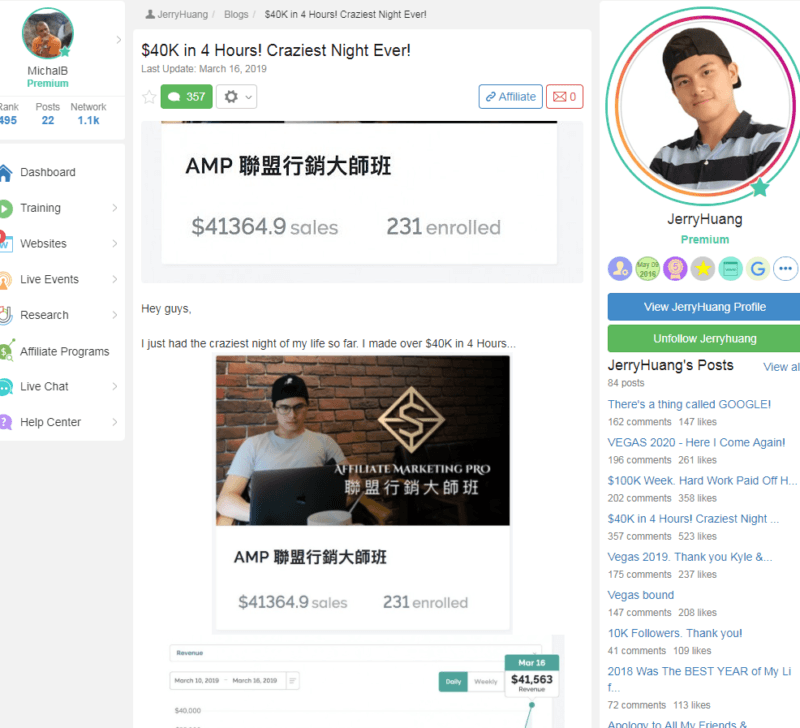 So just a few final thoughts regarding the Five Minutes Profit Sites;
As much as I would like to show you some benefit, I guess it is just not the case. If you are interested in how to build a website and how to drive traffic and thus make some money, you better check other products.
Is There a Better Opportunity?
It is not uncommon that products like these are being removed from ClickBank every day or they lower their front-end price in order to get some customers. The "quality" remains the same though.
There is not much to learn from products like these so the question is – what are you paying for?
In my opinion, you should get some valuable information in exchange for your money. Or some training where you learn new stuff, for example about SEO and how to outrank the competition.
Who does not want to learn how to create a website and yet how to rank on the 1st page on google?
The problem may be the price of such a course. Some companies charge $1,000.
But it does not need to be that expensive. I have done also one review of a particular platform that teaches all the necessary information about monetizing the website.
This course is very thorough and it is also great for beginners with no prior experience. It is not a get-rich-quick scheme. So if you are looking for fast money, this platform is not for you.
Five Minute Profit Sites at a Glance
Name: Five Minute Profit Sites
Website: www.five-minute-profit-sites.net
Price: Advertised Price $37 + Upsells –
!!As for AUGUST 2019, This is available for Free for 7 days!! Then $7 + Upsells
Owners: Sam Smith
Overall Rank:

VERDICT:
Are you still wondering if you can make money with Five Minute Profit Sites? I believe it is obvious that it would be very hard to make any kind of profit with this particular product.
Again, it is one of those products that are out there only for one thing and that is profit for themselves. Have you seen how many upsells they have?
You can easily spend $1,000 with no solid results.
UPDATE AUG 2019:
Also if you consider the fact that the price went from $37 to 0$ means that people are not interested in this program anymore. So owners of the FMP do their best to get as many customers as possible by offering the 7-day free trial. But keep in mind that you have to use your credit card, anyways. And after a 7 day period, you will be charged automatically.
With such low-quality products as FMP is, it is quite common that they change the website, or sometimes the name of the product so it may seem like it is a new one. But in reality, they just rehash the old one and sell it as a new program.
So I do not recommend Five Minutes Profit Sites. You better save your time (and money – or ask for a refund).
If you have any additional questions regarding this product, let me know in the comment section below. Also, I do appreciate your opinion about FMPS.