An Authority Website.
You have probably come across this term and you have some clue about what does it mean.
But this time, you really want to get into it and would you like to know, for good, what is an authority website and how to recognize one?
In the following article, you are going to find out also how to build such a website and I will show you a simple trick that will help you to pull out some data from your competitor (or future competitors).
And don't worry, everything is legal, and it is for free.
I am not sure whether you just starting out with your own website, or you have already some content on it and only looking for ways how to become an authority in your chosen niche.
So regardless of what your level is, an authority website is any website that outranks you in Search Engines, using the same keyword you try to rank for.
That would be a simple explanation, but let's dig a bit deeper into it.

What Are Authority Websites?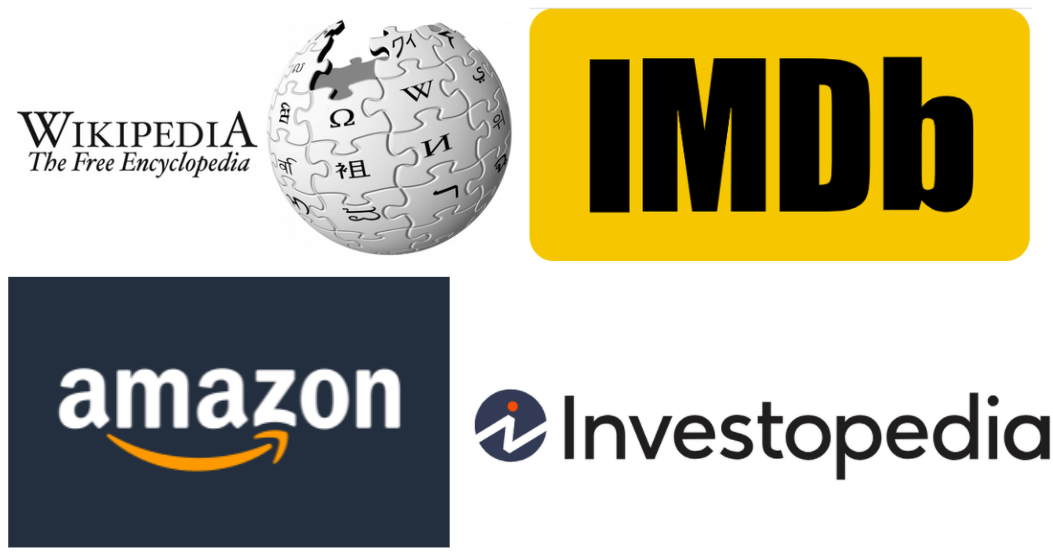 Let's mention some examples of what an authority website looks like.
You are familiar with websites like:
Wikihow
Wikipedia
Outdoorgearlab.com (High authority affiliate site with best reviews of outdoor stuff)
nytimes.com (the New York Times)
These are top-notch authority websites, and I also mentioned one affiliate site that is associated with Amazon (Outdoorgearlab).
Other high authority sites could be:
Any eCommerce site
Affilaite Network site
Amazon (as already mentioned)
Or also any vendor (manufacture) authority site within a specific niche, like Columbia.
As we are getting to smaller sites it could also be a site within a specific niche like:
A website within a "Hiking shoes for kids" niche.
The reason why I mention such a site is to show you that if you are passionate about a certain topic, you can also build a very authoritative site that generates hundreds of thousands of dollars per year just from Affiliate Marketing.
This is a general idea, but let's be a bit more specific.
I assume that you have some kind of website or blog already and if not you are probably thinking about it.
So for such a person, like you or me, any website that outranks you/me is considered as an authority website.
As this screenshot was taken, it is obvious that there are 7 websites with higher authority, than mine.
In other words, any online present outranking the site in SERPS is considered as the authority site.
Now it doesn't mean that it is not possible to outrank the sites above. It just may take a little bit of effort. That includes:
Better content
Updated information
FAQ section
etc.
How Do You Know If A Website Is Authoritative?
Basically, it should be easy to recognize an authority website, from what is written above.
But since we are dealing with rather new and small websites, it is not obvious which one has lower or higher authority within a specific niche.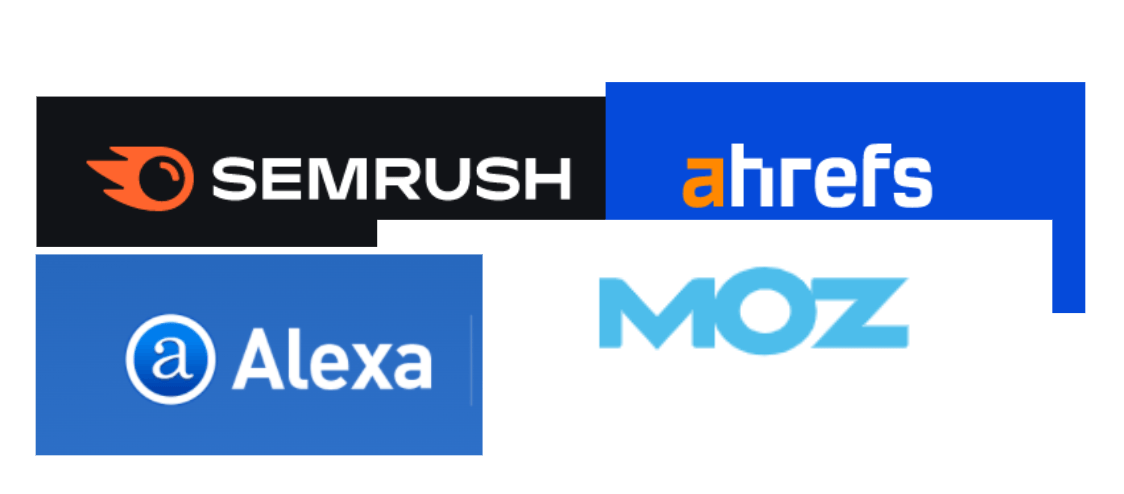 There are tools online that can help to determine and quantify the authority of a specific website.
Let me digress a bit
Most of the traffic to my site is organic, meaning free traffic coming from Search Engines like Google, Bing/Yahoo, DuckDuckGo, and others.
How to get free traffic to the website?
I choose a specific keyword that I want to write an article about.
First I use keyword resreach tool to find the keyword (or phrase) that has good number of potential searches and low competition
Then I search for this specific keyword in Google and I check the Domain (or websites) authority within the SERP (Search Engine Result Page, source Wiki).
If there are not many websites with high authority I go ahead and start writing the article. The chances that my article will get to the 1st-page of SERP is pretty high.
Regarding the 2nd point above, there are many tools that you can use:
Specific Tools
I use Alexa and Moz.
These are 2 different tools but I would like to double-check the data, therefore I use both.
To mention a few more:
So here is a screenshot from Moz, where I checked the data as I was preparing this article.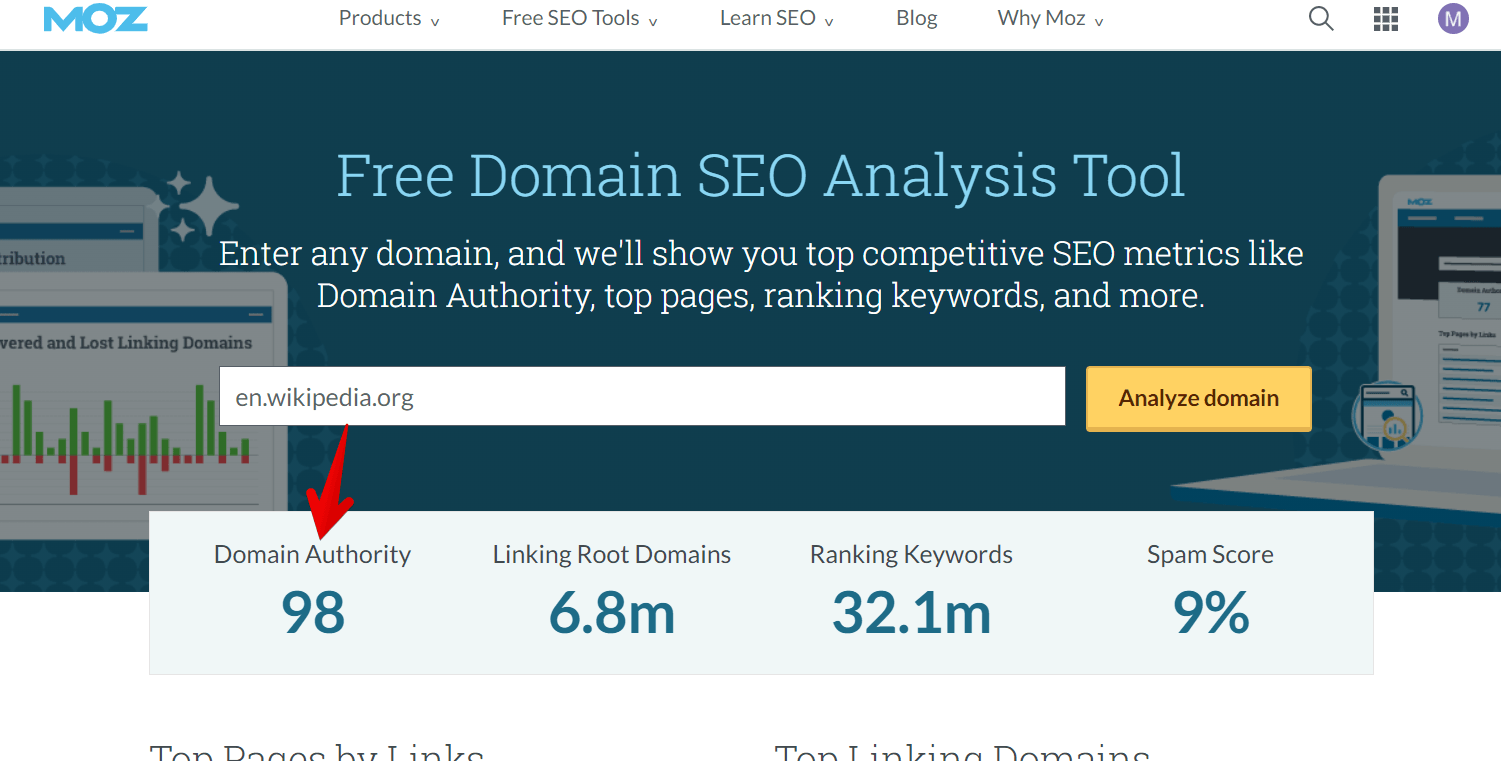 The tools I mentioned above, all have different algorithms how to determine the authority. For example with Alexa, the lower number, the higher authority.
With Moz, we see that Wikipedia has a Domain Authority of 98.
The highest score is 100. Google or Youtube has 100 and completely new websites have 1.
So here is another example of one niche website that I have abandoned and don't use anymore.
Moz has a great feature where one can see the important data right in the SERP.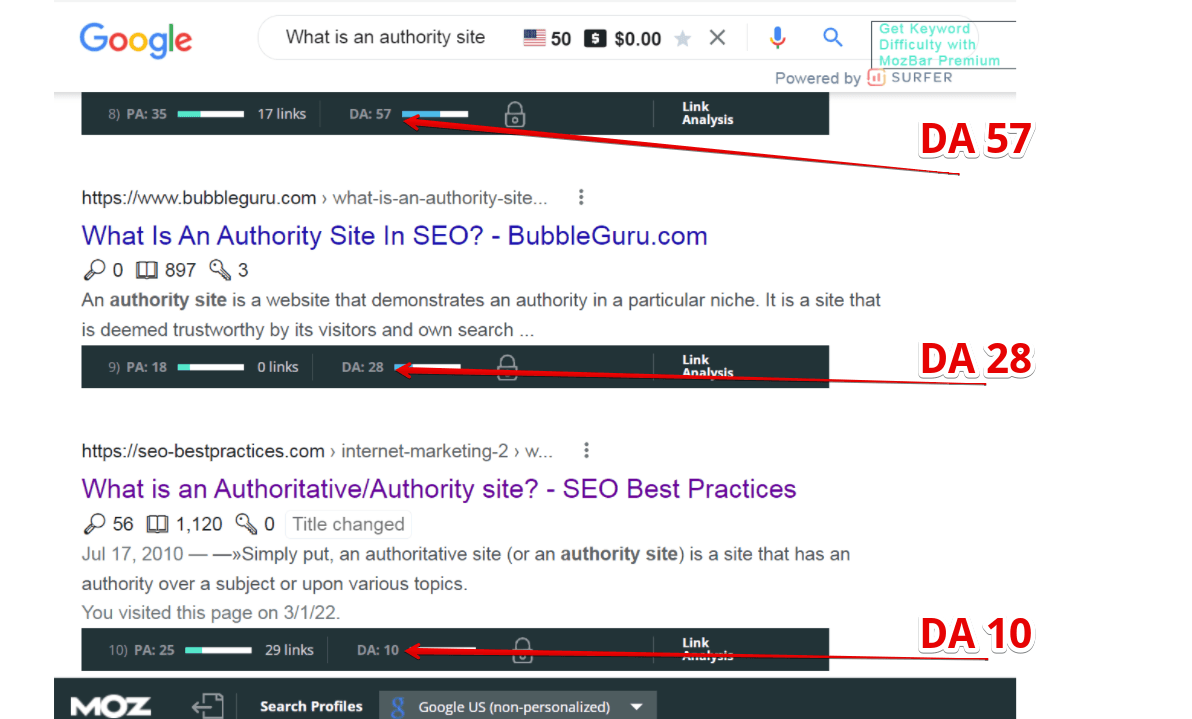 NOTE:
DA stands for Domain Authority (pretty much the same as website authority)
All these tools offer the basic data, including checking the site authority, for free.
As you see from the screenshot above, I use Moz to let me know about the domain authority of each website that shows in SERP.
If the results show that the top 10 websites (on the 1st page of the search engine) have high authority, I most likely to go ahead and change the keyword.
I said "most likely" on a purpose.
The thing is that domain authority is an important factor, but not the only one when it comes to ranking. There are so many other factors that come to the decision of who ranks first, who second…
These data from such tools serve rather as guidance, or an educated guess if you will.
When you do such research you learn that even a website with a small domain authority can make it to the 1st page.
Hopefully, I didn't confuse you.
SEO may seem like a difficult thing to learn, but with step-by-step training, it is possible to grasp the knowledge effectively.
A Few More Words…
These tools reveal a lot more data than just a website authority.
There are many other statistics that these tools offer, for example, if you have toxic backlinks to your site (that can affect SEO) or keyword rankings, SEO health, and so on.
But to get this data one must pay for their service, and it is expensive.
It costs about $100 a month (depends on the package).
For our purpose though, the free version is sufficient enough.
How Does Such a Site Generates Revenue?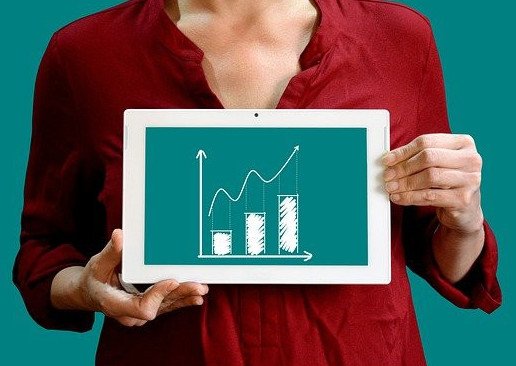 Having an authority site is great.
A question:
Are you here because you want to have a website with a lot of information that people find very helpful?
Meaning, you don't care about the monetization of your website.
Awesome – that's very respectful and I salute you.
The thing is that many people create the website, post 5 or 10 articles, and wait for the sale.
And they check Google Analytics every hour…
It doesn't work like that.
It is understandable that most people want to find a way how to monetize the website. And for some even a hundred bucks on the side might do the difference, right?
The Secret?
Provide value first and then focus on monetization.
When it comes to building an online business (meaning website generating revenue on a regular basis), people that are passionate about their niche, or genuinely provide value, tend to have quicker and better results.
I assume that you are interested in how such a website can generate revenue.
In other words, you also want to know how to build such a website that has a consistent income. And the intentions, what to do with the website, are different.
At end of the day, it is up to you what you do with such a website.
You can keep it, outsource a writer and enjoy the passive income.
Or you can sell the website. Usually, the price for such a website is 30 to 40 times the monthly revenue.
So even a website generating $1,000 a month can be sold for $35K.
Not bad right?
I digress a bit but wanted to show you the potential of a successful website.
But Again.
The thing is, you as an aspiring internet marketer want to provide your audience with a lot of free and valuable information.
People don't know you when they land on your site for the first time.
But once they start to consume your content they eventually trust you more.
And you know what?
Your site doesn't have to be "that authoritative" and still can generate 2 or 3 figures per week.
What is the best way to monetize the site?
Once you have your audience or let's say a few hundred visitors per day, you can for example put ads on your site.
When someone clicks on the ad, you earn a few cents (sometimes even dollars).
The more visitors you have, the higher revenue you earn.
That makes sense right?
But there is more to it.
Once you reach a certain number of visitors, you can apply for different services, ad networks.
With 50,000 sessions per month, you can apply to Mediavine, and make more than $1,000 a month passively.
Affiliate Marketing
I am sure you have already heard about affiliate marketing.
You sell other's people products to your audience, by simply creating quality content within your specific category (niche).
People go to your site to find information.
They like the content, they click on the offer (affiliate link) that directs them to the merchant's site, and after purchasing the product/service you get a commission.
A very simple business model, but it is not that easy to apply it.
There is a certain knowledge needed, and it is not easy as it used to be back in 2015.
Stil with the proper knowledge it is possible to start generating 4 digits per month within 12 months.
Other Possible Sources of Income
You can also create your own product, tangible or online product, and sell it.
But again you need to get the traffic first.
Let me mention a few business models you might apply:
Sell online courses (whether a course on how to play guitar or how to make money online)
Memberships site
You can have a private area within your site with extra information available or a specific fee
and so on
Regardless of the business model or the niche, authority sites can make a lot of money.
A lot of people quit their 9-5 to become independent and/or they prefer to work when they want, where they want, and how they want.
Having the knowledge of how to monetize a website is priceless. The earning potential is huge, and many website owners make 5 or 6 digits monthly just from affiliate marketing.
But it is a marathon. and not a sprint.
So think in the long term.
Sometimes it takes 2, 3, or even 5 years to make $100,000+ a year.
Does it take too long?
Well, I don't think so.
Think about it this way:
What job position you must be in, in order to have the potential to make $100K a year in 5 years?
How Do You Create An Authority Website?
Are you interested in how to create an authority site?
With everything mentioned above, I am sure you realize that it takes some effort and time.
Let's sum up what makes a site authoritative:
It has a consistent traffic – the content people like
It ranks well in SERP – as a result of quality content
The site generates consistent revenue (although it is not easy to determine the revenue, when you are not the owner of the site)
First thing first and there are 5 things to know before creating such a website.
It is a topic for another article so you might be interested in:
One of the key elements is proper keyword research.
And let me share with you a trick that shows what keywords the competitors use.
How To Find What Your Competitor's Keywords Are?
Generally speaking, it is not easy to find the exact keywords your competition use.
A lot of such tools cost money, but here is one website that offers this option, for free.
The website is :
Go to " Topics":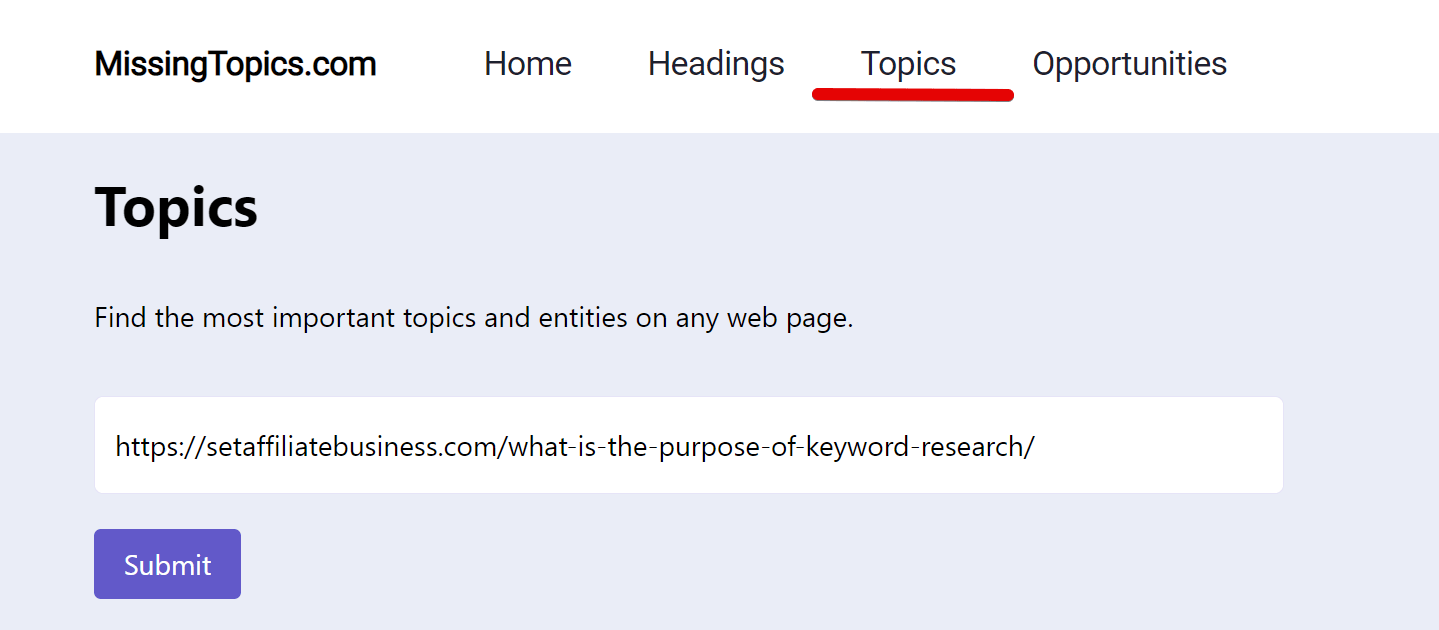 and put an URL of a website (your competition) you are interested in, and click on Submit
You see below that there are a lot of keywords, pulled out from the specific URL;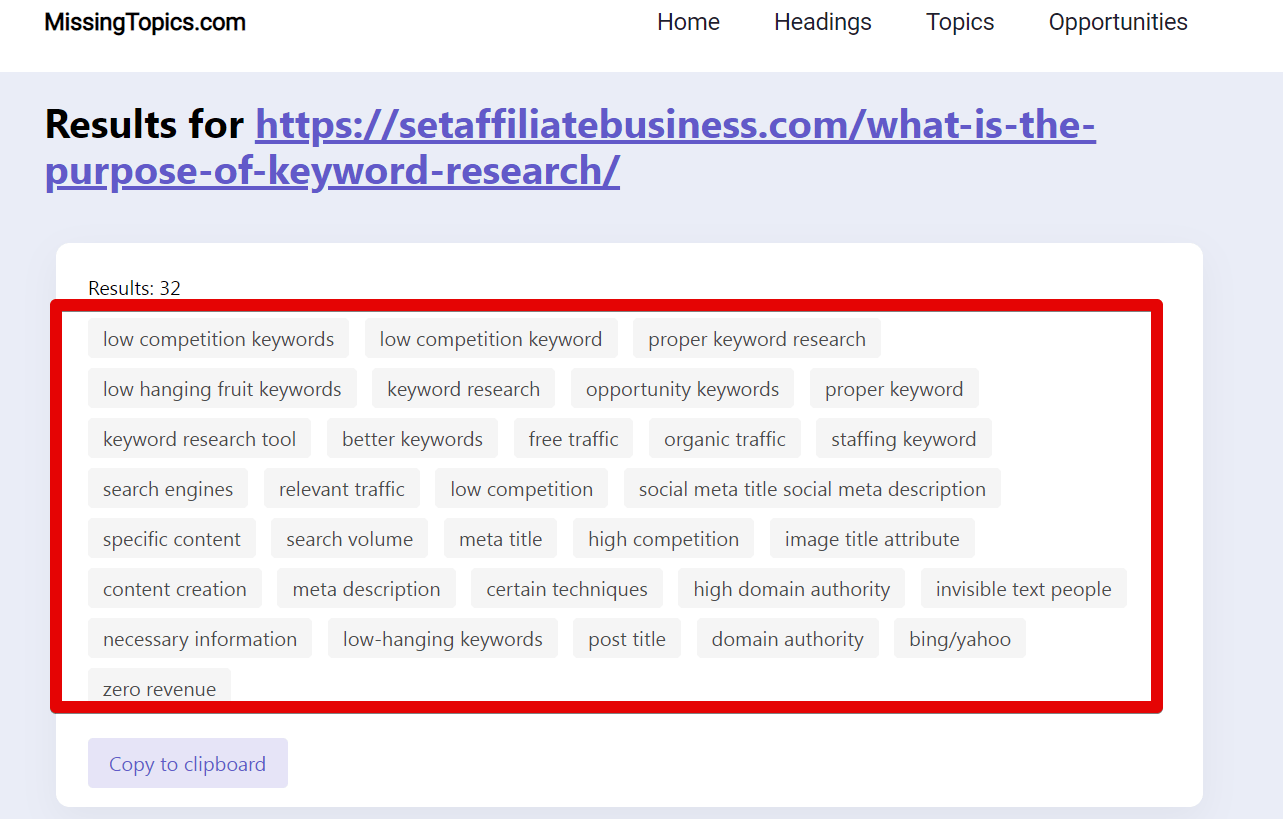 Pick one or two and run it through your favorite Keyword Research Tool.
(My favorite one is called Jaaxy, but there are many you can use (at least partially) for free.
The website above (missingtopics) is a free tool and a great resource.
There is no paid version so feel free to use it.
This is just one aspect when it comes to creating a niche website. It a very important but it takes a little bit more knowledge.
Actually, a lot of information is available for free, whether you check Youtube or many websites, but to have comprehensive training and well-structured training… that requires some investment.
But it is worth it.
I wanted to start on my own,… a year after I learned it was not that easy, so I paid for one specific course.
One Reminder!
Everything that is written above, does not in any way encourage the reader to steal the content from the competitive website(s).
This is not about plagiarism!
It is about gathering new ideas, brainstorming. The idea is to find out what's working.
Have the idea in the mind (or in a notebook) and come up with original content, ideally even better content.
That is the way how your site will become an authority site as well.
Hope it is explained clearly, and again I do not encourage anyone to copy or steal other's people content.
Google can find out and eventually punish or penalize the entire website.
So, again learn from others, but be original and unique.
Conclusion
Whether you are just starting out or you have your own website for a couple of years, there are always websites that have higher authority, and hopefully also a lot of with lower one.
No matter where you are, you always want to hustle and make your site more valuable.
In case you are tired of it, you can sell it and start a new niche website.
You know that there are many ways how to monetize the website.
My ultimate goal is to have at least 5 different websites, with 5 freelancers working on them and me, only managing the entire business.
What's your ultimate goal?
Do you have an interesting story regarding the website you want to share with us?
Please use the comment section below.
Remember that the site should provide valuable information to its audience?
You can be part of it too, and by leaving the comment you are helping this site to be more authoritative.
I believe you find the article helpful, if not let me know as well 🙂
Thanks a lot for reading,
Mike.