You have already heard of this platform called Wealthy Affiliate, right? Now you would like to know more detail about the platform, what kind of courses are there (and how many of them will be available for you), basically how the back office of the WA platform looks like.
So this is a post about Wealthy Affiliate – How does it look like after you log in;
or we can also say a guide through the platform.
In case you have not had a chance to read my general description of WA where I talk about the community and I also mention success stories, you can do so by following this link.
I remember when I first found out about Wealthy Affiliate – It was in October 2017 and I felt pretty overwhelmed. I mean to me it seemed too complicated and honestly, I did not want to be part of such a big platform.
But at the end of the day, I realized that this is actually a training platform I always wanted.
Do you see how undecided I was?
Maybe if I had seen a complete guide to that platform, I would have joined right away. But who knows. We are people and we learn every day something new.
We will have a look at the home page of that platform – it is related to your profile and from there you have access, everywhere. Then we will check the sections like Training, Websites, Live Events, Research, Affiliate Programs, Live chat, and Help Center.
Let's get right into it.
1) Dashboard – Your Home Page
This is a member's home page.
Let's go down one item in the menu on the left-hand side.
We are getting to the training section.
2) Training – Overview
There are 5 main categories within the Training Section.
The first is called Online Entrepreneur Certification and it is a core training within the platform. It is recommended to get to Level 3 at least. Then there is an optional training called Affiliate Bootcamp.
It continues with the "My Traning Activity" where are individual courses on a specific topic.
You can also go to the Training HQ – from here you can search for a specific classroom, training or tutorial. And at the end there are classrooms.
It is divided by topics and these are created by members.
2.1) Training – Online Entrepreneur Certification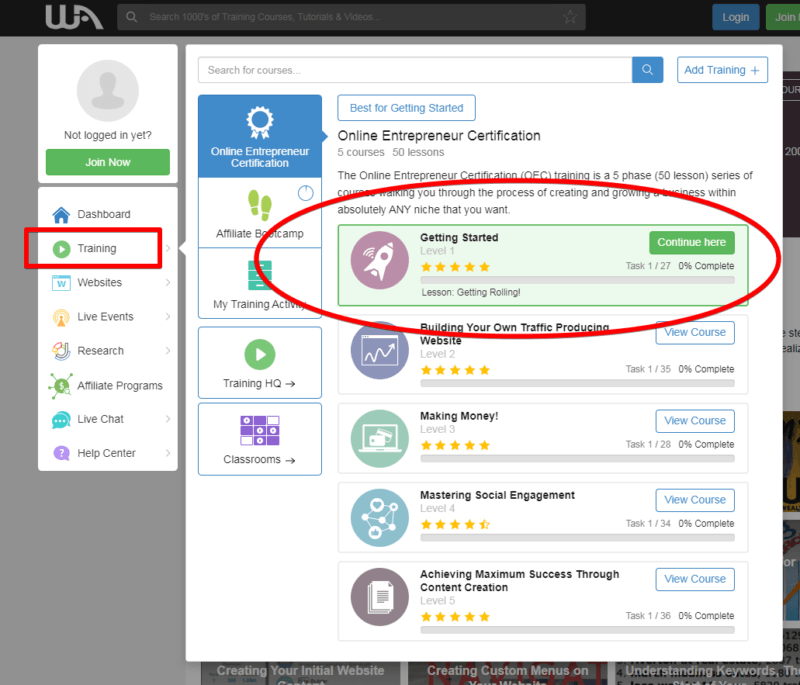 As you see at the screenshot above there are 5 Levels within this WA core training called Online Entrepreneur Certification (OEC).
Level1 starts really from scratch and it is for complete beginners.
There are 10 lessons and each lesson contains some tasks. The number of tasks varies throughout the lessons (usually there are 3 tasks).
These tasks are practical exercises where you apply what you just learn.
This is the most efficient way of how to grasp knowledge.
Let me just mention some of the lessons:
Understanding How to Make Money Online
Building Your Own Niche
Setting Up Your Website
Understanding Keywords
This is briefly what you find in the 1st Level. This is accessible for free.
Anyone can go through this Level 1, without using a credit card (one needs only an email to sign up). It is called a Starter Membership.
One more note: You can keep the starter membership for as how long as you want. But the access to that Level 1 training lasts only for 7 days.
Level 2 and above is for Premiums only.
There are only 2 types of memberships within Wealthy Affiliate.
(Learn more about Wealthy Affiliate, including the Price Structure)
Starter as I described above and then Premium. With a premium, you have access everywhere and there are no additional fees.
The exception is only if you want to have a custom domain. The price is $15 per year.
Let me share with you what you will learn when you decide to take full advantage of the training.
Level 2 reveals the techniques of free traffic generation.
I am going to mention the course benefits and learning outcomes.
You will learn the principles of website traffic.
How to create content that is beautifully engaging, so you will get lots of traffic from product reviews. You will master the WordPress editor and create content that targets affiliate programs.
Here are just a few topics as part of Level 2:
Your Own Domain, Your Brand
Creating Keyword Rich Content
Understanding the Low Hanging Fruit
Amplifying Your Productivity
I am going to mention also what is included in Level 3 and above so you can have a little overview as well.
Level 3 – Making Money
At this point, you have already a website with content and you already know how to get traffic. Now it is time to monetize this traffic or in other words, to earn revenue.
This is the part where you will be taught several ways how to earn money through your site.
Understanding Affiliate Programs and Networks
Adding Affiliate Links to Your Pages
Leveraging Product Reviews
Getting Paid for Ads on Your Site
etc
Level 4 – Mastering Social Engagement
This course is devoted to social media, social marketing, and social networks. You will learn ways how simple and effective to earn through sharing, how to compose an effective Tweet when it is right and wrong to use social medium, and so on.
What Does Social Engagement Mean to Your Business
Pinterest & the Visual Hemisphere
Incorporating a Sound Tweeting Campaign
The Benefit of Social at WA
etc
Level 5 – Achieving Maximum Success Through Content Creation
In the last Level, you are going to extend your knowledge in everything from the process of research, the content architecture, effective techniques for boosting conversions and scaling your content through goal setting and outsourcing.
Improving Indexing Times and Speeds
Writing Within a Devised Plan Architecture
Writing Your Content With Conversion Intent
Bing & Yahoo, They Are Still the 33%
etc
After completion of Level 5, one will understand how to scale his business through content in the most effective way.
There are many members (see success stories) earning 4 digits per month with their websites. It did not happen overnight though.
This is something, everyone must realize.
2.2) Affiliate Bootcamp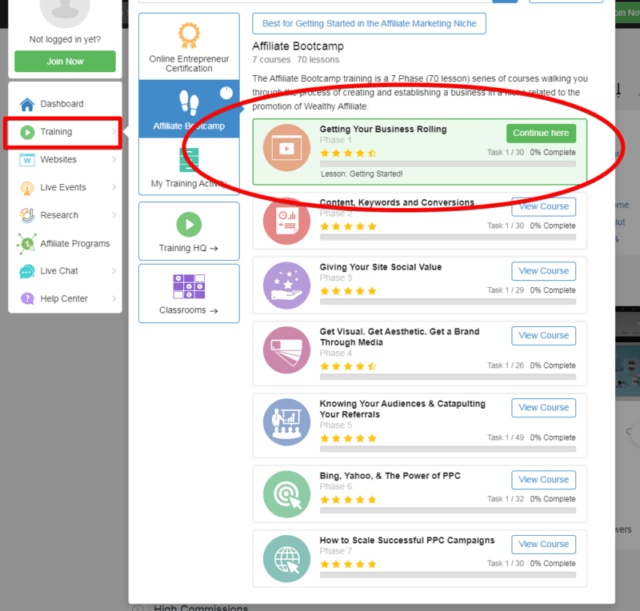 This part of the training is dedicated to Wealthy Affiliate promotion. It is optional but many folks are involved in this training. One of the main motivations is the Las Vegas all-expenses-paid trip once 300 referrals join the premium membership.
It is an exciting incentive and the business trip lasts 4 days and it takes place usually at the beginning of the year.
2.3) My Training Activity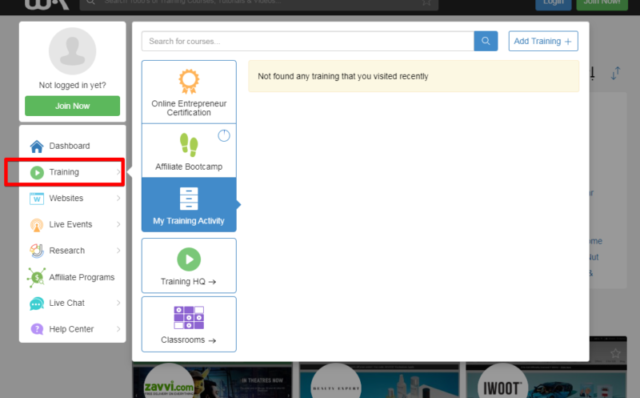 Through the Training Activity, you can easily find where you left off. Whether it was the Online Entrepreneur Certification or the Affiliate Bootcamp, you can always find your lesson in this section.
I personally do not use this particular menu since you can access your training directly from the dashboard as well.
Since I have logged in as a new member, there is obviously no training available.
2.4) Training HQ
You can access any training here based on the topic you choose. There are the following topics:
WordPress
Websites
Writing Content
Search Engine Optimization (SEO)
Ranking in Google
Creating Images
Hostin
Domains
2.5) Classrooms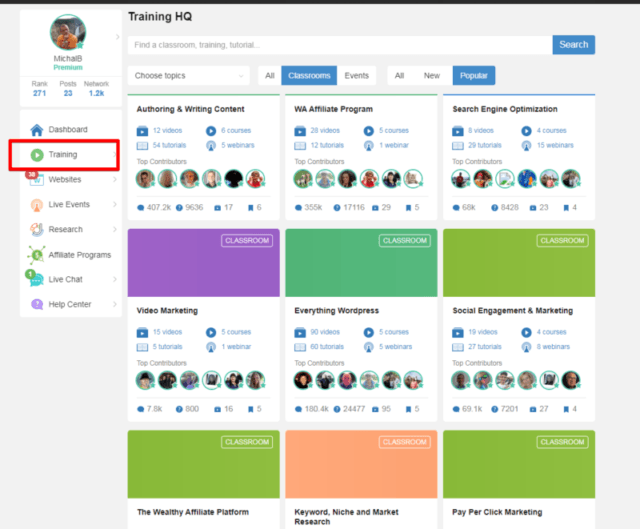 This section is dedicated to the members. I mean if you are a member you can create micro training as well. It is done via blogs.
The blog you create can be either just a small article about what you have done yesterday, or it can be also related to any topic concerning internet marketing. Depending on how you tag the blog, it may or may not appear in this Classroom section.
Besides, there are also questions about the given topic.
3) Websites
This is part where you manage your website(s), but first of all where you create your website. As a starter member you can create I think 5 websites (for free, they are subdomain – siterubix).
Within this section, you have also access to a writing platform.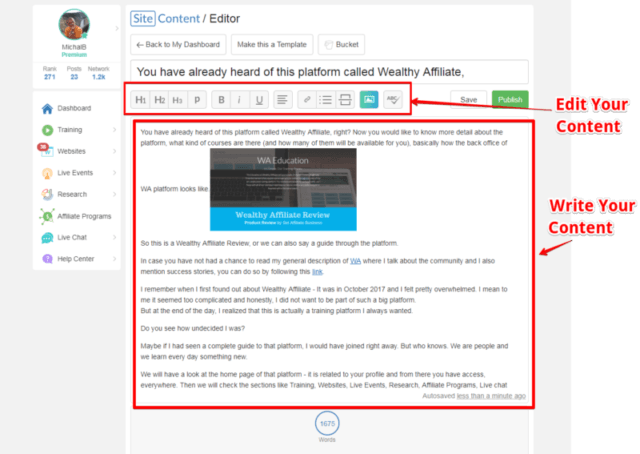 The purpose is that you don't have to use WordPress, but you can write in here and publish the post or page through this writing platform.
4) Live Events
There are live webinars taking place every Friday. The coach is Jay and he has done over 300 webinars already. All of them are recorded, so it is possible to watch them again.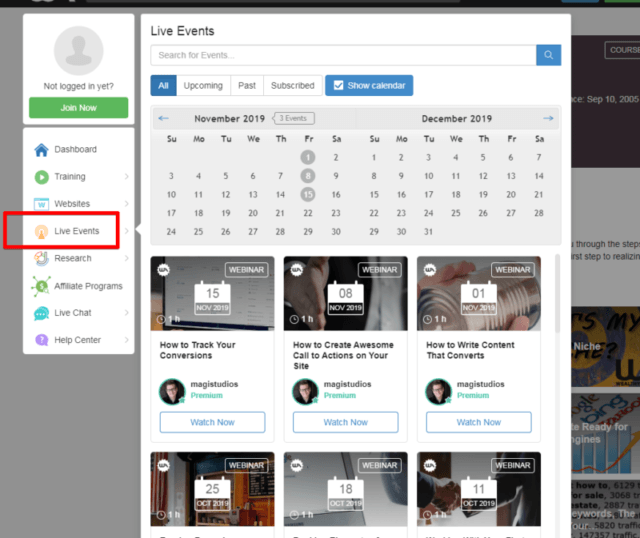 The topics are different. It can be about the Facebook ad, Email Marketing, YouTube videos – everything that is related to internet marketing.
Every webinar starts with an overview and then a theoretical part. After that, it continues with the practica part where Jays shows how he does it. So it is literally over-the-shoulder training. At the end of each webinar, there is a Q&A section. The length is usually something over an hour.
Throughout the year there are also some "special" webinars, for example, Live Case Study, where Jay shows how to create a website, how to create content, how to choose a niche… It is easy to find any webinar you want, just enter the keyword in the search bar.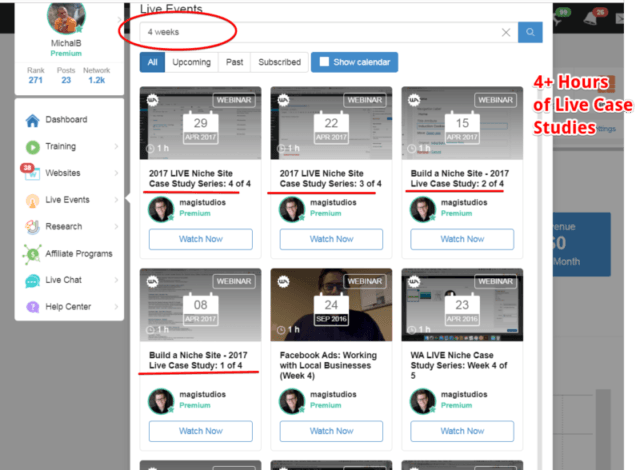 There are also a "Hot Seats" webinars where some members can have a Jay to audit the website. This is extremely helpful and you have feedback from a professional marketer about your website right away.
5) Research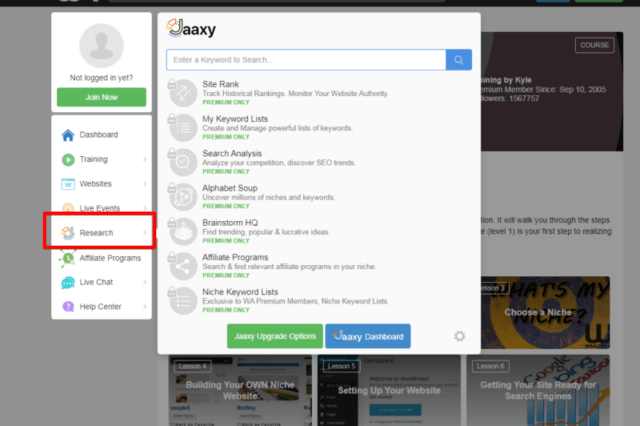 This section is for premiums only.
Here you get access to an awesome Keyword tool called Jaaxy. As a premium member, you can use it for as many keywords as you want.
There is also a Jaaxy free trial where you can test 3o keywords.
6) Affiliate Programs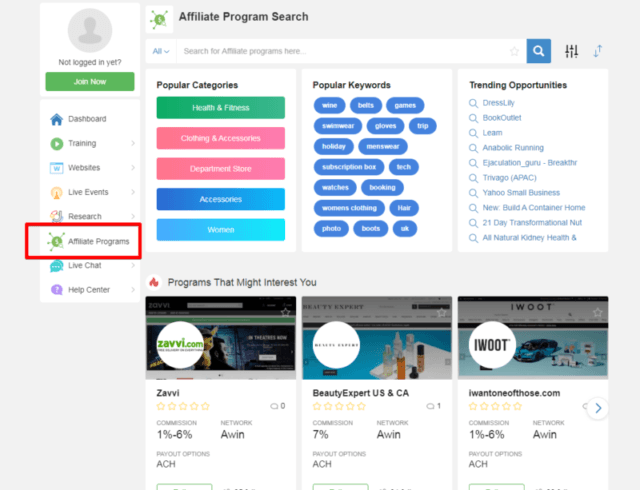 This is kind of a new feature and it was introduced this year.
A member can access any affiliate program directly from the WA platform.
The thing is that there are tons of Affiliate Programs out here and to search for each individually takes time.
Besides, you have all the necessary information about each program right here:
program description
what products they offer
what is the commission
trending opportunities
etc.
Here is just a shortlist of available Affiliate programs accessible from WA
Volusion
ClickBank
Yahoo
Trivago
Grammarly
Timberland
Hush Homewear
Intimissimi
TripAdvisor Commerce
There are plenty of them. The best way to search for them is to filter them out according to keywords or popular categories (Health and Fitness, Clothing, Accessories, Women…)
7) Live Chat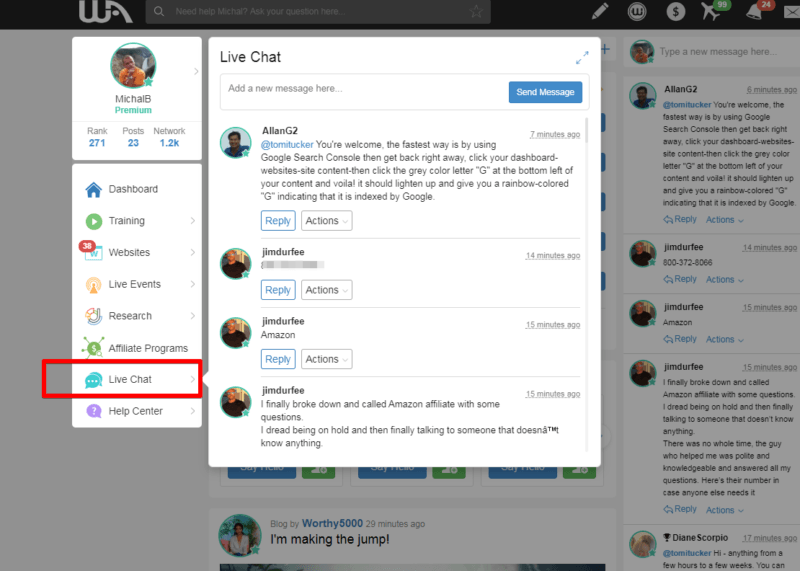 This area is open for premium members only.
Since there are members from all over the world you can always find somebody online. Sure, that majority is from the USA and Canada, but there are a lot of guys from Australia, New Zealand, UK, EU, also India, Singapour, South Africa, South America and so on.
People usually chat about topics related to their website or what they have done, where they have traveled, and so on.
8) Help Center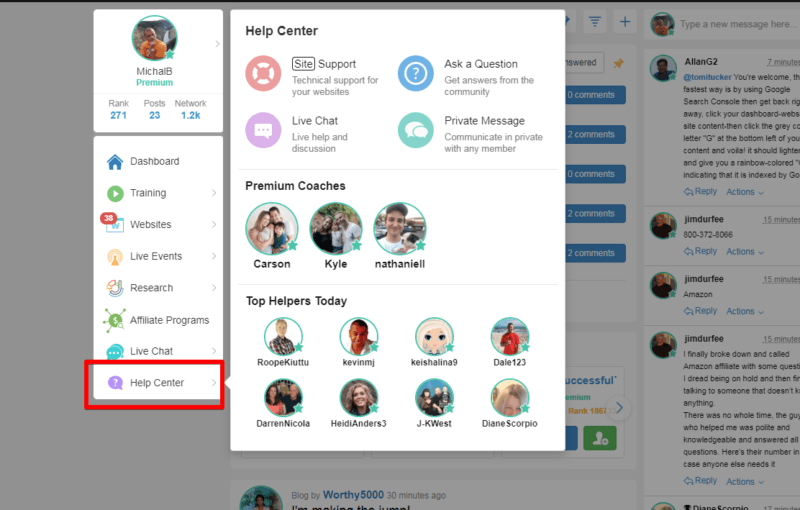 This is a very important section and whenever someone has an issue he or she can contact support directly.
As you see there are several ways how to seek out help, despite the official support (there are about 30 people 24/7/365) one can get in touch with others through the Live chat we have mentioned above or simply ask the question – as a blog (we also did mention this part above).
As a premium, you can contact directly another member for help or you can also ask Kyle and Carson who are founders of Wealthy Affiliate.
Let me Know, What Do You Think?
We have gone through the main part of the WA platform.
The training is pretty extensive and I have not gone through it all yet. I also did not mention the social aspect of the platform. Besides the Live Chat area, members write their blogs and share them with others.
You can choose who you want to follow, so when a person you following writes a blog, you are notified. I mention the community in my other review, where I share also the success stories of some members.
Also, there is a section for asking questions. Other members usually give feedback within a few minutes. Usually, when it comes to a technical issue I contact support.
Let me know how do you like the platform? Do you think this training can help you with your new online business?
Please share your thoughts in the comment section below.
Also in case you have any kind of questions, I'd be more than happy to help you out.
Affiliate Marketing Training Course
I have been a member of Wealthy Affiliate since late 2017 without prior marketing experience.
Beginning of 2018 I have learned how to build a website that drives traffic and makes sales.
Since the summer of 2019, I am a full-time internet marketer and I work from anywhere I want, whenever I want.
Training within Wealthy Affiliate teaches what works – There is an evergreen procedure and you can also learn how to build a sustainable business online.