Do you want to find out more about the Super Affiliate Accelerator?
Well, that is the reason why you have landed on this page right? 🙂
This article is going to be an honest Super Affiliate Accelerator Review.
With that being said I am not affiliated with this course, so my intention is not to sell it.
First of all, this is a high-ticket affiliate program, and if you have experience with affiliate marketing you know that the creator of the Super Affiliate Accelerator pays a good commission to those who sell it. 
Let's jump into the review, right away.
One more thing and let me repeat myself here in the disclaimer:
Disclaimer
Please note, I am not a member or an affiliate of Super Affiliate Accelerator.
This review is based on research and information available online in the public domain.
Any recommendations and conclusions are only opinions and may not apply to all persons or situations.
Quick Overview
Name: Super Affiliate Accelerator 
Website: www.superaffiliateaccelerator.com – Domain not available at the moment (redirect to www.jacobcaris.com)
Price to Join: $2,000
Recommended: Yes (but not for beginners) 
Super Affiliate Accelerator Overview
The Super Affiliate Accelerator is a course crafted by an Australian marketer named Jacob Caris. He dives into the art of making $1,000 (or possibly even more) per day.
Rest assured, this course is the real deal, although the price tag for the Super Affiliate Accelerator might raise an eyebrow or two. However, for marketers who are already seasoned in the field, it could present a valuable opportunity to explore something fresh.
On the flip side, if someone isn't yet acquainted with the realm of affiliate marketing and is keen on learning the ropes, the fundamentals, and the potential earnings, I'd suggest considering a more budget-friendly alternative.
What is Super Affiliate Accelerator?
The SAA is a high-ticket affiliate program built by a guy named Jacob Caris, that teaches how to make money by selling such high-ticket affiliate programs.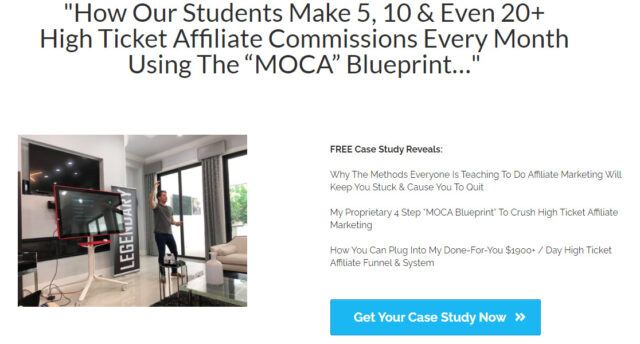 Let me break it down for you.
I believe you have already heard the term, Affiliate Marketing.
Simply put, it is a method on how to make money by selling other people's/companies products.
You basically partner up with a merchant and when the product is purchased via your special link (called an affiliate link), you get a commission.
High-ticket affiliate products are for example online courses that cost $1,000 and more. Because of such a high price they can offer high commissions and in some cases it can be as high as 70%. 
Now isn't this a good incentive to become an affiliate marketer and sell a product that I didn't create and yet make $700 out of 1 sale?
Of course.
The question remains though, how good is that product.
Is it going to bring value to the end customer?
Let's find out more about the SAA.
Founder of the Super Affiliate Accelerator
As mentioned, the founder of this system is Jacob Caris. He is a real person, so that is a good sign.
(There are so many misleading products and scams out there and one of the signs of such scams is that the founder is not known).
This is not the case with the Super Affiliate Accelerator (SAA).
What I like about Jacob, he gets straight to the point.
Even in his pitch video, he does not waste your time and talks about the course right away.
First of all, he mentions 3 main ways how people these days make money or try to make money
The first way is to go to ClickBank, create a landing page, and the prospect is targeted with the solo ads.
Create a blog, create YouTube reviews, and steer people to your landing page
Using FB ads…
What Jacob is saying is that none of the ways mentioned above is as effective as his SAA Course. 
Apparently, he is one of the Top Affiliates for well-known ClickFunnels and the Legendary Marketer.
He also has a youtube channel since 2017.
But nothing significant though.
As of this writing, his videos have less than 70,000 views, which is not a lot.
You can watch his video where he talks about How to make money with affiliate marketing on Youtube, so you get a better picture of who Jacob is.
Who is Super Affiliate Accelerator for?
Apparently, this is supposed to be a great course for beginners but I wouldn't be so sure.
Well, unless you have an extra $2,000, laying around.
Jacob also makes it clear and before signing up here is one of the questions you need to answer:

If a person wants to make money online, it is important to have certain knowledge that is applied in the real world.
Based on the result, it is important to tweak the strategy a bit and notice what works and whatnot.
This is called an experience that one must gain in order to make a consistent income (it does not matter whether offline or online).
Depending on your skills, this can take from 3 to 12 months until you make your first sale online.
If you do have experience and you somehow managed to make easy $2Gs, then I believe you can go ahead and see how it will work out for you.
But again, I don't think this is a good move for a newbie.
There are certainly cheaper ways how to learn about affiliate marketing.
Remember that no course will start to make money for you on autopilot.
You have to be active, you have to take control of your situation and you are the only person who starts to apply the knowledge.
How Does Super Affiliate Accelerator Work?
Super Affiliate Accelerator is one of the better courses out there.
It is also quite intensive and it is scheduled for 6 weeks.
It contains several modules that I am going to break down for you here.
(Just briefly since I don't want to bore to death)
Module 1: Introduction
As the name of the module suggests this is just an introduction.
It is always good to have some kind of a guide so one learns how to take the course properly.
Module 2: Success Mindset
This is about having the correct mindset.
A long time ago, I used to underestimate this aspect, but it has turned out that it is very important.
What has helped me personally is the list of the following books (now available also as audiobooks on YouTube).
Jacob in his 2nd module shares with you some tips and tricks regarding success.
Module 3: Picking A Niche
The 3rd module is about picking a proper niche.
It is explained what the niche is, and how to select a niche with high meaning potential.
Module 4: Fast Start Process
This is something that is supposed to accelerate your first steps.
Just briefly you will learn:
how to create content
how to build your network
how to target the prospects that will make a conversion
Module 5: Monetization (Product and Offer)
Now, this is an interesting part where you learn several methods on how to monetize the traffic.
Module 6: Closing The Deal
You are going to learn some tips and sales tricks.
There are several methods about how to close a deal, either in a written form (using messenger) or a phone.
the rest of the modules teaches how to build the network and where to find the best leads.
The SAA course contains also Bonuses:
A chrome extension that helps you add friends and automatically build your audience on Facebook
Access to a group of active members of another course called Legendary Marketer (the other course I have mentioned above)
A license that allows you to give out bonuses as well.
etc
How Much does Super Affiliate Accelerator cost?
By now, you know that the Super Affiliate Accelerator costs $2,000. Or to be precise the course starts at this price.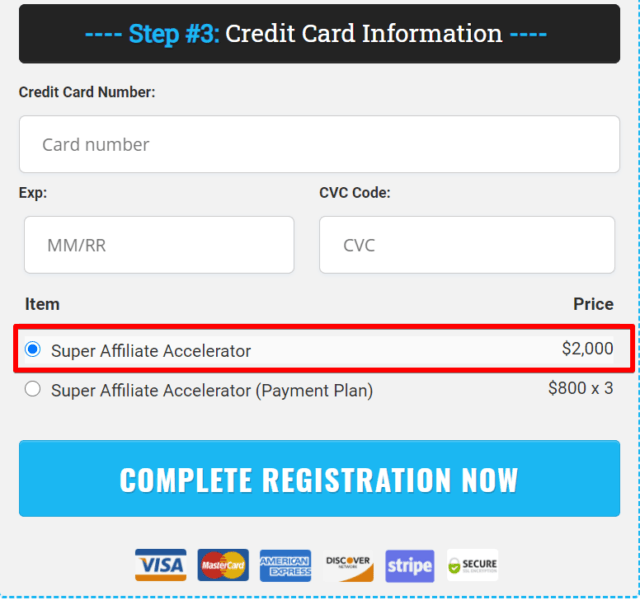 This is a high-ticket program and the core of this program is to sell it to others and make a commission. 
Some students are successful, but most of them are not.
I am not saying that the course is not good enough.
Usually, most people do not succeed due to several reasons – not enough effort, does not follow the procedure, and procrastination. 
But if one had to pay $2,000 I am sure he or she does everything to earn the money back.
A few points I want to mention
There are several testimonials on Jacob's website and they look legit.
The reason why I mention this – a lot of products use fake testimonials and that is always a red flag.
This was good news.
And here comes the bad news:
The issue I want to emphasize is that there is absolutely no refund policy.
Besides, it is not possible to test the course for free either.

As you see the text from the Terms and Conditions, it says:
"We do not want people to join who are not 100% committed to taking action and implementing what they learn inside the mastermind.
For this reason, we have a STRICT no refund policy."
I understand that Jacob wants to work with only action takers committed to succeeding with the SAA.
But in my opinion, it would be better if he offers, for example, a part of Module 1 for free for a limited period of time. 
What I like about Super Affiliate Accelerator?

A good course from an experienced affiliate marketer
You can learn a lot and at the same time apply the knowledge to get the results you desire (this is individual though).
What I don't like
The price – $2,000 for a course is steep
Not recommended for beginners
No Refund policy, not a free trial
Conclusion
First of all, it is good to see that there are still legit courses that offer value to potential customers.
Jacob definitely knows what he is doing and he has implemented his experience into the Super Affiliate Accelerator course.
If you have had some success with affiliate marketing and you make a consistent income I believe this is a program that will help you.
On the other hand, if you are new to this I personally recommend a cheaper solution.
One particular method I have in mind is that costs about $50 per month (or 500 per year). 
There are no obligations and anyone can test it out for free for an entire week. I will leave a link at the bottom of this review so you can check what I have in mind. 
If you have any questions regarding the Super Affiliate Accelerator, let me know in the comment section below.
Would you spend $2,000 on a 6 weeks course?
How long have you been searching for a legitimate online course?
Please share your thoughts below, in the comment section.
I am sure your opinions will help other readers as well.
Thanks a lot for your support and for your time
Cheers
Mike