Just recently I was checking new Facebook feeds within one group concerning the Make-Money-Online niche. I have noticed that one person shared this system called Referral Heaven.
I was curious about this website since it says "Make $500 Today"
That sounds very promising but at the same time too good to be true.
So I have decided to create this Referral Heaven Review, to let other people (just like you) know what is this Referral Heaven all about.
We are going to find how it works, whether there are some red flags, and most importantly if you really can make $500 today… or is it per day?
Let's start right away
Disclaimer
Please note, I am not a member or an affiliate of Referral Heaven. This review is based on research and information available online in the public domain. Any recommendations and conclusions are only opinions and may not apply to all persons or situations.
Referral Heaven Overview
Product Name: Referral Heaven
Price to Join: $0
Creator: N/A
Rating: 0/10
Do I recommend it? No! This is a Scam!
Referral Heaven Summary
Referral Heaven is a new website (registered only in May 2020) that promises you to make hundreds of dollars per day by taking surveys, downloading the apps, and refer your friends.
The bottom line is that Referral Heaven is just another clone of many scams that are out there and none of the members got paid.
Referral Heaven is just a data harvesting scam. Once a member decides to take the surveys he or she may be asked for personal data, telephone number, or credit card information.
This is where you don't want to go.
Stay away from the Referral Heaven.
If you want to have access to a legitimate site where it is possible to earn easily $100 to $300, check this article about Squadhelp.
Squadhelp is a legit site where people can earn just by typing the ideas for new domains.
(Make your life easier and find out more here and learn a simple trick on how to come up with domain names.)
When it comes to a consistent income online (5 or even 6 figures per month), here is the "Secret":
Making money online takes time and especially effort.
So if you are not willing to work on your business online you may also check other systems with empty promises.
If you want to know what does it take to make consistent revenue online check the link below.
What is Referral Heaven?
Referral Heaven is supposed to be sort of a GPT site (Get-Paid-To) where one can earn money by performing some specific action like taking surveys, downloading and testing apps, and these kinds of actions.
It also promises you to make $500 today, which seems a lot for such a site.
I mean, a lot of GPT system usually does not pay well, and you can make maybe $50 to $100 per month.
So this really looks suspicious.
Who Is Behind the Referral Heaven?
When you see a website where you have to sign up and you are promised big earnings, always check who is the founder of that site. It is usually in the "About us" section.
You always want to be careful and if you can't find who the fonder or creator of that system is, you better stay away from it.
Here is what I did find out:
In the Referral Heaven About Us section, it says that this system stated in March 2015 in the US.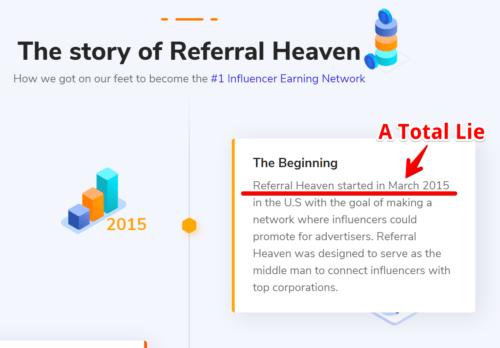 I think it is fair to assume that even their domain ReferralHeaven dot com was registered back in 2015 (most likely March), right?
Otherwise, there is no way how to conduct their business.
And here is a very interesting thing.
The domain ReferralHeaven.com was registered only in May 2020: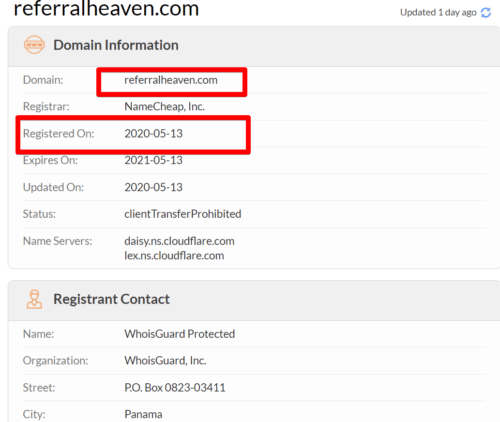 Isn't this ridiculous?
This fact alone is a huge Red Flag and it is convincing enough to NOT take the Referral Heaven seriously.
But there is more.
In meanwhile, if you are interested in how to check the age of any domain, please check the video below:
Simply go to Whois.com and type any domain you want to know about.
Who is it For?
GPT sites usually are for people who want to earn relatively easy and quick money. And I mean a few bucks since these systems are good for pocket money.
Being online for 6 hours and make maybe 10 bucks?
Well, at least some of the following systems are legit and if you want to try here are a few examples.
www.swagbucks.com
www.inboxdollars.com
or www.surveyjunkie.com
I personally would recommend SquadHelp, where one can earn even $300 within a few days. Check this link if you want to learn more about SquadHelp.
Are You Interested In How to Make a Consistent Income Online?
Making 4 or 5 figures per month requires some sort of action that is back up by specific knowledge.
Besides, it is important to realize that there is no such thing that can generate you an income on auto-pilot.
To be specific, the easiest way how to start generating 4 figures (and more) online is affiliate marketing.
With affiliate marketing, you are selling other people's products.
You don't deal with customer support, with suppliers… nothing like that.
What you have is a website that drives traffic.
How to create such a website?
It is very easy these days and I can show you how to do that and how to drive free traffic to your website.
I want you to realize 2 things though:
It is essential to be consistent (creating content on a regular basis)
It takes approximately 6 months to make the first sale
Are you OK with that?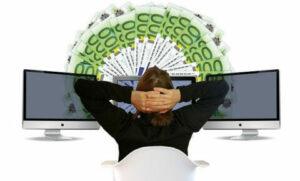 Great – there is one particular educational platform where I have learned how to earn 4 figures online.
But let's go back to the Referral Heaven.
How Does the Referral Heaven Work?
It is easy to sign up for the Referral Heaven and once you are inside the platform you automatically get your "unique link"
One Note:
If you really want to see how the Referral Heaven Dashboard looks like, you can sign up even with a fake email.
I mean an email address that does not even exist.
It is really funny how this entire scam works, isn't it?
Well here is a screenshot of the dashboard and you see that it is the same dashboard as in the case of MoneyGuru or CloutShout.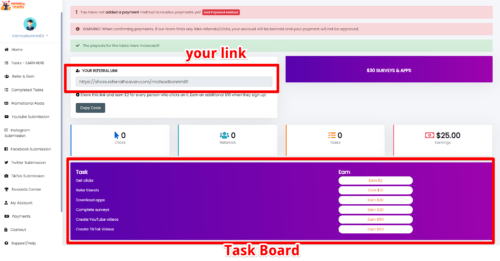 In the screenshot above I have highlighted the spot with your unique link. Right below that link, there is written:
"You will earn $2 when someone clicks, and $10 if they register."
It is just not possible to make money solely from clicks someone makes on your link.
If you think otherwise, please let me know in the comment section at the end of this post.
And here are the different tasks and their "earning potential":
Get clicks – Earn $2
Refer friends – Earn $10
Download apps – Earn $20
Complete surveys – Earn $30
Create YouTube videos – Earn $50
Create TikTok Videos – Earn $50
Regarding the YouTube videos – it is simply not possible to make $50 just from the videos.
This is an extremely misleading statement and it takes more work than just uploading the videos.
Here is how it really works
I know people that got involved in these scams and later they regret it.
Here is how it works:
Once a member starts to go through the tasks and surveys he or she is directed to other websites where additional information is needed.
This is where it can be dangerous since it can happen that you are asked to provide you credit card information.
Not always, but the tricky thing is that the "Earnings" within the Referral Heaven dashboard grows.
I can imagine that it is tempting to withdraw several hundred.
Unfortunately, when a member wants to cash out, suddenly a slight of a problem occurs and this system asks you to reveal your credit card information – claiming that the "earnings" will be sent to your credit card.
And this is the point where the Referral Heaven becomes an outright scam (along with a bunch of other clones of this site).
You receive no earnings
You may have lost money from your credit card, that's why you should contact your bank immediately
Hope you read this before joining the Referral Heaven.
Let's wrap this review with a list of warning signs.
List of the Red Flags
Let's briefly mention some of the red flags.
1) Age of the system
We have covered this already.
We know that Referral Heaven was registered in 2020, but they want to look like a well-established system, therefore they lie about their age.
2) Fake Payment Proofs
This is another big red flag, that is easy to find.
Look at the screenshots and the dates when allegedly payment was made: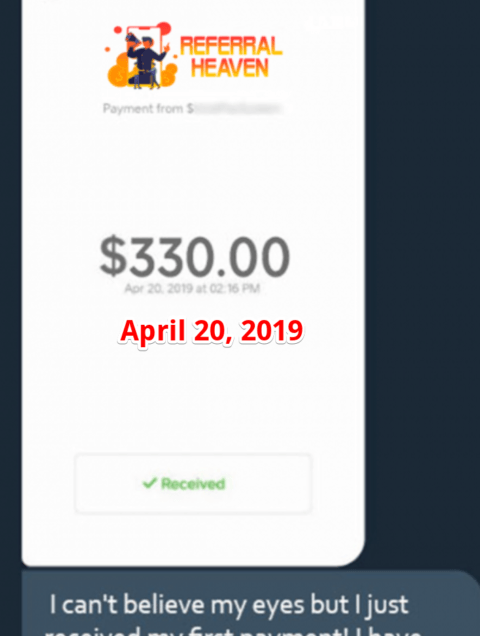 This one above says on April 30th in 2019.
We know that it is not possible – that's why this is fake payment proof.
Here is another one: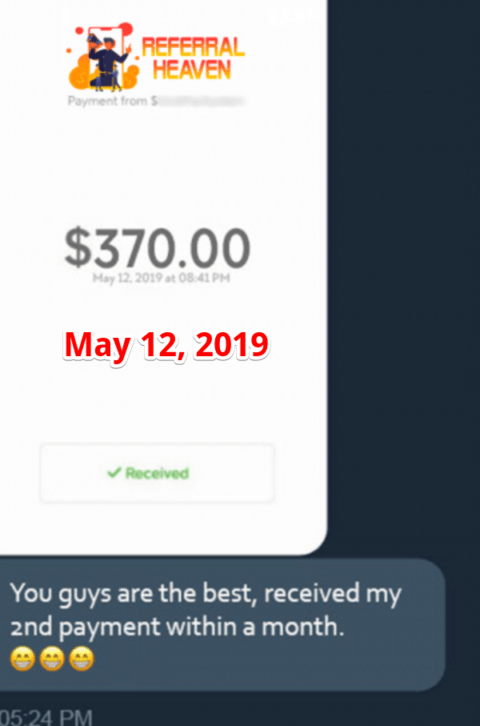 This is almost exactly a year before the domain ReferralHeaven.com was registered.
3) No One Gets Paid
We have gone through this as well.
This site simply does not payout.
The Referral Heaven is still relatively new, so there are probably not so many "victims", but when it comes to the clones of the Referral Heaven I know that former members were complaining that even their accounts got closed.
4) Fake Testimonials
If you check these images, you will find out that there are tons of the same photos all over the internet.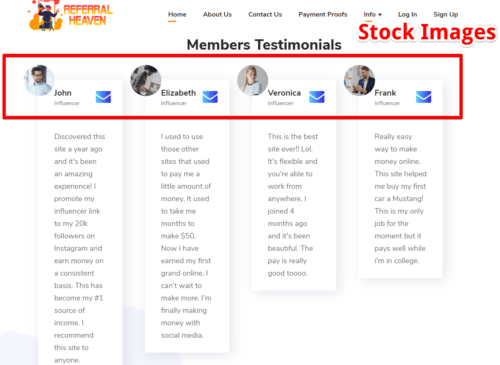 These are just stock images and there is no value in these "testimonials" whatsoever.
5) Terms and Conditions
This is actually pretty funny.
Here is how the sentence within the Term and Conditions goes:
"If you are under the age of ninety-nine (99) you are not allowed to used the Referral Heaven Sites and Features nor our Services"
Does it eventually make sense?
Of course, no one gets paid unless he or she is 99 years old.
But how come we are not informed right at the beginning?
Or is this just a typo in the text?
6) Clone of other systems
Let's take a look for example at the Use2Earn site.
The same address, same incentives, same layout, same fake system.
This is actually a screenshot from Google Maps showing the building where allegedly Referral Heaven is based.
7) Fake Contact Information
This is another big one.
If you can't get in touch with the creators or support, you stay away.
1) Again the address is fake: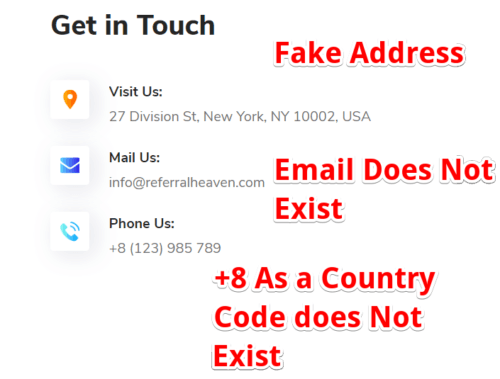 2) Email address does not work: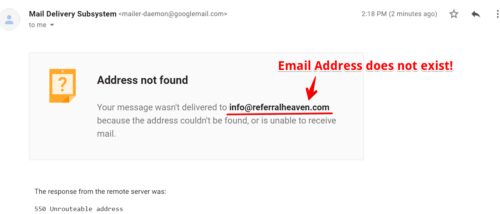 3) The telephone number does not exist either.
Here is a list of county codes and there is not such a code as +8:
Source: countrycode.org
What do I like About Referral Heaven?

Absolutely nothing that can be liked about the Referral Heaven!
What I don't like About Referral Heaven?

Fake payment proofs
Fake Contact information (telephone, email, address)
Clone of other Data harvesting scams
A lot of red flags
Where to Go From Here?
I know that you want to earn some money. That is why you are here and let me help you a bit with that as well.
There are basically two approaches:
Relatively easy money with a low earning potential
A Bit more complex way, but definitely scalable, and if intended in the long run the earning potential goes to $6,000 per month and even more.
Regarding the 1st option, I can recommend Squad Help. People make money daily and it does not require any previous experience.
If you want to learn new skills and you like challenges, that means that you would love to open a real business online.
Let's keep it simple – your business is your website.
Sure it requires you to work on the content and be patient. With proper training, you can achieve a full-time income, within a year, or maybe a bit later.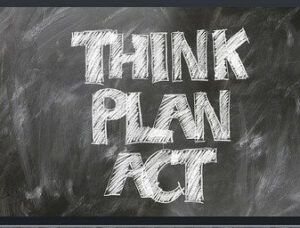 If you want to know more, let me know in the comment section below.
Let's wrap this Referral Heaven thing…
Is Referral Heaven Scam?
Yes – Absolutely.
Referral Heaven is an outright scam!
We have gone through numerous big red flags and what is worse, there are more of these scams out there.
Therefore, share this post with your friends, so they don't fall it.
There are definitely better methods of how to make some money online and it is only up to you which path you choose.
If you have questions regarding Referral Heaven or any other topic, please let me know in the comment section below.
I will be more than happy to give you feedback, hopefully within 24 hours:)
Thank you for reading
Mike
How to Get Started with Affiliate Marketing?
I have been a member of Wealthy Affiliate since late 2017 without prior marketing experience.
Beginning of 2018 I have learned how to build a website that drives traffic and makes sales.
Since the summer of 2019, I am a full-time internet marketer and I work from anywhere I want, whenever I want.
Training within Wealthy Affiliate teaches how to generate a consistent income in the long run.