You may also like:
Rainbow Fund is a cryptocurrency investment platform that promises high returns and referral earnings.
This article reviews its offerings, compensation plan, and potential red flags, providing you with the information you need to make informed investment decisions.
Jump to:
This review serves as a guide to assess online money-making platforms.
If you encounter a platform and want more information, you can either search for a review on my website or leave a comment, and I'll aim to give feedback within 24 hours.
Disclaimer
Please note, that I am not a member or an affiliate of Rainbow Fund.
This review is based on research and online information in the public domain.
Any recommendations and conclusions are only opinions and may not apply to all persons or situations.
Rainbow Fund Summary
Name: Rainbow Fund (also called Rainbow High Return)
Website: www.rainbowhighreturn.com
Price to Join: $0
Recommended: Nope!
Rainbow Fund is a cryptocurrency investment platform that offers high returns and referral-based earnings.
However, there are several red flags, including:
lack of ownership information,
no retail products, and
promises of unusually high returns.
These factors suggest that it may not be a trustworthy or legitimate investment opportunity.
We advise exercising caution and avoiding investment in Rainbow Fund.
What is Rainbow Fund?
According to its website, Rainbow Fund was set up in 2022 by educators from Columbia University and Yale University.
They describe themselves as a leader in blockchain security, promising to protect investments and guarantee daily rewards using advanced verification and AI technology.
Rainbow Fund is claiming that if you invest money with them, they will give you a profit of 11% to 15% every single day. So, in a span of 15 days, they say your total profit could be between 116% and 204% of your initial investment.
But here's the catch:
Rainbow Fund operates as a digital asset investment platform, accessible through "rainbowhighreturn.com."
While the platform markets itself as a crypto investment opportunity, it doesn't provide clear information about its ownership or executive team.
So, if you're thinking of investing, it's crucial to be cautious.
Let me walk you through some red flags.
Website Registration Date
The website for Rainbow Fund was registered on the last day of August in 2023.
This raises doubts about their claim of being founded in 2022.
It's possible that this discrepancy is an attempt by those operating the platform to enhance its image and appear more established than it actually is, potentially with the aim of attracting more investors.
Rainbow Fund Website Information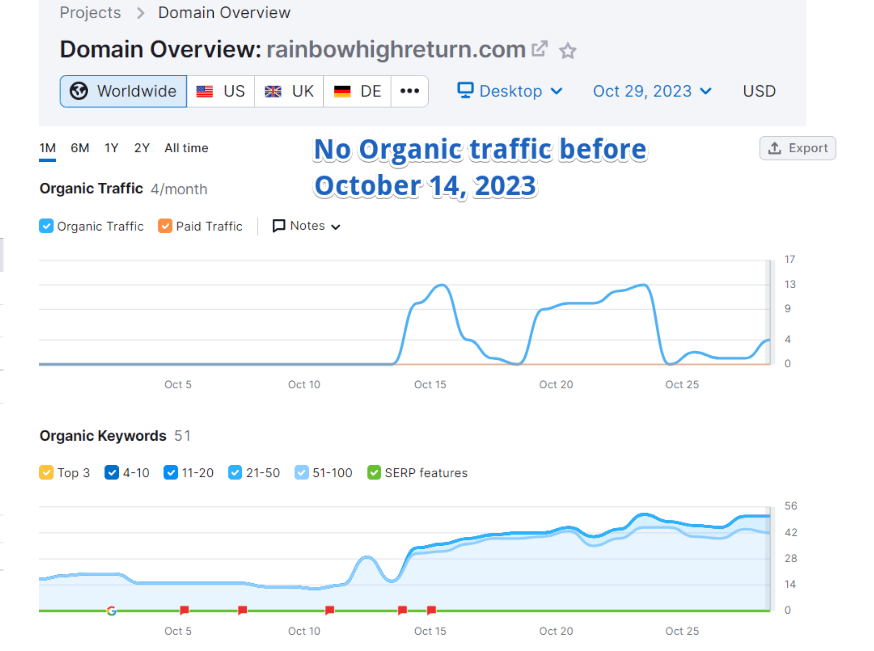 The organic traffic to the Rainbow Fund website only started to pick up in mid-October 2023, which aligns with the domain registration date of August 2023.
This suggests that the platform may have been operational for a relatively short period of time.
Additionally, it's worth noting that the majority of visitors to the site access it directly, and around 30% of the traffic comes from YouTube.
This distribution of traffic sources could indicate a heavy reliance on direct marketing and promotional efforts to attract users to the platform.
Who is behind the Rainbow Fund?
The information available about the individuals or entities behind Rainbow Fund is limited and unclear.
Despite claims on the website of being founded by professors from Columbia University and Yale University in 2022, there are no specific names or credentials provided.
Furthermore, the domain for the website, "rainbowhighreturn.com," was privately registered on August 31st, 2023, adding an additional layer of anonymity.
As such, the true identity of those operating Rainbow Fund remains unknown
What Products Does Rainbow Fund Offer?
Rainbow Fund doesn't sell any regular products or services.
The main thing you can do is join their affiliate program.
This means that if you sign up, your main job will be to get more people to join the platform too.
There's nothing else you can promote or sell, which might be a bit of a red flag since it could mean that the platform doesn't have many ways to make money.
How to Join Rainbow Fund?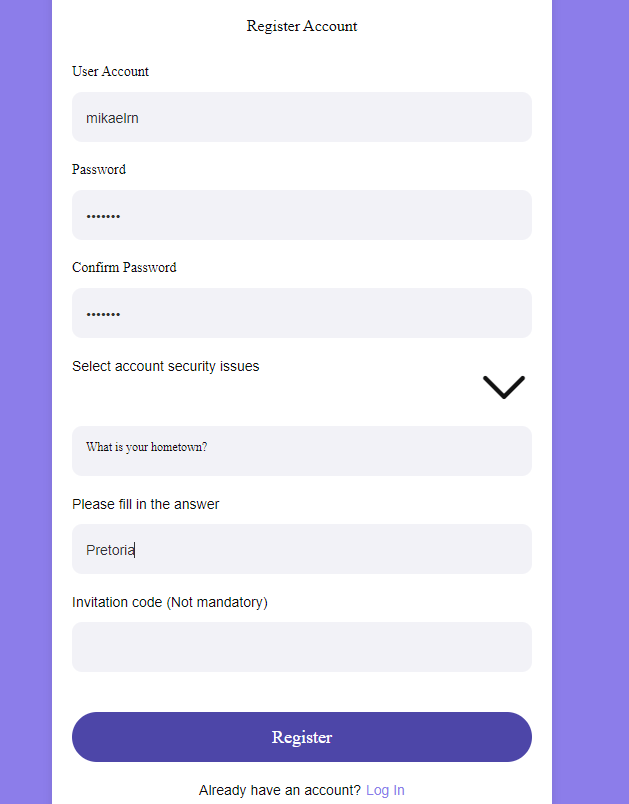 Joining Rainbow Fund as an affiliate is free.
However, to fully participate and take advantage of the income opportunities, you will need to make a minimum investment, the exact amount of which is not disclosed on the website.
Once you sign up as an affiliate, you can start investing in various cryptocurrencies as per the platform's requirements. Remember, it's important to carefully review and understand the terms and conditions before joining any investment program.
Lack of Terms and Conditions on the Rainbow Fund Website
One noteworthy aspect of the Rainbow Fund website is the absence of a terms and conditions page.
In other words, The Rainbow Fund website doesn't have a "rules" page.
This is a problem because a "rules" page tells you what you can and can't do, and what the company will and won't do.
The Rainbow Fund website doesn't have a "rules" page.
I personally wouldn't invest in this company.
Not having this important page is a major red flag for me, especially when it comes to my money.
I want to deal only with trustworthy companies that have a good reputation, are established, and have been on the market for at least 5 years, ideally more than 10.
How to Make Money with Rainbow Fund?
To make money with Rainbow Fund, you need to join their affiliate program and invest in cryptocurrency.
They promise daily returns between 11% to 15% and a total return rate of 116% to 204% within 15 days.
The overall overview of how to make money with Rainbow Fund is shown in the table:
| Activity | Earnings |
| --- | --- |
| Daily Returns | 11% to 15% |
| Total Return (15 Days) | 116% to 204% |
| Referral Commission – Level 1 | 7% |
| Referral Commission – Level 2 | 3% |
| Referral Commission – Level 3 | 2% |
Promises of daily returns between 11% to 15% are extremely high and are usually a sign of high-risk investments or scams, like Ponzi schemes.
Remember the saying, "If it sounds too good to be true, it probably is."
Rainbow Fund Red Flags
No Ownership Information
The platform doesn't disclose who owns or runs it, which is a big red flag. It's important to know who you're dealing with when investing your money.
High Promised Returns
The promise of daily returns between 11% to 15% is unusually high and often a sign of high-risk or fraudulent investments.
Lack of Retail Products
Rainbow Fund has no retail products or services for sale, which is unusual for a legitimate business.
Referral-Based Earnings
The main way to make money is by recruiting others, which is a characteristic of a pyramid or Ponzi scheme.
Absence of Terms and Conditions
The website lacks a "terms and conditions" page, which is essential for understanding your rights and obligations.
Short Operational History
The website's domain was registered in August 2023, which suggests a short operational history despite claims of being founded in 2022.
Limited Traffic Data
The organic traffic to the website only started in mid-October 2023, which aligns with the domain registration date.
Conclusion
Rainbow Fund raises numerous red flags that suggest it may not be a safe or reliable investment platform.
The lack of transparency, absence of retail products, and promises of high returns are all indicators of a high-risk or potentially fraudulent scheme.
Given these concerns, we strongly advise against investing in Rainbow Fund.
It's crucial to protect your finances by only dealing with established and reputable companies.
Thanks for reading,
Mike.