Hello there.
Welcome to the ProfitZBuddy Review where you are going to find out how it works, and whether this tool can help you to generate money online.
I am glad you do your own research since this is the best way how to keep away from scams, or misleading products.
You have probably read some ProfitZBuddy Reviews already, so you might have an idea of what is this all about. 
This particular review will be a short one and I will do my best to point out the most important facts about ProfitZBuddy. 
Let's get right into it.
Disclaimer
Please note, that I am not a member or an affiliate for ProfitZBuddy.
This review is based on research and information available online in the public domain.
Any recommendations and conclusions are only opinions and may not apply to all persons or situations.
Quick Overview
Name: ProfitZBuddy 
Website: www.grabprofitzbuddy.com/live
Price to Join: $17 + Upsells
Recommended: Not really
ProfitZBuddy Review – Summary
ProfitZBuddy Review is supposed to be an income-generating software. The earning potential (according to the sales page) is a couple of hundred $$$ per day.
It doesn't require any experience and you don't need a website either.
The guys behind ProfitZBuddy are going to show you how you can "legally steal" free traffic from the most popular videos on YouTube. 
The way it works;
You basically comment on other's people videos on YouTube using an affiliate link. 
In other words, ProfitZBuddy allows you to spam YouTube comments, so in theory, if someone clicks on that link and makes a purchase, you earn a commission. 
This is a very silly way how to try to make some bucks online.
Practically this method doesn't work, and one of the main reasons is that such "automated" comments are filtered out, so they won't be visible to a YouTube viewer. 
Here is a much better method on how to actually make money online:
If you are serious about generating a sustainable income online from home, check the link below.
What Is ProfitZBuddy?
ProfitZBuddy is software allowing you to make money by using free YouTube traffic.
You don't need to own any YouTube channel, you don't have to upload any videos and yet it claims that with ProfitZBuddy you can steal free buyer traffic from other peoples' YouTube videos.
Is this even legal?
Well, the way ProfitZBuddy works, is not illegal, but there are some major issues with the entire system.
What I like about the ProfitZBuddy though, they say that it is mandatory to have traffic when it comes to making money online.
I do agree with the statement.
What I don't agree with, is the way how they "generate" the traffic.
We are going to get a bit deeper, into that.
Let me share with you a few facts about ProfitZBuddy.
It is a system available on WarriorPlus (an online platform for purchasing and selling products in an online business niche).
It was launched on July 8th, 2021.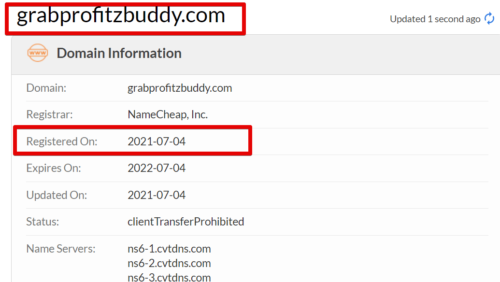 This is a screenshot showing the domain registration date.
As of this writing, it is a brand new product.
Founder of ProfitZBuddy
The founder of ProfitZBuddy is Al Cheeseman and he created this product together with his buddy David Kirby.
If you are familiar with warrior plus products, you may have already seen these two guys.
Both of them are behind another product that was launched in June 2021 called MoneyBuildrr.
Al Cheeseman is a full-time internet marketer, earning 6 figures per year.
Like many of these marketers, he was also struggling to make at least 50 bucks per day.
After many days of working he finally made it and today he is considered as the top 1% vendor and affiliate on WarriorPlus.
As we see, he keeps launching new products every single month.
Nothing wrong with that, but most of these products are pretty much the same.
They have very similar sales pitches saying how easy you can make money.
The reality though shows that the methods these products show do not work.
For example, the other product launched only in June 2021. 
First of all, it says that it creates a sales funnel but the truth is that within the Moneybuildrr it is possible to create only pages, as a part of a subdomain that won't be ranking in search engines. 
Here is a full review.
Back to ProfitZBuddy.
Who Is ProfitZBuddy for?
According to the sales video, ProfitZBuddy is for complete newbies that want to start earning money online now.
But even if you are a newbie, interested in internet marketing, I am sure you know that there is no such thing as a push-button system that automatically generates revenue.
Having said that, ProfitZBuddy won't do any good to anyone.
It is simply a product, a shiny object (if you will) that generates revenue only for the owner.
And in the other section we will see, how much does it really cost.
How Does ProfitZBudd Work?
As mentioned above, it is very easy to use ProfitZBuddy.
In fact, it takes only 3 following steps to start earning:
Step 1 – Pick a Niche
This is the very 1st step when it comes to building a business online.
You want to pick the niche that is in other words your audience.
For example, it can be "the best coffee machine under $200", or for example, "make money online".
Step 2 – Enter Your Link
Here you just enter a specific link (also called an affiliate link), so the traffic goes to your product or an offer you promote.
It is oversimplified in the ProfitZBuddy, and in order to make a sale, it takes more effort than merely posting your affiliate link in the comment section of the YouTube video.
Step 3 – Enjoy the Traffic
Apparently, ProfitZBuddy will find viral videos, where you get the traffic from.
Then the traffic should be redirected to your link.
Basically, the same as mentioned in Step 2.
Again, the way ProfitZBuddy works, you won't get any traffic to your link and we are about to explain it.
What Is Inside?
One important note:
Before you join ProfitZBuddy, you have to confirm your main Google Account.
In other words, you are allowing the creators of this tool to the following:
see your personal info,
see your primary Google account email address and,
associate you with your personal info on Google
Unfortunately, you can't uncheck these options.
This is a red flag. 
Why would anyone who claims to help you making money online, need access to your primary Google account with your personal info? 
It doesn't make sense (until they have some other purpose).
Anyway, let's check the Dashboard briefly, to see what is inside.
There is nothing special about the Dashboard.
You can create some campaigns, automate replies, or search videos.
Automation tools
Let's briefly mention the automation tool.
You are told that you can automate the process of posting comments, or replying to comments.
Well if this works, it is considered spam and YouTube is now smart enough to recognize such spammy comments.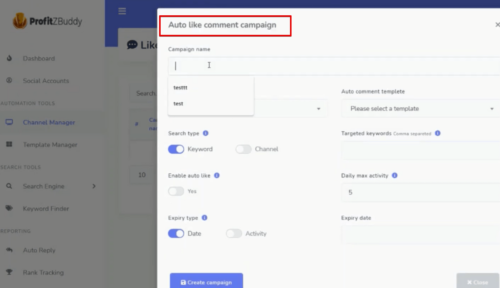 You don't want to do this, since ideally, the comment created within the ProfitZBuddy dashboard won't be visible to anyone.
In the worst-case scenario, you will be banned from YouTube.
I have a specific YouTube channel and whenever I receive some spammy comment, it is filtered out by YouTube.
In case it passes through (due to some reason) and there is a suspicious link in it, I simply delete the comment.
So regardless of how viral videos ProfitZBuddy might find, the comments generated by ProfitZBuddy will be deleted/removed.
Search tool
This tool helps you to search for videos and add comments to them.
Or to be precise to spam them.
This tool is useless since it is possible to search for any video directly on YouTube and leave a comment.
Now even if you do it directly, (which is the right way, without using any automation tool), be aware that the owner might not like the affiliate link you posted, and most likely it will be deleted.
Posting comments on YouTube can be also tricky, especially when you only use copy and paste.
You don't want to do that.
YouTube might recognize your intention and you can be banned.
Now, what do you think YouTube will do, if you doing this using an automation tool?
Reporting
This should work as an autoreply function.
Again, in reality, it doesn't work either.
What is the Price?
In the sales video, it says that this product is worth $2,497.
Why?
Just to get attention.
This is a poor marketing trick where they show you this wonderful and easy-to-apply system.
It would make sense to pay that amount of money since it is possible to earn it back within a couple of days, right?
But guess what
You can get it for $17!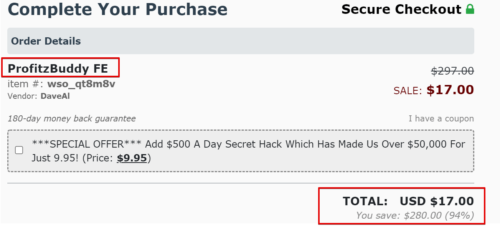 What is the cath?
– you can't wait. You must act now to get the discount.
Now, how many people would spend thousands of dollars on such a product?
Probably not a lot.
How many would spend $17?
A lot more, right?
So that is exactly how these people behind the ProfitZBuddy think.
They offer also a 180 money-back guarantee, which is a good thing.
What I find not so good, is the entire price structure.
Make no mistake, once purchased the product you will be hit with a lot of upsells.
Here is a list of these upsells with the price tag.
ProfitzBuddy Unlimited $39.00
ProfitzBuddy Automation $39.00
ProfitzBuddy Done For You $197.00
ProfitzBuddy Campaigns $47.00
ProfitzBuddy Traffic On Tap $197.00
ProfitzBuddy Reseller License $39.00
ProfitzBuddy Product Membership $39.00
ProfitzBuddy 1K Goldmine $39.00
It is possible to get a discount on each one of them, so ideally the entire price (without the Front End) is $276.
If you are not careful you might end up paying the full price, which is $653.
Be Aware of Biased Reviews
This is probably not the first ProfitZBuddy review that you are reading.
(If it is, I encourage you to go read some more to have a better overview).
My point is that there are many reviews promoting this product without revealing any Cons.
The reason?
These guys get a commission whenever someone purchases the product. And we have seen the total price, right?
How to recognize the biased review?
First of all, as already mentioned, there are no Cons.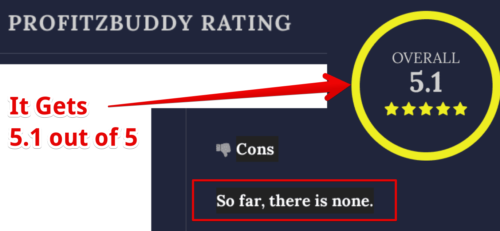 According to such a review this product is perfect.
Well, every product has some cons, whether it is expensive, or the method they teach takes a long time, and so on.
The 2nd method how to recognize the biased review is the affiliate link
When you click on the link within the review, just keep your eye on the URL bar and at some point you can spot the affiliate link in it.
That means that whoever wrote the review, promotes this product and gets a 50% commission.
Generally speaking, there is nothing wrong with it, but I would like to point out 2 issues I see.
This is affiliate marketing but the review should contain a disclaimer where it says, something like "the following article contains affiliate links…"
2) Promotion of misleading product
In my opinion, a reader should be educated first.
The visitor of such a review should be informed about the Pros and Cons and only then to decide whether to purchase it or not.
Even the educational platform that I am a member of (where I have learned how to create this website and rank well in Google) has some flaws. It is not perfect either.
But in my opinion, it is one of the best platforms of its kind, therefore I feel confident recommending it.
Besides, the WA offers a free trial, where you can take 10 lessons for free (you only need your email).
So my point is when you read a product review and there are no Cons, whatsoever, be careful about their final conclusion.
Spend some more time doing research.
Before We Wrap Up
It takes a bit more effort to make money online.
Besides, there is no such thing as a push-button system that automatically generates income.
I do admit that in the ProfitZBuddy sales video, it is correctly stated that one needs traffic, in order to make money.
But you want to have genuine traffic, you don't want to spam people.
There are basically 2 ways how to make money online.
1) You can either have a website
or
2) YouTube channel.
Both require effort, in other words, you need to have content, so people will find your website/channel naturally.
If you are interested in how to create a simple website and how to rank well in search engines (Google, Bing, Yahoo…) go check this review.
In case you want to learn more about how to create a successful youtube channel, there is a decent course listed on DigiStore24.
Disclaimer
Please note, the link above contains an affiliate link.
That means if you click on it and purchase the product, I will receive an affiliate commission at no extra cost to you.
To have an idea of what is it all about, take a look at this YouTube channel (Make Money Matt), where you can learn a lot of information for free.
What I like about ProfitZBuddy

What I don't like ProfitZBuddy
Misleading Sales Video
A system allowing to spam YouTube Comments (They are removed automatically or by the owner)
A lot of Upsells with no real value
Is ProfitZBuddy a Scam?
ProfitZBuddy is not an outright scam.
Although it is not far from it.
The only reason why I don't label it as a scam is the money-back guarantee.
So if you are not satisfied with the results you can get your money back.
You have wasted some time with this useless product, but at least you are now smarter.
There are thousands of products like ProfitZBuddy.
We have already mentioned that the same guys behind ProfitZBuddy created also Moneybuildrr.
With that being said, you have gained experience and in the future, you know that it doesn't make sense to waste time with such products.
If you have questions regarding products like ProfitZBuddy, or you want to know more about affiliate marketing, let me know in the comment section below.
I will be happy to provide you with feedback.
Thank you for reading
Mike