I was wondering about the quality of ClickBank Products recently, and I stumble upon one specific product – Profit Injector,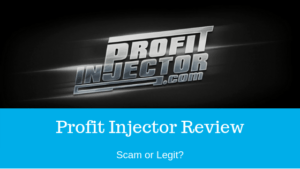 by Jamie Lewis. I have heard a bit about his product but never actually reviewed. So I have decided to take a deeper look at what he has to offer.
We will be looking at this product -> what might be there for you, if he offers any sort of support, how the member area looks like and most importantly the price.
Name: Profit Injector
Website: www.profitinjector.com
Price: $37  per month  -> Total $44.40 (The amount which goes out of your account)  + Upsells $197 + $97 + $297
Owner(s): Jamie Lewis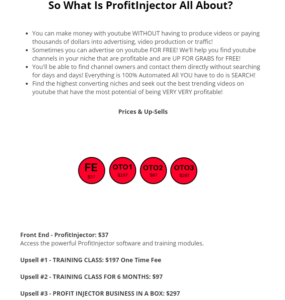 Jamie's product is intended to help you earn a commission out of the ads you are placing at existing YouTube videos. We'll be explaining how it works, below.
The Good & the Bad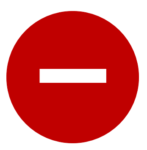 3 Upsells,  you are not informed of at the beginning  $197 + $97 + $297 *
You rely on YouTube video owner. So you have no control over the product (It is up to the owner to remove your affiliate link)
In the advertised video Jamie says, how easy it is to ask somebody to place an affiliate link in his/her YouTube video, and that once you get your link there – Bum you start to earn. Reality is that it is really difficult to convince some "stranger" to put your affiliate link in his video. He can start to place the affiliate links by his own.
*It might be just me, but I do really hate upsells. That is why I include them as part of the drawback.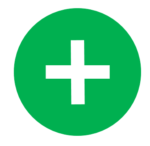 Course is easy to understand
Basic computer knowledge is enough to follow the training
Money back – Guaranteed (As all of ClickBank Products)
On a Side Note – With Regards to Pros and Cons
There are always many ways how to approach a specific product. To simplify this thought – you can either glorify that thing, or on the other hand you can disgrace it. If you glorify something, it looks suspicious and you should be careful and maybe step back and think about that.
If somebody does nothing, but criticize, that is the other extreme.
Where am I getting with that?
I also read reviews, and when I see that the specific product does not have any disadvantage, it must be either perfect product or the review is bias.
Well, we all know that nothing is perfect. So it must be only the last option.
Profit Injector – Who Is It For
According Jamie, this training/product is suitable for newbies as well as for intermediate marketers. You have to have basic skills with computer, which I bet you already have 🙂
As Jamie says, the process of implementing the strategy is simple "Copy and Paste".
Second requirement is to have at least 2 hours for your self in order to learn this technique.
Third requirement, is to send email to Jamie after you implement the strategies. So you will let him know how you are doing with it.
Sounds pretty easy – at least from distance.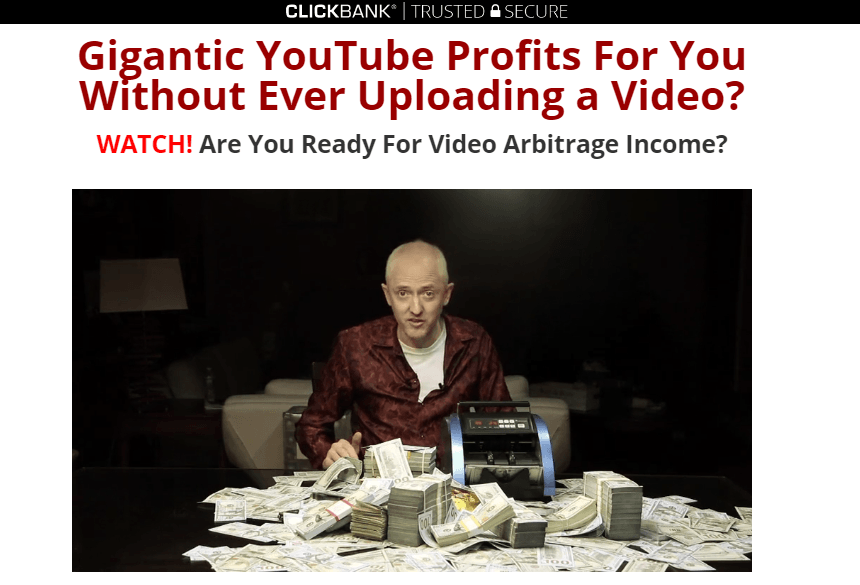 He also says that there is only a limited time frame, so if you want to jump on this train, you should hurry up. Access is limited.
No worries; That is just a marketing technique called – Scarcity.
I can't help myself, and I most likely I am going to be a bit bias here – If you see his video with all the cash lying around, well it is maybe only my opinion, but that does not look serious to me.
When you buy some stuff on the internet, ain`t you pay by credit card? Or bank transfer?  The merchant I believe receives the payment electronically as well, right?
So Where all the cash is coming from?  Withdraw from ATM machine? Maybe he does not trust banks, and if that is the case, then all right -> I can not blame him there.
So back to the review.
There is no doubt that with YouTube you can be very successful. YouTube has became #2 Search Engine.
And if his product will turn out to be working well, you can really make some money. Even lot of money.
So lets take a look what is inside the member area.
What is Inside the Platform – Members Area.
What Jamie sells, it is a software that helps you to find YouTube videos that has many views and are not monetized yet.
You are going to partner with the owners of these videos on YouTube. You ask them to put your affiliate link in their video. And then share the profit 50/50. (or whatever deal you want)
First thing First.
For the price $37 you get into the members area with bunch of videos.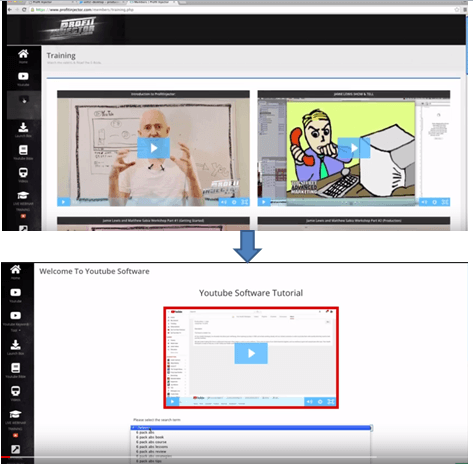 Below You see the area with lots of niches, you can choose from. You select one of the niche, and you get list of videos related to this niche. Under each videos, you have option like "View Details" where you have properties of the video – Likes, Dislikes, Views, Duration … You are right – these properties are the same like you find on YouTube.
But here is a section "Message Owner Here". Click on that and you will get to the owner YouTube channel. There you can contact him. Well not all of the owners have their contact data, so sometimes you have a no way of contacting the guy. (or maybe there is only a Google plus link there, or something.)
Ideally you find the owner with already filled out the details – including the email address.
And here where the hard part starts;
You are going to email him saying that you have this offer for him. You have an affiliate link and you would like to use it in his/her video for monetizing purpose. And you can split the profit lets say 50/50.
Imagine you are the owner of the video and you have not monetized the video yet.
Well If I were the owner of the video, and I read about such an offer it might be exciting at first. But I do believe that many of the owners soon realize (within few minutes) that I can get the affiliate link on my own use it in my own video. So what would I share the income with some stranger.
I would probably thank him and apply the idea.
Support
Jamie holds weekly live training classes where you can participate and ask questions. That is part of the 1st upsell, though.
It costs $197 and the membership lasts 1 year.
My final opinion
Theoretically this system might work but at the end  it is not easy to find YouTube owner who would fall for such a partnership. Even if he might, I believe it is matter of hours until he realizes that he can do it alone without splitting the commission.
Well, If there were any commission at first place. Because the percentage of people clicking on the link and buying stuff, is less than 2%.
So in my opinion Jamie says A, but he does not reveal you the B.
Product at glance
Name: Profit Injector
Website: www.profitinjector.com
Advertised Price: $37  per month 
Total Price $44.40 (Including VAT)  + Upsells $197 + $97 + $297
Owner(s): Jamie Lewis
Overall Rank: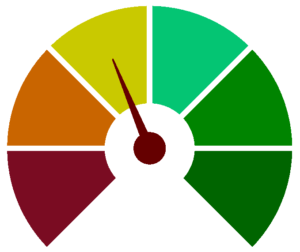 What to say at the end
When I see such a hype talking at beginning, I tend to be skeptical. On top of that – that playing around with bunch of cash – well to me there is something sneaky.
But I gave him a chance and did review on his product – to make sure that I have not missed anything.
If you think I have missed something, you are more than welcome to ask me a question in comments area at the bottom.
Please follow and like us: