I was wondering about the quality of ClickBank Products, and I stumble upon one specific product – Profit Injector, by Jamie Lewis. I have heard a bit about his product but never actually reviewed it.
So I have decided to take a deeper look at what he has to offer.
This was created at the beginning of February 2019, but with some changes within ClickBank, I decided to take a 2nd look at it.
UPDATE October 2019
In the late summer of 2019, I have noticed that many products have been removed from ClickBank.
The same happened with Profit Injector as well.
I wrote about the possible reason in a different review.
Anyways, as for the beginning of October 2019, this particular product is available on JVZoo.
I did not find it on ClickBetter either.
Other than that, there is no major change in his product.
If you don't want to waste your time with Profit Injector, I would suggest having a look at my Top recommended platform Wealthy Affiliate. 
It is free to get started (no credit card required to join in) and you find there step-by-step training on how to create a website and how to monetize it.
We will be looking at this product -> what might be there for you, if he offers any sort of support, how the member area looks like, and most importantly the price.
Jamie's product is intended to help you earn a commission out of the ads you are placing at existing YouTube videos. We'll be explaining how it works, below.
Name: Profit Injector (PI)
Website: www.profitinjector.com
Price: $37  + Upsells
The owner (s): Jamie Lewis
Product Overview
Profit Injector is a course made by a real person called Jamie Lewis.
The website has been created in October 2018. His product used to be listed on ClickBank, but it has been removed. I believe it was available on ClickBank as well, but you won't find it there anymore.
It is supposed to be available on JVZoo currently, but that might change soon as well.
I just would like to give you an idea about what is this Profit Injector about. Also If we take a look at the traffic his website used to have, we all see that customers were not happy and most likely they were asking for a refund.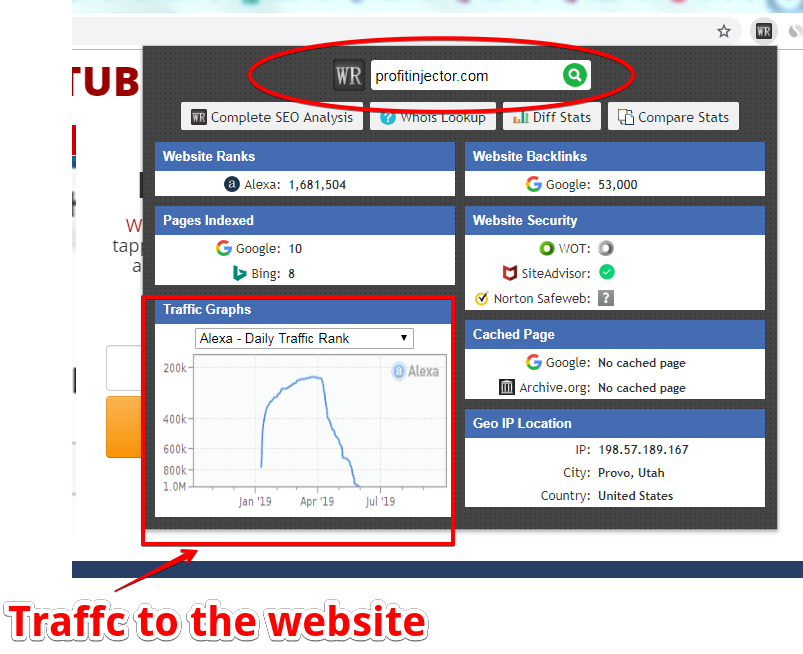 He says that with his product you can make money with youtube without having to produce videos or paying for advertising. He and his team will help you find youtube channels in a specific niche that is profitable.
You might be then able to find the channel owners and contact them directly without search for days.
According to Jamie, everything is automated and all you have to do is search.
This product should also help you to find the highest converting niches and seek out the best trending videos on youtube.
The Good & the Bad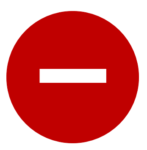 3 Upsells,  you are not informed of at the beginning  $197 + $97 + $297 *
You rely on YouTube video owners. So you have no control over the product (It is up to the owner to remove your affiliate link)
In the advertised video, Jamie says, how easy it is to ask somebody to place an affiliate link in his/her YouTube video, and that once you get your link there
– Bum you start to earn. The reality is that it is really difficult to convince some "stranger" to put your affiliate link in his video. He can start to place the affiliate links on his own.
*It might be just me, but I do really hate upsells. That is why I include them as part of the drawback.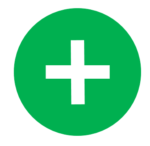 The course is easy to understand
Basic computer knowledge is enough to follow the training
Money-back – Guaranteed (As all of ClickBank Products)
Who Is the Profit Injector For?
According to Jamie, this training/product is suitable for newbies as well as for intermediate marketers. You have to have basic skills with a computer, which I bet you already have 🙂
As Jamie says, the process of implementing the strategy is simple "Copy and Paste".
The second requirement is to have at least 2 hours for yourself in order to learn this technique.
The third requirement is to send an email to Jamie after you implement the strategies. So you will let him know how you are doing with it.
Sounds pretty easy – at least from distance.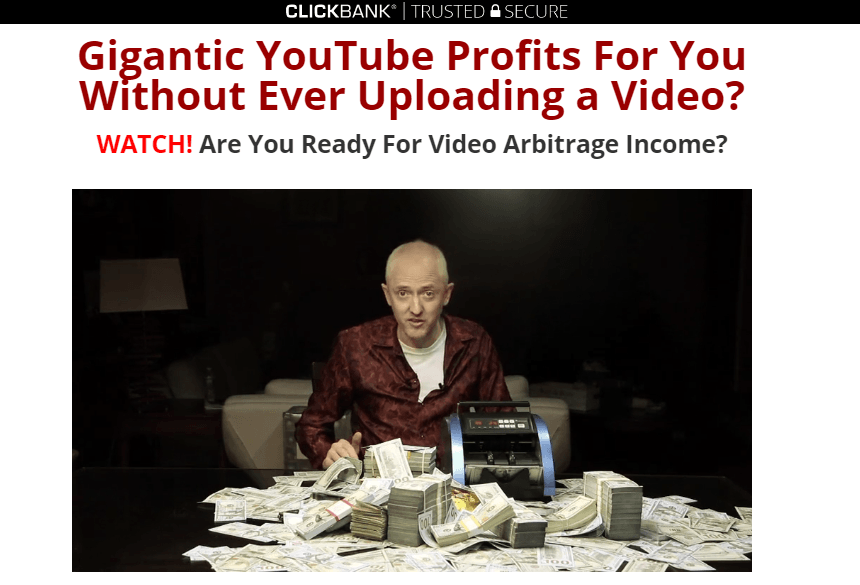 He also says that there is only a limited time frame, so if you want to jump on this train, you should hurry up. Access is limited.
No worries; That is just a marketing technique called – Scarcity.
A Side Note:
I can't help myself, and I most likely am going to be a bit bias here – If you see his video with all the cash lying around, well it is maybe only my opinion, but that does not look serious to me.
When you buy some stuff on the internet, ain`t you pay by credit card?
Or bank transfer?
The merchant I believe receives the payment electronically as well, right?
So Where all the cash is coming from?  Withdraw from the ATM machine?
Maybe he does not trust banks, and if that is the case, then all right -> I can not blame him there.
So back to the review.
There is no doubt that with YouTube you can be very successful. YouTube has become the #2 Search Engine.
And if his product will turn out to be working well, you can really make some money. Even a lot of money.
So let's take a look at what is inside the member area.
What is Inside the Platform?
What Jamie sells, is software that helps you to find YouTube videos that have many views and are not monetized yet.
You are going to partner with the owners of these videos on YouTube. You ask them to put your affiliate link in their video. And then share the profit 50/50. (or whatever deal you want)
First thing First.
For the price of $37, you get into the members' area with a bunch of videos.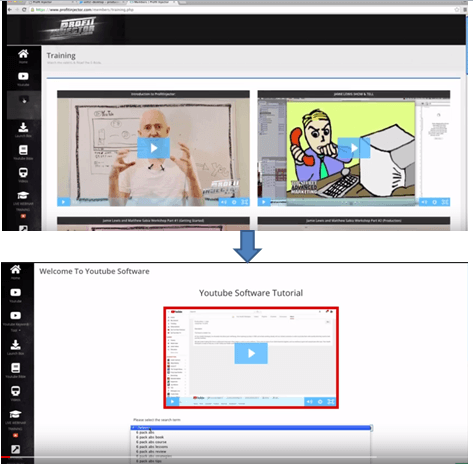 Below you see the area with lots of niches, you can choose from. You select one of the niches, and you get a list of videos related to this niche. Under each video, you have an option like "View Details" where you have properties of the video – Likes, Dislikes, Views, Duration …
You are right – these properties are the same as you find on YouTube.
But here is a section "Message Owner Here". Click on that and you will get to the owner's YouTube channel.
There you can contact him.
Well, not all of the owners have their contact data, so sometimes you have no way of contacting the guy. (or maybe there is only a Google plus link there or something.)
Ideally, you find the owner with already filled out the details – including the email address.
And here where the hard part starts;
You are going to email him saying that you have this offer for him. You have an affiliate link and you would like to use it in his/her video for monetizing purposes. And you can split the profit let's say 50/50.
Imagine you are the owner of the video and you have not monetized the video yet.
Well If I were the owner of the video, and I read about such an offer it might be exciting at first. But I do believe that many of the owners soon realize (within a few minutes) that I can get the affiliate link on my own use it in my own video. So what would I share the income with some stranger?
I would probably thank him and apply the idea.
Support
Jamie holds weekly live training classes where you can participate and ask questions. That is part of the 1st upsell, though.
It costs $197 and the membership lasts 1 year.
That is what you are told in the sales video, but I personally doubt it.
Other than that there is no real support page. Just an email.
Price Structure
The front-end price is $37 and the price has not changed since the beginning.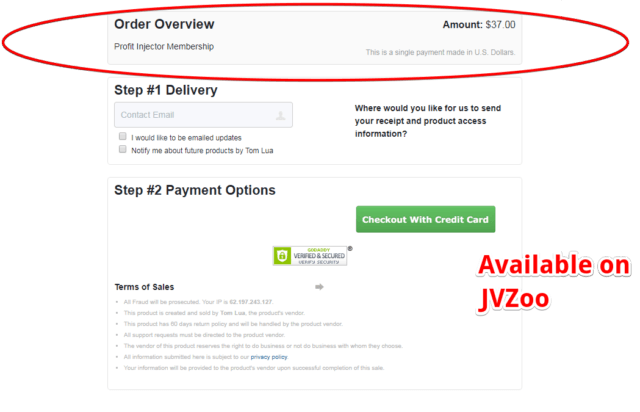 Then there are 3 upsells that are pretty expensive and they do not deliver the needed value. Let's take a look at the structure:
1st Upsell – is called Training Class: The price is $197
2nd Upsell – this is called Training Class for 6 Months and the price is $97
3rdUpsell-Finally, last upsell is called Profit Injector Business in a Box and you can get it for $297
The potential customer might end up paying $628! This is a lot of money, for a questionable system.
My final opinion
Theoretically, this system might work but at the end, it is not easy to find a YouTube owner who would fall for such a partnership.
Even if he might, I believe it is a matter of hours until he realizes that he can do it alone without splitting the commission.
Well, If there were any commissions at the first place. Because the percentage of people clicking on the link and buying stuff is less than 2%.
So, in my opinion, Jamie says A, but he does not reveal to you the B.
I know you might be frustrated to find out that this system simply does not work, therefore you might wanna look at the alternative
Is There a Better Alternative?
I would like to save you time to let you know about a platform that in my opinion is the best there is when it comes to online education.
I joined the WA in late 2017 and I am still an active member. It taught me how to build up a website that is easily recognized by Google and other search engines; in other words, my post is indexed in a very short amount of time.
I remember when I joined the WA I did not use any credit card. For the first week, there is a starter membership that allows everyone to check the training, explore the platform, and get in touch with the community.
Is Wealthy Affiliate a Scam? Or Is It a Legitimate Platform?
Product at Glance
Name: Profit Injector
Website: www.profitinjector.com
Price: $37  + Upsells
The owner (s): Jamie Lewis
Overall Rank: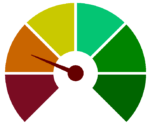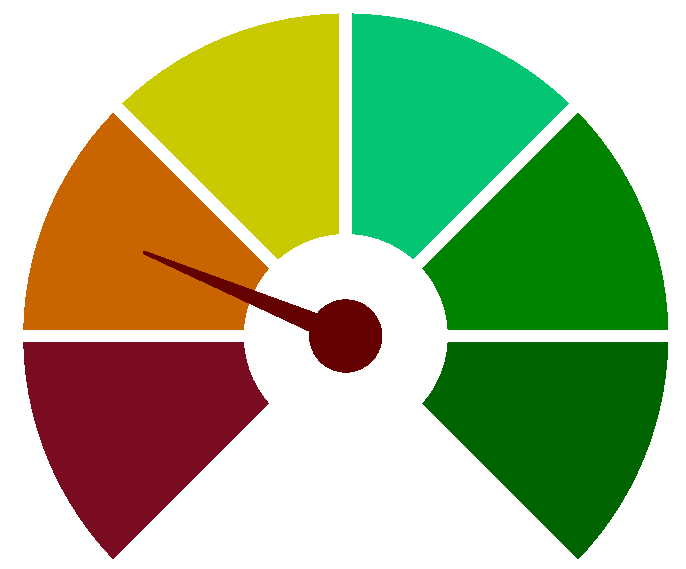 Conclusion
The sales video and the whole sales page is full of hyped-up stuff and unrealistic claims.
I was skeptical about the Profit Injector right from the beginning.
Just that scene how Jamie is playing around with a bunch of cash – well to me there is something sneaky.
I do not recommend this product at all.
Please save your money and time and if you are serious about building your own online business, please check out other options as well.
If you have any sort of questions, please let me know in the comment section below. I'd be more than happy to give you feedback.
Cheers 🙂
Mike
How to Get Started with Affiliate Marketing Business?
I have been a member of Wealthy Affiliate since late 2017 without prior marketing experience.
Beginning of 2018 I have learned how to build a website that drives traffic and makes sales.
Since the summer of 2019, I am a full-time internet marketer and I work from anywhere I want, whenever I want.
Training within Wealthy Affiliate teaches how to generate a consistent income in the long run.