Have you stumbled upon a system called NiceCash and you would like to find out whether this is a legit website or is it a scam?
One can't be too careful these days since there are a lot of misleading products, websites, and courses.
Good for you that you are doing your research.
This is going to be a thorough NiceCash Review.
By the time you are done reading this article, you will know for sure whether this is a scam and why.
That means we will go over some details such as:
How old is the website/system
We will check the Testimonials
Payment Proofs
Contact information (a website without proper contact information looks suspicious)
NiceCash Social media presence (since this is supposed to be the #1 Influencer)
And other interesting stuff as well
Let's take a look at what is this NiceCash site about.
Disclaimer
Please note, I am not a member or an affiliate of NiceCash. This review is based on research and information available online in the public domain. Any recommendations and conclusions are only opinions and may not apply to all persons or situations.
NiceCash Overview
Product Name: NiceCash
Price to Join: $0
Creator: N/A
Rating: 0/10
Do I recommend it? No! NiceCash is Not a Legit Site
NiceCash Review – Summary
NiceCash was a system that promises you can earn $500 a day by referring people and completing tasks. However, these claims are false. Nobody actually gets paid, and the payment proofs they show are fake. They use screenshots from before the website was even registered.
These are just a few of the red flags. It's strongly recommended not to sign up for NiceCash. There's a high risk that your personal data, such as email and passwords, will be stolen and sold to third parties.
Although it's no longer available, it's worth skimming through this review to familiarize yourself with the red flags. The founders have a history of creating similar scams, so by understanding the misleading techniques they employ, you can reduce the chances of falling for such a scam
What is NiceCash?
NiceCash is a website or a system that promises you to make $500. It says today – but I take it that you can probably make $500 daily with this system.
Now how is that possible?
Right below the big fat statement, it says, "Earn $10-15 for every friend you invite".
First of all, you can sign up for NiceCash for free. That means, there is no money flowing into that system.
If you take a look at the website it does not have any ads on it,  no affiliate links, and nothing that shows that this system makes money.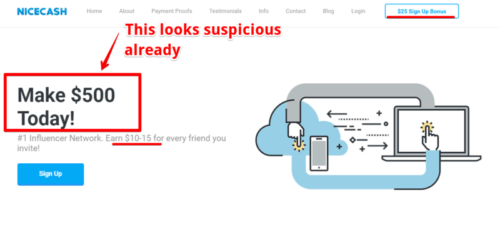 With that being said, the statements about "making $500" or getting a $25 bonus for just signing up are lies.
I have seen similar websites with pretty much the same statements, and they all are scams.
To mention a few: Money Genie, Inboxdollar.co, SwiftBuck, or KashTree.
Now let's just compare these two websites, NiceCash and KashTree.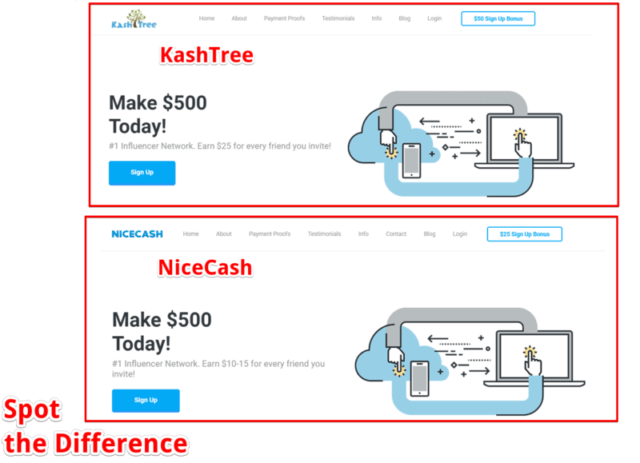 When I review these systems, sometimes it is like playing the puzzle "spot the difference".
As you see these two are almost identical.
Who Is Behind NiceCash?
As we have seen above, the probability is high that the same person (or group of people) is/are behind both KashTree and NiceCash (including the other scams I had a chance to review).
Unfortunately, it is not easy to find out who it is but we can at least find out when the website was registered and where.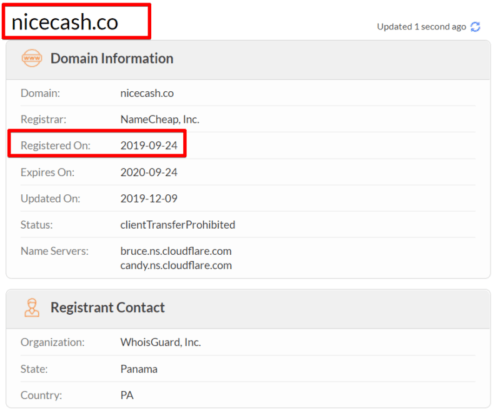 We want to keep that date in mind.
Why?
We might need it when we want to check the "About Us" page: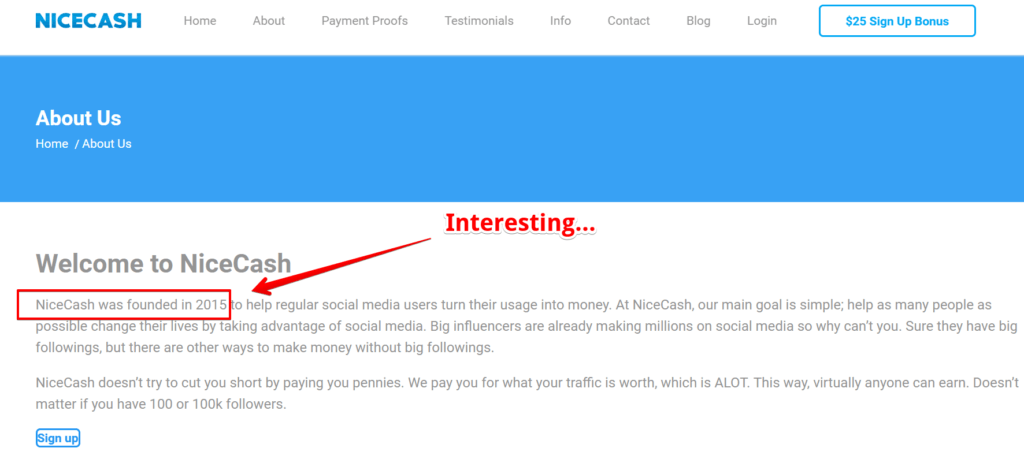 So what does this tell you?
How come the NiceCash was founded almost 5 years before the website was registered?
The #influencer was influencing people without a website?
This is a bit red flag, and this only fact proves that the entire system is not trustworthy.
Contact Information
Every legit website has contact information.

Either a form that can be filled out or an email.
There is no contact form, so I went ahead and wrote an email to that address:
And guess what happened?
Within a few minutes, I received an automatic reply from google saying that the email couldn't be found.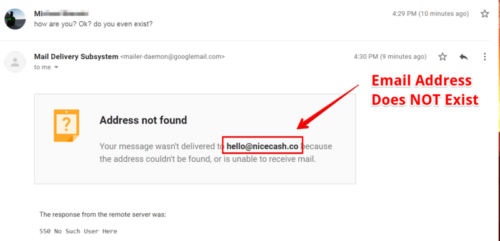 Pretty strange for the #1 influencer network.
On top of it, when you click on the social media icons, you get only to the top of the website NiceCash.co, instead of to the relevant social media.
Who is NiceCash For?
Who would like to waste time and on top of it risk his or her data? (like email, password, etc.)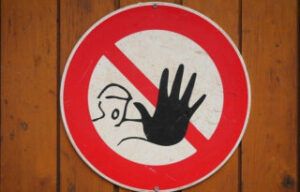 I believe nobody.
That is exactly who this NiceCash is for – Nobody.
My advice is to stay away from this system.
If you want to check it out, of your course you can do so.
But please, in case you want to sign up, make sure to use a brand-new email.
Make up an email for this purpose only and also use some simple passwords, that you have not used before.
How DoesNiceCash Work?
By now we know that it does not make sense to sign up for NiceCash.
But I want to share with you what the dashboard looks like and what is it they want you to do.
According to them, there are these 3 easy steps:
Join the community by signing up
Share the link you are given, and earn $10 for each friend you invite to join NiceCash
Get Paid. Apparently, you can get paid through PayPal, CashApp, Bitcoin and even mailed checks
After signing up you are in the members' area where you can perform some tasks and earn. You see also a menu that you can use if you want to share the link on social media.
Here is the list of tasks you can perform and allegedly earn money (or credit).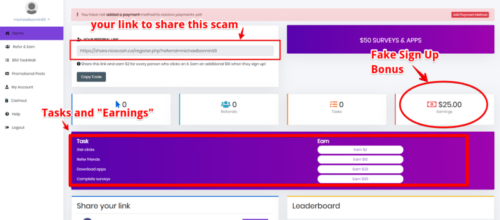 The thing is, once you start performing the tasks, and people will sign up through your link, the credit will increase. But only virtually.
You do everything as you are supposed to do:
Get Links
Get Referrals (at least 5)
Finish at least 5 Tasks
Your "earnings" might even show $234.00 so you are ready to cash out…
Regarding the tasks – I would be careful there as well.
After clicking on the tasks you will be redirected to another website, and depending on your location and the tasks, you may be asked for further details, like credit card information, telephone number and so on.
It can get pretty dangerous. Most of these websites where you should perform these tasks look pretty suspicious.
But what happens with our "earnings"?
Here is what happens
As I mentioned earlier, let's say a new member (who does not realize that is a scam) performs the task, gets his referral and clicks and let's say he collects about $230, This is shown also in the "Earnings" notification within the Dashboard.
He requests the cashout
NiceCash informs him or her that the request is pending
After a certain time, this request is denied. As an explanation – the user has used fake referrals and fake clicks
As a result of that, no cash is paid out and the account is locked.
This is how NiceCash works.
It is a shame since people spend their time on sites like these and in the end, they never get paid.
Here are some screenshots from very similar scams like Social Bounty.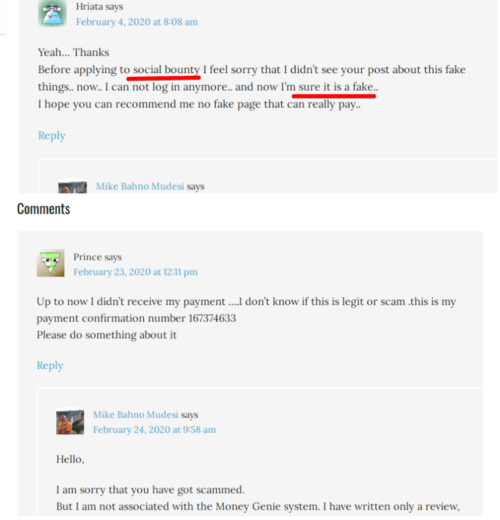 Regarding the NiceCash here you can check what other users have to say about NiceCash: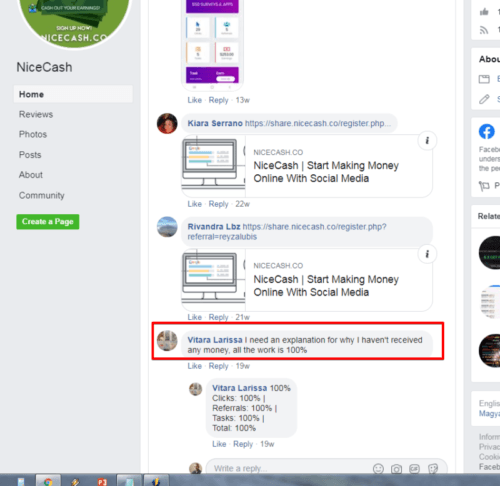 As you see people do perform the tasks and then they desperately wait for the payment.
Unfortunately, they will never get paid.
It is important to see this experience as a lesson.
Go check the NiceCash website and pay attention to the details.
We are going through the red flags one by one to give you a simple guideline on how to spot these signs/details, so you will be able to spot the scam(s) much easier.
The NiceCash Claims vs Facts
1) The Registration date
This is the first thing that ought to be checked.
If you spot claims that the system has been around since 2015, go check the registration date.
Go to the website whois.com and enter the domain name as per the following video:
We know by now, that NiceCash.co was registered on September 24th, 2019.
Therefore the claim saying "NiceCash was founded in 2015…" is a lie.
2) Fake Payment Proofs
According to the information from the previous section, we know that even these payment proofs, only prove that they are fake.
This is a screenshot of two of them, but there are more.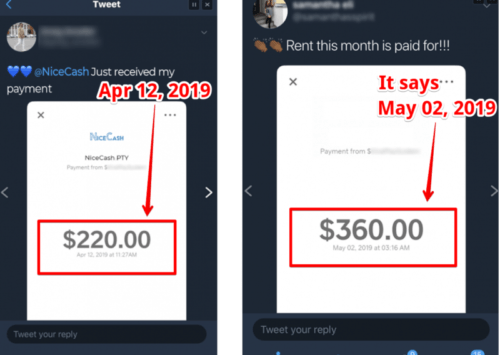 3) Fake credit & No One Gets Paid
The Earnings or the number one sees as he follows the tasks is just fake as well.
I have already explained how it works and what happened if a member asks for a cash-out.
4) Contact information – Not working
This is a big red flag.
There is no chance of how to contact the creators of this website.
I wrote an email to the address below.
And this is the feedback I got.
The email address does not work.
This means that the people behind NiceCash are not reachable.
In case this website will be shut down, they can move on and create another scam – with a new name and different colors.
As we have seen, sometimes they don't even bother to change the look of the website (as in the case of KashTree).
5) Fake Testimonials and Missing Video Testimonials
The below are not valid testimonials
First of all, some image or photo downloaded from the internet does not mean anything.
It is also "funny" that that guy says, he has been a member for over a year.
Interesting – we know why, right :).
I am sure at one point NicCash had video testimonials in this section.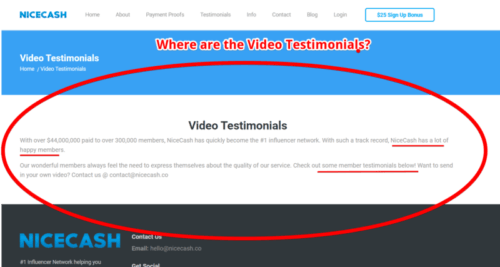 They were most likely the only actors hired by Fiverr. It is quite easy to recognize these actors.
For example, PaidLeaf, which is another copy of the same system, uses these actors.
6) Social Media 
I have checked the NiceCash on social media and I was able to find their profile only on Facebook.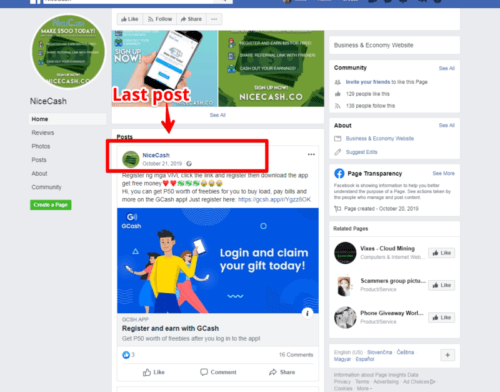 The last post is from October 21, 2019. Since then there is no post, no photo, nothing.
Not very active, are they?
That is too bad for the alleged #1 Influencer network website.
NiceCash Pros

As much as I want to think of it, there is nothing I like about the NiceCash.
This system is made to just harvest your data such as your email address and other personal data
NiceCash Cons
Scam to harvest your email and other data
The contact form missing, Email does not Work.
Almost no social media presence
NiceCash is a system that does NOT pay
How to Make a Full-Time Income Online?
Many people ask how to make money online.
I show them what it takes, and their response is like this:
"Nah.. that takes too long; don't you have something that works fast"
Everyone wants to make a thousand bucks this week, or even the day after tomorrow.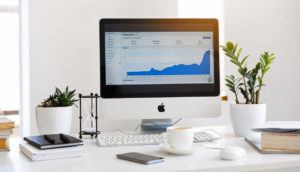 I am sorry, but it does not work that way.
I want to be honest and show that it takes effort and time until one can start generating income online.
So if you are serious about building a sustainable business online here are a few points you want to consider:
Start thinking in the long term. It does not matter whether you start with a website or YouTube.
You have to start creating content and be consistent about it.
Go google something and check the 1st 10 websites you see.
– How much content is there? Same with YouTube – How many views do the videos have and how many videos there are within one channel?
Here is a little secret:
You can rank on the first page of google within 8 or 10 months if you know what you are doing.
That means, you have to learn a few new skills, but with proper training, it is perfectly doable for most people.
If you want to find out more about the platform that teaches how to start a business online, you are welcome to check this link.
Take your time, read it through and if you have any sort of questions, let me know in the comment section below.
Final Words About NiceCash
It is ironic, but this system is not nice at all and it does not have any cash that you can make.
From the website we have reviewed, it is obvious that NiceCash is an outright scam.
It is not worth your time.
If you want to check legitimate systems that pay, check these websites:
You won't make much but at least these are legit and you can make a few bucks on the site.
(probably a couple of hundred per month at most).
If you are interested in serious business (as I mentioned) I leave the link below – you can directly go to the platform. To get started you don't need a credit card. You have free access for 7 days.
You can leave your comment below, or if you want to share your thoughts, you are welcome to do so as well.
Thank you for your time,
Mike