I know it is not a New Year anymore and as of this writing Spring at the northern hemisphere has already started so it would be a good time to check the system called New Year Profits.
By now their website should have authority tons of traffic and probably also some genuine testimonials with tremendous results.
Well, let's see.
In the following New Year Profits review, we are going to learn how it works, who is it for, what is the price (I mean the full price, not just the one you see at the introduction video) so in a few minutes, you are going to learn whether this is a scam or not.
You may have noticed that there are websites that already done reviews about this system, however those that I have seen promote this very product, so they are probably biased.
Disclaimer
Please note, I am not a member or an affiliate for New Year Profits. This review is based on research and information available online in the public domain.
Any recommendation and conclusions are only opinions and may not apply to all persons or situations.
Quick Overview
Name: New Year Profits
Website: www.newyearprofits.com
Price to Join: $27 + Upsells
Recommended: No
New Year Profits Overview
New Year Profits Review is supposed to be a Done-For-You system that automatically generates profit.
The problem is that there is no such a thing and the claims they make on their sales page (sales video) are very misleading.
In reality, you should send offers of low-quality digital products to people that have no interest in them, whatsoever. You basically would spam these people using the Apps within the New Year Profits Review.
The chances that you are going to make thousands of dollars are exaggerated and the only people who make a profit are people behind the New Year Profits Review.
Another red flag is that the individual who runs this program is a scam artist who keeps creating a lot of these scammy programs or so-called Bots.
So New Year Profits Bot is just a rehashed old system called 1K Daily System that has been already labeled as a scam.
New Year Profits Review works exactly the same way.
You won't make any money with this system, in fact, due to the price structure you might end up losing several hundreds of dollars.
Making money online requires time and effort.
With proper education, one can start generating consistent income within 8 to 14 months (does it sounds like a scam?)
Here below is access to the method that I use:
Sign up for Free and I will guide you through the platform.
No Credit Card Needed – Just your email.
What is New Year Profits
The answer to this question can found at the front of their sales page.
They want us to believe that this is a perfect system that will generate thousands of dollars with little to no effort.
They use some sort of Bot that drives free traffic and make money for you.
Apparently, with this bot, you will be able to send specific offers (digital products) to your potential customers and if they purchase the product you will earn commissions.
Well, this is how Affiliate Marketing works. This is a legit way (and one of the best ones) how to make money online, but let me tell you right now that there is no such a thing as an automated system or bot that drives "unlimited" traffic.
You are promised to make 4 digits daily from different income streams…
Well, these claims are very unrealistic and it heavily reminds me of another system called 1K Daily System.
In fact, these are pretty much the same things…
1K Daily System is a very misleading system that I don't recommend. The chances that New Year Profits Bot will be different are extremely low.
Founder of New Year Profits
As mentioned above, New Year Profits is almost identical with the 1K Daily System.
It doesn't surprise you then, that the same person is behind both systems.
(My guess is that he runs more of these misleading systems).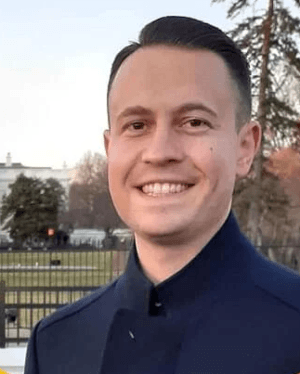 The name of the individual who created this product is Glynn Kosky.
Glyn has been around for a while, and he keeps creating these digital products so one can't keep up with them.
The point is that he has already scammed a ton of people, and somehow he is able to get away with that.
Who is it for?
According to their sales page, New Year Profits is it is perfect for beginners.
The best part?
No need to have experience
No Learning Curve
and you can use this from any location in the world.
And there is more:
Apparently, you don't have to create any content, you don't have to have an email list, you don't have to create any Youtube videos.
How are you going to reach potential customers?
By using those "traffic apps" that we are going to touch in a bit.
This is 100% done for you…
Does it maybe sound too good to be true?
You bet it is.
New Year Profits is just a rehashed old product with a new name and different colors.
But it works exactly the same as the 1K Daily System (you can check the red flags of 1K Daily System).
So the bottom line is, This system isn't good for anyone.
If you are looking for an easy way how to make money online with zero effort, I have bad news for you.
There is not such a system.
In case you are willing to invest your time and effort into an online business, I can show you the method I use that has started generating 4 digits monthly for me.
I have learned how to drive free traffic, in other words, I know how to write an article on my website that ranks well on google.
"This is the average position of this site in search results, bases on its highest position whenever it appeared in a search. "
The platform where I have learned how to build a simple website and how to rank well teaches an evergreen process that works within any niche.
You are welcome to test it for free for an entire week.
Check the link at the very bottom of this post to learn more.
Now back to the New Year Profits Review.
How does it work?
It takes less than a minute to get started and
Login to the web-based app
Select one of the DFY Bot or create your own
Hit activate to make a profit.
Waw.
So let's take a look at how it really works.
Here is a Dashboard (or members area) with access to
Social Media
Done for You Bonus
Your Campaigns
Tutorials
Free Traffic.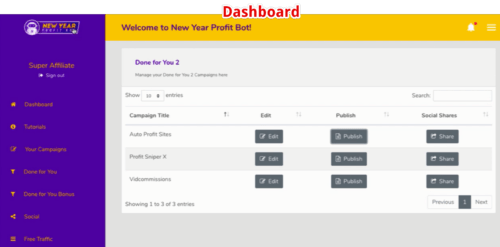 The Free traffic section is really "interesting";
It supposed to be some sort of "traffic App" where you can register and use it to connect with your prospects.
In reality, you will just be spamming these people (assuming that these are real leads or email addresses) with offers that they are not interested in.
These are also called Solo Ads and they almost never work. (Find out More about Solo Ads)
Just a quick note concerning the Solo Ads.
In most cases there are vendors selling leads that are just made up – in other words, these email addresses do not belong to any real person.
Or, these leads could be some bots, that can reply to your offer. As a result of that, you will see that someone clicked on your offer, but did not purchase.
Bots don't have money to purchase the products, right.
In the best-case scenario, you will be sending these offers to real people, who don't have any interest in them.
The thing is that your offers are digital low-quality products from ClickBank and other marketplaces.
Don't get me wrong, ClickBank is a legit site, but unfortunately, there are a lot of products that are misleading (and some of them even scammy), especially in the E-Business Section.
What is the Price?
In the introduction video, we are told that this probably cost a fortune.
It is a done-for-you system that generates sales for you automatically. So it must costs thousands of dollars, right?
Well, they want to "surprise" and using the cheap marketing tactics claim that this costs only $27 and you can even get a discount.
So the price is $20:
This is not the final price and here is their price structure:
These are just one-time offers with downsells to teach of them.
The offer is called Unlimited Version and the price is $67 (with a downsell of $37)
This Offer is 100% Done-For-You for a $97 (down to $67)
This is an interesting one – it is called Unlimited Traffic and it costs $147 (down to $47)
$30K in 30 days Version for $147 (down to $47)
Super Affiliate Version – the price $97 (down to $37)
License Rights for $147 (down to $67)
Auto Profit Boost for $47 (down to $37)
As you see the front-end price is far away from the total price that one might end up paying.
In the best-case scenario (meaning with the downsells) the total is about $319.
It is pretty steep for a low-quality product that will just spam other people.
Let me elaborate a bit about the 3rd point
Why the creator wants other people to affiliate with him when he is able to get unlimited traffic to his website?
Besides, it does not seem that he gets a lot of traffic to his website and it already dropped by 50% in February.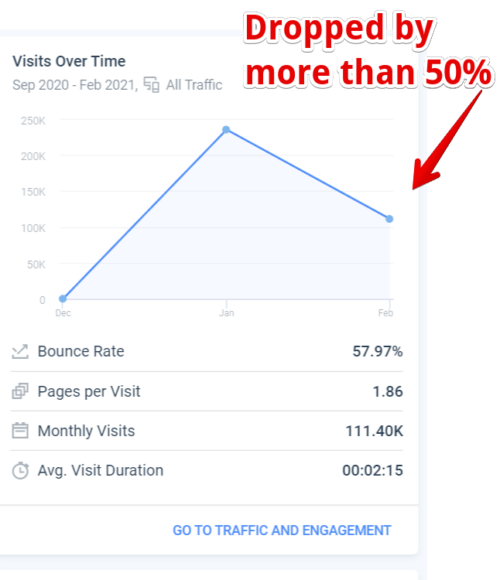 Considering that this is still a pretty new site, it is obvious that people lose interest in the New Year Profits Review for a simple reason.
It doesn't work.
And one more point:
Apparently "Risk is on their site" and therefore you are told to have a 180 money-back guarantee.
Just contact their support desk and they get back to you with a refund.
I couldn't find any information about the support, or how to contact them.
There are many large red flags within this system.
My advice is to stay away from it.
What I like about New Year Profits

I can't find anything positive about this system
What I don't like New Year Profits
The guy behind this system, Glyn Kosky has been known as a scam artist
Unrealistic Income Claims
A lot of upsells (up to more than $700, with no real value
Conclusion
New Year Profits is just a re-hashed old product that does not offer a lot.
It allows you to send offers to prospects via Solo Ads. In other words to scam other people with low-quality digital products.
The price for the product is not a lot, but considering the upsells and low quality of training, I can't recommend purchasing the New Year Profits.
I wouldn't be surprised that someone would call this scam.
But to be fair, the thing is that there is a money-back guarantee, so in the worst-case scenario a potential buyer will lose only a few minutes (until he or she finds out that this is very low quality)
I believe you find this review valuable, in case you have questions let me know in the comment section below.
Also if you want to know more about affiliate marketing just drop a message below.
Thank you for reading
Mike
How to Get Started with Affiliate Marketing?
I have been a member of Wealthy Affiliate since late 2017 without a prior marketing experience.
Beginning of 2018 I have learned how to build a website that drives traffic and makes sales.
Since the summer of 2019, I am a full-time internet marketer and I work from anywhere I want, whenever I want.
Training within Wealthy Affiliate teaches how to generate a consistent income in the long run.