Have you been thinking about joining a company called TriVita?
Do you have a friend or a family member already working for TriVita? Or maybe you just would like to know whether you can improve your financial situation and make extra bucks on the side.
But first of all, you want to know an answer to a simple question: Is TriVita a scam?
I am happy for you since you do your due diligence.
In this review, we are going to check the company, who is behind, and how much it is possible to make within this company and by the end of this review, you will form a solid opinion about TriVita.
Let's jump right into it.
Side Note:
This is not a review of TriVita products. I am in no position to assess their products.
This review is created to show whether it could be a good business opportunity or not.
Disclaimer
Please note, that I am not a member or an affiliate of TriVita.
This review is based on research and information available online in the public domain.
Any recommendations and conclusions are only opinions and may not apply to all persons or situations.
TriVita Overview
Name: TriVita
Website: www.trivita.com
Price to Join: $0 + Price for products
Recommended: Not as a business opportunity
What is TriVita
TriVita is a health and wellness company, offering a large variety of nutritional supplements and health coaching services.
The founder and CEO of TriVita are Michael R. Ellison.
The company is based in Scottsdale Arizona and it has been around since 1999 (as well as its website).
The company also organizes free live events concerning health education and online webcast series as well.
Besides the regular business, TriVita has also its own clinic called TriVita Clinic of Integrative Medicine.
They specialized in evidence-based, conventional, and alternative medicine.
It is a well-established company and unlike any other MLM company (for example, Instant Cash Solution or Digital Income System), Trivita provides value to its customers (whether is it the live events, online webcasts, or company's quarterly magazines).
Is the TriVita Pyramide Scheme or Scam?
No, TriVita is definitely not a pyramid scheme. Pyramid schemes usually are closed down within 5 years. Besides they are illegal in almost every country.
And we know that this company has been around for more than 2 decades, already.
I understand that people often generalize when it comes to MLM companies, but it is important to really see the difference.
Pyramid schemes rely solely on recruiting and have no product to offer.
Also, let me share with you a short video on what is a pyramid scheme.
If you are not sure whether a company is a pyramid scheme or not, just go over this simple checklist.
If all the points are met, I suggest staying away from it.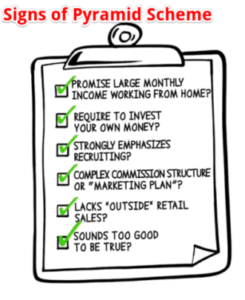 As we are going to find out, TriVita has a wide range of products to sell, so we can't call it a pyramid scheme.
It is not a scam either. It is a legit MLM company
Although, in 2014, TriVitia was fined $3.5 million for misleading claims about their #1 product Nopalea.
Nopalea is supposed to relieve the pain and is an "anti-inflammatory wellness drink".
Scientific studies don't prove though, that drinking Nopalea significantly reduces the effect of inflammation on the body, or relief from pain. It does not significantly reduce swelling of muscles and joints either (you can read the whole document).
In the past 20 years, this is the only issue they had with the FTC (Federal Trade Commission).
What is the Price to Join?
There is not any fee to join the TriVita. It is a good sign.
A person who wants to become a TriVita member simply purchases a product and he automatically can become a member. In order to keep that membership, it is necessary to maintain 50 personal volume per month (equals about $50)
Products, That TriVita Offer
TriVita offers too many products to go over all of them. They have divided them into 5 categories.
Healthy Aging
Targeted Nutrition
Herbal Supplements
Performance
Savings Packs
Here is a brief description of the Top 5 Products.
1. Nopalea (Healthy Aging)
This is a nutrient-rich, dietary supplement that promotes a state of wellness. It is a drink made from the "Sonoran Superfruit of the Nopal Cactus", full of antioxidants that helps with detoxification.
According to the website, our cells are attacked by toxins and free radicals. Bioflavonoids, which are part of the Nopalea, help the body reduce inflammation, and thus it cures the cells so they return to the normal healthy state.
The serving size is 1 fl oz (30ml)
Servings per container 32
Contains 15 Calories per serving
It is suggested to drink 1 ounce daily.
For faster results though, it is recommended to drink 3 ounces in the morning and 3 ounces in the evening for the first 60 days.
After that, back to the 1 to 3 ounces per day.
The price is $34.99 (32fl oz)
The price for 4-Pack is $119.99 (you could save $19.97)
This is a TriVita major product.
2. Slow Dissolve Superb B-12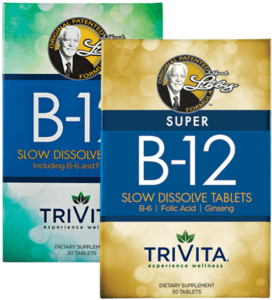 It is said that man's body can't create vitamin B12, therefore we need to get it from food or from supplements.
Not all people get this vitamin from food and this is when they need to take supplements.
Slow Dissolve Superb B-12 tablets were prepared with Alfred Libyy's patented technology.
These tablets are recommended to dissolve under the tongue completely. Alfred's patented slow dissolve process helps to make sure that a person gets the B-12 at the proper time.
Serving Size 1 Tablet
Serving per Container 30
It is recommended to take 1 pill and let it slowly dissolve under the tongue (not to be swallowed whole).
The Price is $19.99 (30 tablets)
3. Slow Dissolve B-12
The difference between the Super B-12 and the original B-12 is that the Super B-12 contains 3 times as much B-12 as the original B-12 and on top of that it also has ginseng.
4. Omega 3 Prime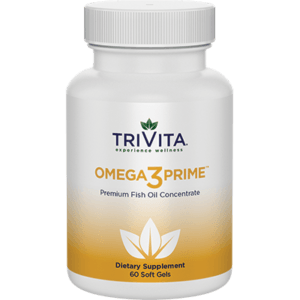 This is about the need of getting good fat into your body. Naturally, this good fat can be found in fish (for example Salmon, Tuna, or Sardines). One should eat fish 2 or 3 times a week.
Those who prefer an "easier" solution, can grab this product from TriVita.
Omega 3 Prime is supposed to be a premium product with highly concentrated Omega 3. Other advantages of this product are
No Fishy Odor
No After Taste
No Oxidation
It is packed in small naturally lemon-favor soft gels.
Serving Size: 2 soft gels
Serving per container: 30
Adults should take 2 soft gels daily.
The Price is $29.99 (60 soft gels)
5. MyoHealth Essential Amino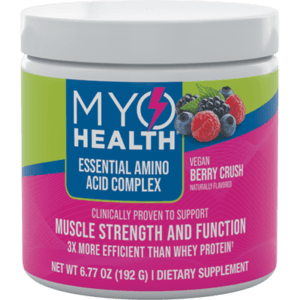 According to the website, this is the only US-patented product providing all 9 essential amino acids. It is easy to prepare – it is a dissolvable powder. This premium supplement supports a healthy lifestyle and muscle function.
It has a lemon flavor and does not contain any sugar or carbohydrates.
Serving Size: 1 scoop (6.4g)
Serving per container: 30 (15 calories)
Each scoop of this powder contains 3.6 grams of EAAs (Essential Amino Acid). For faster results, it is recommended to double the dosage to get the 7.2g of EAAs per day for the first 30 days.
According to the product reviews, people who actually used these products seem that they work. Some of them claim that after the application, there were no effects whatsoever.
The bottom line is that every person is wired up differently, and for some, it may really work, while others feel no positive or negative reaction whatsoever. Obviously, in some cases, it may be just a placebo effect as well.
How Can You Make Money with TriVita?
They also have an affiliate program. (in case you are not sure what affiliate marketing means, just check the post)
Affiliates within TriVita have their own website. They are not required to stock or resell any products.
What are the commissions?
When your customer makes the 1st purchase you get 40%. This is paid weekly
You make a 20% residual commission from every product your customer purchases forever. Paid monthly
Here is the screenshot of TriVita's Monthly compensation plan.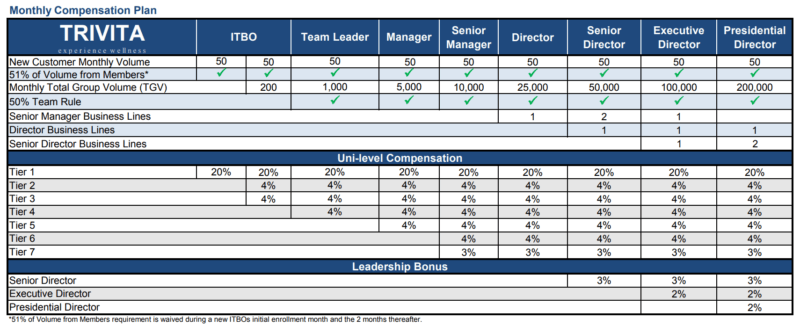 You see that they have 10 levels and it is not easy to get up through ranking as you have to recruit members to your team.
It may seem that this is a good opportunity and it might be easy to sell these products. Besides, if you know a lot of people they might join as well, right?
Well, I am not sure whether you enjoy convincing people about joining the MLM.
It requires skills and experience to do that. So if you have such skills, by all means, go for it.
You probably realize, that working up through the ranks might be a bit stressful, since you have to keep certain sales, no matter what.
At least I would see it as stressful.
I am a little bit concerned about the income disclosure that is not available on their site.
In my opinion, worse companies like Team National or IM Mastery Academy have such a report. And we see that most of their members do not make a decent living. And yet they reveal the numbers.
Does it mean that success within TriVita is even less frequent?
What I like

60-Day Money-Back Guarantee
The large variety of products
Legitimate MLM that has been on the market since 1999
What I don't like
Products are expensive. Therefore people might be hesitant to buy TriVia products and you as an affiliate will have a hard time selling these
The company fined $3.5 million for false advertisement
MLM structure – or real money made at the Top positions, only
Income Disclosure not available (A company operates for more than 20 years should have its income disclosure easily accessible to the public)
Some Thoughts at the End – Is Trivita a Scam?
No Trivita is not a scam. It is a good established and reputable wellness company.
But have you seen the price tag for those products? They are expensive compared to other products containing the same ingredients. Just check Amazon to see how many different products are out there.
Even if you can save just $10 per dose, at the end of the year it is $120.
Another thing that bothers me – it is still an MLM.
If you are not sure whether this model is for you and you hesitate, let me show you a different model of making money.
It is called affiliate marketing.
Basically, you get a commission for a product you describe.
You don't recruit anybody, you don't bother anybody – you just working on your website. People find your website naturally, so they come to you, meaning to your website.
If you don't know how to create a website and how to drive traffic – no worries.
There is a great training course that teaches that I am about to mention in the next section.
In my opinion, Affiliate Marketing is a better way to make some money on the side. I know a lot of people who do this full-time, making $5,000+ per month.

This Might Be a Better Alternative
But is TriVita a good business opportunity?
I am not sure. I think it is always good to try an alternative as well. At least one can see other options as well.
Let me share with you a business model I am involved in, since the end of 2017.
It is called Wealthy Affiliate and it is an educational platform. You learn how to create your own business online.
The best part (unlike many other courses in that field) is that it offers a 7-day free trial. Just enter your email and test the platform by yourself.
A Warning:
It is not a get-rich-quick scheme, but I am sure you are aware of the fact, that such a thing does not exist.
And it is not MLM either.