This is a program coming from a person named, Sam Seiden.
The site where his program can be found was registered in March of 2020. So (as of this writing) this is still a new course.
UPDATE: September 15th, 2021.
The Seiden Strategies didn't last long.
Most likely due to the poor service.
Now it is called Pinnacle Institute with a new website. But people behind are still the same probably just about to scam new potential customers.
Back to the original Review.
You may have heard about Sam Seiden already.
He has been already involved in some scammy project(s), so the question is Is the Seiden Strategies a scam, is perfectly legit.
Let's find out.
In the following review we are about to find out:
How much does it cost to join
Background information
The Pros and cons
and other info
Let's get right into that.
Disclaimer
Please note, that I am not a member or an affiliate of The Seiden Strategies.
This review is based on research and information available online in the public domain.
Any recommendations and conclusions are only opinions and may not apply to all persons or situations.
Overview
Name: The Seiden Strategies
Website: www.theseidenstrategies.com (redirected to www.pinnacleinstitute.com) 
Price to Join: $6,995 to 8,995 – after discount $4,995 t $6,995
Recommended: No!
The Seiden Strategies Review – Summary
The Seiden Strategies was created by Samuel Seiden.
This program concerns investment education and people who buy it should learn how to be a professional trader.
Sam's program costs several thousands of dollars.
In reality, this is not exactly a new program – in fact, it is just rehashed old program created by Sam (and 2 other persons) a time ago, called Online Trading Academy (OTA).
In February 2020 the FTC sued the OTA for illegal practices. (They promised older Americans high returns, based on false and unfounded earning claims)
Sam created the Samuel Seiden program, only in March 2020 – he probably needs to scam new people.
With that being said I don't recommend buying his products.
It is just rebooted an old "get-rich-quick- scam called Online Trading Academy.
And again, they re-name the program again, now it is called The Pinnacle Institute.
Remember whenever there are promises about low risks and high returns, it is almost certain that that thing is a scam.
Save your money.
There are many legal ways how to generate consistent income, without the risk of investing.
It requires a bit of effort and education, but generally speaking, that is the best-invested money.
I personally have learned something about Affiliate Marketing.
You basically sell other's people products or services. Find out more about this proven business model:
What Is Seiden Strategies? (or The Pinnacle Institute)
The Seiden Strategies is an online trading program that offers education in investing. Apparently, once you are through the program you will be able to become a professional trader.
That sounds promising, but at the same time, one should be careful about such statements.
Anyway, this program is divided into 2 different tiers with a different price tags and none of them is cheap (we'll get to that shortly).
It is also important to mention that the Seiden Strategies website was registered on March 20th, 2020. It is still a new program and therefore it is not that easy to make a final conclusion about the legitimacy of this system.
We know that this is not Sam's first project so let's dig a bit deeper to check out who Sam is.
Who is Sam Seiden?
Samuel Seiden is the person who created the Seiden Strategies (that does not surprise you, right:))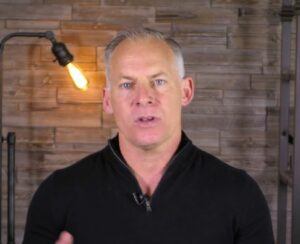 He started at the Chicago Mercantile Exchange where he learned how to predict market turns and moves. In the past 20 years of his experience, he developed the "supply and demand" market timing strategy.
Also, Sam was interested in why so many people fail and only a small portion actually succeed.
He asked a question:
"Why do professionals have the right market mindset and the rest of the world doesn't"
That is why he has developed the Seiden Strategies where a client can learn how to become a full-time professional trader.
Well, that sounds awesome.
But wait a minute, there is something really important you should be aware of.
The thing is that this is not his first program.
In the past, he used to run other programs and one of the most infamous ones is called Online Trading Academy.
I am not sure whether you have heard about this academy.
For instance, Online Trading Academy was selling "training programs" that cost up to $50,000!
Creators of Online Trading Academy (OTA) namely Eyal Shachar or Shahar, Samuel Seiden, and Darren Kimoto, collected more than $370 million from their clients.
This is only a conservative guess. It is estimated that they collected more than $600 million dollars.
Bottom line is that FTC sues Online Trading Academy for "running an Investment Training Scheme"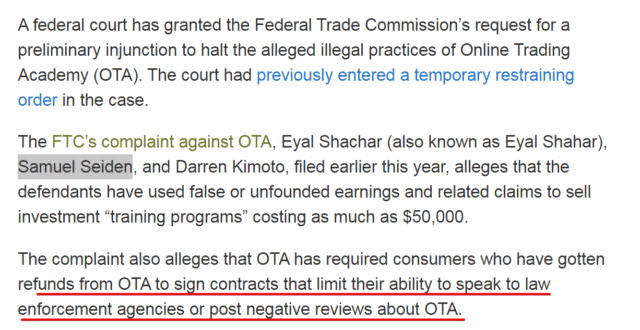 There are several issues with the OTA including claims that they had a secret strategy that can't be found elsewhere.
Also, OTA did use hypothetical trades to mislead their clients.
The truth is that these "secret strategies" were available elsewhere as well.
Eventually, this company had to return the money to the customers.
It is also inevitable from the traffic to the OTA website that people from the US and Canada are aware of these issues and they have already lost interest in it.

How about the Seiden Strategies?
Seiden Strategies is just a new version of the Online Trading Academy, in other words, an "investment school".
The old content is used again within the Seiden Strategies (TSS).
Apparently, the previous class-action lawsuits against his scam don't bother Sam.
He probably needs new desperate clients to pay off his debts (taking into consideration that all of his assets were seized by the FTC).
I mean whenever a company promises to teach low risk and high rewards, high probability trades in Stocks, etc… it is always misleading.
How Does It Work?
There are two tiers you can choose from:
The Strategy
The Strategy plus
There is this add-on product – The Emperors Club.
The Strategy
The price used to be $6,995 but for some reason, Sam has an offer where you can get this tier for $4,995.
There are the following 8 modules.
1) The forum – This is a live webinar hosted by Sam Seiden, where he offers live trading recommendations (the webinar lasts one hour).
2) The exchange – This module starts 15 minutes before the stock market opens and it is said that you will be offered trading recommendations for short-term and also mid-term active traders.
3) The Gallery – This is a trading algorithm that supposedly reveals recommendations for more than 20 markets.
4) The Arena – As the name of this module suggests, here traders can talk to teach others, share ideas, and so on.
5) The options Colosseum – a one-hour session where some strategies are revealed to investors.
6) The Investor Empire – This module contains personalized recommendations, mostly regarding the retirement portfolio.
7) High Impacts News Sessions – An access to a private Sam's Twitter account where he gives insights information so one can adjust his or her investments accordingly.
8) Member Council – This is a platform where members can send messages to each other about their investment problems.
The Strategy Plus
($8,995 + $4,995 per year)
The former price was $8,995, but with the current offer, you can get this 2nd tier for $6,995.
That is $2,000 more than the 1st tier costs and the only difference is one single module.
This single module contains only an extension of the live market coverage from 25 markets to 50 markets.
Is it worth $2,000?
Not at all.
In other words, this is just an upsell, without any additional value. Scammers use this technique to earn even more.
The Emperors Club
What do you get for an additional $1,995?
Some bonuses and prior seating at life events – actually, not very applicable for time being.
Additionally, you get access to "masterminds groups".
Again, this is just another upsell.
How Much Can One Earn Using The Seiden Strategies?
Trading is risky and it requires patience and experience.
There are people doing this full time and making a decent living, a small portion makes even tons of money.
But The Seiden Strategies is not the right place where to learn how to invest.
The Seiden Strategies has been registered only in March 2020.
His previous system has been sued by FTC.
Did he fix it and provide value for a couple of thousands?
Not at all.
Based on Sam's past I don't have a lot of hope that this program will make you rich.
Besides, based on the FTC report, the trading accounts of Sam Seiden's students were examined for performance. The results show that 75% of trading accounts lost an average of 94%.
Many of these people lost all their money.
How to Pay?
There is only one payment method and that is a credit card.
Unfortunately, there is no refund!
Then in itself is a red flag for me and I would stay away from this program.
Terms and Conditions
The terms and conditions within any website are pretty boring stuff but I want to point out that Sam did a really good job when it comes to this "new" project.
This means, that the legal disclaimers seem to be written by a bunch of expensive lawyers.
Basically, you agree that the Seiden Strategies can't be held liable for anything.
Here is a screenshot, and if it is not visible below is a copied text you can read.

You understand, acknowledge and agree that The Seiden Strategies and its directors, officers, shareholders, employees, agents and affiliates have no obligation to notify You as to which trades and returns are real versus simulated or hypothetical, and that The Seiden Strategies and its directors, officers, shareholders, employees, agents and affiliates do not verify moderator trade records or maintain records of moderator trades and results, and that moderators have no obligation to provide The Seiden Strategies any data.
So you pay several thousands of bucks for advice that comes from hypothetical or simulated trades?
What is the point of it?
By acknowledging this legal disclaimer, you agree that you can be misled and scammed – that is my understanding.
Where to go from here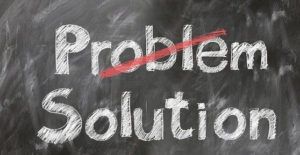 Unfortunately, this is not a program that I recommend, simply because of the infamous past of the creator.
People just don't change so easily, meaning that The Seiden Strategies has the same agenda as the Online Trading Academy.
Another thing that is worth mentioning is trading as a business model itself.
I personally don't like the trading – it requires a decent budget (that you can afford to lose) and the market is too volatile.
So it is too risky.
If you have guts and sources, go ahead – do more research and find a legitimate company to invest with.
Otherwise, if you want to know how to make an extra source of income, I have one alternative.
It does not require trading, recruitment or selling.
There must be some catch, right?
Well let me share with you the drawbacks of the business models I prefer:
It requires time and effort (meaning you have to create content and expect to see results in the long run – within 6 to 8 months)
A special knowledge that actually can anyone learn (one particular platform that has a thorough training is called Wealthy Affiliate and anyone can get started for free to test it out)
Patience and not giving up
Does this sound like a scam?
As mentioned you can review the platform, and test it out for free (you will find out that there are actually 10 lessons for free, and you can make a comparison with other courses you may have seen already).
I apologize for the shameless plug, but I felt like I owed you a bit more information than just making a conclusion about the Seiden Systems.
What I like about The Seiden Strategies

There is nothing I can like about this program.
What I don't like about The Seiden Strategies
Sam Seiden was an infamous individual in the trading world. He was sued by the Government for defrauding people
The Terms and conditions are against the potential client.
A very expensive program that does not live up  to the hype
There is no money-back guarantee
Is The Seiden Strategies a Scam?
It is safe to assume that TSS (The Seiden Strategies) is a scam.
We know that this is just a rehashed Online Trading System that has been already sued by the government.
The bottom line is that you don't want to give your money to people like Sam Seiden.
Save it and if you have a budget go to find a legitimate way how to make an extra income.
If you have questions or concerns concerning the TSS let me know in the comment section below.
Also, I appreciate all thoughts regarding similar systems.
Thank You For Reading,
Mike