Hi there. Before we get to the business I would like to point out that this is going to be a post about a digital product called Retired Millionaire and not Easy Retired Millionaire.
I know that Easy Retired Millionaire can be mistaken for Retired Millionaire, but these are different products.
If you are looking for an Easy Retired Millionaire Review, please follow the link. If you want to make sure what you are going to read, just have a look at the logo.
In this review we are going to check who is behind this program, how much it cost, and most importantly we are going to answer the question is the retired millionaire a scam?
This is a system apparently created by one guy – Greg Larson. He is a retired millionaire and he is handing over the keys to his million-dollar business to 50 lucky people.
I don't know how it sounds to you, but I am suspicious already.
Name: Retired Millionaire
Website: www.retiredmillionaire.co
Price: Advertised Price $47 + Upsells
Owners: Greg Larson (identity not confirmed)
Product Overview – Is the Retired Millionaire a Scam
The website retiredmillionaire.co has been created back at the beginning of 2017. In the last 6 months there is no significant traffic to that website, so that is an indication that the product is going to fade out.
On the web page, you can watch this video, introducing the Retired Millionaire (tRM).
It starts with the testimonial of one lady saying that she made $9,567 in her first 3 days with this system. According to the video and the screenshots there, one can see that these are earnings on ClickBank. Since there is no explanation what the tRM, one can only assume with tRM you will learn how to make money as an affiliate marketer.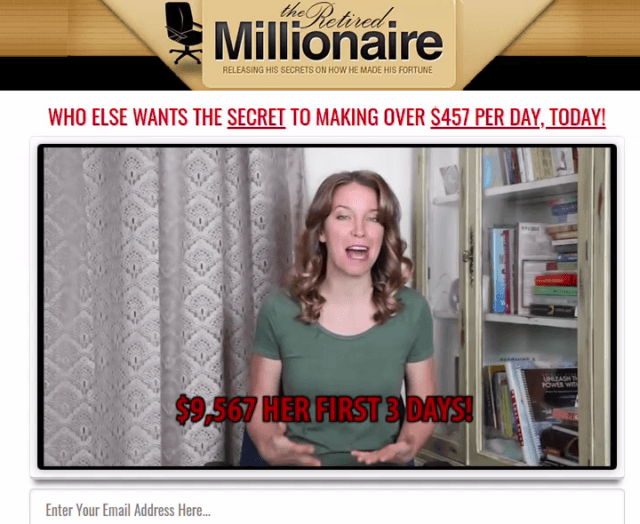 The owner of tRM is supposed to be guy Greg Larson. But I could not find any information. He says that he has been in this industry for 15 years and he made millions of dollars. I think we should be aware of such a person by now.
The only information I was able to find about Greg Larson is that Greg is a football player. Most likely he is not the guy behind tRM.
If you have already tried something with digital marketing, you know for sure that there is no way for a non-experienced person, to earn something over $9,500 within 3 days.
Of course, there are advanced marketers online who can earn $3,000 a day, but they are in the business for at least 2 years (or more).
I know some good earners and I do mention them in my other review about wealthy affiliates. You can scroll down to have a look
Back to the tRM.
The sales pitch continues with misleading information and they use fake scarcity as well.
1) Fake Testimonials with unrealistic income claims
The lady above claims that she made $9,567 in the first 3 days. Well, this lady is an actress from Fiverr. Same for the gentleman below. He also played a short role in another product called Home Income Millionaire.
We just went through the first 2 minutes of the sales pitch and there is already enough information to classify this product is misleading. And I know that for many people this is already a deal-breaker.
2) Misleading information and Fake Scarcity
They want you to believe that you are the chosen one and they don't even know how you found their site. But you should hurry up to purchase this product since there are only 50 spots left.
These are just cheap tricks and many other products use them. You can find the same tactics in products such as Five Minute Profit Sites or Digital Formula.
Don't believe them and whenever you spot them, be careful about it and do your due diligence about the product before you use your credit card.
The Good & the Bad
Money-Back Guarantee
N/A
N/A
Fake Testimonial. The identity of the owner is questionable
Unrealistic Income Claims
Fake Scarcity
Who is it For?
The product according to the owner or spokesperson is great for everybody. Because he wants to earn money, right? 🙂
Of course, he also makes you feel that you should hurry up since there are not many spots left.
This is a product available on a retail site called ClickBetter. Whoever has access to this website has also access to this product.
Here is how the sales pitch goes:
You will get a "Money Making Retired Millionaire Certified Website" that is going to be ready to make you money Today.
I know we already covered this, but this guy also says that you are going to get $500!
In fact, check the few short seconds yourself:
As he continues, the potential customer does not need a product to sell. He does not need to know any technical skills.
Apparently, all is there for you, backing you.
It is funny since if you look at the disclaimer page you see that it says, "The typical purchaser does not make any money using this system"…

I honestly do not understand.
On one hand, you are supposed to get $500 and in the disclaimer, it says, that you might get nothing.
Something is wrong with the entire tRM.
Support
There is no need for any technical skills, this guy named Gary and his team will support and coach the customer.
I don't know how they will do that, since the person is most likely fictional.
They do have an email though, where you can drop a message.
In case you need your refund, please do not contact them.
Go directly to ClickBetter support and ask for your money back there. This way you will have no questions asked. I have done it.
Retired Millionaire Price Structure
Not all that is said inside the sales video is misleading. It is said that the product costs $47.
If you go about purchasing it, it really will charge you $47.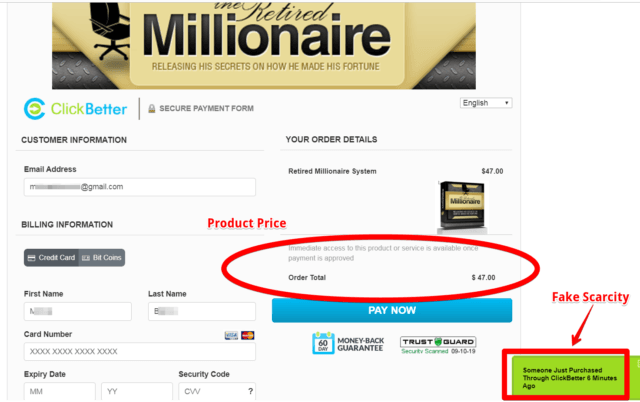 But this is not the complete price.
They don't mention that they are going to charge you the upsells as well.
To be honest, I am not sure what is the upsells structure, but according to the Retired Millionaire affiliate page (person or company who wants to promote this product and make a commission from the sale can find the details on this page), they pay up to $340 per sale.
That could be 70-75% of the price. So let's say if they pay $340 commission, the entire product must cost something about $450!
My Final Opinion of Retired Millionaire
This is one of the products that I just can't recommend at all. So many red flags right at the beginning of the sales pitch.
Fake testimonials together with the questionable identity of the owner are just deal-breakers for me.
Not mentioning the hidden upsells which might cost you up to $500.
Also one note.
I have provided them with an email I use when I do similar research. I use a different email for such purposes only. The reason is, that they may spam you with all sorts of "offers". For example, I have received an email saying that
"You received a free gift… "
"Click Here"
– Do you know where it redirects me?
To a different similar scammy product called Your Bullet Proof Profits.
Many of these products listed on ClickBetter (they used to be on ClickBank as well) have a tendency to send you misleading offers or links to join other products.
In my opinion, if I pay for a digital course, I expect to learn how to build a website and how to rank well with this website. Because if the website doesn't rank well, there is no traffic and that means no income.
I am sure you understand that.
There are many bloggers who know how to get on the 1st page of google. The good news is that it is not rocket science.
It is necessary though, to understand certain rules and how to apply them.
If you want to become an expert in this field, take a look at this educational platform. It is called Wealthy Affiliate and it provides you with training on SEO (no worries, there is no coding nothing technical), how to be effective, and many other tools.
All that stuff you need in order to monetize your website.
You can start for free, no credit card is needed.
You can take advantage of this platform for the entire week, for free. After the 7 days, you can still keep your free account or if you would like to take full advantage of this training platform, it is suggested to go for Premium.
The cost is $1 a day if paid yearly ($359 a year).
There are no hidden fees, and no upsells. The only additional cost is for your domain, about $15 a year.
You see that the price is significantly lower than the "entire package" for tRM.
The Retired Millionaire at a Glance
Name: Retired Millionaire
Website: www.www.retiredmillionaire.co
Price: Advertised Price $47 + Upsells
Owners: Greg Larson (identity not confirmed)
Overall Rank:

VERDICT
I will repeat myself, but I don't recommend this product. Right at the beginning, it was clear that the retired millionaire is misleading and it has scammy signs.
I hope you have not purchased it yet. If so, just go to ClickBank and ask for your money back.
If you have any questions, let me know in the comment section below.