First of all, I am glad you do your research, especially when it comes to RewardsFeed.
The thing is that people easily fall for a scam and then they try to find ways how to get the money back… 
I can't stress enough the importance of doing research before joining any system (especially those that promise you easy money).
That seems to be the case with this website as well.
What does it mean?
Is RewardsFeed a Scam?
Let's find out.
In about a few minutes you will learn everything you need to know about RewardsFeed, and beyond.
Disclaimer
Please note, that I am not a member or an affiliate of RewardsFeed. This review is based on research and information available online in the public domain.
Any recommendations and conclusions are only opinions and may not apply to all persons or situations.
Quick Overview
Name: RewardsFeed 
Website: www.rewardsfeed.com (rewardsfeed.net | rewardsfeed.org) – all the same
Price to Join: $0
Recommended: No
Rewardsfeed Website Shut Down
The website has already been shut down, and none of the alternative options are functioning.
This clearly demonstrates that Rewardsfeed was just another scam, as highlighted in this article.
Regrettably, there are still numerous scams similar to Rewardsfeed. It is highly recommended to read this review and familiarize yourself with the common red flags, enabling you to identify such scams.
RewardsFeed Review – Summary
RewardsFeed is supposed to be the #1 Social Earning Network where it is possible to make a couple of hundred per day.
The problem with RewardsFeed is mainly that they don't pay their members.
Fortunately, it is not difficult to verify the information they have on their website.
RewardsFeed belongs to a special group of scams, that harvest personal data (from email addresses, and passwords, to credit card information).
The best advice is – Stay away from RewardsFeed.
I understand that it becomes a necessity to have an additional income stream. but, it is important to realize that there is no such thing as "easy money".
No one can start making hundreds of dollars per day using some automated system.
Making a consistent income online requires effort and it also takes some time. With certain skills, it is possible to achieve goals faster. 
I was fortunate to find one particular educational platform where I learned an evergreen method (how to rank well in Google and other search engines). 
What is RewardsFeed?
RewardsFeed is a website where you can earn money with your mobile phone at home.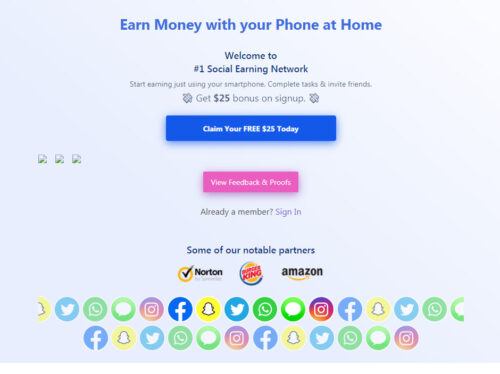 You only need to sign up and perform some simple tasks, refer your friends, and for each action, you are rewarded.
In fact, you are told that just for signing up you get a $25 bonus.
So this RewardsFeed website looks like a GPT site (Get-Paid-To).
I am not sure whether you know, but there are really some sites where you can earn by watching the ads, playing games and performing simple tasks, sometimes you have to do surveys.
The thing is that these legitimate sites pay only a few bucks, specifically, you can make probably a $1 (up to $2) per hour (and we are going to mention some of these sites as well).
But concerning RewardsFeed – is it even possible that you can make several hundreds of dollars with RewardsFeed within a couple of days?
The $25 just as a signup bonus is a lot of money, isn't it?
Let's be realistic.
We are going to find out that none of these claims are true and there are a lot of red flags within the RewardsFeed.
It is always important to double-check the information and in the following section, we are going through the red flags.
Founder of RewardsFeed
It is not clear who is the person behind the RewardsFeed.
There is no address, no telephone number, even the contact page doesn't work properly.
What does it mean?
If there is no clear information about who runs the system – be careful.
Scammers never reveal their identity, so they can disappear without any trace.
Here is an interesting piece of information: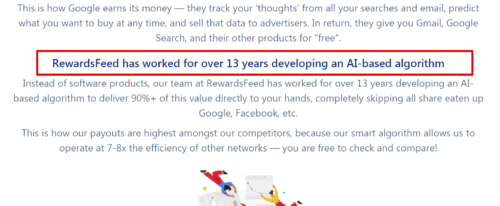 It says, that "RewardsFeed has worked for over 13 years developing an AI-based algorithm"
Now, this is really strange since the website RewardsFeed dot com was registered only in May 2020:
We have no idea who is behind RewardsFeed, but the information about being here for 13 years is a lie.
Also, the information about how much they have already paid to their members is nonsense.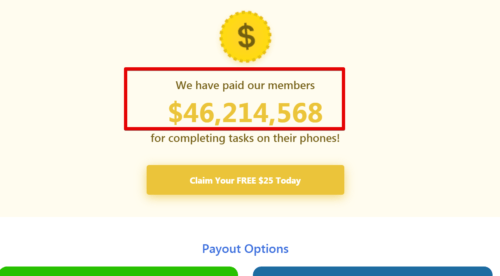 We know that this website has been active for a year (as of this writing maybe 11 months), but let's say a year.
$46M in 12 months – that is about $3.8M a month!
Are we to believe that they have paid almost $130,000 a day?
Their website had barely any traffic in 2020:
As we see (from the site similiar.com) the average monthly visits in the last 6 months was 306,000.
And it has already dropped significantly.
Who is RewardsFeed for?
As I mentioned there are many sites that pay their members for performing simple tasks and surveys.
Unfortunately, RewardsFeed is not one of them.
That's why I don't recommend joining RewardsFeed.
In case you want to know more about the legit sites, here are some examples you can check.
www.swagbucks.com
www.inboxdollars.com
or also www.surveyjunkie.com
(it is not available in the EU – the site is not accessible).
If you want to learn more about the InboxDollars check the review.
Again, these are legit ones no questions about that but it is difficult to make even $100. (It may take 3 to 4 weeks).
Back to the RewardsFeed.
How Does RewardsFeed Work?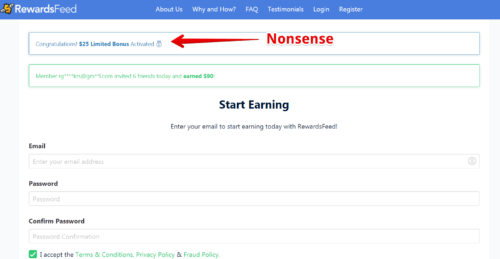 It is pretty simple.
Sign up for free
Complete Tasks and Refer Friends
Get Paid and Cash out
This sounds familiar (at least to me) and here is why.
When you have a look at the Task4Cash or GoCashouts you see that they work exactly the same way.
The same structure, same claims, same errors, and almost identical dashboard (where you actually see the tasks and ways how to supposedly make money).
And there are more of these schemes.
So far I was able to count more than 30 of them:
How Does RewardsFeed Really Work?
A lot of these scams work the same way.
Meaning, you sign up, you go through the tasks, refer your friends and other people, and once you reach the threshold you want to withdraw.
Now, it becomes obvious what is RewardsFeed all about.
You either are asked to finish more tasks or refer more friends (or both).
Otherwise, you are not allowed to cash out your earnings.
The worst part?
You will never ever be able to withdraw the money.
You can even write them an email, contact them via their contact form – no feedback whatsoever.
In the best case, you get feedback saying that you have violated their rules and therefore your account is closed.
That's it.
Game over.
You just waste your time and your friends as well.
So please stay away from RewardsFeed at all costs!
Before we wrap it up let's go over some Red Flags.
List of RewardsFeed Red Flags
1) Age of the system
In order to look legit, they claim they have been around for 13 years.

By now we know that it can't be further from the truth.
The reality is that RewardsFeed was registered only in 2020.
2) Fake Success Stories
All these so-called success stories are made up, just fake.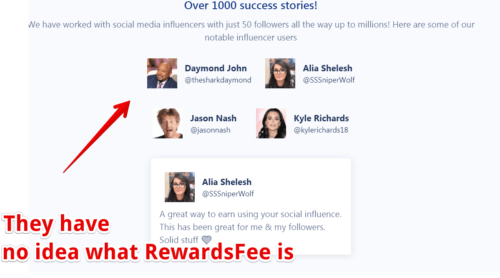 For example, this is Jason Nash.
He is a Youtuber, actor, and comedian.
His Youtube channel has more than 3M subscribers and 566M views.
Does he really need to hook up with some questionable company that can't even respond to an email?
3) TrustPilot Reviews
Usually, when you see such an icon showing the people do reviews on Trustpilot, there should be a link to the actually Trustpilot page.

The link does not work and here is why.
The reviews are not positive at all.
Check either the app.RewardsFeed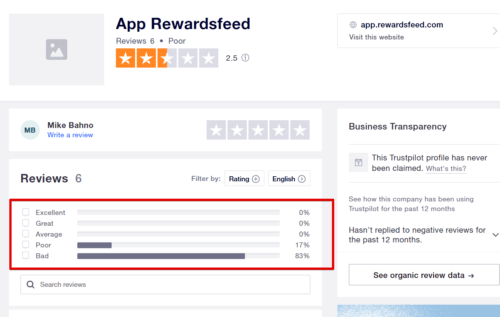 Or the regular page RewardsFeed: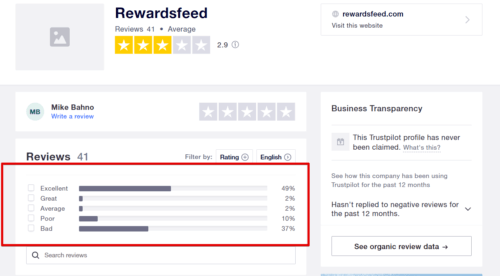 We see that people complain about the site, that does not pay and it is a scam.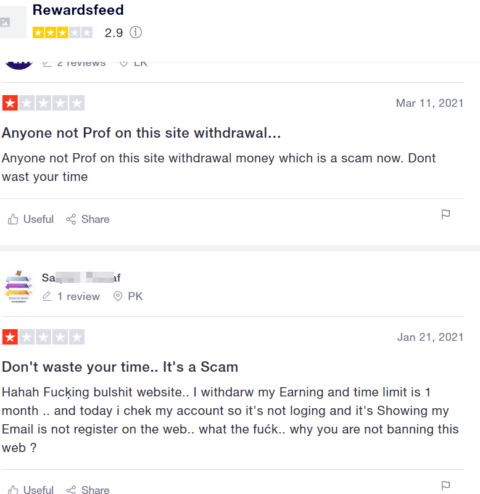 To be fair, here is a screenshot from the positive ones: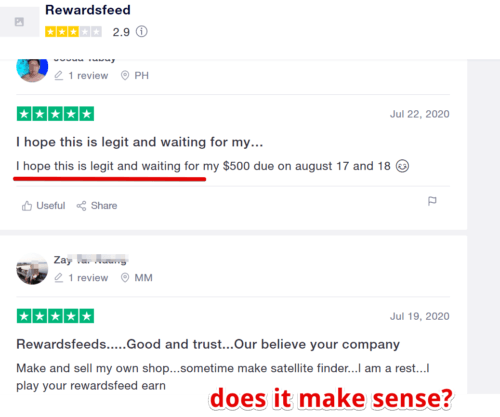 The first one – well I wish him luck, but I am sure he did not get any payment.
And the second one – to me it doesn't make sense.
Maybe you can explain it to me, please use the comment section below.
4) Unknown Owner(s)
This is common among all these scams.
There is no real person, no company shown, who runs this page.
It is not possible to get in touch with them either, and this fact alone is enough to mark the entire site as a scam.
What I like about RewardsFeed 

What I don't like RewardsFeed
It is a Data Harvesting scam
RewardsFeed don't pay their members
Just one of many scams out there (see them here)
Is RewardsFeed a Scam?
You bet.
I believe we have covered enough to convince anyone that RewardsFeed is an outright scam.
I know it may be tempting to join a site that promises you easy money.
But these schemes never work.
When it comes to making a consistent income online, it is important to realize that it takes time and a bit of effort.
It is also important to have some skills and therefore one must invest in education. That is the best investment one can do.
I am glad I have joined one particular platform teaching affiliate marketing.
It is actually possible to join it for free (and below is a link to that platform), it requires just an email address.
In case you have questions regarding RewardsFeed or you want to know more about affiliate marketing let me know in the cement section below.
I will do my best to provide you with feedback within 24 hours.
Thank you for reading
Mike