There are many survey sites offering you to make money. Some of them are really lousy and I dare to say scammy, but on the other hand, there are also some that offer a good service.
Where does the Octopus Group belong to?
Is this a legit site?
Let's find out more about this system. 
We are going to check how much can you make, what are the pros and cons, how it works, and who can join it. 
Let's jump right into that.
Disclaimer
Please note, that I am not a member or an affiliate of Octopus Group. This review is based on research and information available online in the public domain.
Any recommendations and conclusions are only opinions and may not apply to all persons or situations.
Quick Overview
Name: Octopus Group
Website: www.octopusgroup.com.au
Price to Join: $0
Recommended: Yes
Octopus Group Review – Quick Summary
This is a platform where you can earn money by taking surveys.
Octopus Group is a legit and well-established platform of its kind. It is run and owned by Australians.
The issue is that only people living in Australia and New Zealand are allowed to join the Octopus Group and actually make some money.
If you don't live in that area you can check some alternatives I offer down below.
Also, in case you are interested how I started to earn money online, you can check it out for free as well.
What is Octopus Group?
Octopus Group is a site where it is possible to make money doing some surveys.
One thing to mention right away, this survey is available only in Australia and New Zealand. Once you are in one of these 2 countries you have a good chance to make some money.
It is not that it will generate a full-time income, but a legit way how to make good pocket money.
There is no risk involved since the sign-up is for free and, to be honest, there are not many legit sites with a free sign-up.
Here watch a short video about the Octopus Group:
Foundation and Performance of Octopus Group
The Octopus Group website was founded in 2013 and it has become one of the biggest online survey sites in Australia. 
This company is ISO accredited and owned by Australians. 
As of this writing, their website gets approximately 300,000 visits per month and most of the traffic (more than 98%) comes from Australia which makes sense, right;).
Who is it for?
Octopus Group is available for anyone living in Australia or New Zealand or at least who has a telephone number registered in one of these 2 countries.
There are more ways to make money with this platform, and we will get to that in a bit.
After doing the research I came to the conclusion that Octopus Group is one of the best survey sites, so I believe anyone can make some pocket money with it.
There are many other survey sites, but the majority of them are not worth it.
With the Octopus Group, one can even make up to $10 within half an hour.
On the other hand, I would like to mention that this kind of earning is not scalable and it might become exhausting doing these surveys on a daily basis.
One simply gets tired of it.
As a part-time job, by all means, go ahead and sign up.
How to Join?
As mentioned, this survey site is available only for people living in Australia or New Zealand.
You need to provide your telephone number, so there is no real workaround (like using VPN, Virtual Private Network, or anything like that).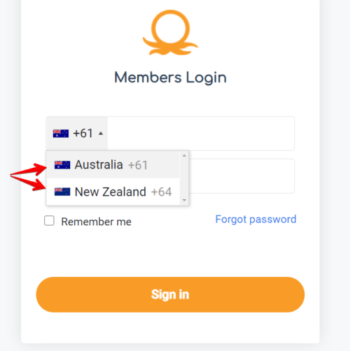 It is advisable to download the app so you are notified about the current surveys. This app is available for both systems, Android, and iOS.
This app is user-friendly and right from the beginning you can navigate through the app like a pro.
You can also do the surveys from your laptop or Desktop.
One TIP regarding the mobile app:
Keep the app running, otherwise, you won't be informed about the new opportunities.
How does it work?
As you probably know by now, you can either work from a desktop or from your mobile phone (assuming you have the App.)
Within the Octopus Group, there are 2 ways how to make money.
1) Taking the Surveys
This is the preferred way for the members of the Octopus Group to make money. 
After signing up, you get a notification on the website about the available survey. Or you can also see what is available for you on the app.
Before starting the survey, you are always informed about the time, and how long it takes to finish the specific survey, so you can plan ahead. 
As with any other survey site, you will have to answer several questions, in order for the system to find out whether you belong to the right demographic group.
2) Referral Program
This works a bit like Affiliate Marketing.
You refer a person to join the Octopus Group and you get a $1 commission.
Since Octopus Group is a legit platform that actually pays quite well, you don't have to feel bad about promoting it on Social media, blogs, forums, or your website (if you have one).
The earnings also depend on the activity of the referral.
Obviously, if your referral is not active at all and doesn't do any surveys you won't make any commission.
But I believe it is safe to assume that this guy will be performing well – since he or she also wants to make some bucks.
There is a limit though – you can earn $20 at max.
Meaning that you won't get any commission off of your 21st referral.
If you happened to think about the MLM business model, because of the referrals let me assure you that this is not an MLM, at all. 
(Actually here is my opinion about MLM, and I compare it with my favorite business model, affiliate marketing.) 
How Much to Earn?
Octopus Group pays relatively good money for the surveys.
For each survey, it is possible to make from $1 to $10.
These surveys don't take more than 20 to 30 minutes, so if you take the average, it is quite decent money.
You can even make a small amount of money for surveys where you won't qualify – that is compensation for your time.
They don't use PayPal, though.
However, they can send the earnings to your bank account right away.
Remember that in order to cash out you have to reach the $20 threshold.
One Tip:
Maximize your earnings by answering the polls that are available.
These will help to get to more surveys down the road.
What other people say about the Octopus Group
According to the reviews of other users, the Octopus Group received only an average ranking.
There are only 7 reviews as of today, so it may be not so accurate.
People mostly complain about the surveys that they take too long and the earning potential is low.
Well, exactly – this is not a high-paid job.
These are surveys, that anyone can do; they don't require special knowledge.
Based on the average reviews on the Trustpilot site, seems that people have too many expectations and they're not willing to put any effort into it.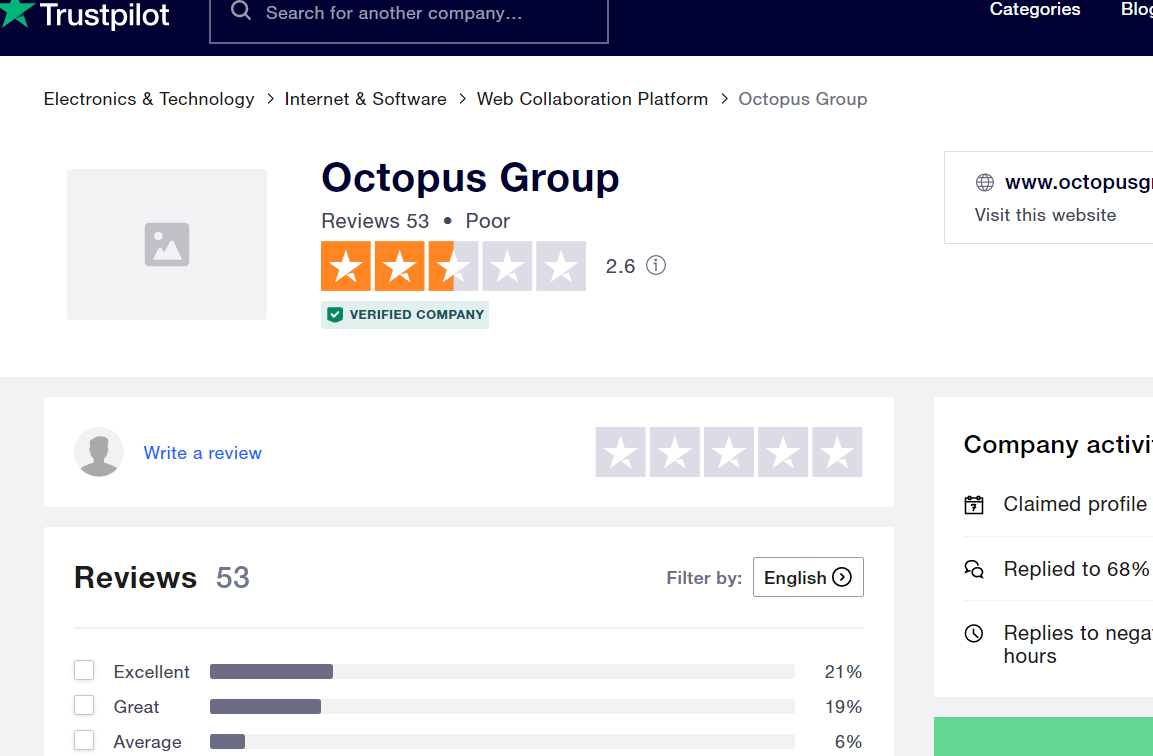 And that applies to other walks of life. 
Do you know how long it took me to make my 1st Dollar online?
It was at least one and a half years.
But once I have chosen the niche in the online world, it was another 4 months of continuous effort until the 1st $1 online.
Yes, there was a learning curve and I had to learn how to create websites and most importantly how to drive free traffic to my site. But I believe I had access to the best educational platform of its kind there is and therefore I know make 4 figures online. 
Is Octopus Group Legit?
Despite the negative reviews, do I think Octopus is a legit platform?
Absolutely.
This is one of a few sites that actually are worth signing up.
No empty promises, no fake payment proofs – really, the Octopus Group is one of the greatest survey platforms in Australia and New Zealand.
And I believe you are lucky that you have a chance to make money this way.
Unfortunately, if you don't reside in New Zealand or Australia you can't join the Octopus Group.
But let me share with you another legitimate platform where it is possible to make money, by typing.
I know it sounds too good to be true, but have a look at this SquadHelp review to learn more.

There are also other ways how to make consistent income online, but it requires effort and time.
What I have in mind is affiliate marketing where you earn money by selling other people's products. 
I have been using this method for a couple of years and I make 4 figures now. It was not easy at the beginning, but it was due to my mindset.
But all I can say is that I made the best decision of my life, so I don't have to work in any 9-5 job as I used to. 
What I like about the Octopus Group

A well-established company that pays relatively a lot for surveys
Although it is not mentioned in the article, Octopus Group has good support
The legit way how to make some money on the side
What I don't like about the Octopus Group
Not a scalable "business" opportunity
Available in Australia and New Zealand only
Some Thoughts at the End
I don't want to repeat myself over and over again, but if you happened to land on my page and scroll all the way here, let me inform you that the Octopus Group is a legit platform and if you are from Australia or New Zealand you can earn decent money.
Not a lot, but an average of $5 per survey takes 10 to 20 minutes.
We have covered two main ways how to make money with the Octopus Group and in case you are not living in these 2 countries, there are some alternatives for you that you can test out for free as well.
In case you have questions about the survey sites or particularity about the Octopus Group let me know in the comment section below.
Did you have a chance to test it out already? Or any other similar site?
Please share your experience, so we can support each other.
Use the comment section below and I will be happy to give you feedback.
Wishing you a great rest of the day and thank you for the reading.
Mike
Learn How To Make Money Online
Do you want to learn how to make money online on a regular basis?
Choose the right business model;
The simplest business model is Affiliate Marketing where you don't have to create any products, you don't deal with suppliers or customers.
You simply create a website about a specific topic and inform your readers about the product or service.
The beauty of it – you don't chase your audience.
They find your content in Search Engines like Google, Bing/Yahoo, and others.
In order to find your website, you'd need to master some skills. It is not that big a deal and anyone can learn such skills.
Check the link below to learn more about a specific platform teaching these skills (and beyond).