Hello and welcome to my site.
Are you wondering what is this company called Mirror Trading International all about?
I believe you know that this is a forex company promising to make Bitcoin.
But is it legit?
Can you really make a profit?
Or is Mirror Trading International A Scam?
In about 5 minutes you will learn everything you need to know about Mirror Trading International (or MTI);
How much to invest, what is the company compensation plan what are the pros and cons and most importantly how much can you make.
Disclaimer
Please note, I am not a member or an affiliate for Mirror Trading International. This review is based on research and information available online in the public domain.
Any recommendation and conclusions are only opinions and may not apply to all persons or situations.
Overview
Name: Mirror Trading International
Website: www.mirrortradinginternational.com
Price to Join: $100 to$10,000+
Recommended: No!
I recommend Affiliate Marketing. Check the Pros and Cons of both business models (Affiliate Marketing vs. MLM).
Mirror Trading International Summary
Mirror Trading International is an MLM company in the forex niche. You are promised to generate the income using their system and all you have to do is sit back and relax. All trading is done automatically so you only gather the profit.
Invest from $100 to $10,000 in Bitcoin and generate a profit on a daily basis.
The company operates as a multi-level marketing company with no retail products and there is no proof of an external source of income.
With that being said, the only money that goes into the system is the investment from the members.
That is enough to say that the MTI (Mirror Trading International) operates as a pyramid scheme.
As you know, Pyramid schemes are illegal almost in every country, so I strongly recommend staying away from Mirror Trading International.
There are many legal ways how to generate consistent income.
I personally prefer Affiliate Marketing, where I run one website that generates me 4 digits online.
Here is a link to the method I have been using since 2017.
Sign up for Free and I will guide you through the platform.
No Credit Card Needed – Just your email.
What is Mirror Trading International?
Mirror Trading International or MTI is a trading and networking company that focuses on Forex. It was founded in 2019.
According to their website, you can earn BTC daily. They use sophisticated tools, so the entire process is fully automated.
Apparently, you can sit back and relax, since there is no trading knowledge required.
Well, enough of that…
Let's get real;
I have been reviewing digital products for more than 2 years and let me tell you that whenever I see claims about a process that is being automated, it is more than likely the system is a scam.
I mean there is no such thing as an automated process that generates profit.
Besides this is a multi-level marketing company that is not even properly registered.
We are going to find out that there are more issues with MTI.
Who Runs the Mirror Trading International?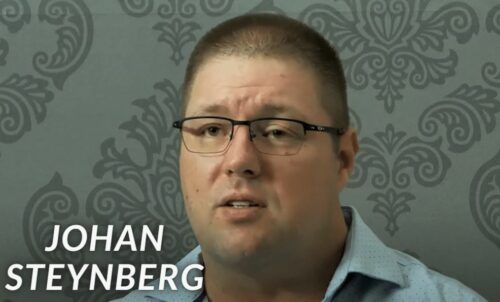 John (or Johann) Steynberg is the CEO and Founder. The company is based in South Africa and the headquarters is supposed to be:
43 Plein Street
Unit 1, Ground Floor
Stellenbosch
This is not the first company that Johann Steynberg promotes.
Before he used to have many systems and programs. Apparently, he was scammed as well and decided to create his own company.
You can also watch an interview with Johan in the following video:
The problem is that Johann Steynberg does not seem to have a forex trading background and therefore it is not quite clear where MTI is trading.
Is Mirror Trading International a Pyramid Scheme?
First of all, what is a pyramid scheme?
A pyramid scheme is a "business" model that operates as multilevel marketing where the only money that flows into the system is money from their members.
People at the upper levels receive the money from their downlines.
It really looks like the following image: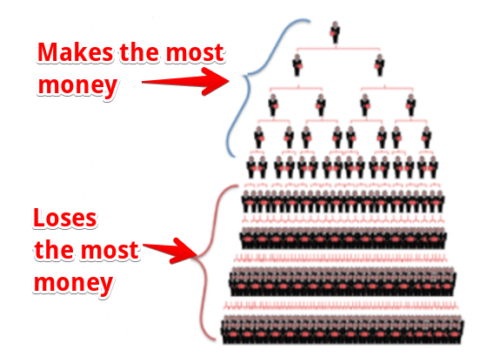 On top of that, such a company has no other source of income.
If we take a look at the legitimate MLM companies, their members can make money selling the products.
But even within the regular MLM company like Mary Kay, most people do not make enough to pay the bills.
That is just the nature of the MLM business model.
Here is a short video on how to spot a pyramid scheme:
But back to the MTI.
We know that this company has no products, nor services to offer. With that being said, it really looks like a pyramid scheme.
But let's dig a bit deeper.
How to make money with MTI?
You as a potential member of MTI are told that you have basically 2 ways how to make money.
Invest your money in Bitcoin and get a return
Recruit others into the system and build your team. You get a certain commission, based on the number of people in your downline.
Let me remind you that there are no retail products and therefore when you recruit others, you are being part of a system called a pyramid scheme.
We know that this "business model" is forbidden in most countries.
Let's take away the recruiting part and assume that you only want to invest your money and get the return.
The problem is that MTI is not registered to offer a passive investment opportunity. In other words, they break security laws.
So even though they claim that you can make about .50% every day as a profit, it is inevitable that most people won't be able to withdraw their money.
How Much to Join the Mirror Trading International
It is quite easy to register with MTI.
You need your sponsor though, otherwise, you are not able to get into the Back Office.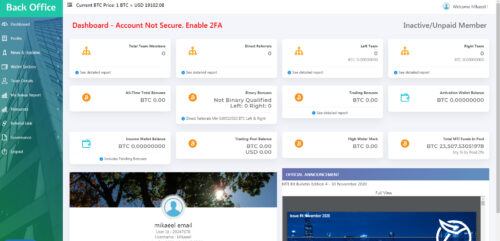 Once you are in the back office you can make an investment. The minimum amount is $100 in Bitcoin
There are other levels as well and we are going to look at them in a bit.
But generally speaking, the more you invest, the more you can make (in theory).
Compensation Plan
Unlike most of the MLM companies, Mirror Trading International offers quite a simple compensation plan.
1. Recruitment Commissions
We have already touched on this.
Basically, when you recruit others to join the company you get a 10% commission on the figure they invest.
2. Residual Commission
These are the money you make off of your downline.
Mirror Trading International uses a binary structure.
That means that you have to personally introduce one person on the left and one on the right.
You need to have at least $200 in your position in order to qualify.
The more people you recruit the more money you make (again in theory).
As already mentioned the amount one can invest can be anything from $100 to $10,000 (or more)
Depending on your initial investment here is what you can get:
Invest $200 to $999 and earn residual commission 10 levels down

Invest $1,000 to $4,999 and earn residual commission 20 levels down

Invest $5,000 to $9,999 and earn residual commission 30 levels down

Invest $10,000 or more and earn a residual commission from unlimited levels down
Residual commissions are calculated on a weekly basis, according to 20% of company generated returns.
Mirror Trading International Red Flags
Let's sum up the issues with Mirror Trading International.
First of all, the company has to prove to its members that they actually generating profit from its passive investment.
But this is not the case.
There is no proof that the company has any other source of income, other than the invested funds from the members.
Mirror Trading International is not registered to offer a passive investment opportunity.
It is also not recommended to promote such a company (there might be certain consequences).
Since it operates as a multi-level marketing company there must be an option on how to make money by selling the retail products.
But Mirror Trading International has no retail products what so ever.
The only way how to make money is to become an affiliate, in other words, to promote membership.
And that is illegal.
There are many companies like this, for example, Freebay, or PetronPay – they even use a fake company's address.
And don't be confused by the fact some people are getting paid.
It is common, especially when the company is new.
And we know that Mirror Trading International was registered in August 2019 (in Panama).
You can read the whole article here – FTC on Pyramid Schemes.
What I like about Mirror Trading International

Simple good looking website (but that's it – there is nothing more I like about the MTI)
What I don't like about Mirror Trading International
The company is not registered to offer securities.
It operates as a Pyramid Scheme
No retail products
Is Mirror Trading International a Scam?
It most likely is.
I don't recommend joining MTI.
You may have been already reading other reviews, saying that this is a legit company. Make sure to check these websites properly since they might promote the company.
If someone promotes the company, why he or she would be saying that it is a scam, right?
Mirror Trading International is still a new company so their members can be paid – the money they get are coming from newcomers.
The thing is that such a pyramid scheme can go on for years.
It all depends on their marketing and how many people will "invest".
But once such a scheme collapses it is not possible to withdraw your money – you lose everything.
Remember that, when it comes to investment, keep in mind these following rules:
Make sure that you have a quick way out
Don't invest more than you can afford to lose
Be aware, that you are on the outside, looking in. Most likely, people who are inside have a plan, you don't know about.
At the end, you can watch a short video where Jordan Belfort (the real Wolf of Wallstreet) talks about Bitcoin.
If you have a question regarding Mirror Trading International let me know in the comment section below.
Also, I would love it if you can share your experience with similar companies.
Such stories are always beneficial to other readers as well.
thank you for reading,
Mike
How to Get Started with Affiliate Marketing?
I have been a member of Wealthy Affiliate since late 2017 without prior marketing experience.
Beginning of 2018 I have learned how to build a website that drives traffic and makes sales.
Since the summer of 2019, I am a full-time internet marketer and I work from anywhere I want, whenever I want.
Training within Wealthy Affiliate teaches how to generate a consistent income in the long run.