Are you searching for an independent review regarding Legendary Marketer?
Is this system a scam or is it a legit
Can you make really thousands of dollars with Legendary Marketer?
When you google what the legendary marketer is, you see that Google and YouTube are saturated with positive reviews of this program.
But is that good?
Is this a platform where one can learn stuff that he or she can apply in the real online world?
Or is it get rich quick scheme?
I was asking myself these questions so I decided to find out what the real truth is.
Let's get started.
Disclaimer
Please note, that I am not a member or an affiliate of Legendary Marketer.
This review is based on research and information available online in the public domain.
Any recommendations and conclusions are only opinions and may not apply to all persons or situations.
Name: Legendary Marketer
Website: www.legendarymarketer.com
Price: Advertised Price $30 + Upsells (up to $30,000)
Owners: Dave Sharpe
Is Legendary Marketer a Scam or Legit?
Legendary Marketer (LM) is a program/training that teaches affiliate marketing.
The creator is a guy named Dave Sharpe. If you have not heard of him let me briefly introduce him.
David had tough early years and used to have something to do with drugs and alcohol just to ease his anxiety. But he has been sober and clean for many years and currently, he is a successful business owner, father, and husband.
You can watch a short video:
His internet marketing career started back in early 2010. David and his buddy created a product called "Empower Network".
This system used to have a very aggressive marketing strategy – they were pushing all the products to the customer, something in this manner: "Don't be wussy and buy all the products!"
Eventually, in 2014, these products provided very little to nothing value to the customers. David Sharpe as a co-founder left the "Empower Network" due to "health issues".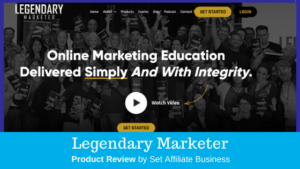 Legendary Marketer is David's new program and it is supposed to provide real value to the customer. It is not an MLM company.
This is a regular affiliate marketing model where an affiliate can make a commission off the people he recruits. It does not go any deeper, otherwise, it would be already an MLM model.
The website www.legendarymarketer.com was created in March 2016 and it has around 300K monthly visits (according to similarweb.com)
This system teaches his students how to make money online by selling this LM training.
So it is a self-promotion model.
How much can you make when you decide to promote the LM? Theoretically, you can make thousands of dollars just from one sale, but is it really that easy? It also depends if you are a member of this system and what level you are in.
The good thing is that even a non-member can promote the LM and make money, but the commission for non-members is lower.
(5-30% instead of 20-60% for members).
I will reveal the commission structure in a minute so you can form your own opinion.
The Pros of Legendary Marketer

Quite a good training on affiliate marketing
One can make a decent income
Support
The Cons of Legendary Marketer
The price is too high. On top of that to receive more commission, you have to keep buying the upsells
Focused on self-promotion
Additional costs for advertising
Who is Legendary Marketer for?
This system is mostly for people who are concentrated on high tickets. What do I mean by that?
David is not interested in people who are ok with a tiny affiliate commission, like $4 or $15. He wants to have a team of people who are after high commissions, thousands of dollars.
He wants his clients to make big bucks, right?
Well, maybe, but most importantly at the beginning, he does not reveal that to make a high commission one has to buy the upsells. The more upsells you buy, the higher the commission you (can) make.
It is a "pay-to-play" system.
This kind of commission structure resembles the structure many MLM companies use.
Legendary Marketer Tools & Training
This system teaches its students how to drive traffic mostly using paid advertising.
So let's go inside the LM system to see what the back office looks like.
For $30 you get access to "The 15 Day Online Business Builder Challenge".
For each day there is one video you can watch. You also have a bunch of assignments for each day. On the 3rd day, you have to get in touch with your new business plan advisor who will personally help you develop your business plan and get into action.
Then you can continue to finish the 15 days challenge:
The #1 Secret to starting a high-ticket business
The Core 4 high ticket business models online
Watch David build a business in under 30 minutes
How to master the inner game of wealth
Developing your business plan
Questions and Answers
When to quit a job to build your business full time
What are high-income skills and why do you need them
High-Income Skill – Leag Generation
High-Income Skill – Copywriting
High-Income Skill – Sales and Presenting
What, When, and Where to Outsource
Using "OPM" to build your business
4 Ways to Avoid "wantrepreneur Syndrome"
Your 1st dale and the Journey of your success
These whole 15 days' of experience should prepare you to start your business and make money online.
Besides the 15-day challenge, you have also access to different products.
There are 10 products, each for a different price.
Products
Here is a list of products you can buy. In essence, these are the upsells.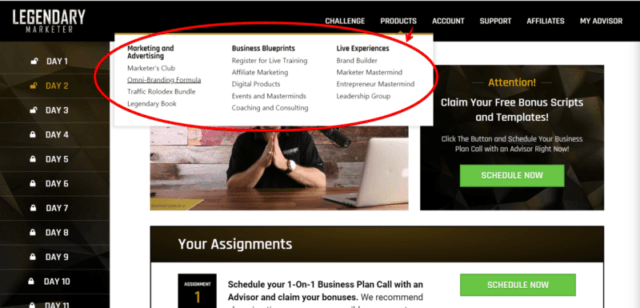 Legendary Marketers Club – the cost is $30/per month
This is the basic membership. Members have access to live training and a new class each month on topics like marketing, sales, operations, and management.
Traffic Rolodex Bundle – $247 (one-time fee)
You will be walked through by advertising experts on how to succeed with paid campaigns. It concerns advertising on YouTube, Facebook, and Google.
You are taught the mechanics of creating landing pages for each platform.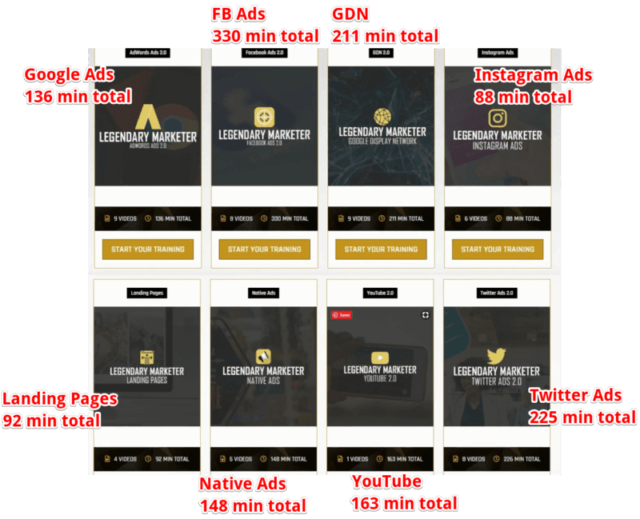 There are 8 different courses. It is said that within these courses, there are hidden secrets to learning and dominating the advertising platforms.
Apparently, you can turn $1 into $2 with paid advertising.
Legendary Book – $30
This book has a price tag of $0, but the interesting part is the shipment costs $29.95 (internationally)
There is no description of the book, so I assume it is a kind of motivational book.
Affiliate Marketing (Business Blueprint Curriculum Overview) – $2,500 (one time)
This course is supposed to show you how you can apply the 4-hour workweek (originally released by Tim Ferris – you can check the book on Amazon).
You will learn how to find a product that you can promote online and make your sale. In case you have a product ( ebook for example) you can partner with your affiliates and offer the promoters a financial incentive.
Digital Product Business Blue Print – $2,500 (one time)
You can learn how to direct your knowledge into a digital product from planning to delivery and eventually to sell it to your customer. It is much easier to promote digital products. Unlike the physical product, there is no hustle with shipping, storage, importing dealing with suppliers, and so on.
Coaching & Consulting Business Blueprint – $2,500 (one time)
We are in an age where there is too much information to go through. Almost everyone gets easily overwhelmed and it is important to select the proper information. You will learn how to become a coach so you can start to generate revenue as a consultant.
Inside this course, you will also learn how to identify your niche, create your offer, and how to deliver your service.
Events and Masterminds Business Blueprint – $2,500 (one time)
Unlike the product above, this course is about human contact and how to become a facilitator.
You will learn how to plan and host your live event. This course/product covers topics like who to hire and where to host your events.
Having said that, now we are getting to an interesting part. The following products are life experiences. So if you master one above, you might earn in a similar way like David does – just check out the price!
Legendary Marketer Mastermind – $8,000 (one time)
At this live in-person session, you will be guided by top online marketers, mostly about lead generation, conversion strategies, and so on. It is said that this is something unique and it delivers to right value to its members on two levels.
content – new cutting edge ideas
membership – members are "considered fulfilled at their first mastermind"
Members can attend future sessions for a slow-cost seat deposit – that allows them to be a part of the group for how long they wish to be.
Note: I am not exactly sure what the creator(s) of this product has in mind. To me, it is too much rah-rah, for 8 Grands.
Legendary Entrepreneur Mastermind – $12,000 (one time)
This live in-person mastermind session covers growth tips, performance strategies, wealth, and wisdom hacks so you can become the best you can be.
Once you are charged for this session, you won't be charged for a second time.
Note: For $12,000 I should be thankful that I can attend the seminar again ?!?
Brand Builder – $10,000 (one time)
This is about branding and creating a relationship with the customer. He emphasizes building trust before the sale, regardless of what business you are in. This product should help the customer to craft a system to advertise cold traffic, create a lead, and collect email addresses.
It helps you with all the technical setup and marketing know-how.
Legendary Leadership Group – $30,000 (one time)
Whether you want to be your own boss or double your income, you can follow his lead. He offers you proven methods based on what currently works. You can model his plans to launch and scale the business to 8 figures (even 9).
So you can have your plan in place to start your business and achieve whatever goal you have.
Note:
When I first saw the price I thought I was having something with my eyes. $30 grand for attending a live session?
Only recently I was checking Tony Robbin's 4 full-day seminars in the UK.
You can get a ticket for $1,000, or if you really have a budget, the premium experience costs a little over $4,000 (including a welcome reception, backstage experience, meal, and so on).
I dare to say that you don't get a 7x better experience for attending David Sharpe's live session.
Support
The support is very good within the LM. No wonder – for the price, I guess that is expected to have great support.
It can be accessed from the back office. You can directly get to the
Support – You can fill out the form with a subject, and description, attach the files and just submit your request.
Help Center – Go through the FAQ. In case you have not found your answer, just submit a request.
Facebook Group – FB group is quite large, with almost 20,000 members and the group is active.
As going through the basic program, the 15-Day Online Challenge, you are advised to get in contact with a business advisor. That I consider as good support as well.
(Although some people might have some issues calling a stranger)
They offer also a Tuition reimbursement program.
That means that as an affiliate, you can get your money back if you met certain requirements. Check with your business advisor about how you can get the reimbursement. Or let me show you the conditions right here:
You have to comply with all the explicit obligations (you can't violate the terms of service)
and
You have to make 10 sales within 2 years ( all then sales must relate to the product you ask for the refund for)
For a newbie 10 sales might be a lot, but 2 years is a long time so there is a big chance that it can be fulfilled.
Legendary Marketer Price Structure
The initial cost of $30 is not bad. It is recurring every month. You have access to the member's area where you can take the 15-day online challenge.
Then you have seen the pricing for each product – or we may call them upsells. If someone wants to join all the LM's products the total cost would be $70,000!
The price structure reminds me of a program like MOBE, which was shut down by FTC.
On his website, David reveals also the Income Structure. He explains that LM is not a get-rich-quick scheme and it is important to put in an effort. That is why it is essential to understand that most of the Affiliates will not make a full-time income.
To be more specific it is said that the average affiliate can make from $500 to $2,000, as per the screenshot from the LM income disclaimer.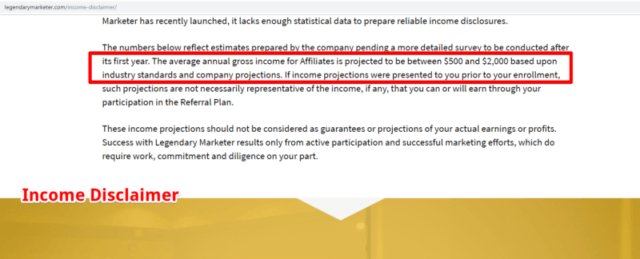 There is no such system that can make everyone rich. That is for sure. And I think it is also fair to reveal the Income disclaimer as Dave did.
But I am afraid that with such a ridiculous price structure some people lose money – and we are talking about thousands of dollars.
Affiliate Program
One thing I would like to point out is that the LM affiliate program changed in the summer of 2019.
Before if you wanted to promote any product within the LM you had to become a member and pay the $30 membership.
Since the summer you don't have to buy any product and be an affiliate at the same time.
As I mentioned earlier there are differences between those paying members and non-members. It is called Basic and Pro.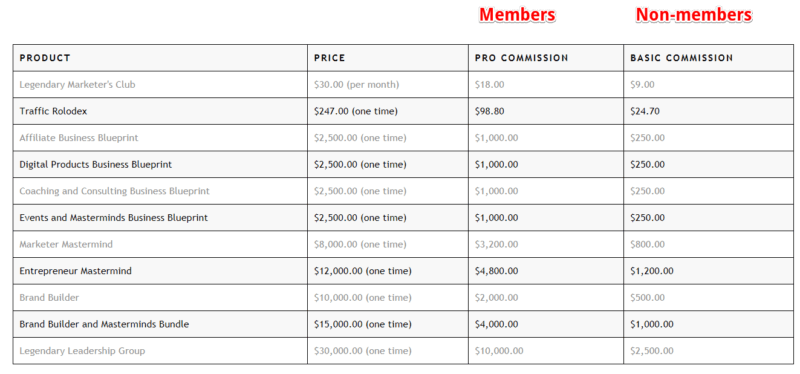 The members will have to set up an affiliate account and select the PRO option. That costs $29.95 per month. PRO affiliate earns a 40%-60% commission on product sales on referrals.
The Basic affiliate (Non-member) just fills out the form and for free can become an affiliate. The commission is 10-30% on product sales on the referral.
As an affiliate, you get one extra training.
Let me show you a screenshot of all the topics that are covered in this Affiliate section.
My Final Opinion of Legendary Marketer
LM – training is maybe good but why does it have to charge so much? Is it because he wants to bring value or just wants to make money?
It is common among these gurus they pretend to provide value but in most cases, it is not worth the price.
I mean, is it really necessary to charge tens of thousands of dollars for a product?

Sure you get the training, but what is the purpose of the training? To make money off selling the Legendary Marketer to the next person.
I believe, there is better training where one can learn affiliate marketing from scratch for a fragment of what LM charges.
If you came this far, I would like you to check the cheaper platform and let me know what do you think ( just leave a comment underneath the post)
Legendary Marketer at a Glance…
Name: Legendary Marketer
Website: www.legendarymarketer.com
Price: Advertised Price $30 + Upsells (up to $30,000)
Owners: Dave Sharpe
Conclusion
I think we all agree that the prices for most of the products are ridiculous.
The training the LM offers is intense, no doubt about that. But it is also important to understand that there are additional costs involved – in paid advertising. And if you want to see results, you must invest at least a couple hundred dollars to see how the ad is doing,
The Legendary marketer is for people with a budget. People who are willing to "invest" $3,000 – $5,000 in business online. They can earn that money back if they start to promote the very same program the LM and its products.
But what value is there?
If you would like to learn more about how to drive free traffic and how to monetize the traffic, there is a much cheaper platform and it does not primarily focus on self-promotion.
In fact, you can build your online business around any niche you wish.
And that is a real value to me.
Let me know what you think in the comment section below.
Thank You For Reading,
Mike.