"Start making $200 a day"
This is the incentive everyone sees when land on the website influencercash.co. But does it live up to the hype?
We are going to check this system since the website gets a lot of traffic and many people are wondering whether it is really possible to make such easy money.
In this review, we will try to find out who is behind the system, how it works, what are the red flags, and so on.
Why do I already mention possible red flags? Because I have seen the website and it closely resembles other systems, we are about to mention it, as well.
So, is Influencer Cash a Scam?
Can you lose money with Influencer Cash?
Let's find out.
Influencer Cash Overview
Product Name: Influencer Cash
Price to Join: $0
Creator: N/A
Rating: 0/10
Do I recommend it? No Way! It is a Scam! (It is part of the scam network)
Influencer Cash Summary/UPDATE May 2020
The Website www.influencercash.co is no longer available!
If you want you can continue to read the review since there are many clones out there that have the same patterns as this system!
Influencer Cash is a website promising you to make a couple of hundreds a day just by posting a link on social media and getting paid for that. In case someone joins you get paid even more.
The problem is that we don't know where the money comes from? How do they pay you out?
That is the problem – Despite their promises, it seems that none of their members get paid.
This entire website is built to draw the attention of thousands of people to get their email addresses (and possibly passwords) and other data as well.
It is harvesting data system.
If you are curious about how I make money online, check the link below.
Please note – it is no get-rich-quick scheme. Secret? There is not such a thing as easy money.

What is Influencer Cash
Influencer Cash is supposed to be a #1 Influencer Monetization Network promising to earn $200 a day.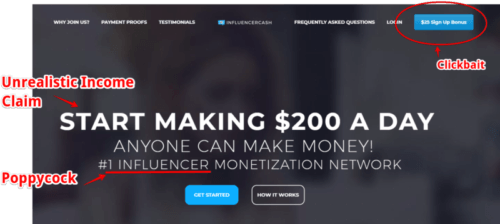 The way how to do that is easy (at least according to their website)
Join the Influencer Cash
Earn $10 for every friend you invite that joins the Influencer Cash site using your "influencer link"
You can cash out your earnings via PayPal, CashApp, Western Union, mailed checks…
If you don't like inviting people through this link, you can also earn by testing the sponsors' products.
We will get to that later.
To get into the system back office is easy and it is free. You just use your email and password. Once you get inside the platform you see a pop-up window with the "influencer link".
This is how the link looks like: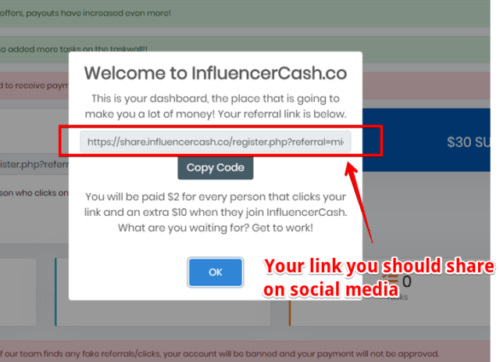 Once you join the back office you are provided with the link.
Now you can share this link, and take some tasks, and apparently, your credit will grow.
That is how the Influencer Cash works (or it should) We are going to break it down.
First of all, let's start with some facts about the website InfluencerCash.co.
Influencer Cash is apparently in the internet marketing industry for a while. They claim that their parent company has been providing solutions for its clients since 2012.
Well, they don't mention the name of the parent company, which is a shame.
One thing is for sure the InfluencerCash.co was created in April 2019 (we will need this date later).
According to we similarweb.com, InfluencerCash.co has a huge amount of traffic, considering the real value that they offer.
So many people believe their claims about earning easy money, that the traffic exploded in the autumn of 2019. The lure of easy money is difficult to resist.
But here is the spoiler alert.
No one ever has gotten paid! That's it.
None of these couple million people visited the InfluencerCash.co did not see a dime.
We will cover the red flags, but I just wanted to give you heads up, what the Influencer Cash is all about.
Who Is Behind
It is not easy to find out who is behind this system.
Based on the data from their website we know that it was registered in Panama, in April 2019.
I assume there are more people involved in this network scam. Websites like Paid Leaf, Cloud Bucks, they are all the same. And there are more of them.
One of the first ones they came out with was called Kids Earn Money.
BTW, this website www.kidsearnmoney.co is not available anymore.
But here is the screenshot of that website (when it was still on).
You can see a very similar layout, same incentives and I am 99% sure that the same people (or company) are behind this harvesting data scammy website.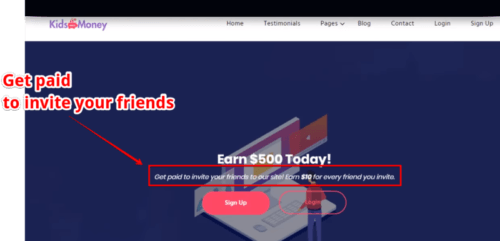 Even the BBB (Better Business Bureau), warns the visitors against the scammers who possibly create this system.
They (BBB) sent out an mail to the company address, but none is reached at the address 420 Lexington Ave, NYC, NY 10170. The mail was returned by USPS (United States Postal Service).
Here is a screenshot from the Alert that BBB has issued: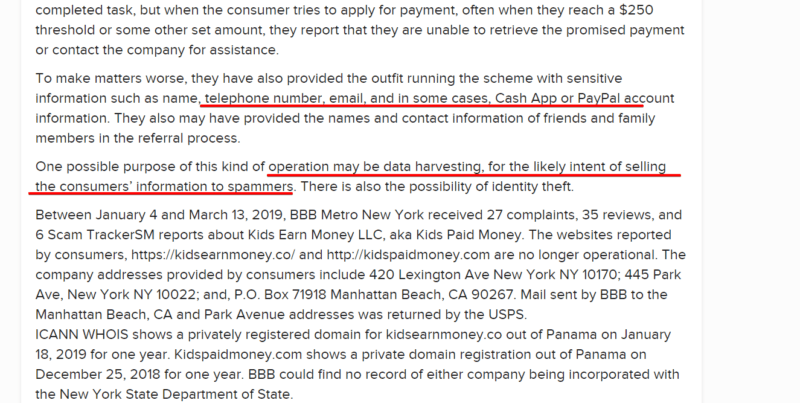 You can read the entire Alert here.
The Claims vs Facts – Let's Break It Down
In this section, we are going to cover all the red flags. If you come across Similiar products, then you know what to pay attention to so your chance of getting scammed will become smaller.
1. Payment Proofs
On their website, they include the payment proofs. These screenshots are supposed to show the income proofs of members.
To me, the creators of the website InfluencerCash.com did a lousy job, since it is easy to find out the screenshots of payments are fake.
On the other hand, they tried to use low-quality pictures so the dates are not visible, but some of them are quite readable.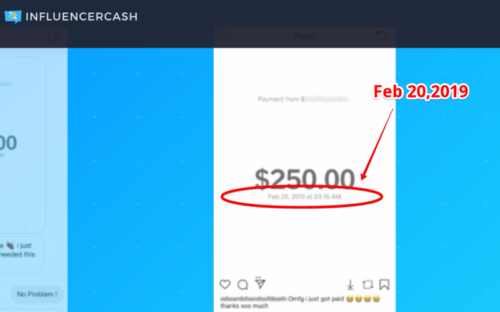 Do you remember when the website was created?
It was in April 2019.
How come they paid someone a few months prior to the website date registration?
That, to me is a lousy job – having an error within a fake.
Next time they ought to choose some fake screenshots with dates that actually make sense.
2. Brands They Work With
This website/system is part of the scam network.
It is highly improbable that these brands like McDonald or Target would cooperate with such shady companies who are behind Influencer Cash.
3. Testimonials
I have seen products using fake testimonials. Usually, these people are hired actors from Fiverr.
As an example, we can have a look at a similar system called PaidLeaf.
It is obvious that these are fake testimonials.
Now with Influencer Cash is a bit different case. This is a screenshot of the alleged Influencer Cash user.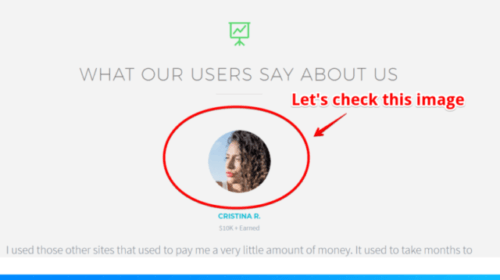 A little bit of digging shows, that this image is all over the internet.
They use downloaded stock images.
If you want to check real testimonial, I suggest you check out website trustpilot.com.
Here is a screenshot of that forum: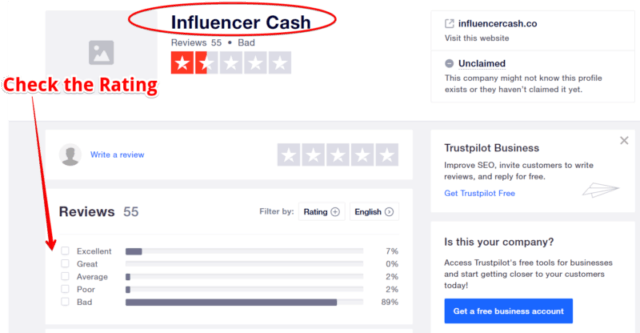 89% of reviewers mark it as a Bad – that must mean something.
There are 2 positive reviews as well:

-1st guy was still waiting since it said "pending payment" (- good luck with that. I have tried to contact this guy but could not find out how)
– 2nd guy just started and did not report back since. You see that the system requested his credit card payment!
4. Number One Influencer
I don't know if you had a chance to check also the "sisters" website, like PaidLeaf, CloutBuck, RainMoney – but they all claim to be #1 network influencer.
Just a short look at the Influencer Cash social media profiles prooves us quite the opposite.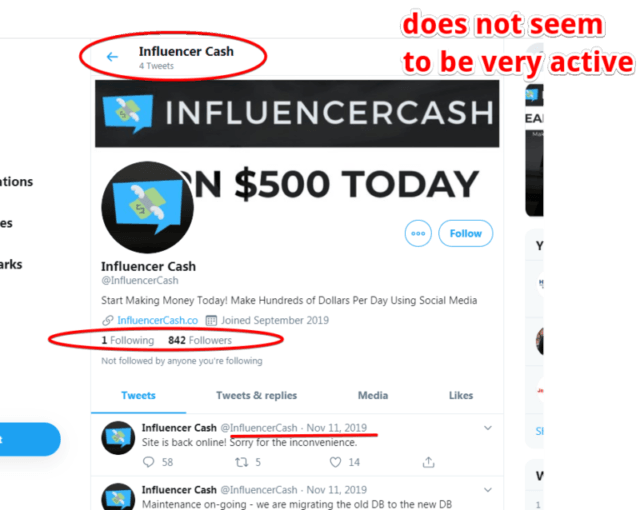 5. Payout – It Does not Happen
We have already mentioned that.
Do you know what is funny?
They have these conditions one must fulfill to withdraw the credit.
refer 5 people to the platform
have at least 20 clicks on your referral link
complete 5 tasks on the $30 task wall
have a minimum of $200 as a threshold to payout
Once you have all of the above, you contact them to get your money and here is what happens:
Your request is denied and you are accused that you used fake clicks and therefore your account will be closed.
Case closed, you get nothing.
6. Alleged Parent Company
There is no way how we can find out who this parent company is. They don't mention the name; nothing.
It says that this parent company has been around since 2012.
It supposed to show that these guys have experience in online marketing.
Well maybe they are – but how to scam people.
7. No support
The support is a joke.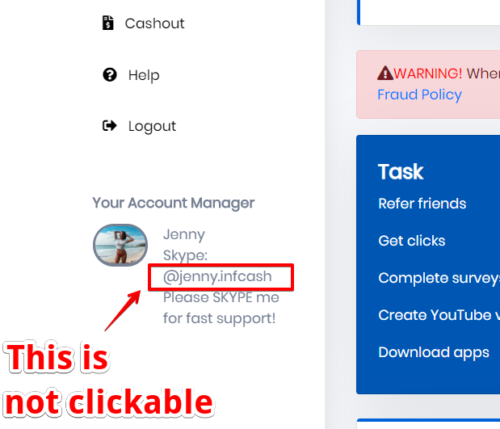 First of all, Jenny's image is a stock image.
Again this is all over the internet.
The first site I have found this picture was on Pinterest.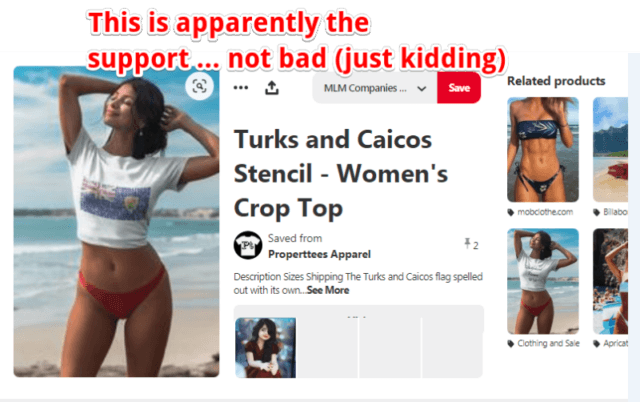 Besides, it is a fake Skype profile so there is nobody you can contact.
No support, whatsoever.
8. Task Wall
Also, let me mention that these tasks you should be performing might be dangerous (I mean your data might be at risk)
Here is the main reason why:
In many of them, you are asked to provide your telephone number. What might happen, is that you will then get promotional text messages and you would have to pay for them.
Other tasks just ask you to use your email address, but sometimes they want your credit card information as well. And that might be dangerous.
I think it is more than enough for everyone to understand that this is a 100% scam and everybody should stay away from Influencer Cash.
What I like

There is not much to like about a deceptive system.
But to fill out this section, I can mention the free access to the system.
If you want to take a look, just make sure you use some fake email with a different password.
What I don't like

Fake testimonials
Unrealistic income claims
Harvesting your data
Payment proofs are fake
Support – does not exist
How About An Alternative? What is the Best Way to Generate Income Online?
People are having big expectations from systems like Influencer Cash. The truth is that everything that looks too easy very often does not work. This is the case with this system as well.
None have ever gotten a single dollar out of the system.
But how about those websites that actually do generate income?
What is it they do?
Can we use such a mode to generate income as well?
Let's take for example a website about coffee makers.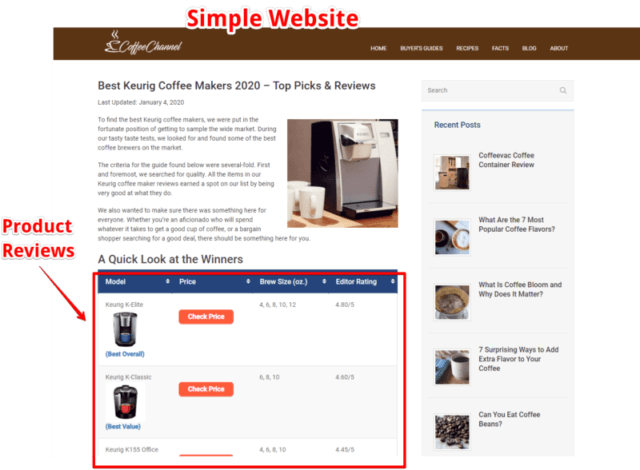 This is a very specific niche and it is important to be focused on one topic or niche only.
(Niche is also an audience you deliver your message to)
This website does product reviews. It started in 2013. At the end of last year (2019), it has more than 150,000 visitors per month.
How do they earn money?
They write coffee machine reviews. They educate people about the pros and cons and they add a link to each coffee machine. When a visitor clicks on that link, it directs him to a website selling such products. It could Amazon or any other website with the Affiliate Program.
Here the visitor checks the price and eventually buys the product.
The owners get a commission for each sale.
How much they make?
Let's do a bit of math here.
The website has about 150,000 visitors per month.
If only 10% of these people get to the website (like Amazon) and 10% of these end up buying a $150 product (average price for a product. The range is roughly from $30 to $280) you have 1,500 purchases a month.
That is about 50 purchases x $150 a day.
The average commission for such products is 8% (it could be 6% or 10%).
That means the website owner(s) (like you) get 8% off of 50x $150 -> that equals to $600 income per day.
(I am conservative with these numbers above.)
So this is one of the methods of how people actually do make money online.
Can I Have This Business Model as Well? Absolutely!
Now you understand that such a website was not built in a week or month.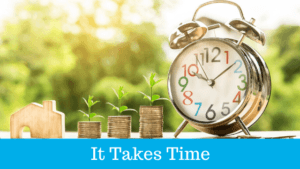 It took time and as the site grows and thus the income grows as well.
How did they start?
They started once with an empty website, as everyone else did.
But they started to create content and do the SEO stuff.
These days there are too many blogs already. So it is good to know some tips regarding the website – what to set up, what plugin to use, how to write an article so it is recognizable by google and other search engines as well.
I have seen many YouTube videos and courses about SEO and how to build a website.
They were ok, but I wanted to have a system that covers it all.
Originally I used to think that I learn how to create a website and I can do the rest on my own. I was wrong. So I signed up for one educational platform where they teach the affiliate marketing from scratch.
Only there I have found the "secret" of affiliate marketing. How to get organic/free traffic to your website and how to rank well.
I have found there also great support (not just from a technical point of view but a lot of experienced marketers who are helpful).
So, is it still possible to make money online (even full time)?
Yes, it is. With proper education, one can start generating 4 digits within a year (it may take even more – depends on the niche).
Now, it may sound funny to compare these both (Influencer Cash and Wealthy Affiliate) systems, but let's take a look at what it is inside of the WA.
Here is an overview of both systems:
Final Verdict
There is not much to think about.
The verdict is clear -> Stay away from Influencer Cash!
This is the same system as PaidLeaf, CloutBucks or ReferralPay. They all come from the same creator. We have no idea who that is.
All these websites are registered in Panama, but people behind these websites/systems might be from anyplace in the world.
It is one huge scam network.
I hope you did not sign up for the Influencer Cash and most importantly, you have not used your primary email and password. In case you did, make sure to change the password right away.
If you have any questions or comment regarding the Influencer Cash please let me know in the comment section below.
Also, I am open to any questions regarding affiliate marketing.
I will do my best to give you an answer within 24 hours.
Cheers,
Mike
Would You Like to Start Your Own Affiliate Business?
I have been a member of Wealthy Affiliate since late 2017 without a prior marketing experience.
Beginning of 2018 I have learned how to build a website that drives traffic and makes sales.
Since the summer of 2019, I am a full-time internet marketer and I work from anywhere I want, whenever I want.
Training within Wealthy Affiliate teaches what works – There is an evergreen procedure and you can learn how to start making money online as well.
Join Wealthy Affiliate for Free – You don't need the credit card.


After signing up you will receive a short message from me. Please let me know that you have received the message. You can start with the training. There is a 7-days trial period where you can go through 10 lessons.
Then you can decide whether you upgrade to Premium (Paid membership) or not.