Amway is one of the most known MLM companies operating for more than 60 years.
They have independent business owners (or IBOs) all over the world.
I'd bet, you know someone who has been involved with Amway, or at least a friend of yours friend.
It would not surprise me, that you have been contacted by a classmate you have not seen for 10 years, offering you a great business opportunity.
This is usually how it begins – the probability that he/she is involved in MLM is high, and maybe with Amway as one of the largest (if not the largest) companies within the MLM industry
But how the distributors are doing? Can they make a decent living? What is the percentage of distributors who "made it"?
We are about to find out that less than 50% of all distributors are active with an average gross income of around $200 per month. That does not sound like a lot.
Do people within Amway lose money?
Does it mean that Amway is a scam?
Or a pyramid scheme?
We are going to learn more about this company from a business standpoint.
The list of Amway products is huge, so we will briefly mention some of them but the purpose of this article is to show you whether joining Amway is a good business opportunity for you or not.
Disclaimer
I am not associated with Amway, I am not a distributor. This review has been researched with information available in the public domain.
Any kind of conclusions and/or recommendations are opinions and may not agree with all persons. 
Amway Overview
Name:  Amway
Website: www.amway.com
Price to Join: $100 + Price for products
Recommended: No as a primary source of income (It is probably OK as a hobby).
What is Amway?
Amway is direct selling or in other words, an MLM company selling health, beauty, and home care products.
It is considered the largest MLM company in the world, with more than 3 million independent business owners (IBOs) in more than 100 countries.
Amway (American Way Association) has been founded in 1959 by 2 high-school friends, Jay van Andel and Richard DeVos.
Before Amway, they both were working for a company called Nutrilite as distributors. They built up a team of more than 5,000 distributors.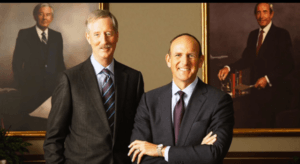 Later, Jay and Richard left Nutrilite and with the best recruiters, they decided to launch a new company known as The American Way (Amway).
They both passed away, Jay in 2004 and Rich in 2018.
Today the company is based in Ada Michigan and the current SEO is William S. Pinckney. (MLMs headquarters is usually in Utah, just like for 4Life or Rain International)
The revenue of Amway and its sister companies (under Alticor) is $8.8 billion as of 2018.
No wonder, Amway has around 20,000 employees and as already mentioned, more than 3 million distributors all over the world.
The complex above is the Amway headquarters which is comprised of 80 buildings and 3.5 million square feet (0.325 square kilometers, which is more than 80 acres) of office and manufacturing space.
4,000 people are working at Amway World Headquarters.
And of course, they have their building in major cities around the world as well.
According to the Amway page, they have more than 750 physical locations around the world. Amway's top ten markets are Korea, China, the USA, Japan, Thailand, Taiwan, India, Russia, Malaysia, and Italy.
Amway got so big, they now own even a hotel called Amway Grand Plaza.
Is Amway a Pyramid Scheme?
I would like to explain what is the difference between legit MLM and pyramid schemes.
Theoretically, a legit MLM has a product in its portfolio, so the company generates income from selling these products.
A pyramid scheme does not offer any products at all and it solely generates income on a recruiting basis.
Needless to say, all MLMs have roots in the Pyramid schemes (as it is described in this article: MLM Vs. Affiliate Marketing). The reason is that recruiting remains the best way how to earn money within any MLM.
This is where the understandable confusion comes from.
But to be clear about the pyramid scheme you can have a look at the following video on how to spot such a scheme:
So, Amway technically is not a pyramid scheme, and I understand why many folks call it that way. The reason is that Amway also heavily relies on recruiting.
The company has a long history and the top management developed a great process, training, or techniques, on how to train people so they become good recruiters.
Of course, it all depends on the personality and the individual approach, but when it comes to recruiting some methods might be on the edge…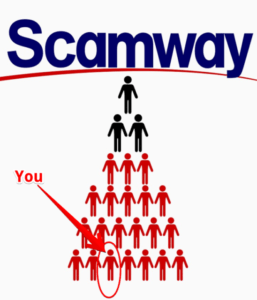 I know for a fact that the IBOs are "recommended" to study motivational literature and use such sources to get whatever they want.
It almost seems to be that they abuse these self-development books and sources.
There are cases in that upline acts like a king – in other words, members are often suggested to never question upline.
Upline is always right and you ought to do what he/she says.
This kind of environment is not for everyone and it goes beyond Amway – People within Amway mock people who leave Amway.
It looks like a cult.
Nevertheless, Amway (despite it is not technically a pyramid scheme) was involved in a class-action lawsuit, back in 2007.
Amway agreed to pay $56 million.
What is the Price to Join?
Registration fees are up to $100, regardless of where you are located.
This fee has to be paid every year.
In the US, on top of that, there is an additional fee of $62, which includes the starter kit with marketing support.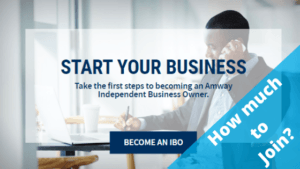 The registration fee varies depending on the country you are located in, but it is never more than the mentioned $100.
Every IBO can purchase a product kit for $100 (actually $99.99).
In fact, newbies are talked into buying this Kit since they get $245 of full-size products to test and many samples to share. It also consists of:
10 small catalogs with business and product information
training materials
quality brands
marketing support
You are provided with all this so you can start to offer them right away.
Good thing is that this is a refundable fee within 60-180 days in case you feel Amway is not your cup of tea.
Products, That Amway Offer
Generally speaking, their products are not bad. People like these products even though many of them are a bit more expensive than their competition available in regular stores.
Amway offers a lot of products and they are divided into 4 major categories:
Home
Personal Care
Beauty
Nutrition
Each category has its subcategory so let's just mention a few of them.
1) Nutrition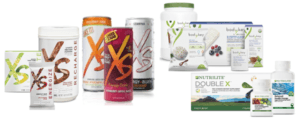 In this category, you find a bunch of vitamins and supplements, weight management, energy products, and so on.
For example the Nutrilite Double X.
It is said that this is a multivitamin of the future.
This is packed with minerals, and vitamins to support a healthy heart, brain, bones, and immune system.
It contains natural plant ingredients  "from every color on the phytonutrient spectrum" (phytonutrient = a substance found in certain plants, which is believed to be beneficial to human health and help prevent various diseases).

Ingredients:
Vitamin A, C, D, E, B6
Thiamin
Riboflavin
Calcium
Iron, Zinc, Selenium, Copper,
etc.
It is recommended to consume 1 multivitamin tablet, 1 multimineral tablet, and 1 phytonutrient tablet twice a day with meals.
Note:
The statements have not been evaluated by the FTC and it is not intended to diagnose, treat, cure or prevent any disease.
The price for Nutrilite Double X (which is for 31 days) is $71.00
2) Beauty
There are 3 subcategories you can choose from:
Let's take the Artistry brand – Artistry Hydra-V Fresh foaming cleanser
This cleanser leaves skin refreshed and comfortable so it looks healthy.
It is a soap-free foaming gel that removes excess oil, makeup, and dirt.
It is suitable for all skin types, including sensitive skin. This product is dermatologist and allergy-tested.
Use twice a day – in the morning and evening.
The price for 4.2 fl. oz (125ml) is $25.
3) Personal Care
In the personal care department, you have 3 sections:
Bath and Body Care
Hair Care
Oral Care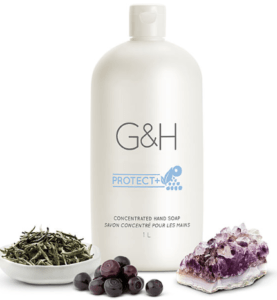 We can have a look at the G&H Protect+ Concentrated Hand Soap – 1Liter.
This soap is developed and manufactured using an exclusive technology that helps neutralize strong odors and besides cleansing, it also leaves hands hydrated and smooth.
Dermatologist and allergy-tested
Dye-free, sulfate-free, and wheat-free
Soap protects skin with a blend of white tea, natural minerals, and extract from bilberry.
1 liter of this soap (33.8 fl. oz.) costs $26.
4) Home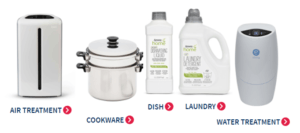 This last major section has 7 different categories:
Air Treatment
Cookware
Dish
Disinfectant cleaners
Laundry
Surface Cleaners
Water Treatment
Let's check the last one – the eSpring Water Purifier.
This water treatment system can be attached to the standard kitchen faucets using a device that just screws onto the existing faucet.
It has been constructed from safe materials and claims are backed by test data. It allows the beneficial minerals to pass through (such as magnesium, calcium, etc)
It supposedly improves taste, odor, and water clarity.
This U.S. patented carbon-block filter and UV light effectively remove more than 140 potential impurities.
This particular model costs on the Amway site $1,250.00.
I have found very similar models (also Amway products) on Amazon for a cheaper price.
Officially it is not allowed to sell Amway products on Amazon.
But, in my opinion, the IBO's who bought it to distribute it could not find anyone who would buy it, so this IBO just decided to sell for a lower price to get at least some of the money.
It probably happens quite often, even it is against Amway rules.
Here is another example from a different category.
It is always suggested to check other sources for example Amazon since you can find the same product for a much lower price.
For example, this Artistry Exact Fit costs $40 at the Amway site whereas on Amazon you can get it for almost half of it.
This is not always the case and many products are cheaper directly on the Amway site. Nevertheless, there is no harm in doing a bit of research first.
How Can You Make Money with Amway?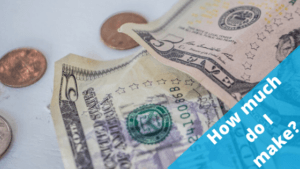 Success is very rare with any MLM and unfortunately, that applies to Amway as well.
There are 3 ways of how you can make money.
1) Retail
Your earnings depend on how much you sell. Meaning you buy products from Amway and resell them for retail price. The difference is your earnings.
2) Bonuses
This is also called a performance bonus.
It is a combination of the point value and business volume. Every Amway product has a certain number of points.
To get a bonus you must qualify for it. And the minimum number of points is 100. On top of it, you must get results in a 3 percent business volume bonus.
3) Build your team/downline
All MLMs have fancy words for recruiting.
The bottom line is that there is no way to make money unless you recruit people who will recruit other people, so your earnings come from the sales of all the people below you.
Amway Income Disclosure – Not Fully Disclosed?
The truth is that the majority of IBOs are not making any money and a big percentage also lose money.
Unfortunately, Amway does not reveal the earnings of their IBOs. The Amway US only reveals the average monthly gross income for active IBOs.
It is something over $207 per month or CA$186 in Canada.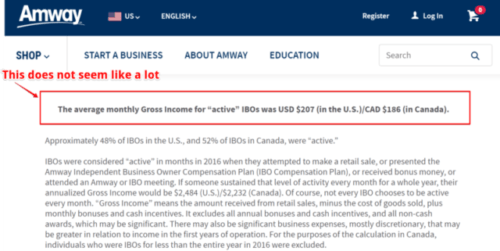 The full income disclosure is available in Amway UK only (and only from 2015 as this document is issued in March 2016). It is called the Amway earnings disclosure statement.
Let's do a little comparison.
Here is a graph comparing all US workers vs. the Amway representatives: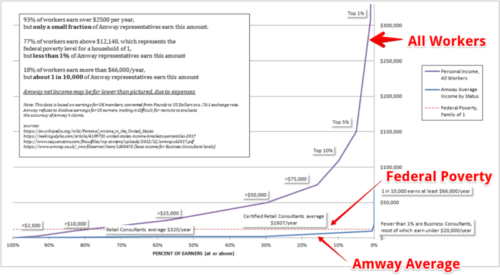 From the graph, it is obvious that 99% of Amway representatives earn under the US poverty guideline.
Only 0.01% earn over $66,000.
Many IBOs have started with the illusion of a side income.
They do not sell enough to make a profit, so they attend seminars and training which they pay themselves out of their pocket.
The seminars cost thousands of dollars, so here is one of the reasons why many of the distributors lose money.
It is not always about money, right?
Well, that is right.
I have found out that Amway suggests ending the relationship with people who criticize Amway. One would think that many of the IBOs are brainwashed.
If you do some research you will learn that people lose friends because of Amway.
They just "disappear" (not literally but from their former life; they burn the bridges behind them).
In Many MLM meetings and conferences, one can feel almost a cult-like atmosphere and without doubt, a lot of former IBOs claim that there is cult psychology behind the MLM and that includes the Amway.
Would you join Amway while there are many opportunities to generate income online?
I think this is not for everyone, only a tiny percentage of people make a decent living.
The reason is it is pretty hard to sell the pricey product ( that is everywhere) and on top of it- building your downline is time-consuming and rarely works.
There are better ways how to earn income. Especially in this day and age, where the internet is everywhere and there are more than 4.5 billion people connected.
I am not saying that one can become rich overnight, just because of the internet.
The thing is that unfortunately, the online world opened a door for scammers promising big bucks in no time and for no effort. But it does not work that way.
What I would like to say, the internet is a great opportunity to start an online business. It does not require buying or renting land/building.
One of the advantages of such an online business is a low investment, compared to the offline world.
If you want to open a franchise restaurant, you need hundreds of thousands, in some cases more than 1 million dollars.
To buy a domain and build up a website, requires only a few bucks, but it definitely requires your time (especially in the beginning, like 6-12 months) and ideally a couple of hundreds of investments into education.
What I like about Amway

Amway is the largest MLM company in the world.
This company provides its IBO's with good training. That includes training conferences (although these require additional budget)
A huge variety of products which are mostly a good quality
What I don't like about Amway
Earnings within Amway rely heavily on recruiting
Additional fees for training materials and conferences
Several lawsuits and FTC investigations
Already mentioned the cult-like company
Some Thoughts at the End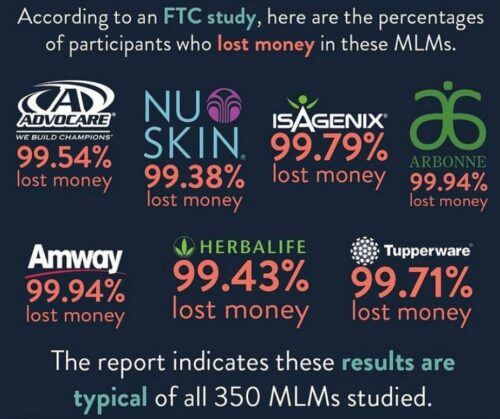 Direct selling requires skill. Very few people are born with such skill and I personally doubt there is someone born with such a skill. In my opinion, it is due to the environment in which the kid is raised.
He can pick up the techniques, so at a later age, it seems that this person is born as a salesman. In fact, he only does what he had seen as a kid.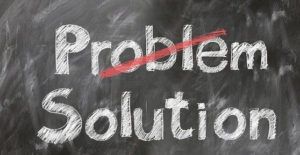 Then you have people who work hard to get the sale done/closed. Meaning they have to work on that skill. And the hard way is to sell door to door.
The crucial point is to see the rejection as an opportunity or a way how to improve.
It may take years for someone to develop into a good salesman.
Now the problem with MLM including Amway is that everyone can start to sell these things. But what percentage of people are good salesmen? Most people who start to sell don't have any experience and they see rejection as a failure and that is why only a few percent of people make it.
Then there is the issue that people don't believe what they sell. All the products are available online, or in stores, so why would your friend buy an expensive bottle of detergent from you? He has a lot of opportunities to get pretty much the same stuff in a regular store or Amazon (depends where this friend of yours prefers to shop)
So there are just too many factors that have effects on the way how MLM operates. It makes it extremely difficult to sell.
Not to mention that a person who enrolls you is your competitor. And how many others are out there working for the same guy?
And people don't like to be bothered and pushed to buy something.
They prefer to go to the internet, google it, learn about it, and then if they ok with it, they buy.
Wouldn't be perfect o have a website where people buy without you knowing about it, and make a sale?
But how to build such a website? Is it even possible for a person without any experience?
Well, it is actually easier than learning the door-to-door sale.
It is easier, but it also takes time.
According to my experience, it takes something from 5 to 8 months until the 1st sale is made.
The reason is that it takes time for google to recognize the website.

After about a year such a website has enough traffic to start generating 4 digits per month. by the end of the 2nd year, such a website earns $4,000+. Of course, it depends on the niche.

It is not easy either, but at least you do your work at your own pace and there are many more advantages to doing affiliate marketing than MLM. In this article, you find more information when it comes to the comparisons of  AM vs MLM.
Where To Go From Here?
I don't recommend joining Amway solely as your source of additional income.
There are way better opportunities these days.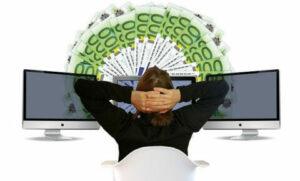 You might be interested in what it takes to start an online business – meaning having your website and being able to monetize it.
Once you learn how to do that -using organic traffic- you won't be struggling financially anymore.
Sure it will take time as well. But imagine where you were 2 years ago.
No image where you might be in 2 years from now if you start learning about internet marketing today.
You can check a lot of free sources on Youtube or another website, and do your own research. Let me also show you how I did it and where I learn internet marketing, to be precise  – affiliate marketing.
In this review, you find the basic information about the training course I recommend.
Hopefully, you find this article helpful.
I would like to ask you what is your experience with Amway – or do you know somebody involved with Amway?
We can leave this as an open discussion. So if you have any questions regarding Amway or you would like to learn more about other opportunities let me know in the comment section below.
I will be more than happy to give you an answer.