Ever heard of Amway? It's been a major player in the MLM scene for over 60 years, spanning the globe.
Chances are, you know someone who's dabbled or had a long-lost pal suddenly pitching a "stellar" business gig after a decade of silence – a classic Amway move.
But is Amway a scam? That's often the skeptical question that comes up. However, let's not rush to conclusions.
That's usually how it starts. And guess what? They're likely knee-deep in the MLM world, with Amway shining as a heavyweight – it might even be the champ.
But let's be real – how's life for these distributors? Can they really rake in decent cash? What's the success rate? Those are the real questions.
Hold tight, because we're about to uncover a less-than-gleaming truth: fewer than half of these distributors stick around, pocketing around $200 monthly – definitely not living large.
Now, here's the kicker – do folks end up losing big in Amway? Does this slap a "scam" label on Amway? Or is it that notorious pyramid scheme? Let's dissect the facts before passing judgment.
Jump to:
Disclaimer
I am not associated with Amway, I am not a distributor. This review has been researched with information available in the public domain.
Any kind of conclusions and/or recommendations are opinions and may not agree with all persons. 
Amway Overview
Name:  Amway
Website: www.amway.com
Price to Join: $100 + Price for products
Recommended: No as a primary source of income (It is probably OK as a hobby).
What is Amway?
Amway is a direct selling company, or in other words, an MLM company that focuses on selling health, beauty, and home care products.
It holds the distinction of being the largest MLM company globally, boasting a network of over 3 million independent business owners (IBOs) spread across more than 100 countries.
Amway, short for "American Way Association," was established in 1959 by two high-school friends, Jay van Andel and Richard DeVos. Prior to founding Amway, both of them worked as distributors for a company called Nutrilite. Together, they managed to build a team of over 5,000 distributors.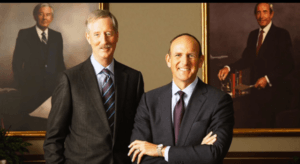 Later on, Jay and Richard departed from Nutrilite and, armed with their top-notch recruiting skills, ventured into launching a new enterprise known as The American Way, which we now recognize as Amway.
Sadly, both of them have since passed away, with Jay's passing occurring in 2004 and Rich's in 2018.
Today, the company is headquartered in Ada, Michigan, and the current CEO is William S. Pinckney.
(Interestingly, MLMs often have their headquarters in Utah, similar to 4Life or Rain International.)
As of 2018, the combined revenue of Amway and its sister companies under Alticor stood at $8.8 billion.
It's no small feat that Amway employs around 20,000 individuals and, as mentioned earlier, boasts a distributor network of over 3 million spanning the globe.
The complex you see above serves as the Amway headquarters, encompassing a staggering 80 buildings and a vast expanse of 3.5 million square feet (equivalent to 0.325 square kilometers or more than 80 acres), accommodating both office spaces and manufacturing facilities.
Impressively, the Amway World Headquarters employs a workforce of 4,000 individuals.
In addition to its headquarters, Amway also maintains a presence in major cities worldwide.
As per the official Amway page, they boast more than 750 physical locations across the globe.
Notably, Amway's top ten markets comprise:
Korea,
China,
the USA,
Japan,
Thailand,
Taiwan,
India,
Russia,
Malaysia,
and Italy.
Amway's growth has reached such heights that they even own a hotel known as the Amway Grand Plaza.
Is Amway a Pyramid Scheme?
Let's delve into the distinctions between a legitimate MLM and a pyramid scheme. The crux lies in the presence or absence of a tangible product within the business model.
In a legitimate MLM, a portfolio of products takes center stage.
The company generates its revenue through the actual sale of these products.
On the flip side, a pyramid scheme operates differently – it lacks any viable product offering and relies solely on recruitment to generate income.
It's worth noting that all MLMs have their origins in pyramid schemes, as expounded upon in the article "MLM vs.. Affiliate Marketing". The driving force behind this association is that recruitment tends to be the most lucrative avenue within any MLM framework.
This is where the confusion stems from.
To clear the air regarding pyramid schemes, you might find it insightful to watch the following video that elucidates how to identify such schemes:
While Amway isn't technically a pyramid scheme, I get why people often label it as such. The similarity stems from Amway's substantial emphasis on recruitment.
Amway boasts a rich history, and its top-tier management has crafted an effective process, training, and techniques to mold individuals into adept recruiters.
Naturally, the effectiveness varies based on personalities and approaches. However, it's worth noting that when it comes to recruitment, some methods might tread a fine line…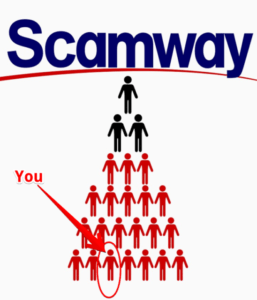 It's a known fact that IBOs are often "encouraged" to immerse themselves in motivational literature and leverage such resources to achieve their goals. It's almost as if they exploit these self-development materials.
In certain scenarios, the upline assumes an almost regal status, where members are subtly guided to abstain from questioning their authority. The doctrine seems to be that the upline is always in the right, and members are expected to follow their lead unquestioningly.
This environment isn't everyone's cup of tea and extends beyond Amway. The culture even takes a turn where those who exit Amway become targets of mockery within the community. It can certainly give off a cult-like vibe.
That being said, even though Amway isn't technically a pyramid scheme, it was embroiled in a class-action lawsuit back in 2007. The outcome saw Amway agreeing to shell out $56 million.
How much to join Amway?
The registration fee amounts to $100, applicable irrespective of your location.
This fee is recurring annually.
In the US, an additional charge of $62 is levied, covering the starter kit with marketing support.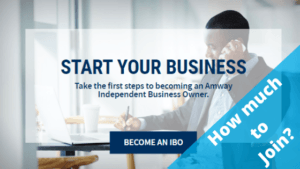 The registration fee varies by country but never exceeds the mentioned $100.
Each IBO has the option to purchase a product kit priced at $100 (specifically, $99.99). In fact, newcomers are often persuaded to invest in this kit due to its offering of $245 worth of full-size products for testing, alongside numerous samples for sharing. Additionally, the kit includes:
10 small catalogs featuring business and product information
Training materials
Quality brands
Marketing support
These resources empower you to commence offering the products immediately.
An advantageous aspect is that this fee is refundable within 60-180 days, should you find that Amway doesn't align with your preferences.
Products, That Amway Offer
Generally speaking, their products are not bad. People like these products even though many of them are a bit more expensive than their competition available in regular stores.
Amway offers a lot of products and they are divided into 4 major categories:
Home
Personal Care
Beauty
Nutrition
Each category has its subcategory so let's just mention a few of them.
1) Nutrition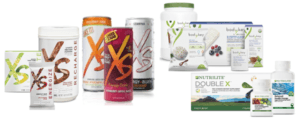 In this category, you find a bunch of vitamins and supplements, weight management, energy products, and so on.
For example the Nutrilite Double X.
It is said that this is a multivitamin of the future.
This is packed with minerals, and vitamins to support a healthy heart, brain, bones, and immune system.
It contains natural plant ingredients  "from every color on the phytonutrient spectrum" (phytonutrient = a substance found in certain plants, which is believed to be beneficial to human health and help prevent various diseases).

Ingredients:
Vitamin A, C, D, E, B6
Thiamin
Riboflavin
Calcium
Iron, Zinc, Selenium, Copper,
etc.
It is recommended to consume 1 multivitamin tablet, 1 multimineral tablet, and 1 phytonutrient tablet twice a day with meals.
Note:
The statements have not been evaluated by the FTC and it is not intended to diagnose, treat, cure or prevent any disease.
The price for Nutrilite Double X (which is for 31 days) is $71.00
2) Beauty
There are 3 subcategories you can choose from:
Fragrances
Makeup
Skincare
Let's take the Artistry brand – Artistry Hydra-V Fresh foaming cleanser
This cleanser leaves skin refreshed and comfortable so it looks healthy.
It is a soap-free foaming gel that removes excess oil, makeup, and dirt.
It is suitable for all skin types, including sensitive skin. This product is dermatologist and allergy-tested.
Use twice a day – in the morning and evening.
The price for 4.2 fl. oz (125ml) is $25.
3) Personal Care
In the personal care department, you have 3 sections:
Bath and Body Care
Hair Care
Oral Care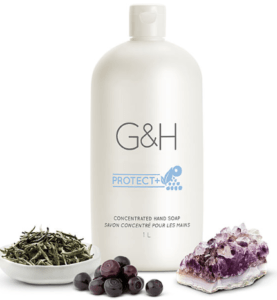 We can have a look at the G&H Protect+ Concentrated Hand Soap – 1Liter.
This soap is developed and manufactured using an exclusive technology that helps neutralize strong odors and besides cleansing, it also leaves hands hydrated and smooth.
Dermatologist and allergy-tested
Dye-free, sulfate-free, and wheat-free
Soap protects skin with a blend of white tea, natural minerals, and extracts from bilberry.
1 liter of this soap (33.8 fl. oz.) costs $26.
4) Home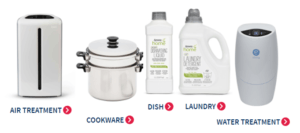 This last major section has 7 different categories:
Air Treatment
Cookware
Dish
Disinfectant cleaners
Laundry
Surface Cleaners
Water Treatment
Let's check the last one – the eSpring Water Purifier.
This water treatment system can be attached to the standard kitchen faucets using a device that just screws onto the existing faucet.
It has been constructed from safe materials and claims are backed by test data. It allows the beneficial minerals to pass through (such as magnesium, calcium, etc)
It supposedly improves taste, odor, and water clarity.
This U.S. patented carbon-block filter and UV light effectively remove more than 140 potential impurities.
This particular model costs on the Amway site $1,250.00.
I have found very similar models (also Amway products) on Amazon for a cheaper price.
Officially it is not allowed to sell Amway products on Amazon.
But, in my opinion, the IBOs who bought it to distribute it could not find anyone who would buy it, so this IBO just decided to sell for a lower price to get at least some of the money.
It probably happens quite often, even it is against Amway rules.
Here is another example from a different category.
It is always suggested to check other sources for example Amazon since you can find the same product for a much lower price.
For example, this Artistry Exact Fit costs $40 at the Amway site whereas on Amazon you can get it for almost half of it.
This is not always the case and many products are cheaper directly on the Amway site. Nevertheless, there is no harm in doing a bit of research first.
How to Make Money with Amway?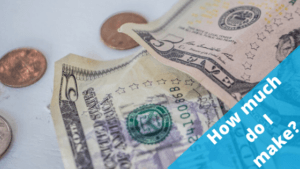 Success is very rare with any MLM and unfortunately, that applies to Amway as well.
There are 3 ways of how you can make money.
1) Retail
Your earnings depend on how much you sell. This means you buy products from Amway and resell them for retail price. The difference is your earnings.
2) Bonuses
This is also called a performance bonus.
It is a combination of the point value and business volume. Every Amway product has a certain number of points.
To get a bonus you must qualify for it. The minimum number of points is 100. On top of it, you must get results in a 3 percent business volume bonus.
3) Build your team/downline
All MLMs have fancy words for recruiting.
The bottom line is that there is no way to make money unless you recruit people who will recruit other people, so your earnings come from the sales of all the people below you.
Amway Income Disclosure – Not Fully Disclosed?
The truth is that the majority of IBOs are not making any money and a big percentage also lose money.
Unfortunately, Amway does not reveal the earnings of their IBOs. The Amway US only reveals the average monthly gross income for active IBOs.
It is something over $207 per month or CA$186 in Canada.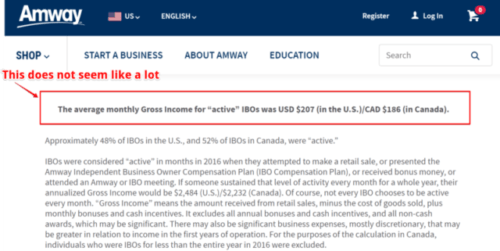 The full income disclosure is available in Amway UK only (and only from 2015 as this document is issued in March 2016). It is called the Amway earnings disclosure statement.
Let's do a little comparison.
Here is a graph comparing all US workers vs. the Amway representatives: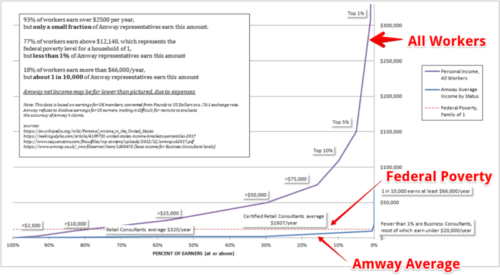 From the graph, it is obvious that 99% of Amway representatives earn under the US poverty guideline.
Only 0.01% earn over $66,000.
Many IBOs have started with the illusion of a side income.
They do not sell enough to make a profit, so they attend seminars and training which they pay themselves out of their pocket.
The seminars cost thousands of dollars, so here is one of the reasons why many of the distributors lose money.
Amway Compensation Plan
Navigating the intricate details of the Amway Compensation Plan can be quite a task.
With its complexities (more than 20 pages), it's no surprise that understanding it thoroughly might require a bit of effort.
That's why I've distilled the essentials into a concise version, offering you a clear glimpse into the key components of how Amway rewards its Independent Business Owners (IBOs).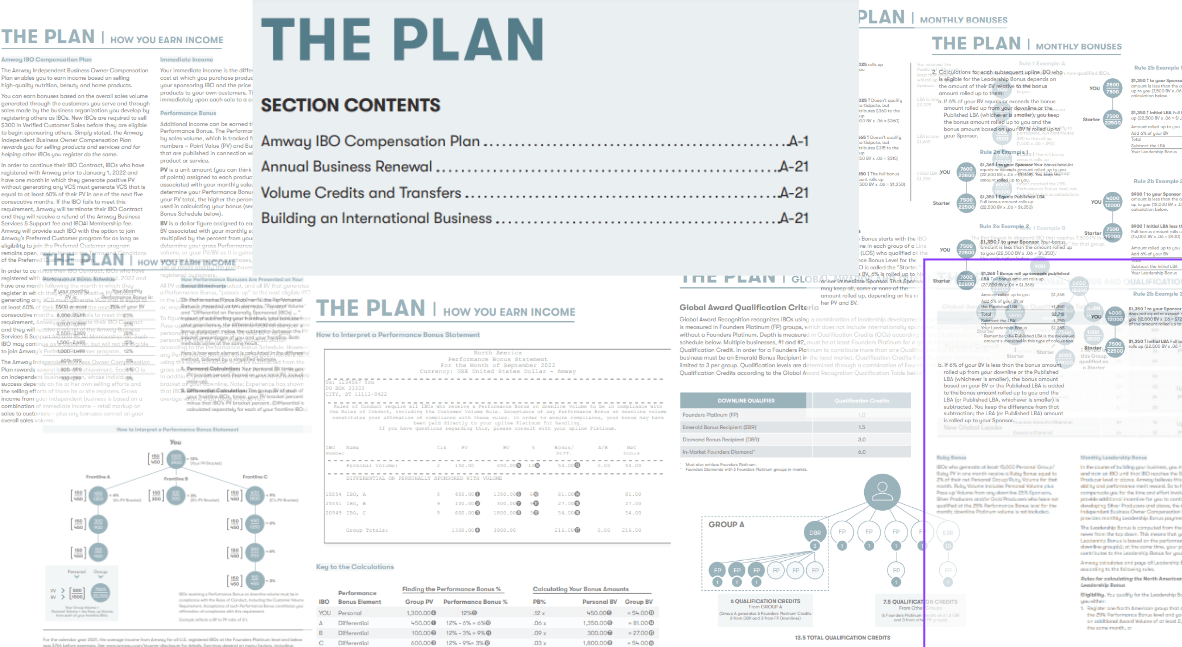 Earning Income
The Amway Compensation Plan enables IBOs to earn income by selling high-quality products, both through customer sales and by building a business organization by registering others as IBOs.
Eligibility to Sponsor
New IBOs must achieve $300 in Verified Customer Sales before they're eligible to sponsor others.
Continuation Requirements
To continue their IBO contract, those who registered before January 1, 2022, need to generate VCS equal to 60% of their PV in five consecutive months. For those registered on or after January 1, 2022, need to do this in the month following registration.
Income Levels
IBOs earn income through immediate income (retail markup) and Performance Bonuses, which are based on sales volume, measured in Point Value (PV) and Business Volume (BV).
Performance Bonus Schedule
The Performance Bonus is determined by PV totals, and higher PV totals result in higher percentages (up to 25%) for calculating bonuses.
The Amway Compensation Plan (as part of their Business Reference Guide) can sometimes feel like solving a puzzle with missing pieces, allowing key details to slip by unnoticed.
The plan's twists and turns might pose a challenge to securing a stable income.
Jumping into 2022, the Amway income scene sports a new look.
The latest update reveals that the average income for U.S. IBOs at the Founders Platinum level and below has bumped up to about $852 before expenses.
This new insight reminds us that unraveling the compensation plan's intricacies might not yield instant significant returns.
Remember, income isn't the only player here.
Expenses play a part too, potentially affecting your net earnings as an IBO. These costs include:
registration fees,
shipping charges,
taxes,
other expenses tied to samples, travel, and optional training or support from Approved Providers.
It is not always about money, right?
Well, that is right.
I have found out that Amway suggests ending the relationship with people who criticize Amway. One would think that many of the IBOs are brainwashed.
If you do some research you will learn that people lose friends because of Amway.
They just "disappear" (not literally but from their former life; they burn the bridges behind them).
In Many MLM meetings and conferences, one can feel almost a cult-like atmosphere and without doubt, a lot of former IBOs claim that there is cult psychology behind the MLM and that includes the Amway.
Any Other opportunities to generate income online?
I think this is not for everyone, only a tiny percentage of people make a decent living.
The reason is it is pretty hard to sell the pricey product ( that is everywhere) and on top of it- building your downline is time-consuming and rarely works.
There are better ways to earn income. Especially in this day and age, where the internet is everywhere and there are more than 4.5 billion people connected.
I am not saying that one can become rich overnight, just because of the internet.
The thing is that unfortunately, the online world opened a door for scammers promising big bucks in no time and for no effort. But it does not work that way.
What I would like to say, the Internet is a great opportunity to start an online business. It does not require buying or renting land/building.
One of the advantages of such an online business is a low investment, compared to the offline world.
If you want to open a franchise restaurant, you need hundreds of thousands, in some cases more than 1 million dollars.
To buy a domain and build up a website, requires only a few bucks, but it definitely requires your time (especially in the beginning, like 6-12 months) and ideally a couple of hundreds of investments into education.
What I like about Amway

Amway is the largest MLM company in the world.
This company provides its IBO's with good training. That includes training conferences (although these require additional budget)
A huge variety of products which are mostly a good quality
What I don't like about Amway
Earnings within Amway rely heavily on recruiting
Additional fees for training materials and conferences
Several lawsuits and FTC investigations
Already mentioned the cult-like company
Some Thoughts at the End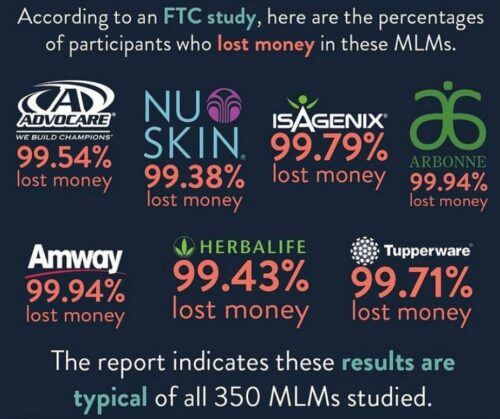 Direct selling demands skill.
Very rarely do individuals possess these skills inherently, and I personally question if anyone is truly born with them. My belief is that the upbringing and environment shape this ability during childhood.
One can absorb these techniques, making it appear later in life as if this individual was naturally born a salesperson. In reality, they're simply replicating what they witnessed as a child.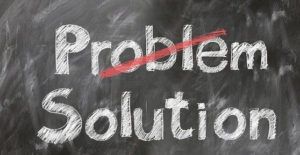 Some individuals diligently put in the effort to close a sale, often honing this skill through hard work. The challenging route often involves going door to door.
The pivotal insight is to perceive rejection as an opportunity for growth. Becoming a proficient salesperson might span years of development.
Now, MLMs, including Amway, offer the chance for everyone to sell. However, the catch lies in the percentage who truly excel in sales. Many newcomers lack experience, viewing rejection as defeat, which contributes to the low success rate.
Another issue arises from people doubting what they sell. With products readily available online or in stores, why would your friend choose to buy pricey detergent from you? Their options are numerous, be it a regular store or Amazon – wherever they prefer to shop.
Numerous factors shape the operation of MLMs, rendering sales a Herculean task. Moreover, your enroller often doubles as your competitor. How many others work for the same person?
People prefer avoiding pushy sales tactics; they lean towards researching online, making informed choices before buying.
Imagine having a website where sales occur without your active involvement – ideal, right? But how can one build such a website? Is it attainable for a novice? Surprisingly, it's simpler than mastering door-to-door sales.
While it's easier, it's not instantaneous. From my experience, it generally takes 5 to 8 months for the first sale to happen. The delay is because Google needs time to recognize your website.

Around the one-year mark, a website of this nature tends to accumulate sufficient traffic, initiating the generation of a four-figure monthly income.
As the second year concludes, the website's earnings can escalate to $4,000 or more. Naturally, these figures vary according to the niche.
While it's not a walk in the park, at least you control the pace of your work. Engaging in affiliate marketing offers a slew of advantages over MLM. For more insights, refer to the article delving into the AM vs. MLM comparisons.
Conclusion
There are certainly better opportunities available in today's landscape.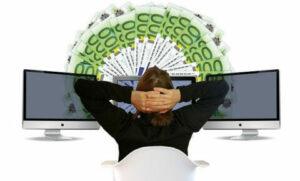 Perhaps you're intrigued by the journey of starting an online business – the kind where you have your own website and the potential to monetize it.
Once you grasp the ropes of driving organic traffic, financial struggles might become a thing of the past.
Of course, this path also requires time and dedication. Consider where you stood just two years ago. Now, envision where you could be two years from today if you begin diving into the world of internet marketing now.
You can explore a plethora of free resources on platforms like YouTube or other websites, conducting your independent research.
Allow me to share my journey and the avenue through which I learned internet marketing, specifically affiliate marketing.
This review encapsulates the fundamental insights about the training course I heartily recommend.
I trust you've found this article valuable. I'd like to hear from you – Have you had any experiences with Amway or do you know someone involved with it?
Let's keep this dialogue open. Should you have queries about Amway or wish to explore other opportunities, please don't hesitate to leave your thoughts in the comment section below.
I'm more than delighted to provide you with answers.
Thanks for reading,
Mike.