At this time and age, more and more people want to find a second source of income, or they even want to try to open their own online business.
It is perfectly understandable.
Also, the majority of companies go online and it applies to MLM companies.
MLMs are considered an easy way to start your own company since you act as an independent distributor.
One of the MLM companies is AIM Global or Alliance in Motion Global.
The problem with MLM companies is that they are considered pyramid schemes or scams.
Is it true?
Is AIM Global a Scam?
Jump to:
We are going to find out the truth about AIM Global.
This review is going to check the Alliance in Motion Global company as a potential business model for you as an aspiring entrepreneur.
So by the time you are finished reading this post, you will know for sure whether becoming an AIM distributor is a good move or not.
Disclaimer
Please note, that I am not a member or an affiliate of AIM Global. This review is based on research and information available online in the public domain.
Any recommendations and conclusions are only opinions and may not apply to all persons or situations.
AIM Global Overview
Name: AIM Global or Alliance in Motion Global
Website: www.allianceinmotion.com
Price to Join: $140
Recommended: Not as a main source of Income
AIM Global Review – Quick Summary
AIM Global is an MLM company that operates for more than a decade and it has expanded to Europe, Asia, and also Africa. This company has faced several issues concerning false claims about its products.
It also has overpriced products and this makes it very difficult to sell in an already saturated market.
Success is extremely rare within AIM Global and most people lose money.
I don't recommend joining this company from a business point of view. In other words, this is not a good method of how to make consistent income online.
There are many other methods and ways how to make money (especially online) and this is my favorite one – Affiliate Marketing.
I have learned how to create a website, how to get free traffic, and how to monetize the traffic using the method.
What is the AIM Global?
AIM is a Multi-level Marketing company (or network marketing company) that deals with health and fitness products. It is based in the Philippines but it operates also in almost entire of Southeast Asia and it expands to other regions as well.
The company was founded in 2006. The board of directors consists of Dr. Eduardo Cabantog, Mr. Jogn Asperin, and Mr. Francis Miguel.
The CEO and president is Dr. Cabantog (or Doc Ed).
He was awarded as one of the 10 most outstanding entrepreneurs for 2010, by Entrepreneurs Magazine Philippines.
AIM Global likes to call itself an international distribution business.
Currently, they have more than 130 offices in about 20 countries ( to mention some – UAE, Nigeria, Singapore, Kenya, Brunei, Kuwait, New Guinea, Rwanda, Togo, etc)
Unlike many other MLM companies, AIM focuses more on "cheap" countries.
Legal Issues with the AIM Global
There are no legal issues with AIM Global. At least nothing can be trackable. The main reason is that organizations like FTC do not have jurisdiction in the Philippines.
And I have not found any other issues with AIM Global.
Is the AIM Global Pyramid Scheme?
People have a tendency to call all MLM companies pyramid schemes. That is an overgeneralization though.
To put it simply, an MLM company that has products to sell and the distributors make a profit by selling these products can't be called a pyramid scheme.
On the other hand, where people are promised huge earnings and on top of that are sort of forced to recruit others, that is a typical sign of the pyramid scheme.
Here is a short checklist that will help you to decide whether you deal with the Pyramid scheme:
We know that AIM Global has a lot of products to offer and its distributors can make money from selling these products (at least theoretically).
So legally we can't call AIM Global a pyramid scheme.
Who is AIM Global for?
I know a lot of people want to have their own businesses, they want to run their own companies.
Becoming the AIM global distributor is in a sense an owner of a tiny company/business.
You start basically with a One-Person business.
But before you join there are a couple of questions you need to answer for yourself.
Are you a good salesperson (or do you intend to become one?)
The core of your business is selling. Selling the products and convincing people to join AIM Global.
Because let's face it. If you don't recruit others to join, you don't make a lot of money.
Most likely you will start by contacting your relatives, friends, and colleagues.
Now if that does make you feel awkward, then your chance of succeeding within the MLM is very low.
(I know it is awkward for me, that is why I have chosen another path – affiliate marketing)
Have you checked the competition?
And by competition, I mean not just a different MLM company operating in the same niche.
I mean similar products available online or at your local store.
Because you must be prepared, that people already buy such products online for less. They even may have their favorite brand and you would have to do your homework before start selling your product.
Do you have a budget?
The budget is not just the registration fee and investment in products.
You must be prepared that you won't sell a single item in the close future and yet you still have expenses.
That could be fees for the website, advertising, promotional materials, travel costs, and let's not forget about the costs to buy the products every single month.
The thing is that every MLM requires you to buy a certain amount of product within a month (or 5 weeks) just to maintain the status of being an active distributor.
These are just 3 basic points you want to consider before joining AIM Global (or any other MLM).
What is the Price to Join the AIM Global?
If you want to become an AIM Global distributor, you need to make an initial investment of ₱6,980.
As of today's writing, the exchange rate is U$D0.02 for 1₱. So for the equivalent of $140, you become the distributor.
For that investment, you can choose from 4 different packages or 3 promotional packages. The packages may differ depending on your location.
You as the distributor get a 25% to 50% discount on all products. That means you can sell the products and make commissions.
Products, That AIM Global Offers
There are 4 main categories of products that AIM offers.
Personal Care
Food Supplement
Functional Beverages
Dietary Supplement
The most favorite category is Functional Beverages. You will find more than 10 different beverages within this category.
These are mostly coffee-flavored drinks that improve your health.
For example, Liven Alkaline Coffee costs $7.50, or VIDA Cardio Ceuticals for $16.60.
Here is the list of other products:
C24/7 Natura-Ceuticals
Mychoco – Alkaline Chocolate Drink
Complete Phyto-Energizer
Choleduz Omega Supreme
Restorlyf – Longevity Formula
CareLeaf
Liven Alkaline Coffee
Burn Slim
Vida Maxx
What Do People Say About the AIM Global?
When it comes to the product, it is a very subjective manner. Some people do like the products some don't.
According to Glassdoor.com majority of people like the products and also work for AIM Global. The cons are mostly about working long hours and being persistent.
Nothing new; when you want to accomplish something in any sort of business.
AIM Global Compensation Plan (or Financial Rewards Plan)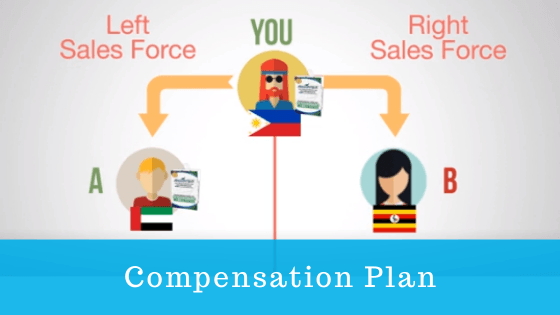 Here are 6 ways how you can make money with AIM Global.
1) Retail Profit
As already mentioned you can make a 25% profit on each product you sell.
So that would be 1st and the basic way.
The following ways of making money with AIM include recruiting other people into your team.
In the MLM language – you are building your team.
In normal language- you are recruiting your friends, relatives colleagues, and strangers.
Here is briefly how it works:
2) Referral Bonus
For each person, you refer to AIM Global you get an equivalent of about $10.
3) Match Sales Bonus (Pairing Bonus)
You are building a binary organization.
Meaning as soon as you find someone who joins you on your left leg and at the same time on your right leg you get the matching bonus, which is ₱1,000 (equals to $20).
If these guys find other people (on both sides) you get an additional ₱1,000 (equals to $20).
In the AIM Global Marketing plan, the explanation is misleading. It goes like this:
"…you earn unlimited and continues pairing bonus of ₱1,000 until infinity".
Your team can't go until "infinity" because of the limited number of people on Earth. This is a kind of language that people running pyramid schemes use. That is why pyramid schemes are illegal in most countries.
Let's continue with the AIM Compensation plan.
4) Unilevel Income
This is based on the levels below you.
You get 5% of your direct referrals up to the 10th level deep.
5) Overriding Commission
Your income depends on your rank.
Let's say you are a silver executive. You get a 10% overriding commission on your group's sales volume.
But your group's sales volume must reach 10 points.
Gold Executive – If 100 points are reached you get a 20% overriding commission.
Global Ambassador – 1,000 points need to be reached and you get a 30% overriding commission.
Let's have a look at the entire ranking system: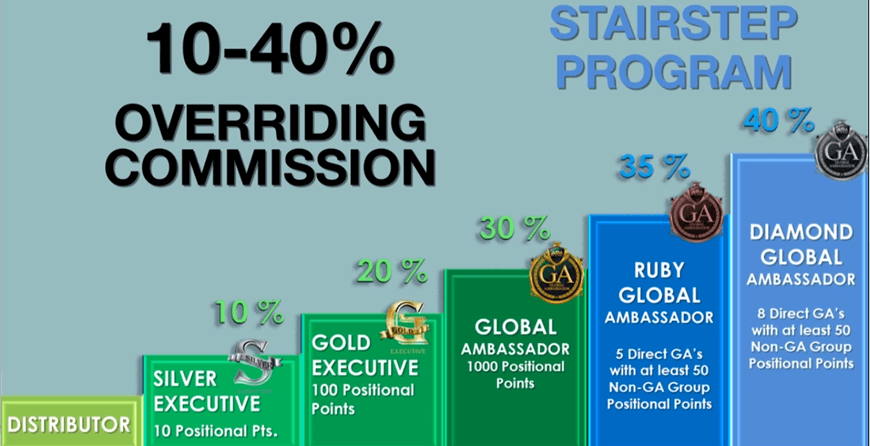 6) GA Max 10
You can earn 2% of your downline and the group sales if promoted to a global ambassador. It applies to 10 levels deep.
Don't worry if you don't understand it completely. It is meant to be that way.
Basically, you have to make a purchase every single month in order to stay active distributors. No one cares whether you sell it or not.
On top of that, you are "advised" to recruit every single person you talk to regarding the AIM Global products.
How Much Can You Make with the AIM Global?
Income disclosure is a must for every MLM company. They have to reveal the data, so people can take a look at how the company does and what is the earning potential for the distributors.
AIM Global is not based in the US though and in Philipens this is not mandatory, I believe.
But it would be helpful to find out how much people earn.
Unfortunately, there is no income disclosure document on their website. We can take a wild guess, as to why it is so…
Based on the other MLM reviews, it is safe to assume that the majority of people make less than the average salary within the region/country.
Why Do People Lose Money with AIM Global?
Usually, the reason why people lose money with AIMglobal (and with any other MLM) is they have a hard time selling the products, while they are obliged to keep buying the stuff each and every single month.
If they stop buying a certain amount of products, they are no longer considered active distributors and they lose the right to sell the stuff.
They basically become or "downgrade" to customers who can buy the products but for the retail price.
The majority of people struggle to sell the products and they can even be forced by their uplines to make calls, to contact people who already denied the products, and basically bother others.
At the end of the day, this can be a very stressful environment to work in.
I personally don't like this model and unless you handle rejection well, you may have a hard time making a living as an AIM Global Distributor.
A Simpler Way to Generate the Revenue
The question is – how to make money online?
Is there a simple method of how to generate income and just enjoy life?
The answer is NO.
You have to put effort into the business and that includes the online business as well. You need to work, create content, and provide value before you can slow down and enjoy passive income.
But in my opinion, it is easier to create a website and make money as an affiliate marketer than the AIM Global distributor.
You don't have to recruit anyone, you don't bother your relatives and strangers.
The bottom line is, that you don't chase people to make a sale.
The beauty of affiliate marketing (if done right) is that people chase you. That is one of the major differences between MLM and Affiliate Marketing.
I mean, they go to Google to find an answer to the problem or issue they have.
They find your website (because you know how to rank well on Google) and you help them to make a good purchase decision.
This platform called Wealthy Affiliate, teaches how to build a website that drives a lot of organic (free) traffic and eventually how to monetize the traffic.
You can get started to free and take the first 10 lessons. It is like a probation period where you learn whether this is something you want to do or not.
It does not cost you anything, you just need to use your email to create a profile.
What do I like about AIM Global?

Well Established Company (since 2006)
Distributors get free training
What I don't like about AIM Global?
As a distributor, you still have to report to your upline (also you can be pushed to close the sales and be constantly under pressure)
Success is extremely rare (pretty difficult to rank higher). One of the reasons why Income disclosure is missing is probably the low learning potential among the distributors.
Additional budget needed
Is AIM Global a Scam?
AIM Global is not a scam.
This firm has been around since 2006, so it is a well-established company. The headquarters is in the Philippines but they expand to other regions as well.
So there is some potential if you like the MLM business model.
If you have a budget and are ok to sell the product to relatives and offer them work for you then you may like it.
Otherwise, I think you should reconsider and choose another path. One of the easiest ways how to make money online is in my opinion affiliate marketing.
Sure you need to learn new stuff, but learning is part of life. If you don't learn new things, if you don't progress, you basically go backward.
If you still reading this, that means you want to change your life – you are willing to educate yourself.
This platform I have mentioned teaches what is affiliate marketing and how a newbie without prior experience can build a website and run at least 4 digit online business.
In case you have questions let me know in the comment section below. I will try to give you feedback as soon as I can.
What is the Best Online Business Model?
I personally don't like the MLM business model. At the end of the day, it is all about recruiting.
I have tried several business models, but the one that I prefer the most is called Affiliate Marketing.
As an affiliate marketer, you would earn a commission for recommending the best products and services in a certain niche (industry you have some experience or even expertise).
You don't have to chase anyone.
Basically, you create your own website and learn how to drive traffic to your website.
So people (your audience) type certain questions in Google search and ideally they find your website/content.
They read it, and when they click on the affiliate link on your website they are re-directed to the owner of the product or service.
When they make a purchase you make a commission.
It is a simple business model, but it is necessary to choose the right approach.
Check the link below, where you will get access to one of the best affiliate marketing training there is, for a reasonable price:
You have a free trial (the first 5 lessons are for free).