"Hey guys, what's going on, Aaron Chen here, I hope you're doing well. If you are watching this video right now you might be doing some research on this product/website, called.…"
Sounds familiar?
If it does, you know that this is Aaron Chen's intro on his Youtube channel, whenever he does a review of a certain product.
How about his product, though?
Let's take a look at what Aaron offers.
I did my best and spend a couple of days doing research. And as a result, here is a thorough and honest Invincible Marketer review.
In the following article, you are going to find out pretty much everything important you need to know about Aaron's course, including:
The Price
How It Works
The Pros and Cons
and beyond
Let's get started with a general overview of Invincible Marketer:
Disclaimer
Please note, that I am not a member or an affiliate of Invincible Marketer. This review is based on research and information available online in the public domain.
Any recommendations and conclusions are only opinions and may not apply to all persons or situations.
Invincible Marketer Review – Summary
Invincible Marketer is an online course teaching how to make money online using affiliate marketing.
The entire course is divided into 17 modules that consist of both theoretical part and practical parts.
The theoretical part is mostly video training (more than 30 hours).
For each module, there is an assignment that each student should go through in order to apply the knowledge.
Every student has access to a private Facebook group with more than 1,400 members where you can discuss issues, and ask questions.
Aaron as a creator of the Invincible Marketer also engages in the group as well.
The price for Invincible Marketer is less than $70 per month, however, it will be necessary to pay a bit more for extra tools.
If a person is unsatisfied with the training and has taken action according to the Invincible Marketer refund policy, he or she can get his money back within 30 days.
But overall, this is valuable training providing great information that I can recommend.
What Is the Invincible Marketer?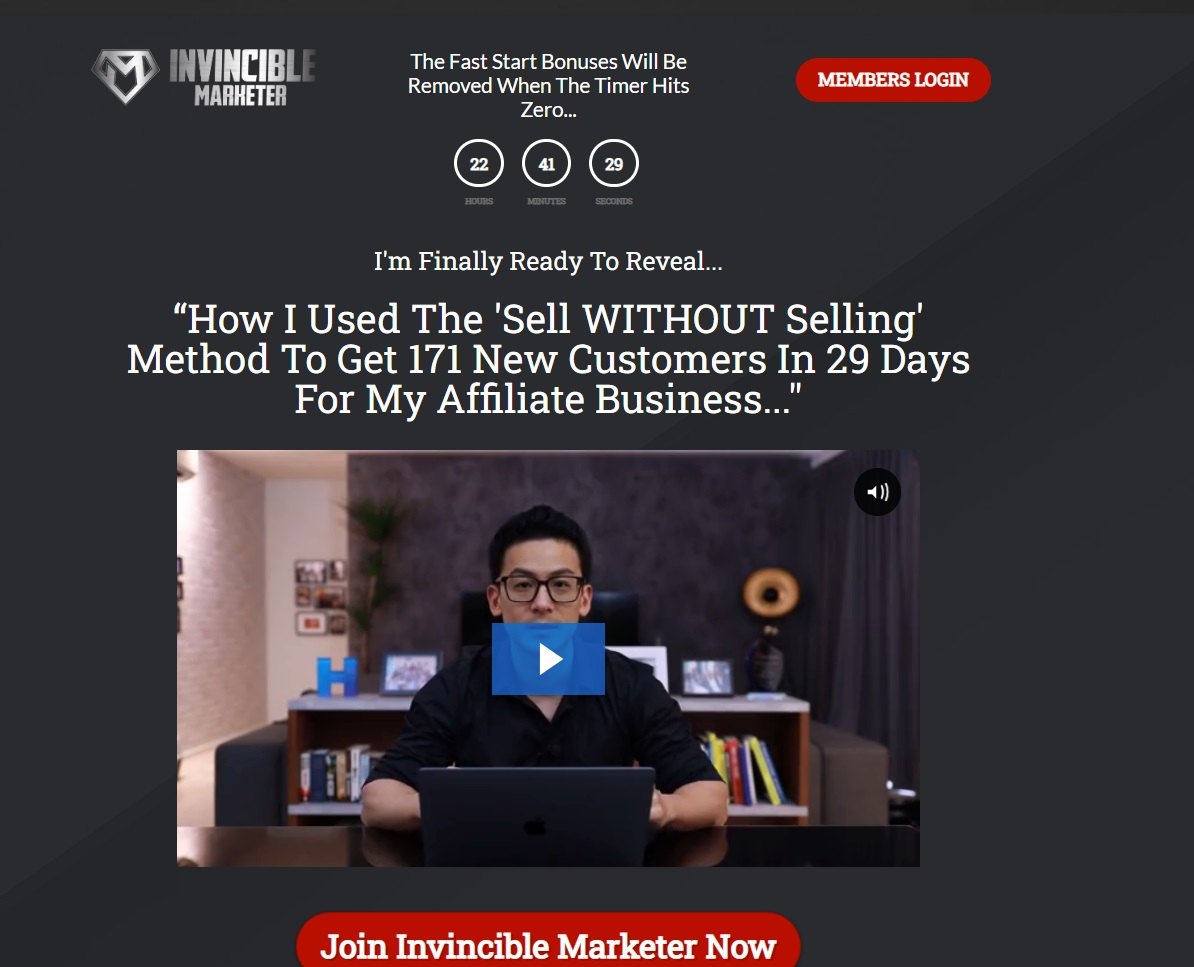 Invincible Marketer is a digital course teaching how to make money with affiliate marketing.
This course consists of more than 15 modules, most of which are video training where the owner of the platform explains the entire process of building an online business.
It includes training on mindset, but most importantly it teaches how to do affiliate marketing the right way.
I will go through the platform in a bit, but for now, I want to share that this is legit training providing valuable information to beginners and more advanced marketers as well.
You probably know that Aaron Chen is the creator of Invincible Marketer, so let's just take a closer look at Aaron.
Who Is Behind the Invincible Marketer?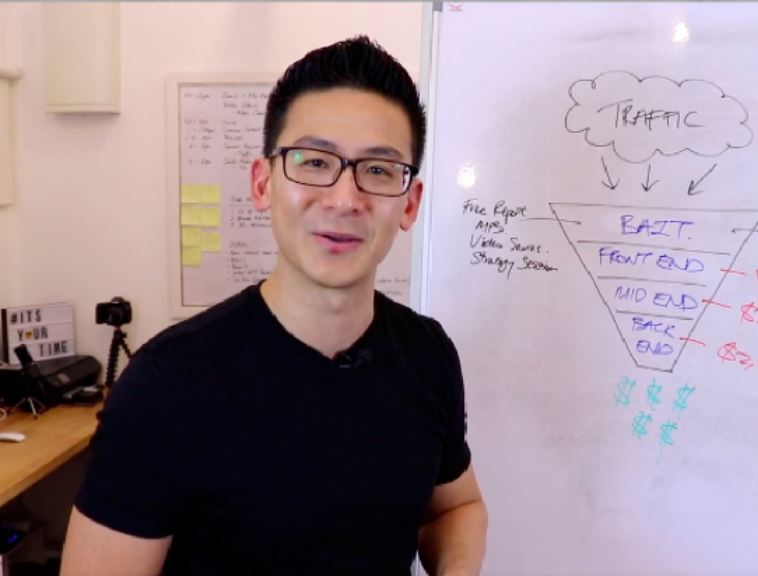 The person behind the product is Aaron Chen.
He is an internet marketer from Malaysia and his business address is also in Kuala Lumpur, Malaysia.
Many successful marketers used to struggle at the beginning, and I believe you are familiar with such stories.
Well, Aaron seems to be no exception.
A Bit of Aaron Chen's Background
He did not start earning thousands of dollars per week right from the beginning.
Quite opposite.
Back in 2009, Aaron decided to create his own business so he checked the internet and the journey began…
He was involved in:
Affiliate Marketing (ClickBank, WarriorPlus, JVZoo)
MLM online (several MLMs actually)
GPT Website and survey websites
Dropshipping …
According to Aaron, nothing of the above has worked out for him.
He did this for about 8 to 9 years and spent about $90,000 (his earned and saved money).
Still, after 9 years of hustling, he couldn't make a profit.
The bottom line was that he did not quit and he knew that there is something about the internet.
That breakthrough came in 2016.
He realized the formula of how to connect a specific product and the right audience that is interested in that product.
Generally speaking, there are many ways how to connect the product/service and the group of people (the right audience), but Aaron has found how to do it the right way.
Result?
He started to generate profit.
It wasn't overnight though (as many of the fake Gurus claim).
But slowly he started to generate sales every week then every few days and eventually did multiple sales per day.
Long story short, in April 2019, he was able to quit the corporate job, making already 3x as much as he got in the 9-5.
Currently, he teaches his students the same formula, as the Invincible Marketer course.
Based on his experience, Aaron (unlike many "gurus") doesn't make empty promises when it comes to the potential results his students have (or might have).
In fact, just watch his recent video talking about the secret to living a better lifestyle, to have a better understanding of Aaron's realistic approach.
Youtube Channel(s)
As you might have noticed, the video above is from his Youtube channel.
Actually, Aaron has 2 Youtube Channels (as far as I am concerned):
Aaron Chen
Internet Marketing Reviews
Aaron Chen Youtube Channel:
The older one is called just Aaron Chen (with 23.8K subscribers) and it was created in May 2006.
As of today, there are 455+ uploads and the channel has about 5.8 million views.
2nd Channel – Internet Marketing Reviews
The newer one was created in April 2018 and it has already more than 600 uploads, with more than 6 million views.
It has also more subscribers than the original one.
Almost 30K, and each week the number is larger by 140 subscribers (on average).
You will find a lot of great tips and information in those videos.
Who Is Invincible Marketer For?
Invincible Marketer is intended for beginners.
For people that are already tired of searching for courses that don't deliver value (and there are many of them, for example on WarriorPlus).
I am sure even people that already started with affiliate marketing will find the Invincible Marketer valuable.
Think about it this way:
People do find a lot of stuff on the internet for free but it can be overwhelming.
And it is.
From personal experience, I can tell, that I only wanted to learn how to create a website, and the rest I wanted to figure out on my own…
Well, I was naive.
It is 2022, and there are many tools and platforms that can speed up the process of earning money online.
Why don't take advantage of it?
You know that for decent training one must pay, but it is worth it since you save time. You don't need to figure it out all on your own.
That leads us to the next section:
How Much Is Invincible Marketer?
The price is $67 per month.
Is that it?
Unfortunately no;
On top of it, you will need an additional $150 to cover the costs for:
Page Builder
Email marketing service provider
Upgrade?
There is one upsell or upgrade (that I have not seen on the checkout screen) and it is called Lifetime Coaching.
The price is $430 or 3x $145 (depending on what payment plan you prefer).
With this bundle you get:
Bi-weekly live Q&A session with Aaron
Advanced marketing strategies
And you are allowed t ore-sell the Invincible Marketer
The 2nd Upsell
It is called a Video Authority Mastery and the price is $497.
This is on top of the entire training and you can learn here how to properly use Youtube to get the most views and thus the leads.
That should boost your commissions.
How Does Invincible Marketer Work?
The entire training is divided into 17 modules. It is mostly video training, but Aaron goes quite deep into some topics.
In others not so much, but hey – there is no such a thing as perfect training.
Let's go over the modules (there are actually 63 lessons), and I might have a few words about some of them.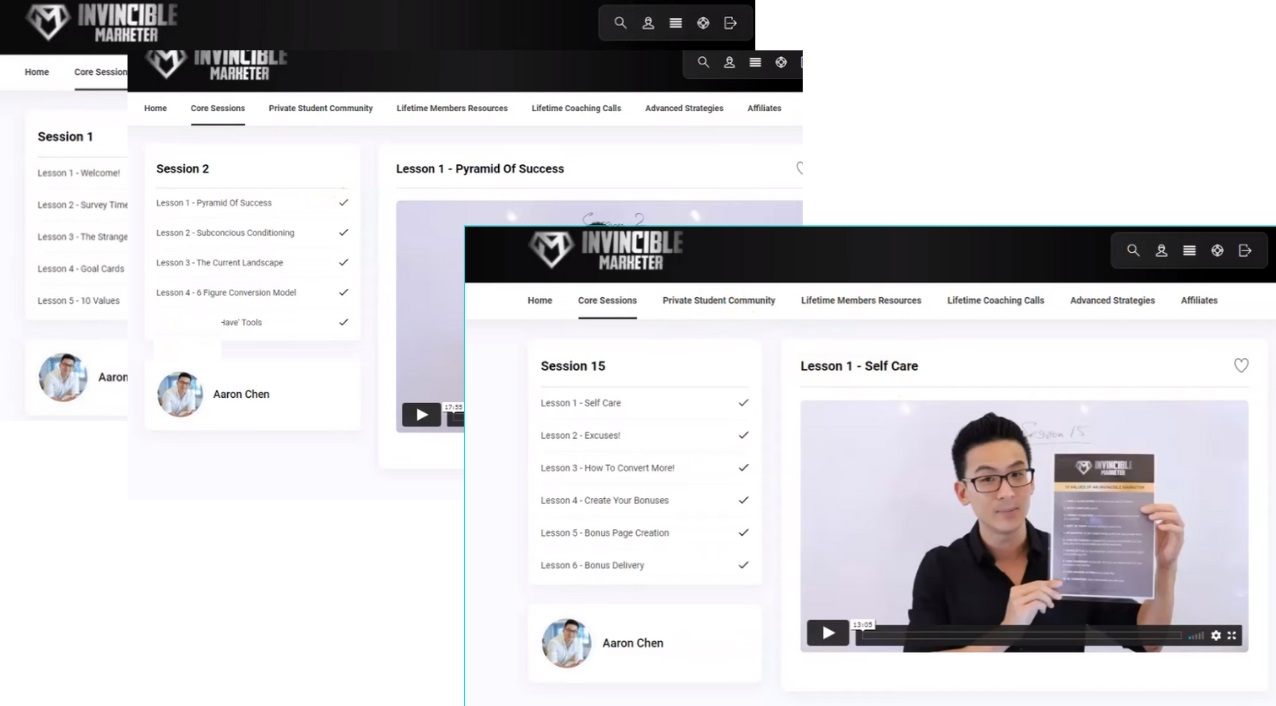 Let's go through the structure of the training so you can have a nice overview of what is inside and so you know what you might pay for.
Session 1
This is an initial lesson with a welcome video and a part where you take the survey.
You also set up your goals here, which is important to somehow realize where are you and where you want to go.
Session 2
2nd Session is about mindset.
It also contains a lesson on "must-have" tools.
Session 3
In the 3rd session, students are getting into the nitty-gritty of the course. They learn what is affiliate marketing and how to choose the right product.
At the same time, what is a bad product, and how to avoid it?
But most importantly how to pick a good product that is profitable.
Session 4
In the previous session as well as here you go through your Goal cards. Because it is essential to set the proper, realistic goals.
It is explained that online business is a long-term game. You might have already heard that it is a marathon and not a sprint.
Session 5
You are shown how to be resourceful and part of this session is also an interview with Dan Khan.
Dan gives a lot of tips and tricks on how to properly approach internet marketing and specifically affiliate marketing.
Session 6
Again the 6th session contains a bit of a lesson on mindset, this time it is about The Strangest Secret.
Besides that, you will understand what are domains, Clickfunnels, and ClickMagic domains.
Session 7
This session contains lessons on:
Don't be cheap
Capture page overview
Create your capture page
Email strategy and your list
Session 8
A little bit of the mindset lesson, this time it is about the Broke and Poor Mindset.
Right after that, Aaron talks about traffic.
As you know, traffic is the most important element when it comes to business online.
It is the same in the offline business world as well.
Traffic means potential customers.
Without that there are no customers whatsoever.
Session 9
There are 4 lessons in this session:
Focus on Building
Delayed Gratification (you don't want to get ahead of yourself and celebrate too early)
Value series review and
Value series build-out
Session 10
Besides the morning routine lesson, there is a practical lesson on how to edit the sales funnel.
And as a part of this session, you can also watch Melvin San Miguel's Interview.
Session 11
Next, there are lessons on communication, how to set up your private email, and also:
how to integrate your email
how to add emails to the autoresponder
Session 12
The 12th session contains 6 lessons:
10 Values review
Condensing time-frames
Funnel review
Final test
Split testing
Getting traffic
Session 13
The first lesson in this session concerns a video about obstacles and how to crush them.
Then you are shown how to take action.
The other 2 lessons are on:
Unlimited traffic masterclass
Master your traffic
Session 14
Are you really committed?
Besides this question, in the 14th session, you learn what is an authority site and what it takes to build such a site.
The first step towards building the authority site is your first post.
Session 15
We all have excuses, no matter what right?
But how to eliminate them?
It is explained at the beginning of session 15.
Then you are taught how to create your bonuses, the bonus page, and how to deliver the bonus(es).
Session 16
And even before the end of the course, you go through the lesson about fear, more specifically fear of failure.
Note;
If you are familiar with Napoleon Hill's book Think and Grow Rich Book (or even there is a movie, that I have written a review about Think and Grow Rich movie) you know that fear of failure is one of the 6 basic fears:
Fear of Poverty
Fear of Old age
Fear of Criticism
Fear of Loss of love
Fear of Ill health
Fear of Death
The practical part of Session #16 contains lessons on
How to manage new customers and their list
How to build your Facebook group
Session 17
The last session is about attitude and where to focus your time.
Also, you check whether or not you have made your 1st sale already.
Let me not forget to mention that each session has homework assignments.
That definitely helps students to take action.
Invincible Marketer Facebook Private Group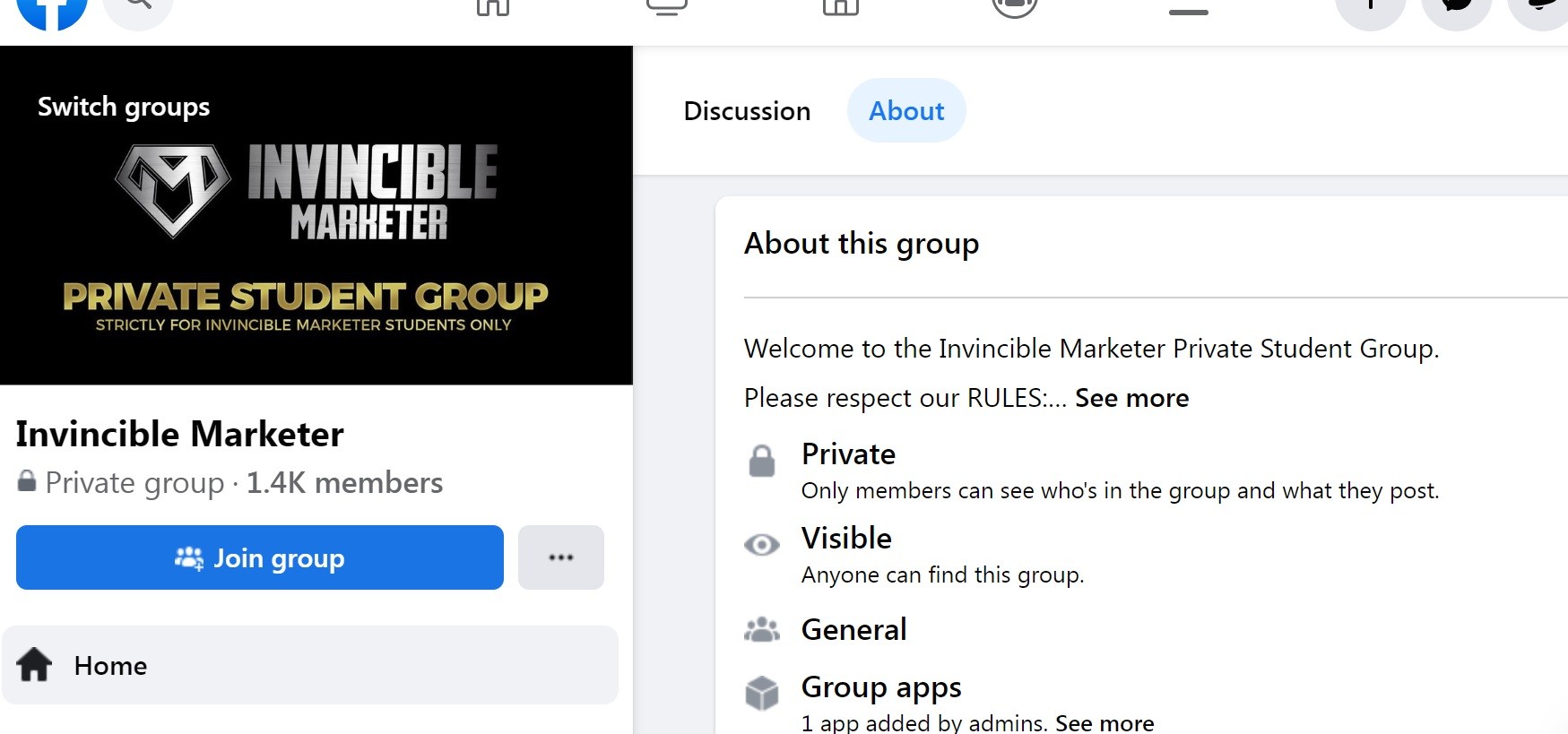 Every member that purchased the product has access to the Facebook Private Group.
As of this writing, it has 1,400 members and still growing.
Despite the community, Aaron is active in the group as well.
Invincible Marketer FAQs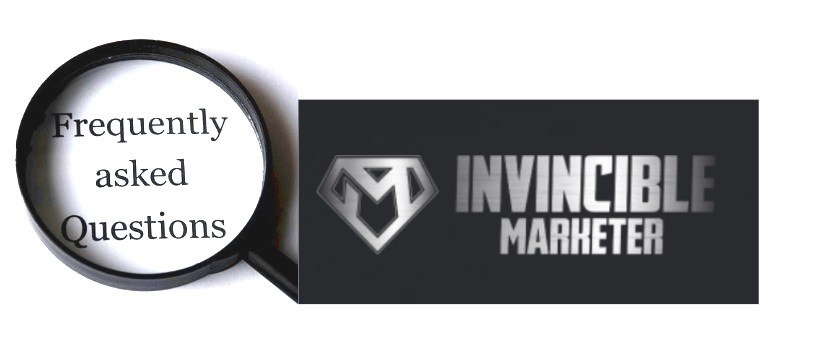 1) Is Invincible Marketer legit?
Invincible Marketer is a legitimate affiliate marketing course.
The creator of the course, Aaron Chen, is a legit guy with lots of years of experience. His students do have results.
2) Is There a Money-Back Guarantee?
Yes, it is.
There is a 30-day full refund policy that begins on the date of your purchase.
This doesn't cover new products that are still in the development phase.
Now regarding the 30-day refund policy, there are some requirements.
You have to:
complete all the sessions
get involved with the community
build out your capture page and value series

In case you can provide evidence of your activity (as described above) you will get a refund within the 30-day period.
3) Can you get rich with Affiliate Marketing
This is a very common question and the answer is yes, you can.
But will you?
That's a different story.
See, even though Affiliate Marketing is probably the simplest business model, it doesn't mean it is easy.
First of all, it all starts with choosing a proper niche.
In case you have expertise in a specific topic, you are passionate about it, and you are ahead of others already.
See, choosing a niche is one of the most important things that comes before creating a website.
Then it is about consistency and proper SEO skills, and depending on these factors you can start making 4 figures in 10 to 14 months.
There are people making 5 figures per month, and I mean net profit (not in sales). Once you know how to drive traffic to your website, you can have more than one source of income.
My point is that this is a scalable business and in the long run, you can get rich.
4) Is There an Alternative to the Invincible Marketer?
For less than $70 per month, there are not many alternatives, especially if you take the thoroughness of the training.
However, if we have to count the additional cost (for page builder, email marketing service, hosting, and other tools) I believe there might be one educational platform that competes with Invincible Marketer.
I don't mean to confuse, you but I am sure you have done a long way until you stumbled upon a legitimate platform teaching affiliate marketing the proper way.
So invest a bit more time into it, and read the review of the alternative mentioned above as well. Then sleep on it and decide.
To help you a bit, the platform I have in mind offers a free trial (no credit card needed).
What Do I like About Invincible Marketers?

1) Great For Beginners
Invincible Marketer is made in a way that even a total newbie can understand how affiliate marketing works and how to generate income with it.
For each module, there is an assignment, so every student applies the theoretical knowledge in reality. This makes the whole learning process much faster.
2) Legitimate Owner
You may be wondering, why this should be a Pro.
The thing is there are so many scams and misleading products out there, that checking who is behind the platform is essential.
In many cases, there is no clear information about who runs the product. And in some cases even though the owner is known, it doesn't always mean he is legit.
(Let me just mention Jamie Lewis or Branson Tay).
I have been following Aaron Chen for a couple of years, I know what he has been through what kind of strategy he uses, and what he teaches.
He doesn't inflate the numbers when it comes to the potential results of his students.
Therefore I can honestly say, that Aaron is legit and he engages with his students, which is great.
3) Support
Support is essential when it comes to educational platforms.
Aaron is part of the Facebook group, answering possible questions and he engages with his audience which is great.
No matter how well-structured training might be, there will be always some issues (even minor ones).
What I don't like about Invincible Marketer
1) Upsells
This is just my personal opinion, but I am not a fan of upsells.
On the other hand, there are basically only 2 upsells, and none of them jeopardize the core training, so to speak.
So I am sure a lot of people don't mind the Invincible Marketer price structure.
2) Too Much Training on Mindset
For some people, this section of training (which is quite significant) might boring.
Or unnecessary.
Other minds find it even useless since they already made up their mind to follow through and take action, no matter what. (BTW Congrats on the proper mindset!)
There is much stuff free on personal development, but I think Aaron's intention is good and he realizes that with a proper mindset you can start earning consistent income much quicker than he did.
Invincible Marketer – Conclusion
Invincible Marketer is a great training where students can learn how to have a consistent online income using affiliate marketing.
Aaron is a well-experienced marketer and a great coach.
Of course, not all students succeed in the online business, but in the majority of cases, it is not the fault of the coach and/or tools.
Aaron realizes that many people do not succeed because they have a tendency to quit before seeing results.
That's why he focuses a lot on mindset in his course.
Some might like it some not, but it is possible to skip that section or just quickly move forward to the affiliate marketing training.
Invincible Marketer covers a lot and I believe it is great for beginners and advanced marketers as well.
Prices-wise, you should be prepared to invest a bit more than the advertised $67 per month.
It is possible to quit the subscription at any time, so it is not that you would lose $1,000s.
Do you have any questions regarding the Invincible Marketer?
Or would you like to know about affiliate marketing?
Please let me know in the comment section below.
I will be more than happy to help you out.
Thank You For Reading,
Mike