I was conducting research the other day about free affiliate marketing courses.
One of the platforms that offers a free version is called Income School, specifically Project 24.
The full name of the platform is commonly known as Income School Project 24, and in the following review, I am going to delve much deeper so you know what to expect, what the pros and cons are, and how much it costs.
Note:
You can think of this review as a helpful guide that you can use when assessing different platforms that promise to help you make money online.
If you come across a platform or website that you want to learn more about, you have a couple of options:
– You can use the search button on my website to see if I've already reviewed it, or
– You can leave a comment, and I'll do my best to provide feedback within 24 hours.
Disclaimer
Please note, that I am not a member or an affiliate of Income School Project 24.
This review is based on research and information available online in the public domain.
Any recommendations and conclusions are only opinions and may not apply to all persons or situations.
Jump to:
Income School Project 24 Summary
Name: The Project 24 System
Website: incomeschool.com/project24
Price to Join: $449 a Year
Recommended: Yes
Project 24 by Income School is an all-in-one training program for aspiring bloggers and YouTubers.
Launched in 2015, it offers structured courses to help you build profitable online platforms.
Whether you're interested in blogging or YouTube, Project 24 guides you through niche selection, content creation, and monetization strategies.
It's designed for beginners and experienced content creators alike, with a supportive community and success stories to back it up.
While it requires dedication and a small investment, Project 24 offers a clear roadmap to financial freedom through online income generation.
What is the Project 24 System?
Income School's Project 24 is a comprehensive system designed to help individuals replace their full-time income with income generated online.
It focuses on providing the necessary tools and guidance to help users achieve their financial goals.
Income School Website Information
This section might be also called, Evaluating the Relevance and Popularity of the Platform.
Understanding a platform's organic traffic can provide valuable insights into its relevance and user engagement.
A consistent and sustained flow of visitors over an extended period suggests that the product or service offered is maintaining interest and meeting the needs of its audience.
In essence, this traffic serves as an indicator of the platform's quality and value.
You can check any platform by yourself by going to Semrush and checking the domain you are interested in. (The free version has its limitation to 10 checks per day).
Income School has maintained steady traffic over the past year, with at least 4,000 monthly visitors (from desktop alone).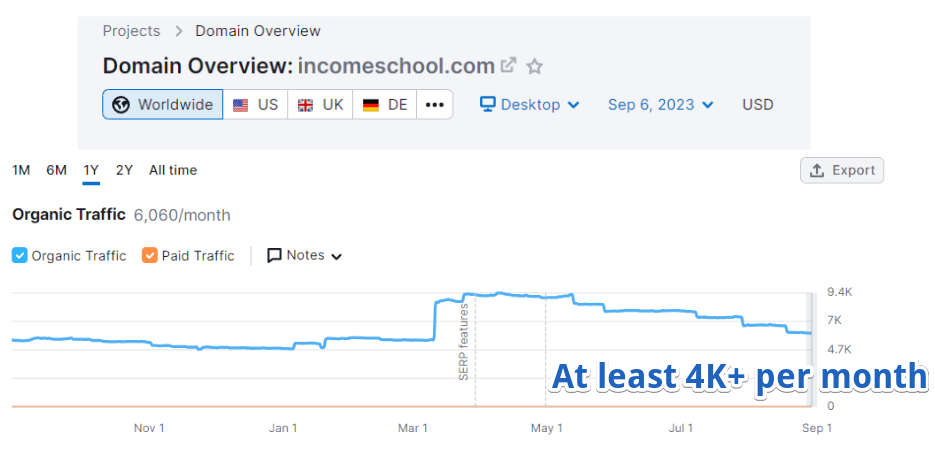 This indicates its relevance and strongly suggests that both the platform and the course hold significant value.
Income School Website Registration Date
Established in March 2005, Income School boasts an enduring online presence.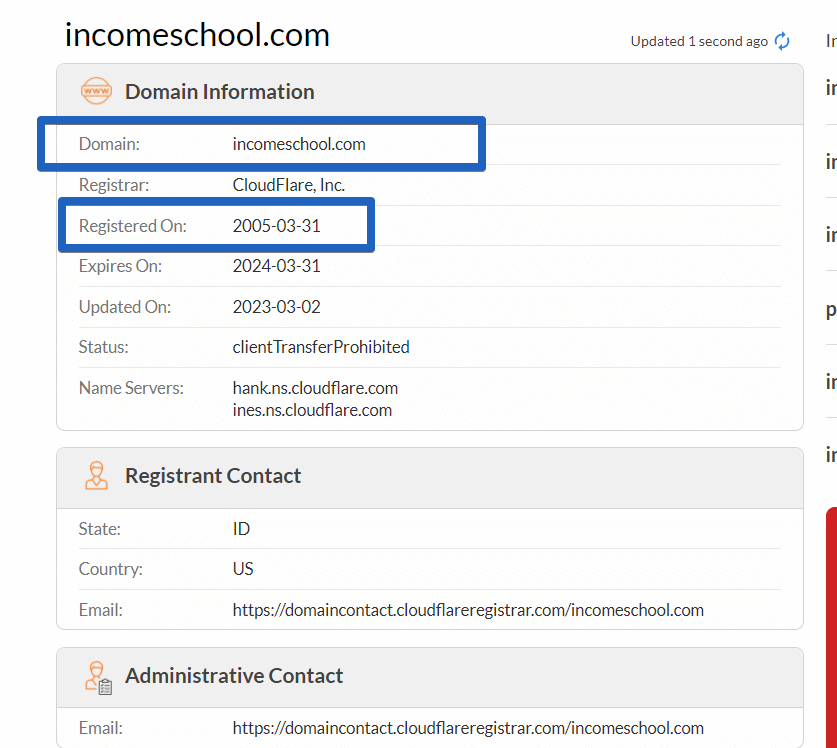 Coupled with its consistent traffic, this underscores its reputation, authority, and the enduring interest people have in its offerings.
Who is Project 24 For?
Project 24 is a versatile training program suitable for a diverse range of individuals, no matter where you're starting—whether you're a total beginner, an experienced blogger, or even running an e-commerce or local business.
It's designed for anyone with the goal of making four figures or at least $1,000 a month through online income generation.
Absolute Novices
If you're new to content creation and eager to build a profitable blog or YouTube channel, Project 24 provides a structured pathway to get started.
Individuals with Previous Attempts
Even if you've attempted online ventures in the past without success, Project 24's comprehensive guidance and community support can help you turn the tide.
Seasoned Digital Marketers
While Project 24 offers a beginner-friendly approach, it also includes valuable insights and strategies that can benefit experienced digital marketers looking to enhance their skills.
Who is behind the Project 24?
Project 24 is the brainchild of Jim Harmer and Ricky Kesler, hailing from Idaho, USA. They started their online journey in 2010, building niche websites and eventually founding Income School in 2015.
Jim was a significant presence until 2021 when he left the company, leaving Ricky Kesler in charge. Both Jim and Ricky are respected figures in online entrepreneurship, having spoken at conferences alongside notable entrepreneurs.
Unlike others who keep their websites hidden, Income School openly shares information about many of their sites, showcasing both successes and failures. Their transparency has made them trusted resources for aspiring online entrepreneurs seeking financial success.
What is inside the Course?
Project 24 is more than just an online training program; it's a comprehensive roadmap to success in the world of online content creation. Here's a glimpse into what you can expect to learn:
Content Creation Mastery
Project 24 provides a step-by-step guide on how to create engaging content that resonates with your target audience. Whether you're interested in blogging or YouTube, you'll discover strategies for crafting compelling articles, videos, and other content types.
Niche Selection
Choosing the right niche is crucial for success. Project 24 helps you identify profitable niches and assess their potential, ensuring you're on the right track from the start.
Blog Setup and Optimization
If you're venturing into blogging, Project 24 covers the essentials of setting up a blog, optimizing it for search engines, and creating a user-friendly experience for your readers.
YouTube Channel Growth
For those interested in YouTube, the course guides you through the process of selecting a topic, creating engaging videos, and growing your subscriber base.
Monetization Strategies
Learn how to monetize your online platform effectively. Project 24 teaches you various income streams, including display ads, affiliate marketing, and more.
Skill Development
Understand what skills are essential for online success and how to acquire them. Project 24 offers insights into both technical and creative skills needed for content creation.
Ongoing Support
Stuck on a particular issue? Project 24 provides access to a supportive community and resources to help you overcome challenges and keep moving forward.
Clear Roadmap
One of the standout features of Project 24 is the clear roadmap it offers. You'll receive guidance on every step of your journey, from niche selection to income generation.
Income School Podcast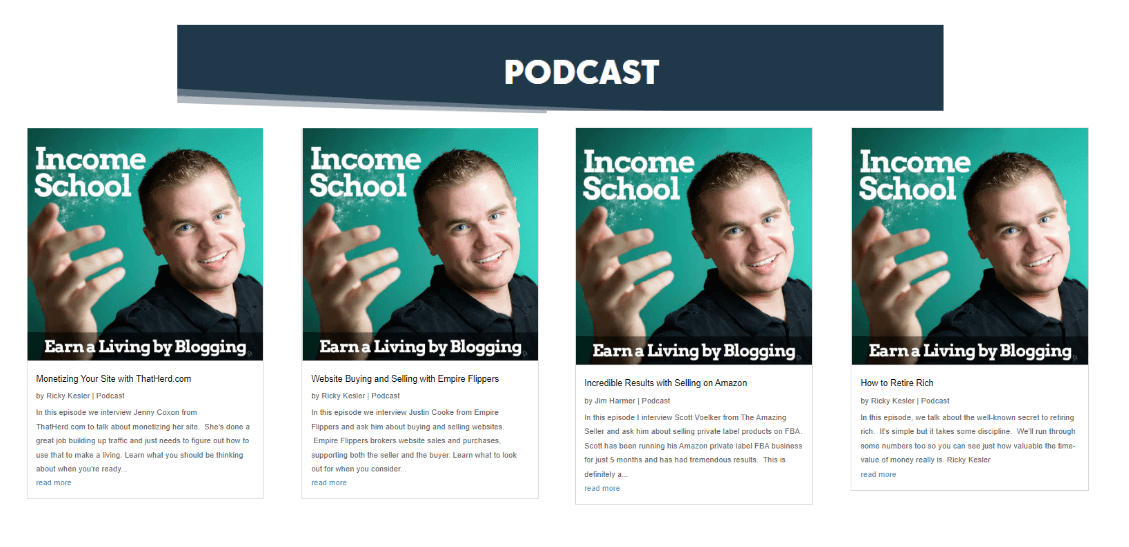 n addition to their comprehensive training courses, Project 24 offers a podcast that serves as a valuable resource for learners.
The podcast is divided into two distinct tracks, Blogging Podcast and Youtube Podcast.
Blogging Podcast
This track is dedicated to bloggers, where experts share insights, tips, and strategies related to blogging success.
From niche selection to content creation and monetization, the blogging podcast provides in-depth discussions and practical advice.
YouTube Podcast
For those interested in YouTube, Project 24 also offers a track that delves into the world of video content creation.
It covers topics like video production, audience engagement, and various ways to monetize a YouTube channel effectively.
These podcasts serve as extensions of the Project 24 training, offering additional insights and real-world experiences. They provide an excellent opportunity to dive deeper into specific aspects of content creation and online income generation
How to Make Money with the Project 24 System?
Project 24 isn't a get-rich-quick scheme; it's a blueprint for building an online business through blogging or YouTube. But here's the key: success depends on your hard work.
What sets Project 24 apart is its diverse income approach.
They teach you how to earn not only from affiliate commissions but also from page views, offering dedicated training on this within the dashboard.
Plus, they're adaptable, moving away from Amazon Associate program due to declining commissions, to ensure you have the best strategies at your disposal.
Income School's Project 24 Red Flags
While Project 24 offers a comprehensive approach to online success, there are a few aspects to consider;
Workload
The program emphasizes creating significant content, which can be challenging for some. The workload may be overwhelming, especially for those with limited time.
No Refunds
Project 24 does not offer refunds, which means you should carefully assess your commitment before enrolling.
Advanced Information
Some advanced topics, like off-page SEO, are not extensively covered in the training.
Additional Expenses
While the core training is reasonably priced, you may incur additional expenses for domain hosting or gear if you're pursuing the YouTube track.
Annual Renewal
To maintain access to the training, you'll need to renew annually.
Despite these considerations, Project 24's comprehensive approach and supportive community have proven effective for many aspiring online entrepreneurs.
It's essential to weigh the benefits against these drawbacks to determine if it's the right fit for your goals and circumstances.
Conclusion
In the pursuit of online income generation, Project 24 stands as a comprehensive and adaptable resource. The course is suitable for anyone aiming to establish a thriving and successful blog.
Founded by Jim Harmer and continued by Ricky Kesler, this training program equips individuals at every level, from beginners to experienced marketers, with the skills and strategies needed for success.
From niche selection and content creation to monetization, Project 24 provides a clear roadmap. It emphasizes the importance of hard work and offers a supportive community to help overcome challenges.
Committing to transparency and sustainability, Project 24 explores diverse income streams beyond affiliate marketing. They teach you to earn from page views and remain adaptable in a changing landscape.
However, it's essential to recognize the workload, lack of refunds, and limited coverage of advanced topics as potential drawbacks. Additional expenses and annual renewals may also apply.
In essence, Project 24 is a valuable resource for those who aspire to thrive in the online world.
Whether you're starting from scratch or seeking to enhance your skills, it provides the tools and knowledge to achieve your financial goals through blogging or YouTube.