More and more people start to think about making money online. In my opinion, it is the best way how to become independent. You don't have to worry about waking up in the morning, being on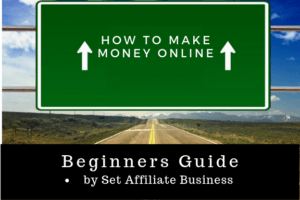 time in the office, not mentioning the commuting to work and for some people also the boss.
There are also downsides to this and especially people who are just thinking about online marketing are not aware of the pros and cons.
So I have decided to create a short post on How to Start a Small Business Online.
I will outline for you the basic steps and also what is the best way to start the online business.
Create Your Own Website
You may have heard that to make money online, you don't need a website.
This is already an obsolete statement.
Here are just a few points to consider regarding the website
How do the search engines find you?  – You need a website so it can be recognized and found by Google and Bing/Yahoo
What are you going to share on social media? – To et the traffic (besides organic) you want to have an external source of traffic as well.
How your email address will look like? – name.surname@gmail.com?  That is not very professional. How about name.surname@yourdomain.com?
Your website is your headquarter.
I know that there is still this kind of fear, most often because of the technicalities behind the creation of the own website.
Well, first of all, these days it is a matter of a few seconds to set up a website.
The hosting cost about $20 a year, so there is not a real reason, why not to have a website.
If you are still doubtful about that, let me know in the comment section below.
But first please try to create your website – for free in this little exercise below:
(just a note – you will need to enter your email address)
Type the name a domain you wish to have:
Think about it this way (if you want to build a sustainable business):
Imagine the website as a restaurant or a store. You want people to come in and make a purchase – In the online world the purchase we call a conversion.
How do you purchase a restaurant owner?  You provide your customers with a great meal and experience.
In other words, you want to deliver value to the visitor, so ideally the visitor becomes a customer. The customer should be happy to exchange his money for an experience he acquires.
The same principle applies in the online world as well.
Of course,  just having a website does not mean automatically visitors. We need to somehow get the traffic to our website.
Traffic to Website – Paid or Organic
Without traffic, our website is like an abandoned restaurant in the middle of the desert. Even if we build a nice restaurant close to the highway, it does not necessarily mean that we get customers.
We can start getting the traffic either for
Free – which is Organic
or
Paid –where we pay for it by running a Google Ads and/or Bing ads.
The second option is not recommended for beginners. Of course, it is the fastest way how to get on the 1st page of search engines (whether Google or Bing), but in most cases, newbies have a tendency to set the campaign incorrectly and that leads to losing the money.
In the next chapter, we will be focusing on organic traffic only.
Getting Organic Traffic
When I first started I had no idea how to get free traffic. I thought it had to be some magic formula or how the heck can I get free traffic to my website?
Let's break it down so we will understand the principle of the "secret" formula.
I am going to use an extreme example, but in my opinion, it is the best way how to understand the principle of organic traffic.
Imagine that in the entire world, there are only 20 websites that deal with a niche "losing weight".
If you are interested in what the niche is, you can check this video. It is 17 minutes long showing how to choose your direction when you about to start with your business (The video is a part of the Online Training Platform called Wealthy Affiliate, I am a member of).
Back to our theoretical example.
Out of these 20 websites:
A) 10 of them are focusing on people from 20 to 45 years old. Websites are mostly focused on fitness and how to exercise
B) The other 10 websites are focused on diet and proper food.
Now a 35 years old person would like to know how to lose weight but does not have time to do fitness. So he goes to goggle and asks/types: "how do I lose weight without exercising":
Results (Please note that these results are just theoretical and the purpose is solely used for explanation):
He sees 10 websites of the B) kind.
Here is what happened:
Google recognized that the B) kind of websites are the best results for the query this person asked.
This person should find his answer somewhere within these sites and then start implementing what he just find out. (Whether he applies that is another story :))
But we are here to learn how to build an online business, so we want to know how it works from the website's point of view.
The first thing we need to understand is that there are people who want to lose weight. We need to come up with information or content that will be interesting for these people. We realize that it might be a bit difficult to copy the same concept since there are already these websites type A) and also B), which google can choose from.
Let's look around in our offline world.  Let's say we have a newborn in our family, and for whatever reason, we are close to the mother which happens to gain quite a bit of weight during pregnancy. We just learned that she is not happy with that and at the same time we realized that there are probably millions of such mothers.
That sounds like a great niche for the following reasons:
1) We are familiar with this niche first hand
2) There is no competition in google – so whoever asks google how to lose weight afterbirths, google has no other option than to use our website as results in the search engines.
Of course, this is an oversimplified example but in principle, it is the same as in the real online world.
The most important thing is that have to choose a specific niche which is our passion or we have an interest in. This way we will not get bored creating content about it.
Besides that, it would be great if there is a competition, so we can check similar websites and find a way how to make our website better.
In principle, our content is delivered as a post(s). For each post, we have one keyword we try to rank for. This keyword is crucial for our post and it is one of the important keys of how our post can be ranked well on google.
Let me share with you a little old technique, that used to work but it was part of the so-called "black hat SEO" (- unethical way of ranking.)
Why am I mentioning this olf technique?
We will understand better the importance of the keyword (which needs to be properly used in 2019).
This technique I am going to mention is not recommended. It simply does not work anymore.
In the past, to get to the 1st page of google, it was pretty much enough to use the specific keyword within the post 50 times. The search engine determined that this is the post with a good value for the visitor since it contains the keyword.
The content was not good, but it tricked the Search Engine algorithm, so the website got ranked well.
It is called "keyword stuffing".
Again this does not work anymore.
What works these days, is making sure that we deliver real value to our reader. On top of that, we still use the keyword but in a let' say natural way. It is mentioned in the article once maybe twice + other places as well.
Affiliate Marketing – Easiest Way to Start Online Business
Once we know how to get free traffic we can start to focus on monetizing our page.
The best example would be Amazon. Everyone knows Amazon.
We can become amazon partners and by adding an affiliate link to our post we can earn a commission from the sale.
We want to recommend the best and relevant products, so the customer will get back to our site – that is the way how to build a sustainable business online.
Another Way to Make Money Online – Few Examples
By now we know (at least in principle) how to create a website, how to rank and how to monetize it.
Let's build a website, create content so we are getting traffic. We may even get some sales. 6 months later we can sell the site.
Do we like to create content? We just sign up in Upwork or similar platform and we can offer our service.
We can join may other affiliate programs, besides Amazon (ClickBank, Wallmart, JVZOO, etc…)
We have learned all of the above, so we can now sell the course. Many online courses are being sold every day.
These are just a few examples. I know it may sound easy.
With proper training and help from others, it may be mastered within 10 – 14 months.
Conclusion
We see that there is a lot of ways to make money online and we only cover the topic briefly.
I was a person who did not know how to create a post, or how to manage the material before posting it.
I mean I used to have questions like:
where do I find a relevant picture
where do I write – in word first and then copy the text into WordPress?
what is Plugin, how to use it
how to create a link in my content
how to add a picture
do I share my post on social media or not; if yes which one
what is a call to action
etc…
These were open questions for me.
I have found a lot of free stuff on YouTube and other websites as well. But still, I was not able to decide which way to go.
So I started to search for some online courses. It took me more than a year until I found the one that fits best for me. I am not saying that it is the best place for everyone.
What is great though, the owners have made this platform available for everyone. Everyone can join and get started for free. There is no credit card need, just an email and you are good to go to test it out.
We have briefly covered how to start a business online. If you have any questions, or you have a comment regarding the topic below, please them in the comment section below and I will be more than happy to help.