There are many misconceptions about passive income, especially when it comes to making money online. One has to understand that there is no automation tool which generates money on
autopilot. The entire process is in principle same like in offline world. In order to earn money, you have to have some "unite out there" that generates that income. Whether it is a real estate you renting out or you have a significant amount of money as an investment and you live off of the interest.
In normal world you can't just make money out of thin air.
The reason I decided to write this article is the fact that there are so many e-products trying to convince you that in simple 4 clicks you can make hundreds of dollars a day. Or that your need only 5 minutes a day online and you start generating profit.
It is important to realize that passive income is only a result of effort and hard work.
What is Passive Income
Passive income is temporary (or long term) state of earning even if you are not actively working.
In the online world it means that you have a website or YouTube channel which makes you the income.
To break it down a bit;
First of all you have to consistently generate content around specific niche. As a consequence of that your traffic grows and you becoming an authority within this niche. People naturally visit your site (whether it is a blog or YouTube channel). Inside of the content you have your affiliate links and/or ads that people click on. That means that you monetize your site or blog. With huge amount of traffic, you can stop (temporarily) generating the content and people will be still visiting your site.
Say you decide to go on 10 days' vacation, with no internet connection. Your website still generates a passive income.
How to Make a Passive Income Online
In the definition of the passive income I use the word "temporary". The reason for that is, if you abandon your site, the traffic will slowly decrease and thus your income. People will find more fresh
content and eventually steer to another blog. Depending on the size of your site this may happen from 4 weeks to 5 months. Well that time slot varies depending on the niche and the level of your site authority.
You just have to keep in mind that to sustain the passive income you have to keep working on your site.
Or, and this is a good one, you can find someone who creates that content for you. You only keep an eye on her or his work, but you don't have to spend 8 hours a day building that website.
You can either go on with a new website or go travel. It is up to you.
Example of Passive Income Offline
Just briefly I would like to mention few ways about how to generate passive income offline.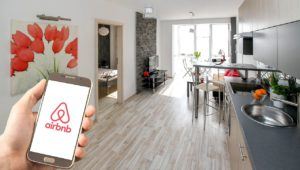 Write a Book – This system has been around for few centuries. If you have experienced something cool in your life maybe it is worth a shoot to write about that. Or you like to travel and your friends just love the way you talk about your adventures. I know, it sounds pretty exciting, but problem is that writing a book might take few months or also few years. In the offline world you have to find a publisher.
What makes internet easy, you can create e-book (as PDF) and sell it on Amazon. So this example is not 100% offline passive income, but in a sense it is 🙂
Real Estate Investment – the easiest way would be if you inherited some buildings, or just an apartment. You do few paperwork and you are good to go to rent it out. The most lucrative way is to rent it on Airbnb.
Stock Market Investment – I am not expert in financial sector. But if you have an extra cash, just go to your bank or talk to your spouse or relative who has more experience in financial world. Many banks offer investment accounts. Go and check what system you prefer the most, whether higher risk with bigger ROI or you prefer more conservative approach.
Of course there are many other examples of passive income like for example a Franchising. The downside is large investment at the beginning. Other examples are renting out your equipment you don't use anymore, or a car maybe motorbike, since you are about to buy a new one.
Passive Income Online – General Misconception
We have found out that making money without doing any work simple does not work. It is important to pay attention, since there are hundreds or even thousands of e-products out there promising, that they can make you rich with little to almost no work.
All such products have same pattern. They say they will make you rich if you buy their product which teaches how to make money online. So the only way for you to make profit, is to sell this very same product (or may I say garbage) to other people, and promise them to make money by selling again this product.
This is just an endless loop with no value for end user at all.
People with good intention to learn something about digital marketing are very often disappointed since internet is saturated with such garbage. They often are being taken advantage of.
Passive Income is Possible But It Requires Effort
Consider few things:
You like writing or blogging. That is great. But please keep in mind that there are more than billion blogs already. So in order to be recognizable on search engines you better be specific with your niche. On top of it you have to keep adding a fresh content.
One Tip – YouTube is still a great place to get ranking pretty fast. But even with YouTube you need do your keyword research.
Many gurus you see out there with expensive cars and mansions showing you how much money they generate. What they do not show you how much effort they put into it in a first place. Why would they do that?
They probably want you to buy a their high ticket product saying that it is all it takes. In most cases it is not true. Even if that product has a value and you can learn stuff, you have to be prepared that to start making money online will probably take 6-12 months
It may take you even 2 years until your site will be at top of the search engines. You have to put a constant effort and then when you go on vacation for 2 weeks you can still generate some money.
That is the passive income.
Many successful entrepreneurs love what they do. So it is not like they have to work hard in order to maintain their income. It is their hobby, so it may look like they do not work since they look happy even if they are working. That can be easily mistaken for a passive income as well.
I hope you I have been able to deliver the basic knowledge about what passive income is.
Let me know if you already made some bucks while you were sleeping, in section below. Also in case of any question you might have regarding passive income I will do my best to give you the answer.
Please follow and like us: