As you create content on your website it is good to know whether your website ranks in the search engines and how to check it.
There are several ways how to do it.
The easiest one is to simply enter your keyword in the search engine bar and check the position of your website. You can also use different tools that do that for you.
Some of them are free others are paid but they offer much more data than simply showing the position of your page.
In this article, I am going to walk you through the process of how to check your website ranking in Google manually and using a tool as well.
We will not forget about other search engines, such as Bing and Yahoo (considered still as the top most popular search engines).
But before that, we explain how Google ranks a website and how long it takes to rank well.
Once you know how your site is doing, you can use that information as input for further improvements to your business online.
How to manually check the ranking?
This is a basic way how to check whether your post/website ranks on google.
Enter a keyword you try to rank for.
Have the keyword in the quotes:
You see that your website is on google. The position is not accurate though.
The reason is the quotes.
Using this technique, Google will show you only the websites that use this exact keyword. But we know that people don't search for terms in the quotes.
The reason why you want to check the keywords in quotes is that the number of results is much lower.
It is easier to search for your websites within 3 or 4 pages than within 20 pages.
So this simple method is to find out whether our page is indexed by Google.
I will walk you through the method how to check the average position in google, bing, and yahoo in a minute.
How Google Ranks Website
How does Google work and is there a simple way how we can improve the rankings of our website(s)?
There are many different things that Google looks for and it is way more complicated to list all the factors in one article. Google changes the algorithm very often, at least once per day sometimes twice per day.
But most of these changes are minor ones so the average web user won't notice when the change takes place.
Meaning that you don't have to worry about these changes as soon as you keep adding relevant content to your visitors.
So once you learn how to create your website in a way that Google likes it, your website will start to rank easily.
These 9 steps are very important for a post (within a website) to get ranked well.
I don't want to oversimplify the way how google ranks a website.
Yes, Google looks for more than that, and therefore it is important to have the website optimized as much as possible.
Therefore I recommend that you learn how to do it. With proper training, you can get see the first results within 3 months.
We have mentioned only a few factors in how Google ranks the website.
If you are interested in more of them you are welcome to go through these 200 ranking factors Google uses.
With that many factors to be taken into account, I believe it is understandable that it could be 3 months but at the same time, 6 months is not unusual.
How Long Does It Take to Rank Well in Google
We have briefly touched on the time above.
This is a question that every beginner wants to know. I get it. I was there as well wondering whether tomorrow my post will get to the 1st page.
Well, having such a mindset is perfectly normal. Only after a month or two does one realize that it is not easy to predict. In fact, it is impossible to say the exact date or to come up with a schedule.
There are literally hundreds of millions of blogs out there, and Google needs to go through all of them to decide which one to rank first, second third, and so on.
But we can rely on other's people experiences so as a rule of thumb let's consider the first 3 months as a probation period. Probation period to assess whether we are doing a good job or we need to adjust something.
That means within the 3 months you should see more impressions. Just go to Google Search Console and check the analytics.
It should look like this: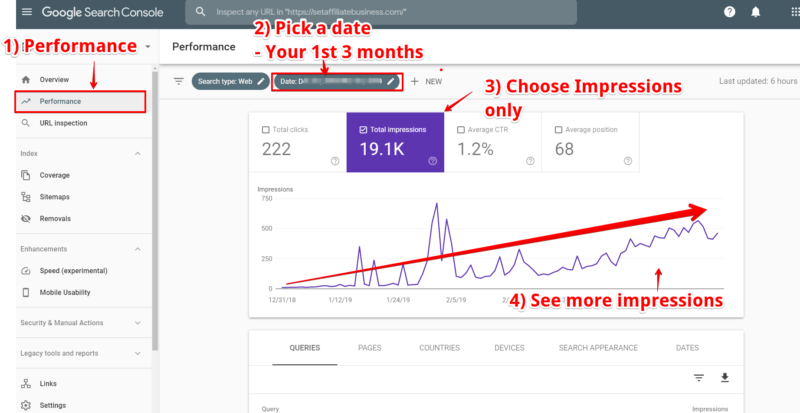 The impressions should be going up, otherwise, you are not doing something right.
Therefore it is important to follow the proper training so in about 6 months you should see traffic to your site solely from google: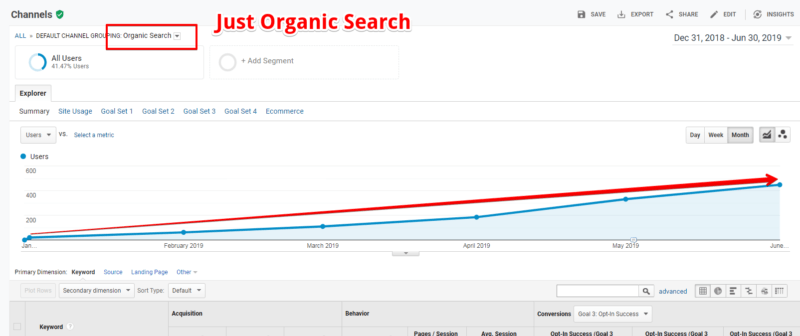 Why It Is Important to Rank?
One simple answer to it – you want to have visitors on your website.
And if your best post appears in the 45th position it does not have much traffic, it may have also zero visitors per month.
It is important to get to the 1st page of google since only about 8% of searches go to the 2nd page of Google (or other search engines).
Everyone is busy these days, so only a very few people bother clicking on the 2nd page, right?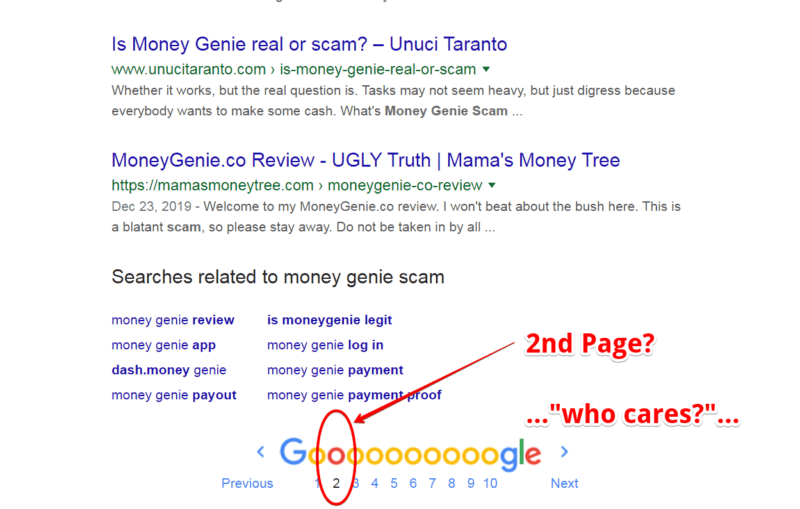 So you want to make sure your website gets to the 1st page of google.
Imagine a store somewhere in the countryside; No visitors = no sale.
On the other hand, imagine the same store somewhere downtown. Cashiers don't have time to go to the bathroom, so to speak.
Why Check the Rankings?
You don't want blindly spend half a year creating content and having no results. As we mentioned earlier, you want to see some impressions within 3 months and some traffic within 6 months.
If your website doesn't rank well go to double-check it. Use these simple 9 steps as a basic checklist.
Check other websites and see how much content they have. In many cases, it is just a matter of more content.
Add a section, maybe an image or two, embed a video from YouTube, and see in a week if there is progress.
You may want to reconsider changing the keyword as well. I believe you use one of the keyword research tools so you choose the best keyword.
As you keep adding the content your traffic should grow. It is never linear thought.
It fluctuates, but in the long term, it goes up.
Check the traffic in the google search console and/or google analytics.
On the other hand, you should be careful watching google analytics and rankings too often. Let's say once a week is a good rule.
I know it may be tempting to watch active visitors coming to your website 10 times a day. But this is just a waste of time. Sure you can take a quick look at whether you have some visitors on your site.
But don't spend too much time watching the rankings.
One thing to keep in mind.
Don't feel frustrated if you have written a good quality post you made sure it is optimized and is still not visible on the 1st page.
This is the way how Google (and other search engines) work.
Sometimes your post rank well sometimes it just doesn't. That is why you need to have enough content so the chance that your website shows on the 1st page is high.
And don't underestimate the other two search engines, Bing and Yahoo. These two can still bring quite a lot of traffic.
Here is a screenshot of how you can get indexed your post in Bing, using the Bing Webmaster page.
Where to Check Your Ranking
In the beginning, we have covered how to check whether your website is indexed. Once it is indexed it is on its way to start ranking.
But how to check other search engines, and how to check let's say 3 or 4 keywords?
It is time-consuming to do it manually.
Besides, the search results you get are relevant only to your region (depending on the keyword and niche you are involved in, the results might be similar).
I use Jaaxy SiteRank to check my rankings on google, bing, and yahoo. It also shows me how the Keyword does over time.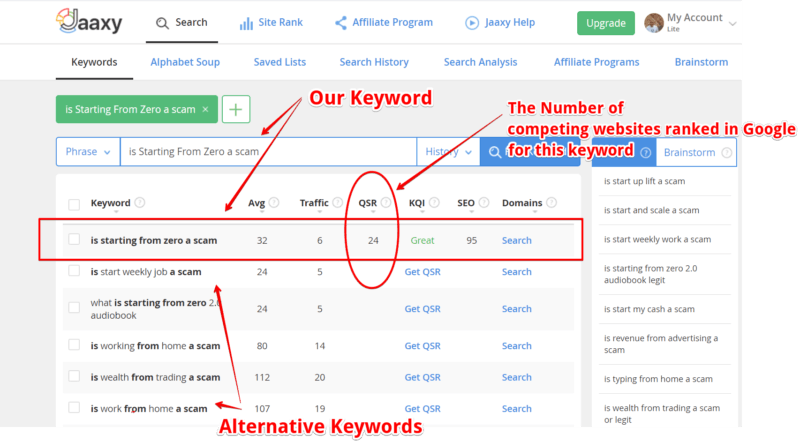 You can access the Jaaxy for free, just use your email address. You have 30 free searches.
It is possible to get full access to Jaaxy through the platform Wealthy Affiliate.
Read more about Jaaxy here.
In the End…
It is essential to have at least a basic understanding of how the ranking works. Having access to these data will help you to fix those posts which do not rank well, and you can see why others rank better.
Remember that traffic is the most important factor when it comes to the monetization of your website. You want to make sure that you have as many posts ranking on the 1st page as possible.
In case you have questions about the rankings, or the Jaaxy tool let me know in the comment section below. I will be happy to provide you with more information.
Thank you for reading,
Mike