Hello and welcome to my website.
I am glad that you do your research about the website called GoCashouts.
You have seen the claims about how you can get a $25 bonus just for joining this "#1 Social Earning Network".
It sounds too easy, doesn't it?
I have reviewed hundreds of digital products, systems promising to make money online, and a lot of scammy sites as well.
How about the GoCashouts.
Is this site legit?
We are going to find out the following:
Who is behind the GoCashouts
How it works
Payment proofs (whether they real or fake)
and more
In a few minutes, you will know everything you need to know about GoCashouts.
Disclaimer
Please note, I am not a member or an affiliate for GoCashouts. This review is based on research and information available online in the public domain.
Any recommendations and conclusions are only opinions and may not apply to all persons or situations.
Quick Overview
Name: GoCashouts
Website: www.GoCashouts.com
Price to Join: $0
Recommended: Absolutely Not!
GoCashouts Overview
GoCashouts claims to be the #1 Social Earning Network that has been around for a few years.
According to their website, it is easy to make money by completing tasks and invite your friends.
The truth is that this website was registered only in August 2020 and the claims about earnings are total nonsense.
There are too many red flags within the GoCashouts, including fake payment proofs, fake contact information, fake income claims, and so on.
GoCashouts is part of a networking scam that focuses on data harvesting (from your email, password, and eventually to your credit card information).
Please stay away from the GoCashouts.
Having an additional income stream, especially in the online world, becomes a necessity and in 2020, we all have seen why.
First of all, it is important to realize that there is no such thing as "easy money".
No one can make hundreds of dollars per day on autopilot.
In order to make a consistent income online, one must put effort into it, and also it is important to learn a few new skills.
I was fortunate to find one particular educational platform where I have learned the evergreen method.
Currently, I make 4 figures per month and just warming up.
Here is a link where one can check what is all about.
Sign up for Free and I will guide you through the platform.
No Credit Card Needed – Just your email.
What is GoCashouts?
GoCashouts is supposed to be the #1 Social Earning Network that has been around for a few years already. Their members make money by taking surveys, completing simple tasks, or referring friends.
According to their webpage, they have paid out already more than $45,000,000.
This is really impressive.
Is it even possible?
I mean let's find out how old is this website.
Let's go over to the site called www.whois.com and enter the domain name there:
Here is the result: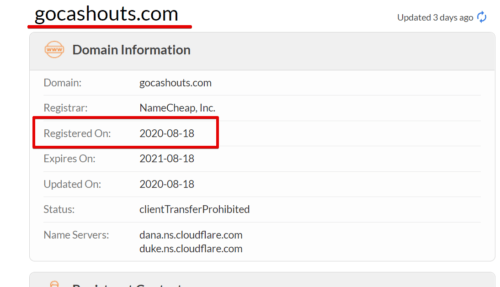 We see that the domain www.GoCashouts.com was registered only in August 2020.
As of this writing, the website is less than 8 months.
Did they really pay out $45M+?
That would be more than $5.5M per month or $187.000 per day!
And how about their cut?
I am sure people behind the GoCashouts do not work for free, so their revenue must be even higher.
Or is this figure just made up?
Let's dig a bit further to find out if there are more discrepancies.
Founder of GoCashouts
First of all, when you spot a site where they claim you can make money, be careful and check who runs the system (or company).
There should be clear information about a person or people who are behind the system.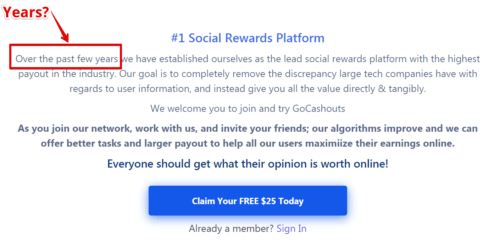 On their About Us page, there is some general stuff that doesn't say anything.
It would be a good idea to contact them, via email or via the contact form: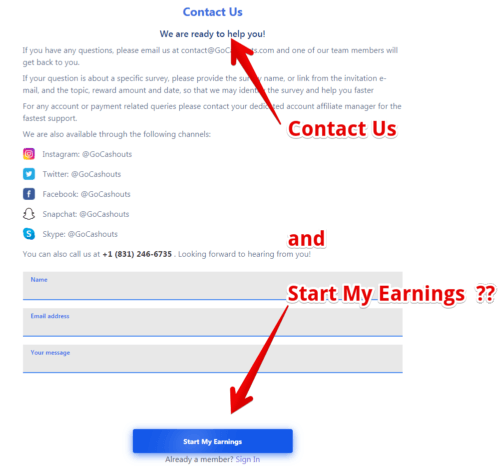 I did fill the form… the button says "Start My Earnings" which is strange.
Anyways, it seems that they have received the request.
On top of that, I have also contacted them by email as well, and so far no response.
I personally would expect some sort of automatic response. I mean the #1 Social earning network should have such an autoresponder (that is a computer program that automatically answers e-mail sent to it).
Issues with GoCashouts
I have reviewed very similar sites that have the same pattern same claims and same, for example, Task4Cash or Cash Monster.
That gives me some kind of advantage that I know what to check on the GoCashouts.
But even without any experience with these sites, it's obvious that this can't be the #1 Social Media Network.
Let's check their Social Media profiles to see how many followers they have.
Facebook – They have only 654 people following their profile.
Besides check the comments – these are not positive comments:
Twitter – Considering how many they have allegedly paid out, they have only a few followers.
Instagram – This is the most successful social media channel, with almost 15,000 followers.
(But for a #1 Social Earning Network, I would expect a lot more)
How bout the Telephone number they have in the Contact Us Section?
A simple google search shows that the same number is used on a different website called NotionCash or RewardsFeed.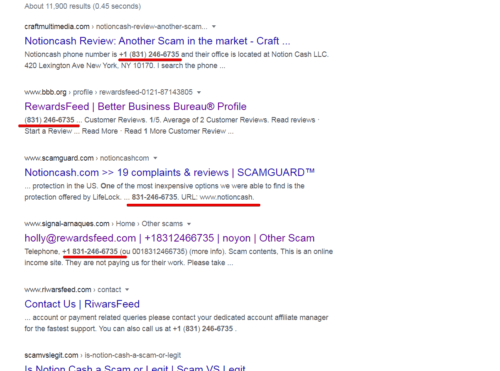 Obviously, these sites have something in common, and it is not just the telephone number.
How Does the GoCashouts Work?
It is easy to sign up and you don't have to pay a dime.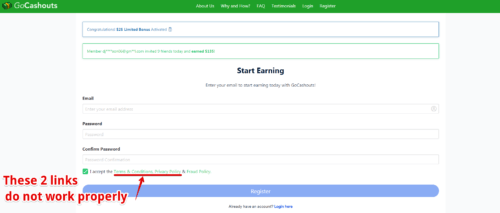 A note:
I have found one issue, which is a guide big red flag – The links to Terms & Conditions, and to Privacy do not work.
Back to the signing process.
You are promised to get a $25 bonus.
Is it even possible?
The truth is that GoCashouts operates as a GPT Site (Get-Paid-To). And these kinds of sites really offer a bonus when you sign up.
But it is nowhere close to $25. It usually is $5, and you can cash it out once you go through a bunch of tasks.
In order to register with the GoCashouts (which I don't recommend, at least make sure to use some fake email) you need to provide them with your email address and password.
Right after the registration, you see a Welcome message saying that the $25 balance is waiting for you.
Also, you should choose your preferred payment method, and then you are told that for each task that you are going to finish you earn $25 to $75!
This is totally unrealistic.
Legit Survey Sites or GPT sites pay a few bucks per day.
And what is even more laughable about the GoCashouts is the following claim:
"Every Click on your unique referral link also earns you $1"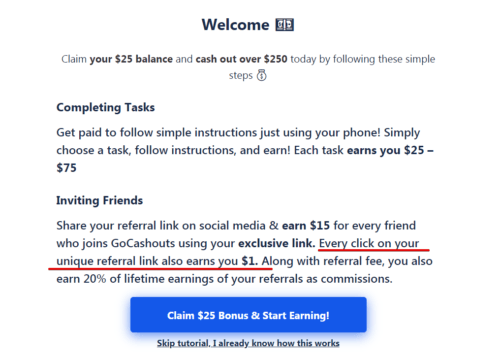 This is an outright lie!
There is no way that some system will pay you just for clicks on your link. It is not possible.
Here is How It Really Works
The bonus can be activated only on your mobile phone.
Meaning you have to go to the GoCashouts site on your mobile phone, sign in, and only then you will get the $25 Bonus.
This is something unheard of.
Or it is maybe just me, not having enough experience, but so far all legitimate Get-Paid-to sites are available on Desktops (or Laptops) and it is possible to withdraw the earnings.
Inside the Dashboard, you see a specific task.
You must install it and then start the task.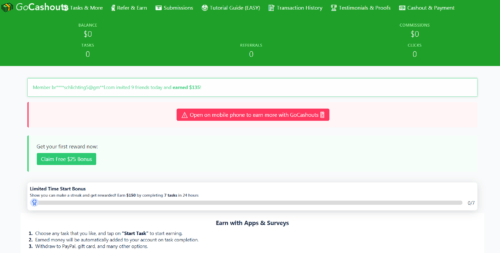 At this point, this entire system starts to be dangerous.
If someone is not careful enough, he or she might use the credit card because the system asks so… and you can imagine what can happen next.
And one more thing regarding the withdrawal.
Here is how these scams work:
A member requests for a withdrawal
The request is set on hold, for some reason.
This member is informed (after a few weeks) that has used fake referrals, and therefore the balance becomes $0, and finally, the account is closed
Is There a Better Solution?
If you are interested in sites that pay their members here are some examples:
www.swagbucks.com
www.inboxdollars.com
or even www.surveyjunkie.com
This is not available in the EU (the site is not accessible).
If you want to learn more about the InboxDollars check the review.
These sites are legit but they have a low earning potential (probably $50 to $100 per month).
Out of the sites that are legit and one can earn a few bucks in a relatively short period of time, my personal favorite one is Squadhelp.
They pay every day and it is also possible to make $100 to $300 per day. (Of course not every day)
Check the Squadhelp review, to learn more.
How About Your Own Business Online?
Yes, it is possible.
To be more precise, by the Business, I mean website.
A simple website that ranks well on google and generates consistent income online.
You can learn it too but please bear in mind that it takes time and effort.
But if you have no experience in building a simple website, check this platform.
Is Wealthy Affiliate a Scam? Or Is It a Legitimate Platform?
I have my own website and I have learned how to get the site on the 1st page of google.
This is one of the best skills one can have.
I won't bother you with all the details, but at the end of this post, you find a link where you get more information.
Let's go back to the GoCashouts.
What Other People Think
It is funny that they try to look legit.
Apparently, they are BBB Accredited Business and have a great rating on Trustpilot (that is consumer review website).
Let's take a look at the Trustpilot page to see what kind of rating they have:
It says "Poor"
And here are some of the specific comments:
And here this person compares it with another scam from the same network: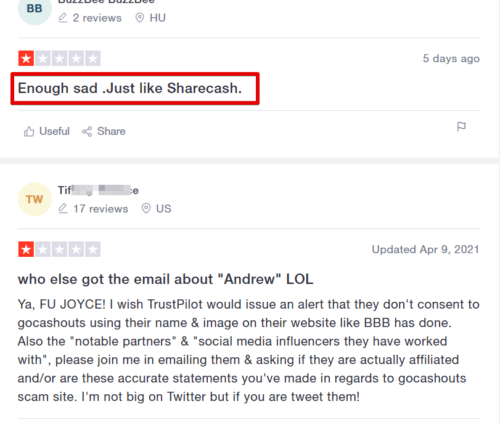 Sharecash – Just take a look at this review to see that in principle it is the same scam:
List of the Red Flags
Here is a list of the GoCashouts red flags.
1) Age of the system
In the first version of GoCashouts website, they claimed to be on the market for 13 years.
They have updated the information and currently, it says:
"Over the past few years, we have established ourselves as the lead social rewards platform with the highest payout in the industry"
Right here there is 2 nonsense information:
"Over the past few years" – The entire site is less than 8 months old
They are not lead social rewards platforms!
2) Fake Payment Proofs
Inside the dashboard, one can check their payment proofs.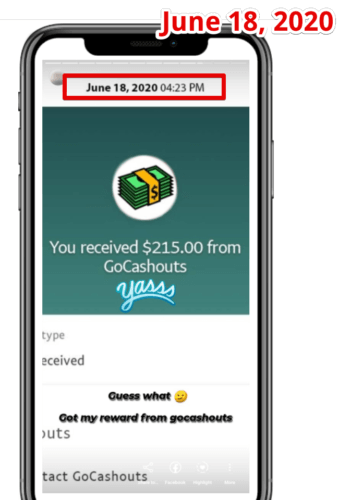 These screenshots only prove that the payments are fake.
We know that the GoCashouts website was registered only in August 2020.
With that being said, how come some members were paid in June or July of 2020?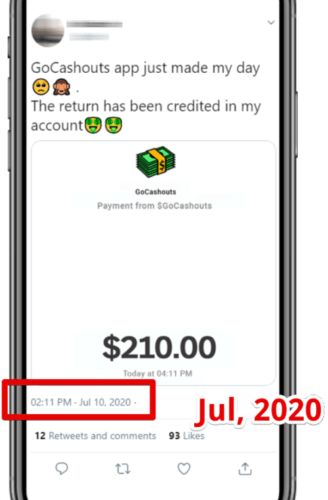 It doesn't make sense, right?
3) No One Gets Paid
This is common among all these scams that I have mentioned.
The creators keep coming up with new and new sites, but their purpose is to collect the data.
4) Social Media
We have covered that the GoCashouts social media presence is close to zero.
They don't post new stuff, the number of followers is extremely low and even those 15K followers on Instagram is nothing special.
5) Contact Information
They don't respond to your email.
The Telephone number is fake and we don't even know where this company is located.
They claim at one source it is in India, on FB page they have Philipinnes, the telephone number looks like from North America…
The bottom line is that GoCashouts is a data harvesting scam that does not pay.
Stay away from it.
What I like about GoCashouts

What I don't like about GoCashouts
They don't pay – Impossible to withdraw the earnings
Extremely low presence on Social media (in some none)
Fake Payment Proofs
Unknown creator
This is part of the networks scams
Is GoCashouts a Scam?
Let me finish with a few words only:
Stay Away from GoCashouts!
It is a data harvesting scam. The worst part is that this is not the only one.
As I have found out, some of them created 2 years ago don't exist anymore, but they are new ones and whoever is behind the scenes is getting away with it.
I also mentioned some alternatives, where it is possible to earn a few bucks, but in my opinion, it is waste of time.
When someone is truly interested in the procedure of how to have consistent income online, there is a link at the bottom of this post with more details.
In case you have specific questions or comments please use the comment section below.
Thank you for reading
Mike
Please Take a Look at Platform Teaching How To Start Business Online
I have been a member of Wealthy Affiliate since late 2017 without a prior marketing experience.
Beginning of 2018 I have learned how to build a website that drives traffic and makes sales.
Since the summer of 2019, I am a full-time internet marketer and I work from anywhere I want, whenever I want.
Training within Wealthy Affiliate teaches how to generate a consistent income in the long run.