Are you looking for the best course for affiliate marketing and you still can't decide?
Don't worry, it is absolutely normal.
These days there are so many courses, training, and platforms that it is not easy to choose the "best" one.
Let me share with you what I have found out about Freedom Breakthrough 2.0.
I have spent a few days, doing research, learning who is Jonathan, listening to the interviews, and going through the modules of his course, thinking about whether or not this is valuable.
So you don't have to spend too much time doing research.
Please note I am not affiliated with this course (I am not promoting it), so this is an honest review, showing both sides (the good and the bad).
In a few minutes, you will have a nice overview of what is this all about and you are going to find out:
What is Freedom Breakthrough 2.0
How much does it cost
Who is behind
How it works
Also the Pros and Cons
and beyond.
Let's get started.
Disclaimer
Please note, that I am not a member or an affiliate of Freedom Breakthrough 2.0.
This review is based on research and information available online in the public domain.
Any recommendations and conclusions are only opinions and may not apply to all persons or situations.
Freedom Breakthrough 2.0 Review
Freedom Breakthrough 2.0 is a high-ticket course teaching newbies how to make money with affiliate marketing.
For about $1,500 you get access to 12 modules that explains quite deeply what is needed to do in order to have a successful business online.
Based on my experience I can tell, that the course covers a lot. However, some strategies are not that well explained. A student might need to check other sources of information to get full knowledge.
What The Heck Is Freedom Breakthrough 2.0?
Freedom Breakthrough 2.0 is a platform teaching how to create consistent income online with affiliate marketing.
The entire course is divided into different stages called modules and we will go briefly through them as well.
Right off the bat let me tell you that this is legitimate training, and although the price is a bit high, students do get enough information to start their own online businesses.
Who Is Behind Freedom Breakthrough 2.0?
The person who created the Freedom Breakthrough 2.0 is called Jonathan Montoya.
When I first stumbled upon the name, it did sound familiar to me…
But no – that was just my ignorance 🙂
In any case, please note:
Please don't confuse J. Montoya with Tony Montana.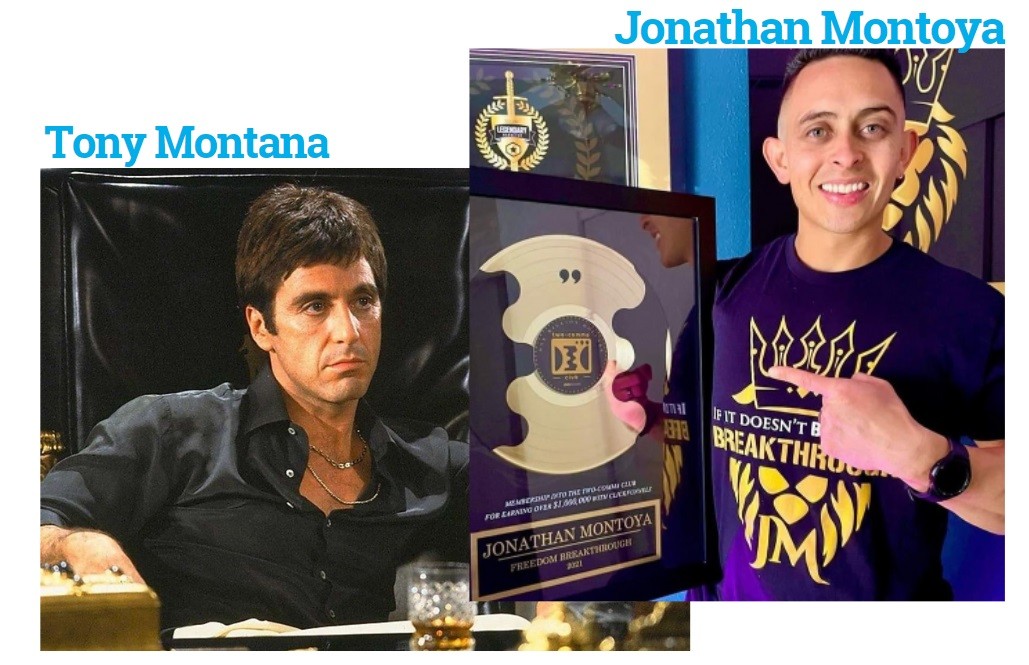 Tony Montana was involved in a different niche 😉
Who Is Jonathan Montoya?
He is an internet marketer, who has learned how to build up 7 figures business online using affiliate marketing.
Before getting into the internet marketing stuff, Jonathan used to work as an electrical engineer. Even though he used to make good money, the lifestyle wasn't fulfilling.
He had done a lot of stuff online, including:
Amazon FBA (Fulfillment by Amazon)
Fitness online shop
and a few other things
He basically started many new businesses, because he saw other people making money. But it did not bring any results.
It is called Shiny Object Syndrom.
I am sure you know at least one person who has chased shiny objects. Well I know I have done that as well.
As a result, he didn't learn anything…
We all have reasons why we want to change our situation, right?
Quite often these reasons must kind of pile up.
So the biggest breakthrough for Jonathan was the moment when they found out they were pregnant.
It was back in 2018.
You might know by now that affiliate marketing is a lucrative business model. A ton of people want to make money with affiliate marketing, but only a few really succeed.
Why?
Most of the time they give up. They don't see results next week and they realize it requires work.
Back to Tony…I mean Jonathan 🙂
He did not quit and realized that he could leverage his knowledge and teach others how to make living with affiliate marketing.
But…
Does it make sense?
Doesn't he build his competition?
No, because as we mentioned above, most people won't succeed / or won't follow through.
Did you know that at least 70% of people who buy the product, do very little or nothing about it?
What Else About Jonathan?
Besides the Freedom Breakthrough 2.0, he also offers 4 courses on Udemy.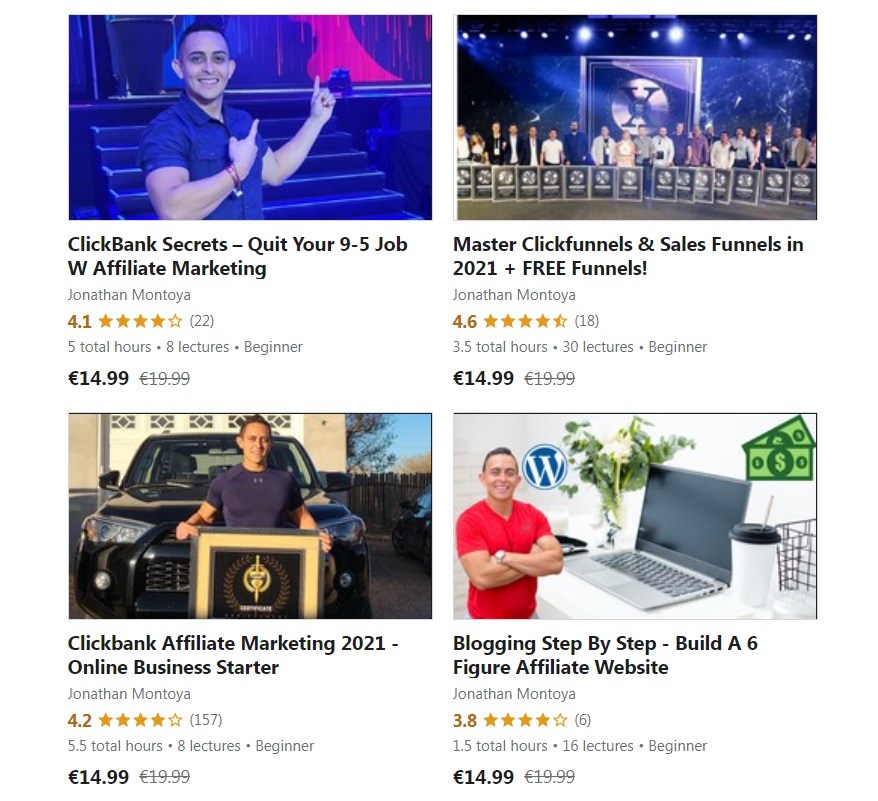 Each for $15.
In case someone is not sure about Jonathan's style, he or she can spend a few bucks and check one of these courses out.
Youtube Channel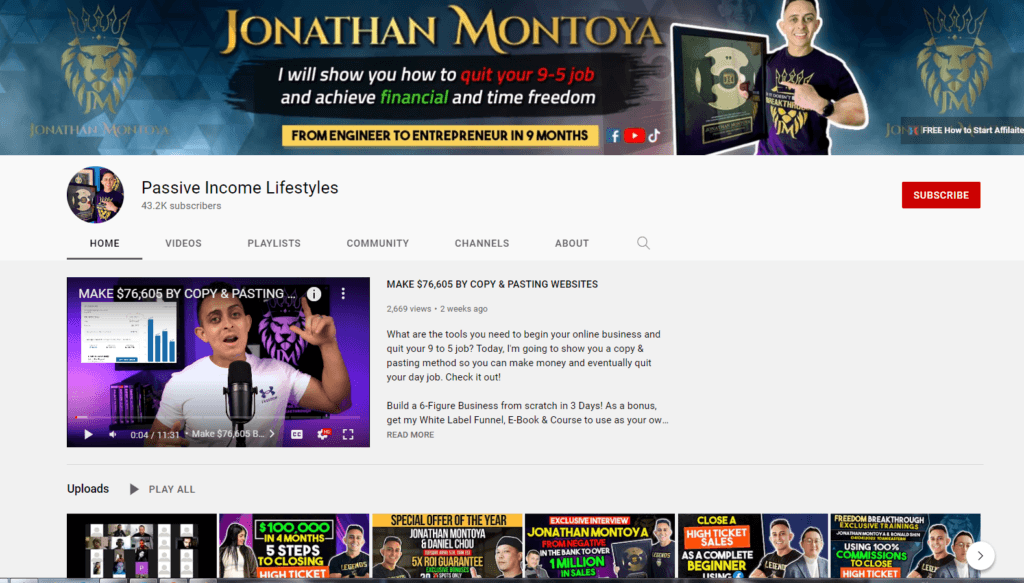 Jonathan has also created his Youtube channel in April 2018.
As of today it has about 45,000 subscribers and growing by approximately 100 subscribers per day.
He posted his videos quite frequently, and in April 2022 there are 900 videos (with 1.4 Million views).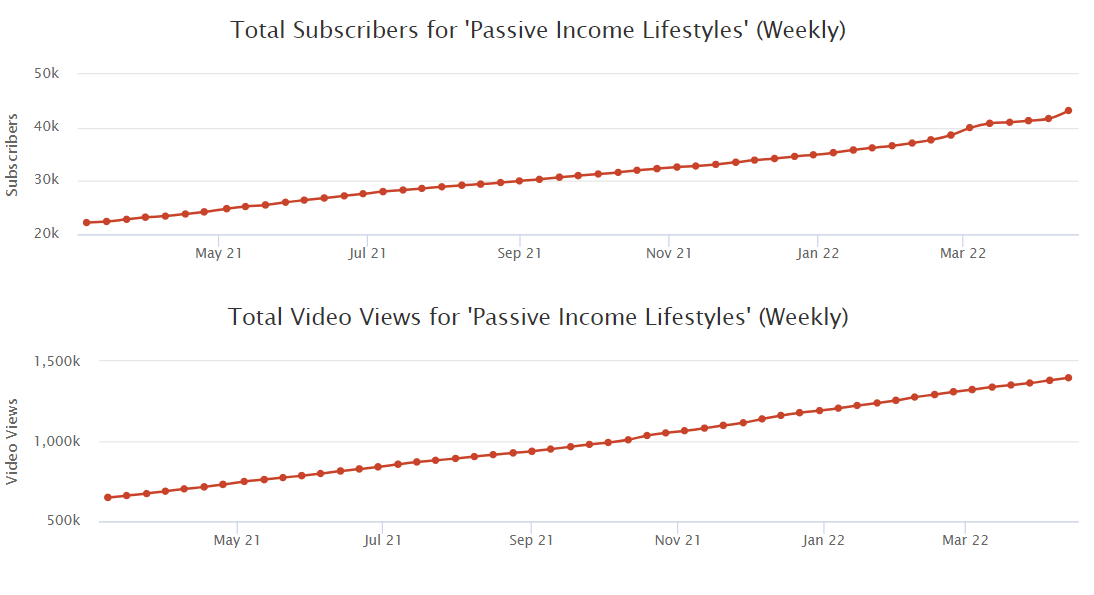 Above is a screenshot of how many subscriber sand views he has gained over the last 12 months.
Why all this information?
When I do research I want to find out as much about the person as possible.
The information I gather helps to determine whether the person is trustful or not.
So far, it seems that Jonathan is a legitimate internet marketer who provides a lot of value to his audience.
Who Is Freedom Breakthrough 2.0 For?
This is in theory for every person who wants to learn what is affiliate marketing all about and how to make money with it.
Are you willing to learn new skills?
Are you prepared to struggle, fail, learn and … and become your own boss?
Then this really might be for you.
I want to show in my reviews that not all digital products are worth it and I do my best to show my audience those products that offer value.
Rest assured, Jonathan Montoya has created already 2nd version of Freedom Breakthrough that teaches beginners how to leverage the internet and quit the 9-5 (if they want to).
In case you are looking for a platform that listens to its audience and based on their feedback updates the training, you might be at a good place.
How Does Freedom Breakthrough 2.0 Work?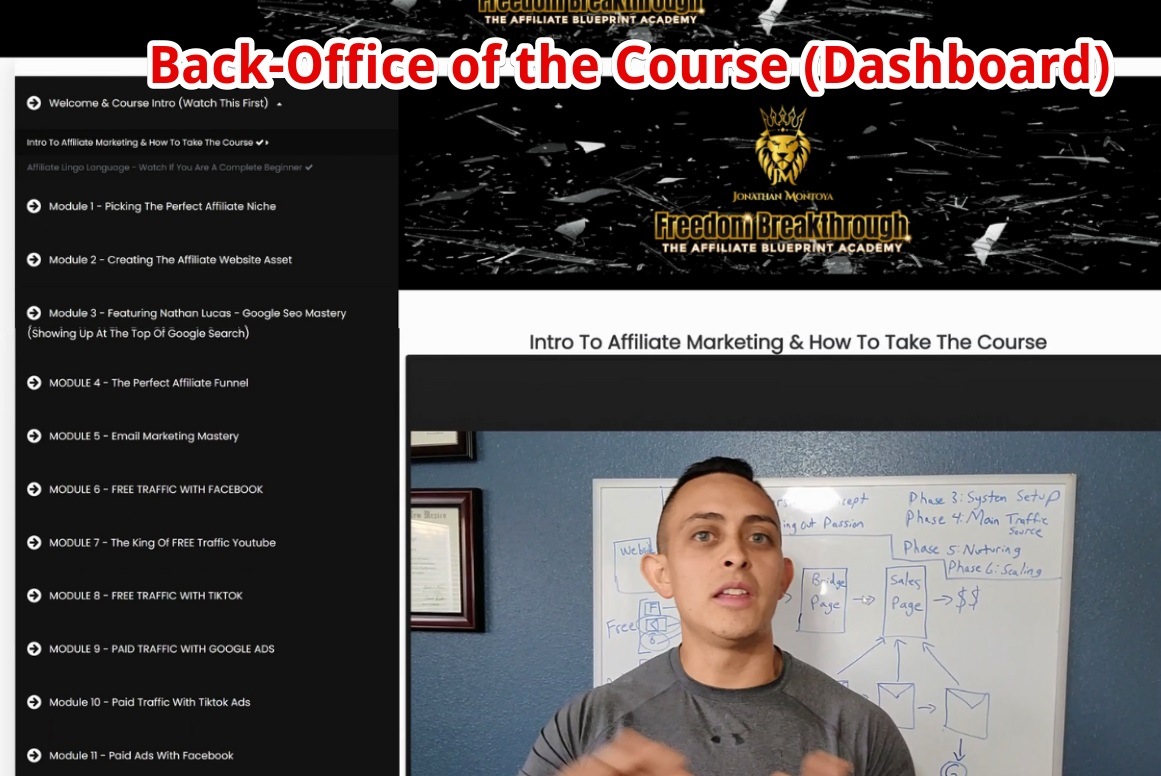 The entire course consists of 12 Modules and a few Bonuses.
Each module is basically a mini-course and in the following section, I will walk you through what is inside…
Do you really want to go through it in detail or just briefly?
Well, I am gonna do both; for some modules, I will get a bit more in-depth, for others not so much.
(Don't wanna bore you to death with long content, but at the same time I want you to have a nice overview).
Module 1 – Pick a Niche
This is absolutely important and this just proves that Jonathan knows what he is talking about.
Side Note:
Do you know how you recognize a good Italian restaurant?
They offer a Pizza Margherita right at the beginning of the Pizza Menu.
And this is similar to these courses on Affiliate Marketing.
Niche is the very first thing to choose.
Let's be more specific and check what is inside this 1st Module:
Pick the Perfect Niche
What is the perfect niche?
You are going to find out.
And I know that everyone wants to pick the "most lucrative" niche… but that's not the point.
Remember that affiliate marketing is a long-term game and you don't want to be bored in 3 months just because you are not interested in your niche anymore.
Is the Niche profitable?
A lot of niches are profitable, but again you need to have a genuine interest and some kind of expertise in your chosen niche.
The Problem and Solution
You want to pick a niche that solves a problem for your audience. Your task as an affiliate marketer is to find solutions for your readers/audience.
Affiliate Programs
Jonathan goes through different Affiliate programs:
ClickBank
Amazon
Getresponse
Clickfunnels
Bluehost
where you're shown to apply for these programs, and how they can help you to pick the niche.
Module 2 – The Affiliate Website Asset
Having an affiliate website is essential. This is your headquarters.
In this 2nd module, you learn how to find your domain and how to create your website.
In the back end of the website you learn how to:
Install WordPress theme
Create your blog post and how to add it to a category
Add legal pages
Add Menus
Besides that, you are advised to delete slow plugins and install essential ones.
This module also concerns Widgets.
Module 03 – Google SEO with Nathan Lucas
Nathan Lucas is a 7 figure affiliate marketer (at least according to Jonathan).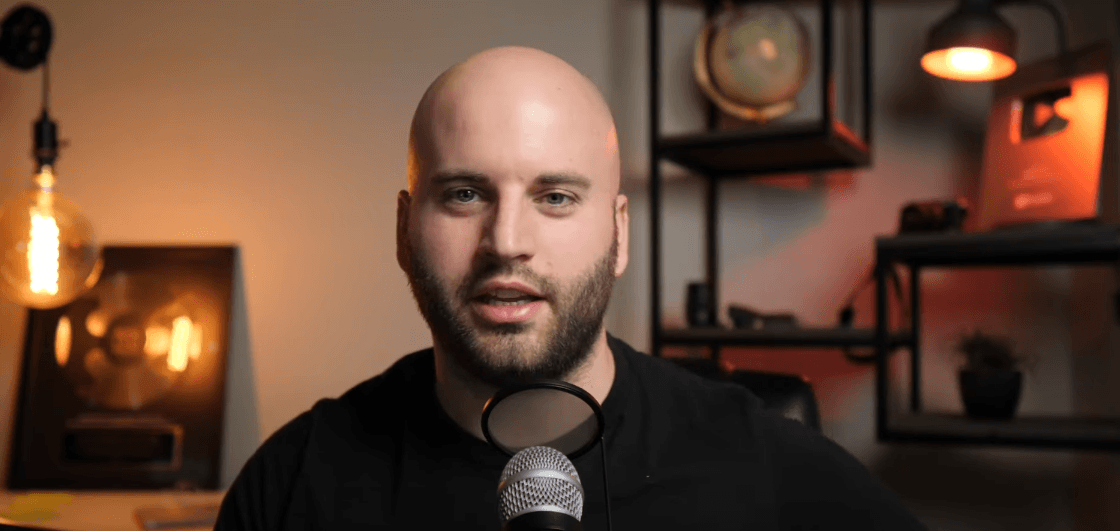 Anyways, Nathan has also a Youtube channel, but before that, he was in the military (in the air force).
He is going to walk you through the 3rd module which includes:
What are Search Results
Search Traffic, both buyer and Informative intent
How to find the best keywords
How to find a lot of topic ideas for your content
SEO keywords to include LSI Keywords
Module 04 – The Perfect Affiliate Funnel
Just briefly what is inside the 4th module:
Explaining what is affiliate funnel
What is a lead magnet
Signing up for Clickfunnels (here you can expect additional costs)
How to create high converting funnel pages
Module 05 – Email Marketing
This is a very important module where students learn how to properly build up their email list and how to create automated messages without being spammy.
Module 06 – Free Traffic With Facebook
In this module, students can learn how to optimize their Facebook profiles and how to drive traffic from Facebook Groups to their Facebook profiles.
Also this micro-training, it is explained what type of content to post and how you can grow your Facebook group.
Module 07 – YouTube Free Traffic
This module is about Youtube (obviously, right?) where Jonathan goes really deep, from how to create a Youtube channel to Youtube analytics for long-term success.
That includes:
Keyword Research (beginner to advanced training)
Scripting
Video Optimization, and more
Module 08 – TikTok Free Traffic
This is a very interesting training where students are taught how to get leads in just 15 sec long videos.
Besides that it contains also:
How to edit videos
How the TikTok algorithm works
How you can create 12 videos in just an hour
Module 09 – Paid Traffic (Google Ads)
Again pretty self-explanatory of what you can expect in this micro training.
It shows how to install the Google ad pixel, how to do keyword research, and of course your first Google Ad Campaign.
After setting up the campaign you will check the results, analyze them, and scale up the Google Ads to find even more leads.
Module 10 – Paid Traffic (TikTok Ads)
This includes the Intro to the Tiktok ads and running the ads.
Learn how to great a customs audience (lookalike) and you can even compy Jonathan's exact ads safe lading page.
Module 11 – Paid Traffic (Facebook Ads)

Again, form intro to creating your first campaign and how to create multiple campaigns for faster results.
You might have heard that Facebook does not approve all the ads, so here is shown how to work around them.
Module 12 – Launch Jacking
The last module shows how to start making money with affiliate marketing really fast.
It explains how it works, and how much it is possible to make.
As well as here you get to answer your questions you may have.
Also in this module, you learn how to get an article on your website and how to index the site.
For each module, you can also download works sheets, which is helpful.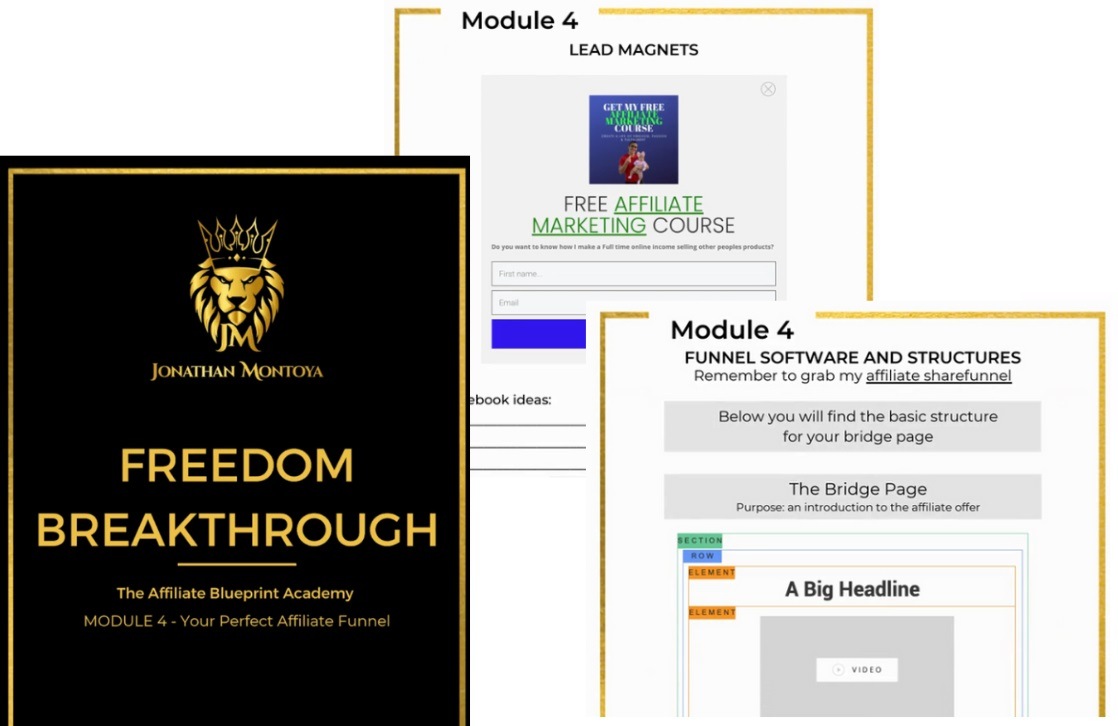 Bonuses
As many marketers they offer bonuses, claiming that they are with thousands.
I believe these numbers are inflated, but whatever.
It is good to have additional resources and this is also a part where you can learn from other coaches like Alex Branning, Joshua Ong, and Paul Mottley.
How Much Does Freedom Breakthrough 2.0 Cost?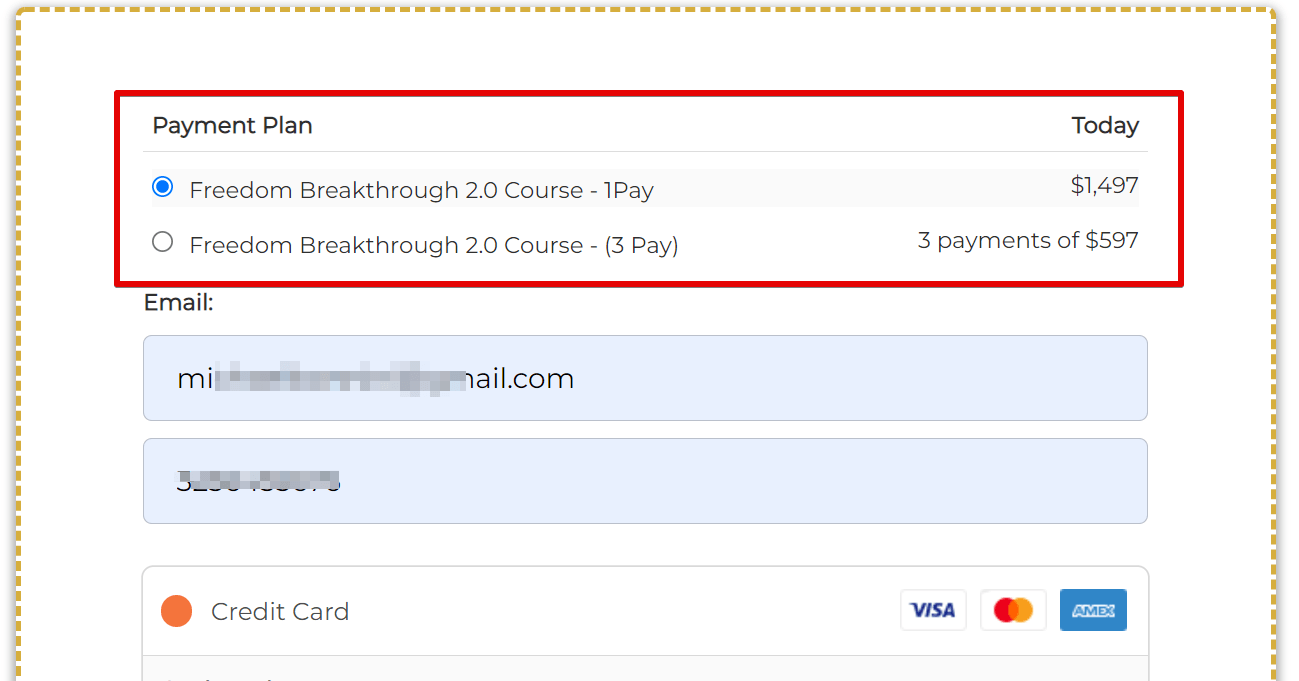 Freedom Breakthrough 2.0 costs $1,497.
As you can see, you can choose the payment plan and pick the one payment method or 3 payments. In that case, it will be $294 more expensive than the 1-time payment.
The 3 payments are paid each 30 days (the last payment must be paid within 60 days after joining the training).
I think this is a little bit overpriced and I am sure there are cheaper alternatives that offer the same value.
Freedom Breakthrough 2.0 FAQs
Let's answer some Frequent Asked Questions;
1) Who is Jonathan Montoya?
Jonathan is a legitimate internet marketer who started his journey as an electrical engineer.
At the same time, he used to wake up at 3:30 am just to hustle on this internet thing trying to figure out what works the best.
Then at 7 am he left for the 9-5.
He doesn't consider himself a guru, Rather he claims to "be in trenches" and he really does his best to be available on chat or just be supportive whenever necessary.
Jonatha has created a successful Youtube channel with a lot of valuable information.
His approach is very realistic and tries to explain to new students that every business takes time.
It is impossible to start ming $1,000 by the end of the month.
His main focus is to provide value with his course, called Freedom Breakthrough. This course has been already updated and as of today, the 2nd version is available.
The drawback might be (for some people) the price.
2) What Is Affiliate Marketing?

Affiliate Marketing is an online business model that connects vendors (businesses trying to sell something) and potential customers looking for a specific product or service within a particular niche.
An affiliate marketer is a person who connects these two subjects in an honest and transparent way.
The most common way how to connect these two subjects is via content creation whether using:
Website
Youtube
Social Media
A potential client consumes the content and he or she is directed to the merchant/seller's website. After purchasing the product/service, the Affiliate marketer gets a commission.
Everyone is happy:
The vendor sold his product without advertising
A customer has done a purchase he is happy with
Affiliate marketer made both happy and on top of it made a commission.
Would you like to learn how to become a successful affiliate marketer for less than $2 a day?
3) What Is 3 Day Challenge?
It is a 3-Day Business Breakthrough Challenge; a 3 step process that prepares you to leave your regular job and success in the online business.
It costs $7 and here is what is going to happen in those 3 days:
1st Day – Jonathan's simple system to make you daily commissions
2nd Day – a Click-by-Click Procedure where you can watch how to build a business in 40 minutes
3rd Day – You will learn how to get the offers in front of a large audience without paying for the ads.
On top of it, there are 3 Bonuses that allow you to get access to
eBook – Johnatan's leads that you can use in your funnel
Video scripts that made his videos viral
Jonathan's Affiliate funnel
4) Freedom Breakthrough 2.0 Price
This is a high-ticket course that costs almost $1,500.
You can either pay for it at once or in 3 payments, $597 each.
Also, please note that you would need to pay extra for additional tools, including the ads.
Freedom Breakthrough 2.0 Pros

1) A very Decent Course on Affiliate Marketing
I like how Jonathan's training is structured. He goes through a step-by-step process teaching what needs to be done first, and what next.
A student can learn how to create a different source of traffic, whether paid or organic.
2) A Legit Founder
Freedom Breakthrough is already the 2nd version, so it shows that Jonathan as a founder keeps updating the training.
He is not a fake guru that creates a new course every other month.
3) Money-Back Guarantee
If you don't like the training you can ask for a refund.
Please note that it is only a 14-day money-back guarantee and you have to have proof that you did take action.
So there must be a real reason for the refund.
Freedom Breakthrough 2.0 Cons
1) Price
Would you like to participate in this training but you feel like it is expensive?
Well, I hear you.
$1,500 is a lot of money, but at the same time, it is an investment.
Compared with other similar courses, this is actually a normal price.
But still…
It was the same for me as well.
I remember stumbling upon many great courses, but they were all above the $1,000.
I did not feel like paying more than half of the price.
But you know what?
There is one particular platform that doesn't cost more than 50% of the Freedom Breakthrough price.
It has great training on SEO and a lot of additional tools as well (including keyword research tools, and even the hosting is pretty cheap – $15 a year).
The best part?
Everyone can test it out for free (no credit card needed).
So if you are serious about learning new skills, I believe this might suit you the best.
2) Additional Costs
This is related to the 1st point, above.
But I believe it is important to point out that besides the course you would have to pay for additional tools to make most of it.
That included a budget for paid ads.
3) Still a pretty new platform
We know that this has been launched in 2018, so it is still new and even though Jonathan does his best to keep it updated, there are still a few issues that need to be fixed.
Therefore, the alternative I was mentioning above has been around for more than 15 years. I am not saying that it is the best one, but they keep teaching an evergreen method for more than a decade.
Is Freedom Breakthrough 2.0 Legit?
Freedom Breakthrough 2.0 is a legitimate course teaching students how to make consistent income with affiliate marketing.
It is thorough training with a lot of tools, tips, and decent support.
Is it the best training on affiliate marketing?
What is the best?
It is all about your preferences, your budget, and your expectations.
I have been doing such reviews since 2018, and I believe that there is one particular platform that is really good and they even offer a free trial (no credit card required).
And even though I am not associated with Jonathan, I can recommend the Freedom Breakthrough 2.0, to everyone who has a budget for that.
Would like to get more information about Freedom Breakthrough 2.0?
Or is it a bit overpriced for you?
Well, my point is if you have any questions please let me know in the comment section below.
I will do my best to get back to you within 24 hours.
I am here to help
Thank You For Reading,
Mike