Do you have a local business or run an agency and your clients are these local businesses? Then you most likely manage social media platforms as well.
Or you are maybe just interested in how to save time by managing social media accounts. That would be my case since I am also a content creator and don't have time to share my content on all social media, all the time.
There are some automation tools which come very helpful in this manner. And I found one App on ClickBank so I was really curious about what the Fan Page Robot is.
The website fanpagerobot.com has been created in October 2014. It has not changed the name is it was not like the case with Instant Email Empire vs. Copy My Email System.
Disclaimer:
Please note, that the following post might contain affiliate links.
That means if you click on them and purchase the product, I will receive an affiliate commission at no extra cost to you.
This review is based on research and information available online in the public domain.
Any recommendations and conclusions are only opinions and may not apply to all persons or situations.
Name: Fan Page Robot (FPR)
Website: www.fanpagerobot.com
Price: Advertised Price $14.95/month or $39/month
Owners: Could not find the names, but you can check the About Page
Fan Page Robot Review – General Overview
Fan Page Robot is a cloud-based app that should automate social media features. This tool saves time for business owners and internet marketers when they promote the business on social media.
The creators of this app did their best to make this program easy to use. A lot of tasks can be done in one click only. That includes:
load website content
auto-post
hashtag research
upload a video to Facebook and so on
What it says on the sales page is that this app will radically change your business with a few clicks.
No download, no installation is required.
The Good & the Bad

Saves time
Money-back guaranteed
User-Friendly Environment
Automation does not guarantee higher revenue
No Free Trial
N/A
Who is it For?
This app is helpful for anyone who is an affiliate marketer, social media manager or owns an agency that takes care of local business.
It saves time and automates some activities on social media such as for example, engagement with your followers, so it makes your life easier.
But today everyone (well almost everyone) is on social media, which concerns small businesses and big corporations as well.
But let's talk about the smaller ones.
Basically, anyone who owns a website is probably interested in how to automate social posting and engagement.  Having social media as an additional source of the traffic to your website is a great advantage and it can increase your revenue.
Fan Page Robot Platform
As we have mentioned there is no need for installing any extra software. You only need to connect Facebook with FPG.
You can configure how many posts you want FPR to post for each day and also you can set what time of day you want to post them.
You can add as many time ranges as you want.
You also have the possibility to connect your FB page with the WordPress website and other social media accounts allowing FPR to post all of them at once.
Within the generate content section you can enter your own keywords and FPR will start to search social networks and will find relevant pictures from Google images.
That was just a short example of the platform. It is very user-friendly.
Support
As one would expect from a decent product, it also has a dedicated Support page with an extra FAQ section.
According to different customers, the feedback works great and I have not found any major complaints.
Fan Page Robot Price Structure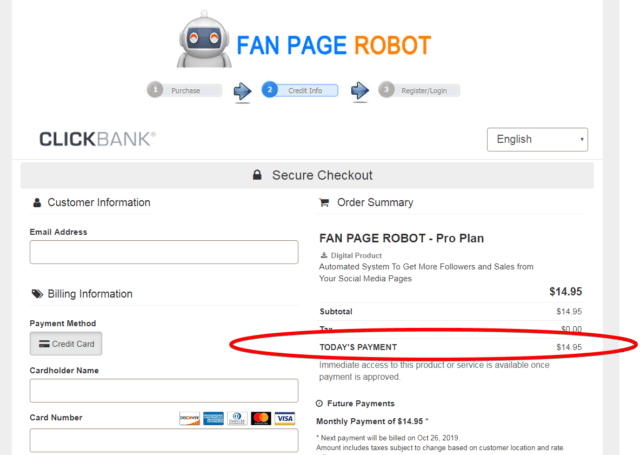 There are 2 different plans you can choose from.
The Pro plan costs $14.95/month.
You can manage up to 4 Facebook pages and 36 other social media pages.
With this plan, you have unlimited pages on 10 social media platforms.
You also have priority Customer support. So it is like a business class. The cost is $39 per month.
Of course, since it is a ClickBank product you have 60 Day Money Back Guarantee for both plans.
Creators of FPB claim that they keep adding new features and they come with no additional costs.
Just for your information, the last added features were "search Instagram Influencers" on August 23rd and the previous one on July 25th – that was a new feature on the popup campaigns builder.
It is good to know that there are will be new features coming. In 2019 there were 4 features added, so it is expected that 2 more will come by the end of 2019.
My Final Opinion of Fan Page Robot
Considering this as a ClickBank product I must admit I am pleasantly surprised with Fan Page Robot.
It does not have any hyped-up sales video, the sales page shows exactly what this product is about.
I have not found any red flags.
Would I recommend this product? Yes, it definitely has potential and it can help save you a lot of time, especially when you already run a business.
I know that many companies use external agencies to run their social media campaigns. In most cases, the price for such a service can be several hundred dollars.
Comparing it with what FPR offers, it is definitely worth it.
If you are interested in this system you can read more on their website if you have not done so. They have plenty of information you can go through, before purchasing.
Fan Page Robot at a Glance…
Name: Fan Page Robot (FPR)
Website: www.fanpagerobot.com
Price: Advertised Price $14.95/month or $39/month
Owners: Could not find the names, but you can check the About Page
Overall Rank:

VERDICT:
For a change, we have found a legit program on ClickBank which I can finally recommend.
This is not a scam or a misleading product.
It should be doing exactly like you have been talking about in their sales video.
Maybe the only thing I would like to point out is that do not expect any major results in your revenue in the first weeks. A higher number of followers or likes on your Facebook page does not necessarily mean more sales.
If you, on the other hand, looking for an extra source of income, that is a good option.
In case of any questions regarding this system or any other questions about affiliate marketing, let me know in the comment section below. I will do my best to respond within 24 hours.
Cheers, Mike
🙂