Welcome to EZ Bucks Review.
This is a new system and you may have seen somebody share it on Facebook or any other social media. You are wondering what this system is all about, whether it is legit or a scam.
Is it really possible to make money that easily?
We are going over this website and let me tell you right away, it seems pretty familiar to me.
I have been doing a lot of reviews and EZ Bucks looks just like a bunch of other websites that I don't recommend.
But I might be wrong this time, so let's start.
Disclaimer
Please note, that I am not a member or an affiliate of EZ Bucks.
This review is based on research and information available online in the public domain.
Any recommendations and conclusions are only opinions and may not apply to all persons or situations.
EZ Bucks Overview
Product Name: EZ Bucks
Price to Join: $0
Creator: N/A
Rating: 0/10
Do I recommend it? No!
EZ Bucks Review – Quick Summary
EZ Bucks is a fake system that promises you to make easy money. It is just a clone of other scams.
They promise you to pay a sign-up bonus and once you are in you can perform some tasks for what you get paid.
The truth is, that EZ Bucks does not pay.
First, you are told to wait, the payment is on its way. Then you are told that you can't be paid because of fake referrals and fake clicks you used. Then your account is locked and you can't log in.
Please Stay Away From EZ Bucks.
If you want, you can read the entire review to find out how to check the red flags.
In case you are tired of such scams I can show you a legitimate educational platform where I have learned how to generate income online.
What Is EZ Bucks?
EZ Bucks is a website promising you to make money just by sharing a referral link on social media. It says you can make $35 just by signing in.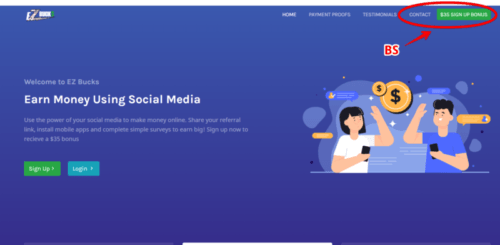 There is not a lot of information about the system. On the home page, you can only find some fake screenshots, allegedly the testimonials and contact information.
Right from the beginning, this looks suspicious and it resembles other systems that I have already reviewed: Money Genie, Inboxdollar.co, SwiftBuck, and there are at least a dozen others.
All of them are scams and they are harvesting scams (they collect email addresses and other information).
A lot of fake information can be found on all of the systems I am mentioning above.
Let's take a look step by step at whether this is the case with EZ Bucks as well.
Who Is Behind EZ Bucks?
It is very difficult to find out who is really beginning the EZ bucks.
We can only check some data related to the webpage EZBucks.co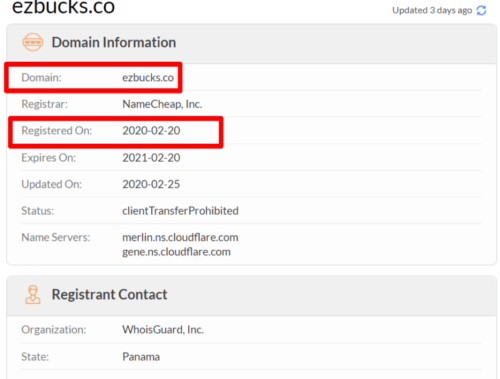 First of all, this website was registered in February 2020.
It does not have a lot of traffic, but it is possible that many people will fall for their claims, and traffic will go up.
It is kind of counterintuitive but such systems can draw a lot of attention.
For example, if we look at a very similar system called Paid Leaf, we see that the traffic to that website was significant.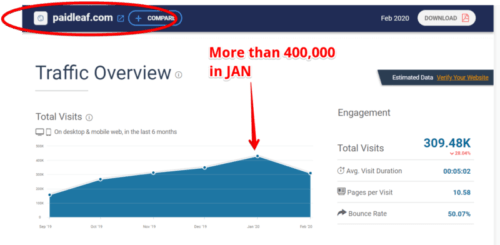 So people tend to fall for "make-easy-money" systems.
At first sight, it may seem that Paid Leaf is a different system, but I am sure there are the same people or companies behind both of them (and dozen others).
There are too many common signs:
The incentives are the same, the registration information is almost identical (both in Panama), and we will see that the EZ Bucks Dashboard (or members' area) works exactly the same as any of these scams.
Contact Information
One would think that there must be some email or address where we can contact the owners or someone who runs this website.
This is what it looks like:
Another sign that EZ Bucks is a scam.
There is nobody we can get in touch with. That means that the real owners are not trackable. They can easily move to a "new project" and create another website like EZ Bucks.
We have seen it happens over and over again.
If we go to reach the support there is this clickable "contact us" link:
But this link leads to the EZ Bucks Instagram page…
I have not seen any website that uses Instagram as support. If you have a different experience, please share it in the comment section below.
Who Is EZ Bucks For?
Despite what the EZ Bucks says on their homepage, I strongly suggest not to sign up for it.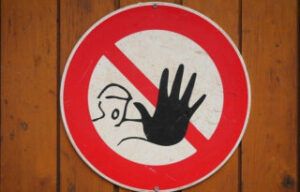 The reason is simple.
This is a data harvesting scam and they may sell your email address to 3rd party.
So again, the EZ Bucks is not for anyone.
If you are looking for easy money, then you would be better off when you sign up for inboxdollars.com or swagbucks.com.
These are legit GPT sites, but please note, that you won't make thousands of dollars. Maybe $100 or $200 per month, so don't have too big expectations.
In case you are looking for a way how to set up a real business online, check this article.
You will find out that it takes effort and some knowledge to start an online business.
Running a business online is a great thing. At least for me.
You can work from any place you want, as much as you want (assuming you have consistent traffic to your website).
How Does It Work? Let's Have a Look Inside the Platform
EZ bucks work like any other scammy system I have mentioned above (it would be more appropriate to say how it does NOT work).
You sign up and you get to the dashboard.
What is new with this EZ Bucks, compared to the older version of these scams, is the main menu. It has been shifted from the Left-hand site to the top.
– What a great thing! lol
You see a credit that you have "earned" just by signing up.
This credit might go up as you perform the tasks as per the Task Bar (but just virtually):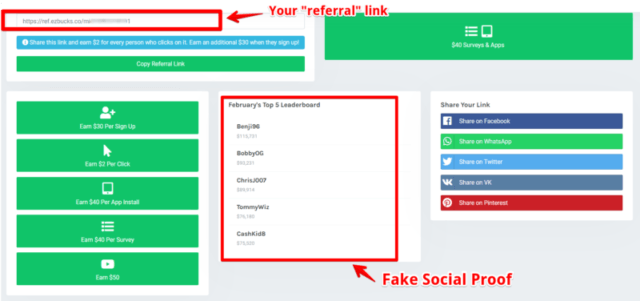 You see also some stats, or the leaderboard, which is completely fake.
Having such a board in from of your eyes and regular notification at the bottom of the page about how much a person just makes is a good technique to encourage you to go ahead and start performing the task.
It is called social proof.
The problem is that all these notifications are fake. The information about earnings on the leaderboard is fake.
Or let me correct myself.
None of these people have ever got paid!
Maybe I am too cautious but I would not go and perform the tasks.
What do Tasks look like?
I have decided to try one of the tasks and here is where I get:
First of all why it is in Hungarian?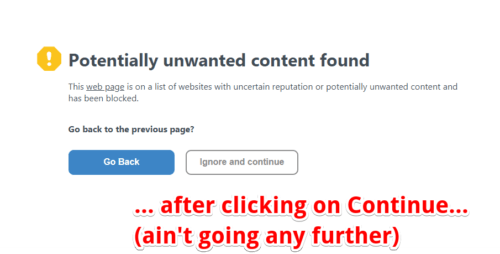 But there are some tasks in English as well. I went ahead and I did click on one to "Continue" and my antivirus system popped up:
It is not trustworthy to continue.
For completion of other tasks, you are required to provide them with your telephone number:

In other cases, they ask you for your PayPal account or credit card information…
This entire system looks dodgy.
How Does EZ Bucks Realy Work?
It is said that to cash out you need to have:
5 Referrals
Completed 5 tasks
Get 20 clicks
It seems easy.
The truth is though that EZ Bucks simply does not pay.
Once you are about to cash out, you are told that your payment is on hold. They check whether your referrals were legit.
After about a month (or a couple of weeks) your request is rejected due to the usage of fake clicks and referrals.
As a result of that, you don't get paid and your account is locked.
This is how other systems/scams work.
I have received several comments regarding similar systems (you can check them here):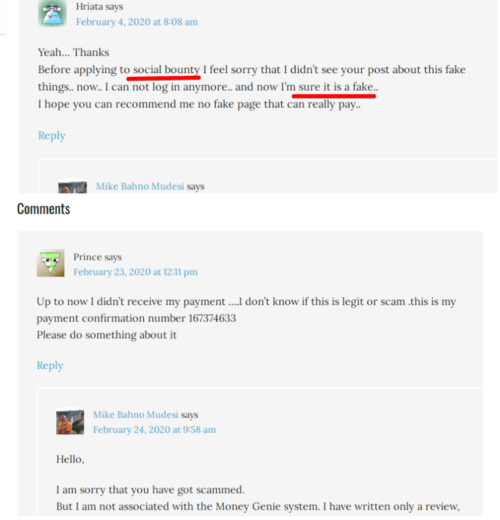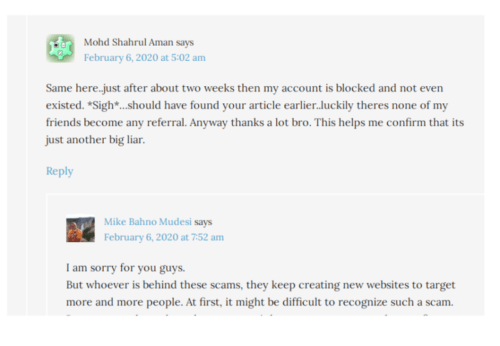 Also, here is the screenshot from the EZ Bucks Instagram profile: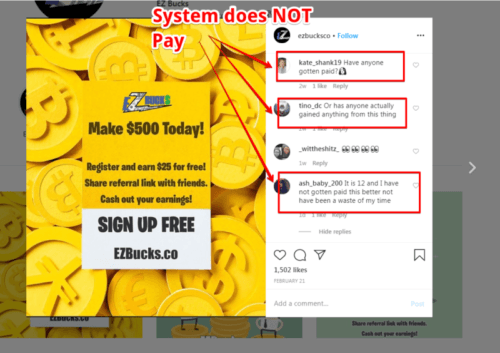 People are waiting to get their money.
Unfortunately, they have only wasted a time with EZ Bucks
The Claims vs Facts
We have covered how the system works or does not work.
Let's go through the Red Flags, so if anyone still thinking about joining the EZ bucks can double-check them on his/her own.
1) Copy of Inboxdollar.co (another scam)
EZ Bucks has been around since February 20, 2020.
As of writing this post, today is March 27, 2020.
The information at the EZ Bucks says, that they already paid more than $6,748,000 to influencers.
It is hard to believe that in 1st month they were able to pay more than $150,000 per day.
Besides, there is no doubt that EZ Bucks is just another version of Inboxdollar.co  (please do not mistake it with Inboxdollars.com)
Inboxdollar.co, pretends to be a GPT site and they even copied the name and text from the legit website inboxdollars.com.
2) Fake payment Proofs
Here is another proof that the information at the EX Bucks is phony.
We know the date when this site was registered right?
It was in February 2020.
Now, is it possible that these guys got their payment in 2019?
And here is another:
The answer is simple.
They did not, and these screenshots are fake.
3) Fake credit & No One Gets Paid
As I already described, no one gets paid.
The credit you are promised to get is just clickbait.
Some legit GPT sites do offer a credit, but it is something like $5.
4) Contact information – Not working
Legit websites have an email address or postal address or contact form where one can get in touch in case of questions.

But EZ Bucks does not have any of those.
The contact form they have does not work.
I have tried several times, but after clicking on the "Send Message" button nothing happens.
I even checked my inbox and nothing.
Please Note I have used an email address that I have created for such purposes only.
If you want to sign up for EZ Bucks or any other similar scammy sites, make sure you also use a new email address.
You don't risk that your inbox will be floated with phishing spam.
5) Fake testimonials
Testimonials are a good way how to show newbies that the system works.
But it is not the case with EZ Bucks.
They use some general text and instead of the real person they have stock photos (easily downloadable from pixabay.com or other similar websites)
Now a quick question:
Where can we see exactly the same "testimonials" section?
You are right – inboxdollar.co:
To me, this is ridiculous.
Whoever is behind these systems, has done a sloppy job. I mean it is so easy to find out about these red flags.
6) Social Media 
Unlike Inboxdollar.co, EZ Bucks have social accounts.
Facebook
This is a screenshot from the Facebook page.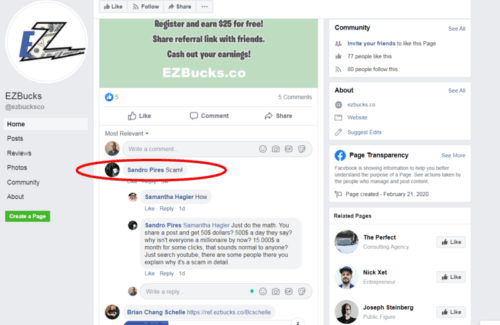 We see that some people are already aware that this is a scam.
Instagram
The same we have seen already on the EZ Bucks IG page.
YouTube
There are 2 videos only.
Guys talk about how great this system is. But people commenting on the video have a different opinion: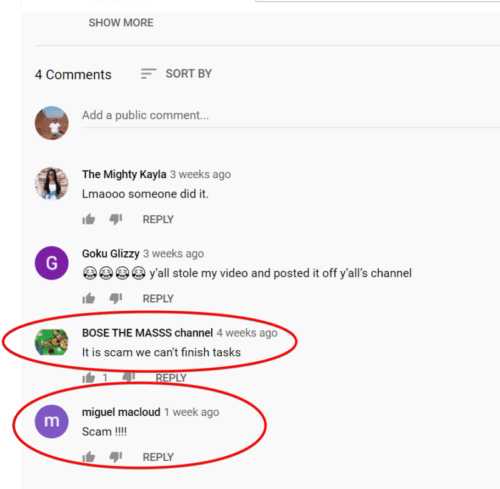 Twitter
EZ Bucks does not seem to be very active on Twitter.
7) No terms and Conditions
Every GPT site has to have terms and conditions.
The terms & Conditions page is not even accessible on EZ Bucks. The only way you see the link to T&C is right when you are about to sign up: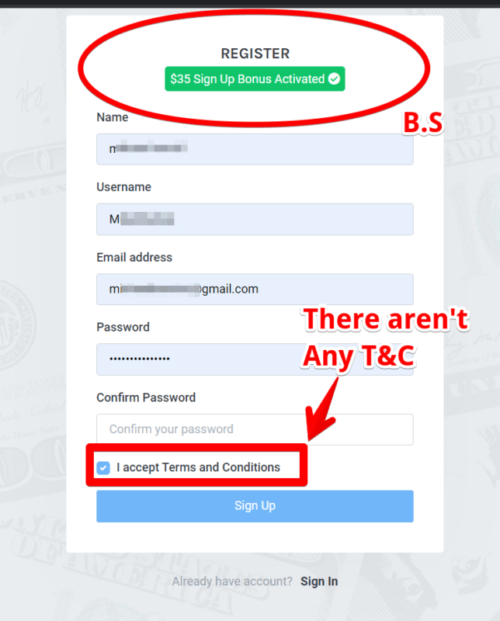 The thing is though if you click on the "Terms and Conditions", it does not work.
It does not direct you to a new page. The link is broken or does not exist at all.
So it is safe to say that EZ Bucks does NOT have a Terms and Conditions page.
EZ Bucks does not even have a "Privacy Policy" page. Every site doing business online has to have this page.
(Privacy Policy informs the visitor about how personal data are used.)
What I like

As much as I want to think, there is nothing I can point out as a positive.
This system is made to just get your email address and other personal data
What I don't like

This is a clone of Inboxdollar.co which is a scam as well.
Fake income proofs (made-up screenshots) and  Fake testimonials (using Stock photos)
The contact form does not work (the postal address is missing)
Most importantly, this system does not pay out a dime.
What to Do Now?
If you looking for ways how to quickly (within a few weeks) make some money, then I would suggest you visit the following legit websites such as :
swagbucks.com
inboxdollars.com  (please note this is the original and legit website registered in 2000. The Fake website is without "S" and the domain extension is "CO")
www.surveyjunkie.com
These are legit GPT (Get-Paid-To) websites where one can earn a few hundred dollars per month.
Not a lot, but good as pocket money (whether you need extra money for gas, or you want to invite your spouse for dinner, etc).
If you want to find out a little bit more about how to generate revenue online bear with me for one more minute.
How to Make a Full-Time Income Online
Many people want to start making money online and it is a good thing.
Most of them give up too soon, or they lack proper knowledge, and therefore only a small percentage of those who start actually make it.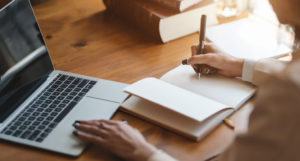 I will not go too much into details but there are a few things you want to consider before starting a business online.
Think in the long term. If you are a beginner, it is not possible to have a sustainable income within 3 months.
It takes time whether you start with a YouTube channel or with a website
It requires consistency.
Regarding the website, you need to have enough articles (or content) so more people will read it. The same applies to YouTube.
Proper education is essential, and you have two options:
a) Do research on your own, meaning learn and apply – make mistake, learn from them, and do it over and over again.
b) Invest in Education and you can see results within a year or so.
Regarding point a), this is how internet marketers started in the late 1990s and early 2000.
Once they learned what works and whatnot, they started to sell their knowledge online.
As a result of that, many people started to teach the same, even though they did not have the proper experience.
Today the internet is full of "gurus", scammers (just like EZ Bucks) who only take advantage of people.
I know I had almost zero knowledge regarding internet marketing in 2016, so I was trying to find out a system that would teach me what to do and how to do it.
After more than a year I tried one platform, I signed up and it was what I was looking for. It teaches how to start affiliate marketing and honestly I have not seen any better platform.
But still, I needed to learn how to create a website, how to get free traffic, and how to rank well, and this too takes time.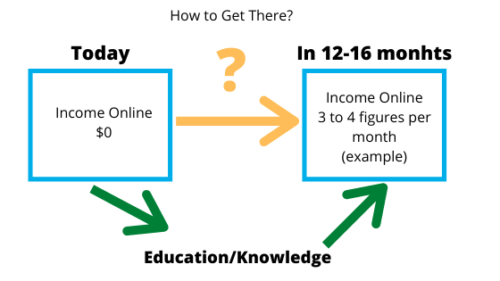 I am glad that it worked out.
After working on my website for about 3-4 months I saw some traction, another 3 months later I had some organic (free traffic). Slowly my website got ranked better and since summer 2019 I work full-time online.
Here is the link, where you can check what the training I took looks like.
In case you have questions, let me know in the comment section below.
I will be more than happy to answer you back.
Thank you for your time
Mike