If you want to build your brand, having a suitable logo is essential. Because this logo represents your brand's image, to make your customers or viewers connect with your brand.
The most direct way to get a logo is to spend your budget on consulting a studio. After all, most people are not in design-related industries. It is not an easy task to design to final logo result.
However, the cost of designing an exclusive logo is high for startups and website owners.
Therefore, DesignEvo is to help these just-started brands. It has more than 10,000+ exquisite models to choose to use, easy to make unique logos.
DesignEvo Summary
DesignEvo by Pearlmountain Limited is a versatile logo design tool suitable for small businesses and personal brands.
With a wide selection of templates and customization options, you can easily create a stunning logo and obtain full ownership by paying a one-time fee.
What is DesignEvo?
DesignEvo is a tool for exploiting logo design by Pearlmountain Limited, which can help small businesses, personal brands, etc., design their professional logo.
DesignEvo has more than 10000+ logo templates to make you choose from, and there are diverse graphics. The massive design material allows you to make more customization for these preset templates.
You can download it for free after the logo creation is completed. However, if you want to have the logo's copyright, you must pay a one-time fee.
In addition to supporting the online version, DesignEvo also supports the Mac version and mobile version. You can make logo modifications and production anytime, anywhere, so that you can immediately design it.
With DesignEvo, you can easily create a stunning logo, and you can have all copyrights as long as you pay a one-time fee.
DesignEvo key features
More than 10,000 templates
DesignEvo provides more than 10,000 kinds of logo templates for your reference, and you can quickly use the classification to search for the model you want.
In addition to manually searching for relevant logo templates, you can also choose the official categories to select your template.
Highly customization
DesignEvo offers more than 100 graphics and fonts, allowing you to find inspiration and make your logo, which will not make your logo difficult due to art-related design.
DesignEvo has been intimate to help you classify in the selection of graphics, and you can use it directly from the related classification to use the graphics. The font can also preview and apply by clicking it.
Free design and download
DesignEvo is a premium tool, so you can also download free download after logo design. The free version supports 300 × 300 pixels of logos downloaded, but the premise is that you want to share your social media, such as Facebook, Instagram, Twitter, etc. If you want to have all logo copyrights, you must pay a one-time fee.
Supports vector graphics
Logo designated in DesignEvo, if there is a plus package, there is a Scalable Vector Graphics, usually called SVG. And it also supports PDF download, so you don't worry, your logo will define the distortion because of the zooming logo.
Cloud storage can be modified at any time.
DesignEvo offers online cloud storage space to save your design or logo in the format, and you can access modifications anytime, anywhere, not afraid of the hard-working logo lost.
Intuitive interface and supports multi-device
DesignEvo comes with a very concise interface. Even if you are a first-time user DesignEvo, you can quickly manage it and design your logo in minutes.
DesignEvo also provides support for multiple devices, as follows:
Online version: you can directly use it on your browsers
Mobile version: Support iOS and Android
Computer Edition: Currently only supports macOS; the Windows version will be coming soon.
DesignEvo Price
DesignEvo is a premium logo maker. So it offers three packages, namely:
free plan,
basic plan,
and plus plan.
The paid plan is a one-time purchase system for each logo.
The $49.99 plus plan allows you to download font files and even own the copyright. If you think about commercial use, this is the plan to choose.
You can download in file formats such as JPG, PNG, PNG with transparent background, SVG, and PDF for paid plans. PDF and SVG are only compatible with Plus Plan.
Your logo cannot be downloaded for a free plan unless you share this tool on your social media.
What is the difference in the content of the paid logo file?
After downloading the free version of the logo, you will find only two logo pictures in JPG and PNG and statement text files. What are additional files provided for the paid version of the logo?
Just take the plus plan package as an example. The file downloaded after the paid upgrade is complete contains four files:
Font file: the font you have used in the logo.
5000X500 pixel file: In the high-res folder, a picture file with the highest resolution of 5000×5000 can be used, including PNG, JPG, and PNG with transparent background.
Original files: In the original folder, there will be your own defined pixel image files, including PNG, JPG, and PNG with transparent backgrounds.
Vector: SVG and PDF files will be provided together.
How to use DesignEvo Design Tools?
This part will simply demonstrate how to apply the logo template to modify and become your logo online with DesignEvo.
Step 1: Register the DesignEvo Account
Access the DesignEvo homepage, and click the Signup button in the uppermost corner to make an account application. If you have already registered can directly select the login.
Special reminder, if you do not register your account, you can start logo design, but you must log in to your account when you want to download it, so this step can be left to do it.
Step 2: Go to the logo design gallery.
After the registration is completed and logged in, click the Make a Free Logo button to redirect to the logo template page.
Step 3: Search pre-built logo template.
You can enter the keyword search directly in the upper left corner. For example, if you want to find a computer template to search. The right picture will show the current logo templates related to the computer.
You can also search directly with the classification of the lower left. There are many of the items that are classified.
Step 4: Enter the logo customize page.
When you find the logo template you want, click the Custom button to enter the logo model. You can modify the logo template.
Step 5: Join the Customizance out
Although the preset Logo model already shows, you want to modify the illustration or edit it yourself. In the visual function of the left, you can search for the picture style you want, and click the icon to add in a suitable template.
After successfully adding the icon, click the element, and a row of tool columns will appear at the top, and the color adjustment, horizontal, vertical flip, etc.
Step 6: Add text and select the font style.
In the function block of the left text, you can join your logo name and the slogan, or you can choose the word style you want.
After successfully joining the text, click the text you added to the right, and you will run a row of tool columns, allowing you to adjust the text's size, color, etc.
Step 7: Add shape
DesignEvo also offers a wide range of shapes, lines, symbols, etc., to choose from. You can find your favorite outer frame shape and join the logo, adding your own logo's uniqueness.
Step 8: Background Color Settings
Finally, you can reset the logo background color. Besides, you can also make the logo have the function of transparent background. Just tick the top transparent background. However, if you download a free logo, your logo file will not show in transparent background.
Step 9: Preview your logo design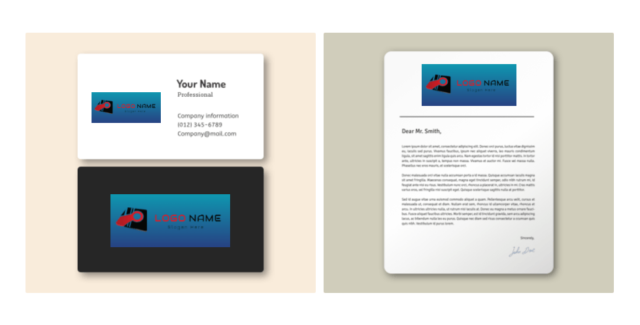 In the process of using DesignEvo to design a logo, you may want to know what the currently designed logo will look like on a website or document. DesignEvo provides a variety of preview modes, which allows you to take a look and understand the situation after you customize your logo.
If you want to preview the actual application effect of the logo, you can click the Preview button at the right of the logo editing interface. After that, you can preview the logo on the website, documents, business cards, clothes, and the front desk.
Step 10: Download the Logo
If your logo has been completed and satisfied, you can download the "Download" button on the right of the logo.
Conclusion
Brand logo design may be a headache for non-designer because not everyone has a suitable art cell. Moreover, not everyone will use professional graphics to design images.
Of course, without budget considerations, you can choose to hire a professional designer to help design the logo or spend extra time on your own learning professional drawing software.
Spending money to ask professional designers to design logos can cost thousands or tens of thousands of dollars at every turn, but this is a market mechanism. People use professionalism to provide services, and you get what you pay for.
Take the time to learn professional drawing software. If you have a good foundation and a little art cell, you can quickly get it done, then it's nothing, but it is challenging for professional software to design the logo you want.
The existence of DesgnEvo perfectly solves the above two situations. With easy-to-use editors, plus more than 10,000 templates, so that you can easily and quickly create the logo you want.
What if you are still worried about your brand's logo? Why not take this opportunity to give DesignEvo a try?
Thank you for reading,
Mike.