I have stumbled upon an interesting product on the ClickBank site called Commission Hero. This product promises you to make $1,000 a day.
If you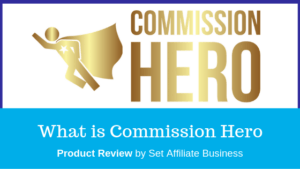 already reviewed some of the ClickBank products, you know that most of them are really misleading and offer little to zero value.
Does Commission Hero belong to the same category?
Commission Hero seems to be different.
With a proper strategy which is explained in the webinar, a person can make 4 figures a day.
In this Commission Hero Review, we are going to explain what is this system all about, how can you make money, what are the pros and cons and so on.
Name: Robby Blanchard
Website: www.joincommissionhero.com
Price: Advertised Price $997
Owners: Robby Blanchard
Commission Hero Review
Commission hero is a digital product teaching, how to make thousands of dollars a day with a simple 3 step system, promoting other ClickBank products by running Facebook Ads.
Let me start with the owner of the product.
His name is Robby Blanchard and he is a real person, unlike in many other ClickBank products I have reviewed (for example Digital Income System).
He wants to show you what is the fastest way to make money online with ClickBank and Facebook and how you can start earning 6 figures in the next months. You can join his Webinar. It is FREE.
He shows you his screenshots from his ClickBank account. To give you an idea, these screenshots are from mid of April 2019 where his balance says something over $1,7M.
I mean pretty impressive. I am sure by the end of this review we will find out how he generates such commissions as an affiliate. He also claims to be #1 affiliate in ClickBank.
There is actually a way how to find out who is the #1 affiliate.
If you click on the ClickBank website and scroll down you see that Robby is telling the truth. Good for him.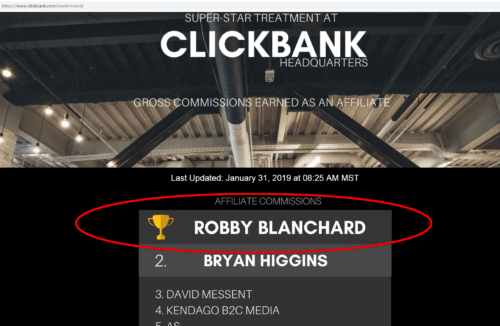 He wants to share his method with you as a potential customer.
What he teaches you, is how to do social network advertising, especially with Facebook. He explains that there are billions of people on Facebook so it is a great market place, which is true. Another good thing about running ads on Facebook is that you can literally create laser targeted ads.
Yes, but to make a profit from the Facebook ads might be difficult for beginners.
I used to run Facebook ads as well. I did not make a dime. Then I took some courses (there were for free though) to learn how to do it properly. I have spent more than $2,000 on Ads with very little results.
Running successful Facebook ads requires experience and of course some extra budget.
You start with a small amount, let's say $10 a day. You may see some traffic to your website (assuming you running an ad focused on the traffic). But you have no conversion.
What you need to do is to tweak your campaign a bit and run it again with an additional budget.
You may repeat this process over and over again until you start to generate an income. That means, that you need an extra budget, probably a few hundred or maybe even $1,000.
According to Robby though, with Commission Hero you learn 3 following secrets:
How to find the best and highest paying offers to make the most money possible
How to use your Facebook account to run ads for other people's products on ClickBank for a big commission
How to use a 3 step method that psychologically forces people to buy your offers.
The Good & the Bad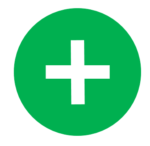 Robby is a real person (Considering other CB products this is a Pro)
Educational material how to run FB Ads + Bonuses
Money-Back Guarantee*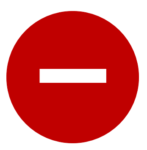 Additional costs required for FB Ads
Learning curve
* There is a drawback to the refund – You can request for a full refund after 12 months, not before
Who is it For?
Why would anybody who sells products online limit the number of potential customers, right?
So, Commission Hero is for everybody.
For beginners with no prior experience and also for advanced marketers who want to expand their business. What you are told in the first webinar of Commission Hero (which is basically a sales video) that
you don't need an email list
you don't need to own a product
you don't need to have a website
In my opinion, you do need a website, and 90% of successful internet marketers say so. (I have heard also Frank Kern saying that website is the first thing you need to have. Whether you like him or not, he is right about the website; especially if you plan to create a sustainable business).
The thing is, that with Commission Hero (CH) you are taught how to do it without a website. As Robby says, you only need a Facebook and ClickBank account.
BTW, If you are interested in how to set sign up for a ClickBank account you can watch the video below.
So apparently, this Commission Hero works for anyone, whether you are tired of working the 9-5 or you already have an online business.
People who want to have freedom and are willing to work from anywhere and anytime, CH might be exactly the right product.
I like that Robby also points out some restrictions, saying that it is actually not for everybody. His platform is definitely not for people who:
Want to get rich quick
Don't want to work hard or put in the effort
Give up at the slightest sign of resistance
I guess it is fair enough. Everyone who wants to build a sustainable business has to realize that "get rich quick" simply does not work.
Modules You Get + List of Bonuses
Here are the steps you will be walk-through when you go to purchase the Commission Hero.
Module 1 – Choosing your offers
The Entire Commission Hero System – You will learn how to pick the right ClickBank offers to make a profit right away.
ClickBank product gives a commission of about 75%. You should learn, how to get the commission 90-100% without any learning curve.
Module 2 – Creating your images
The Image is the most important part of this system – you will be shown how Robby uses to design all of his million-dollar images that cost $5. On top of it, he will show you how to know which images will be working and which ones won't, so you save a ton of time and frustration
Module 3 – Setting up your landing pages
Here, he'll show you what you need to have on your landing page so it is both Facebook compliant and yet it apparently converts really well (Robby uses word "crazy". I personally do not like such exaggerations).
Also, you will learn how to create article landing pages and quiz landing pages that force the viewer to purchase (I personally don't like to force anybody either). On top of it, he will teach you how to get split test variations that will get you higher conversions and sales.
Module 4 – Running your Facebook Ads
Inside there will be easy to follow Facebook ad tutorials, so you wouldn't feel blind while creating them. You will learn the right way to set your ads, so you get the profit fast and how to scale it up to super-profits.
Module 5 – How to scale up
Once you find a winning ad, you want to scale it up – how to go from spending zero to thousands a day "in less than 30 days". You will learn how to get more Ad Accounts to scale it up even faster.
Then, you have a bunch of bonuses with additional material.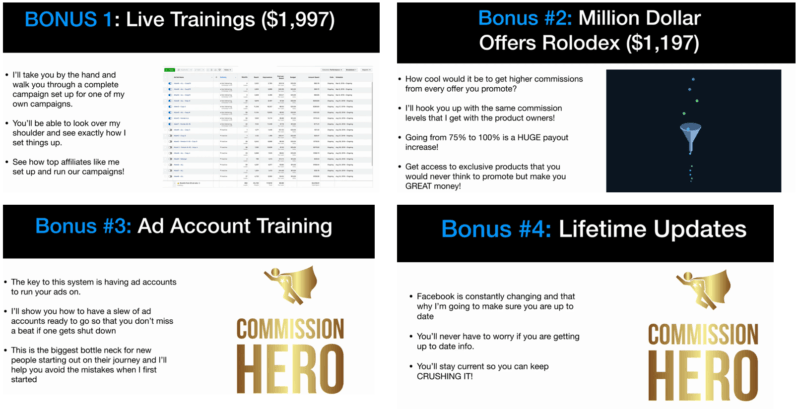 Support
You are getting full support from anyone who is in Commission Hero Group. Besides newbies, you will find many advanced marketers inside this group. Everyone in this group supports each other.
They do have also the Facebook page where you are literally asked to be active and raise questions. Just type Commission Hero in Facebook Search Bar and you will easily find the group, as per screenshot below:
Commission Hero Price Structure
The cost of the product is $997. There are no upsells.
Also with Commission Hero, you get many bonuses worth of several thousands of dollars. That should make you think, that you actually saving the money, I guess.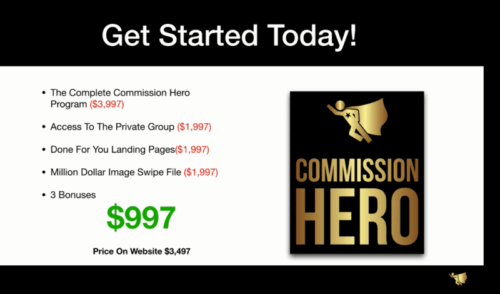 My Final Opinion of Commission Hero
Facebook is a huge market. Whenever you run ads on Facebook you have also the option to run the same ad on Instagram as well.
The thing is, it is easy to create an ad on Facebook. You can even set your ad pretty laser targeted. Most people will give you some likes, they may share your post… But you want them to buy the product. You want to make a profit in order to create a new ad.
My point is that to create a profitable Facebook ad is pretty difficult and it requires experience and budget. I would say it was still easier to run efficient ads on Facebook back in 2017. In 2018 the costs per ads increased since more and more people do such ads, let alone 2019 and 2020.
If someone has a budget to pay $997 for Commission Hero, there is a good chance he has an extra $$$ to run the ads.
There are community and support, so it is a good chance to learn a lot.
But that will require some time. I would say if you really want this to make you some extra bucks you most likely will need to hustle and grind, especially in the first months or maybe even more.
How about a Free Traffic to your Website
Paying for traffic is a fast way how to get visitors to your website. That means you pay (either FB, Google Bing, etc.) for clicks to your offer.
Now how do you know that these people will end up buying the product?
You can't predict that, so it is all about testing. And it costs money.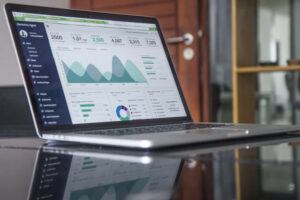 Do you prefer free/organic traffic?
There is a method, how you can get free traffic yo your website.
That means that people go to google, looking for an answer and they land on your website.
Isn't that cool?
Yes – but, this method has its drawbacks as well. It requires both, effort and time.
Depending on your niche, your website can get solid traffic within 5 or 6 months. In about another 5 to 7 months you can get about 1,000 visitors per day. At this point, you are certainly ready to monetize that traffic.
This is a great method if you have time, but no budget.
If you have a budget and want to try to get results, then you can go ahead and pay for the traffic.
That is what Commission Hero teaches you.
IF you want to learn what exactly it takes to get the free traffic, there is a great educational platform that teaches that. Feel free to review that and then decide which platform you prefer.
Commission Hero at a Glance
Name: Robby Blanchard
Website: www.joincommissionhero.com
Price: Advertised Price $997
Owners: Robby Blanchard
Overall Rank: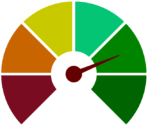 My Final Opinion of Commission Hero
Commission Hero is a High Ticket Product, maybe not everyone can afford it. But in my opinion, you get also valuable information and if you follow the training you can earn the money back in a reasonable time.
You must also consider the additional cost for Facebook Ads, which are at least a couple of hundreds (in case you have not run them yet)
Actually, you can decide for yourself. Go check his Free webinar and make your own decision.
Let me know if you have any questions.
I'd be more than happy to answer them.
Cheers, Mike 🙂