If you are interested how to make money online, you are already aware of the fact the fastest way is to pay for a course. You can attend off-line course (which costs probably few hundreds bucks) or there are plenty of courses online.
One of such courses is offered by ClickBank and it is called ClickBank university.
What is actually ClickBank University 2.0 Cost? 
You probably already heard of ClickBank University. It is a platform developed together with ClickBank affiliate program, where they teach you how to make money online as affiliate marketer or as a vendor (or both).
What is the real price for CBU course?
Are there any upsells?
How much it would cost me at the end?
Is it really worth the investment?
We will be looking into that deeper. But I will reveal right away the price structure with ClickBank University 2.0.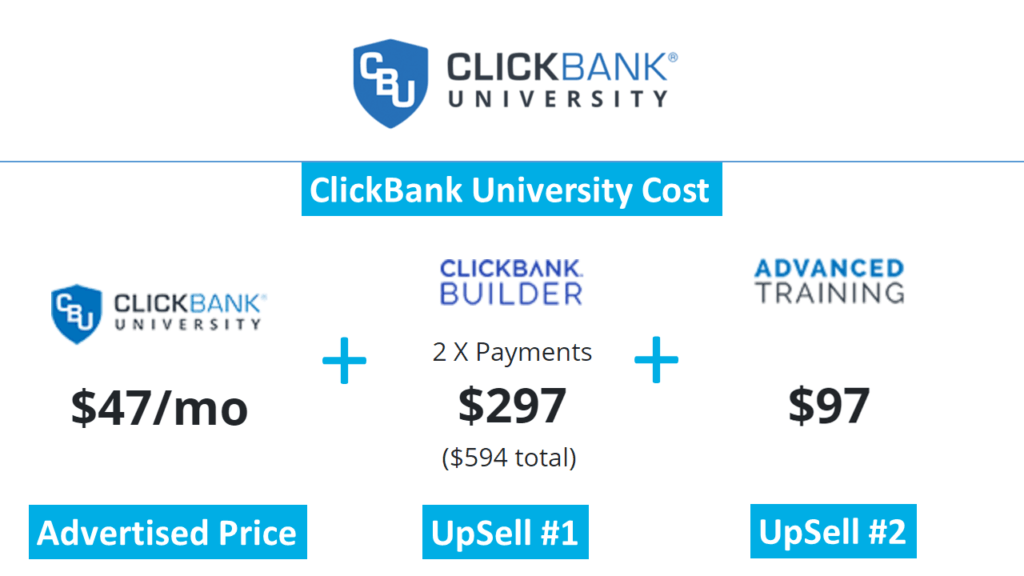 As you see the Advertised Price $47 (it is actually $56.40 what you are charged because of the Tax) per month is only the basic training.
Name: ClickBank University
Website: www.clickbankuniversity.com
Advertised Price: $47
Total Price: $47  per month + Upsell $594
Owners: Justin Atlan / Adam Horowitz
The price is not that  bad, considering other similar courses. In my own experience there is a better alternative and you can check it by yourself.
Here is briefly my opinion about ClickBank University 2.0:
The Good & the Bad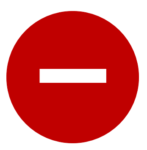 Training is not up to date
Upsells,  you are not informed of at the beginning  – $594 + $97
Locked training (although it is possible to ask support to unlock them)
They do not teach how to get an organic traffic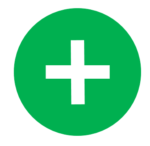 Concentration on product creation
Written version of the video training
Active Community (after each video there is a section for questions and interactions)
Who is ClickBank University 2.0 For? Tools & Training
For the advertised price $47/month you purchasing basically 2 types of courses. They both have quite good amount of information for beginners and intermediates.
When you decide to buy this product, first thing you will see is the access to CBU 2.0 Course along with some bonuses, which is not mentioned in their pre-sale video.  That is always nice thing to see some extra material  🙂
So after clicking on the first on CBU 2.0 View product,  you will be welcomed by Founders of the product.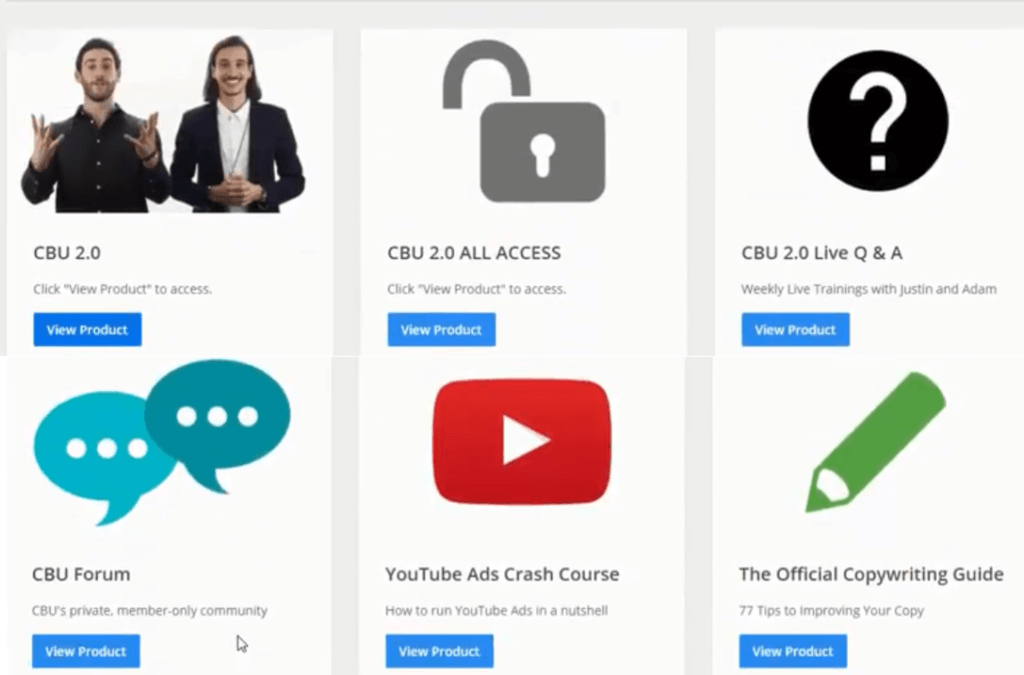 By clicking at the CBU 2.0, you open the main course where you have the access to the Vendors section and the Affiliates Section.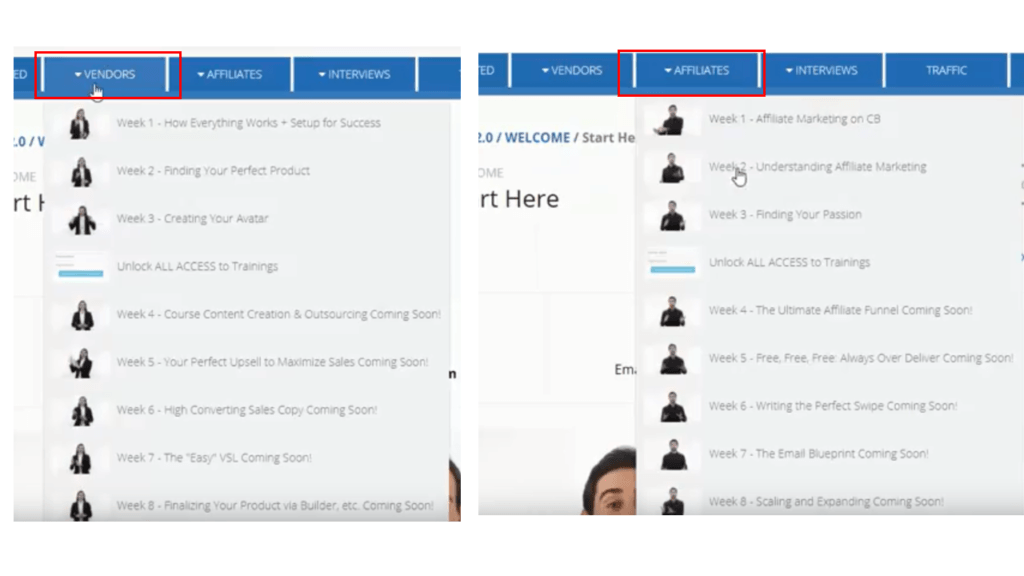 1st type The VENDORS section, is dedicated to those who would like to learn how to promote their own product that is why it is called vendors. This is a 12 week training. To be precise it is a video training. It is backed up by written version, which is good.
First 3 weeks consists of following topics:
How Everything works + Setup Success
Finding your Product
Creating your Avatar
This training is structured one by one or week by week and you can't get into the further training (first 3 weeks are open right away) unless you contact the support.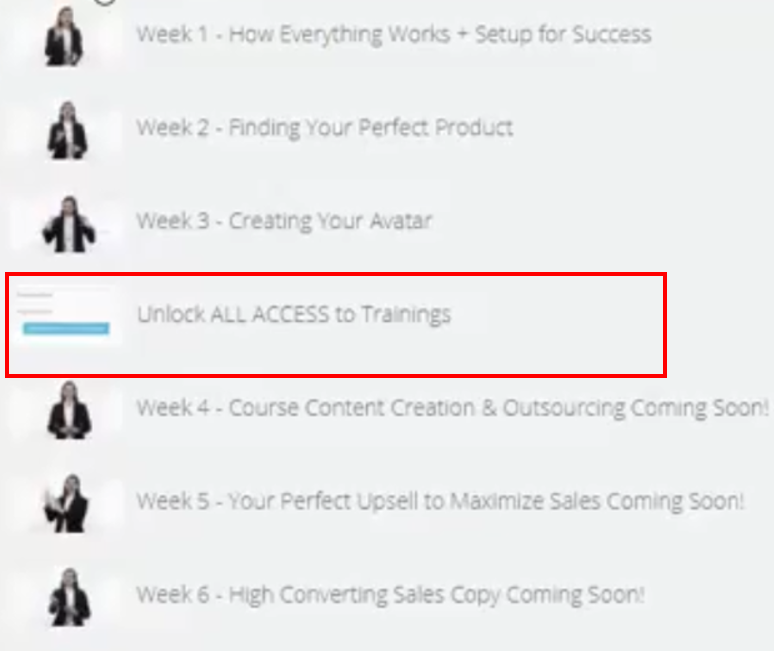 Once you ask support to unlock the rest of the training (or you happened to follow the training as it is drip-fed)  you get to the rest of the courses.  Just to mention the topics briefly:
Week 4 Course Content Creation @ Outsourcing
Your perfect upsell to maximize sale
..
Finalizing your product via Builder
JV Managing (Join Venture)
Split Test
How to Scale
Selling high ticket products on webinars
Each section has video training with different length – from the shortest ones (up to 5 minutes) to the longest one with more than 20 minutes.
2nd type is for affiliate marketers who want to promote other products. This course is 8 weeks long. And here I will say quite frankly -> It does not have enough  information to make you successful affiliate marketer. In 2019, you want to learn much more in order to "make it" as affiliate marketer.
Fortunately, there are still other sources where you can educate yourself more deeply.
For example Neil Patel has tons of free valuable stuff you want to look at.
Back to the CBU Affiliates section;
Also here, you have a first 3 weeks of the training unlocked, and then you have to raise a ticket or call support to unlock the rest of the training. You can also continue week by week as suggested from CBU founders.
TIP: Since there is a 30 days money back guarantee, it is recommended to ask for unlocking the training and check as much content as you can. Within those 30 days you are able to decide whether you like the training or want to go elsewhere.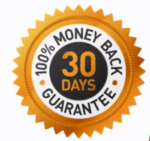 ClickBank University 2.0 Support
Current version of CBU 2.0 has improved the support system. Not only you can raise questions in comment section underneath each video (or maybe already see the answer by other members), there is also a dedicated Forum Section where newbies can always reach out for help, or just exchange any kind of information.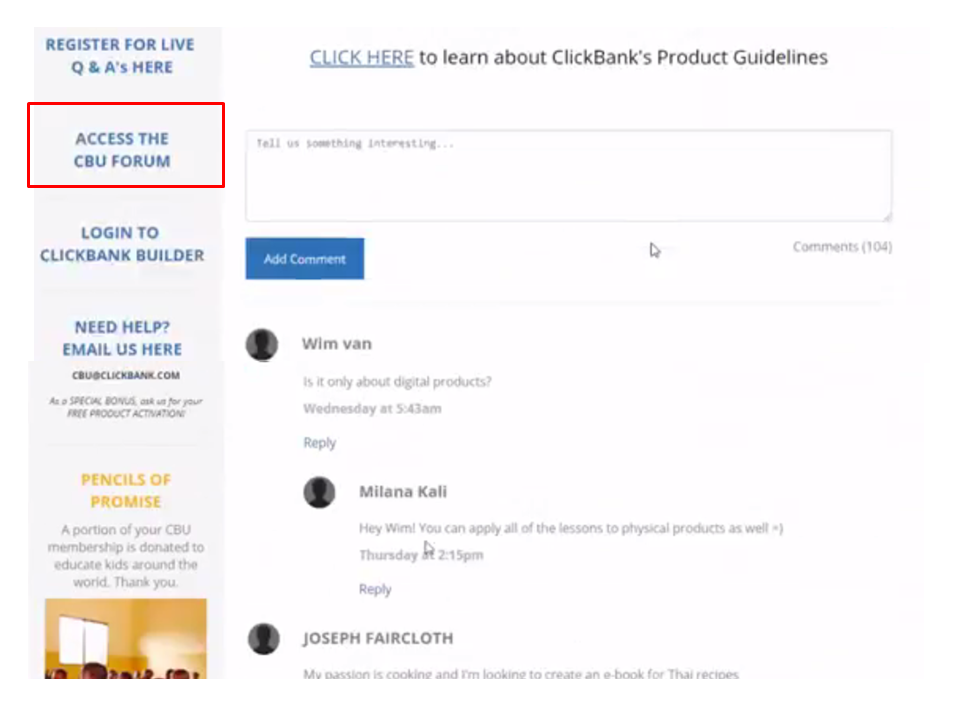 Founders of the CBU offer additional support. There are webinars once per week where all members ask questions. Well, I have not attend the seminar, but from other reviews I know that these are recorded and you can watch them over and over.
While I was reviewing the support section, one thing caught my attention and that is the structure of these webinars. Apparently they are not well organized and one can get lost just watching the webinar alive. The good thing is, that you can always re-watch the webinar.
My Final Opinion of ClickBank University 2.0
I remember CBU in earlier versions. I must say their training got better. And probably also because of reviews (like his ) about the product.
When I was looking for a legit online course, it was really hard to decide which one is legit, which one has upsells or in the worst case scenario, which one is scams. By reviewing these online courses, one can get a feeling about the product within few seconds.
But I digress.
ClickBank University 2.0 is a legit online course, although not the best one. I still hate the upsells, and I have that feeling in real life as well (in McDonald's for example, when I want to order just the sandwich.)
In my opinion the price is also bit high – especially with the upsell $594. 
On the other hand, you can still try it and if you are not satisfied with the CBU 2.0, you can get the money back, no question asked.
ClickBank University 2.0 Cost at a Glance.
Name: ClickBank University
Website: www.clickbankuniversity.com
Advertised Price: $47
Total Price: $47  per month + Upsell $594
Owners: Justin Atlan / Adam Horowitz
Overall Rank: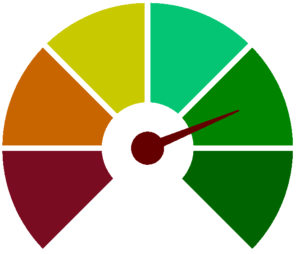 Conclusion
We have covered basically what is the ClickBank University Course about. Maybe there are still opened questions, so let me know in the comments below, in case I have missed something.
To sum up – the total costs of CBU would be $738, including upsells. Please bare in mind the recurring fee $47/month.
If you have a budget and you want to learn how to sell your own product, by all means go ahead and take as much as possible from the course.
If you looking for a more passive income that means as an affiliate, CBU is probably not the best online training teaching affiliate marketing.
Please follow and like us: