Are you interested in how to promote ClickBank products and not paying for Ads? There is a new product that can help you.
Well at least that what the owner of CB Tube Formula says.
I am here to find out how much of it is true and whether there are any drawbacks, red flags or hidden fees.
Welcome to my CB Tube Formula Review, I hope you find this helpful.
CB Tube Formula (CBTF) is a new ClickBank product. (Just a note: By "new", I mean that the product has been launched this year – meaning 2019).
To be more precise, according to the data from Whois the website has been created in mid of February 2019.
Name: CB Tube Formula
Website: www.cbtubeformula.com
Price: Advertised Price $47 + 1 Upsell
Owners: Sylar Solo
Product Overview
This product is about how to make money on ClickBank with affiliate marketing without advertising. That is why the name, which goes: Clickbank Tube Formula Program.
Sounds promising since advertising can cost you a lot of money. Many beginners started out with advertising without actually knowing what they do and they burned a couple of hundreds if not thousands of dollars, without solid results.
Do you know somebody personally who has done that? Maybe somebody close to you?
Well, I am not sure about you but I have done that. But that is another story.
The point is that advertising is not for beginners. That is also correctly mentioned in the CBTF sales video.
In order to make sales (regardless of the type of business you are involved in), your prospect or potential customer must have an interest in your product.
He is actively searching for information about that product either on google or YouTube or other search engines (Bing/Yahoo).
You can use the proper keywords research and write a blog/post in compliance with SEO  using the proven steps to rank better;
Or you can also drive traffic on YouTube.
And that is when CBTF might help you.
CBTF does not teach any advertising. That means no additional costs. At the same page, the owner says that this is not going to be easy money.
This is what I like – he does not give you any empty promises.
Even small success requires some form of consistent work.
Here is what you will get:
ClickBank Affiliate Complete Guide
Step-By-Step Marketing Blueprint
Email Funnel Profit Secrets
And on top of the 3 Bonuses:
Bonus 1: Proven Sales Funnel Templates
Bonus 2: Killer Email Swipe Templates
Bonus 3: Free 4 Day Click-funnels Affiliate Training
What I actually don't like is that for each of these Bonuses and items above, he associates a price tag. I am not sure where he gets the prices. The first three items supposedly cost $197 each and then Bonuses are for $97, $37, and the last one is "priceless".
At the end, he says that all of that above you can have for $47.
I think that is a bit tricky strategy, but it does not hurt anybody. Maybe it works, I don't know.
The Good & the Bad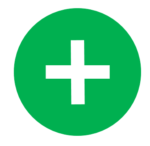 Low Price, including Upsells
Does not sound salesy nor hype-y
Money-Back Guarantee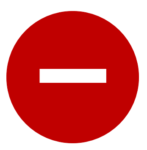 Lack of support/community (the product is still new)
Some Marketing tricks I don't like (the price tags and a little bit of fake scarcity at the end of sales video)
The guy on the photo might not be the owner (but I can't prove it)
Who is it For?
This is for newbies how would like to learn how to make money online especially those ones who are interested in youtube videos.
He tries to convince you to stay away from paid advertisements. And that is good advice.
I know that it is tempting to pay a few bucks and see my website on the 1st page on google.
But when somebody clicks on it, you pay for that click and in most cases, the visitor will leave your site without even reading the content.
Sylar, as the owner product, makes sure that whoever is interested in his products must realize the following 3 points. He calls them Myths:
Myth 1: Paid traffic is King – We have covered that and this simply not true.
Myth 2: Free traffic is very competitive and saturated – You can still rank for keyword and/or products that are not saturated very easily
Myth 3: Free traffic is too complicated – Entire SEO is not that difficult. If you incorporate a few tips and you deliver good content, it is not difficult to rank well.
So even if you are a newbie you can get started with affiliate marketing by applying what you will be taught inside the CB Tube Formula Program.
I have not seen any major red flags and actually, all the claims above make sense.
CB Tube Formula Tools & Training
Once you are inside the members' area, here is how the back office looks like.
We are going to take a look at what is inside of the Left-hand side menu.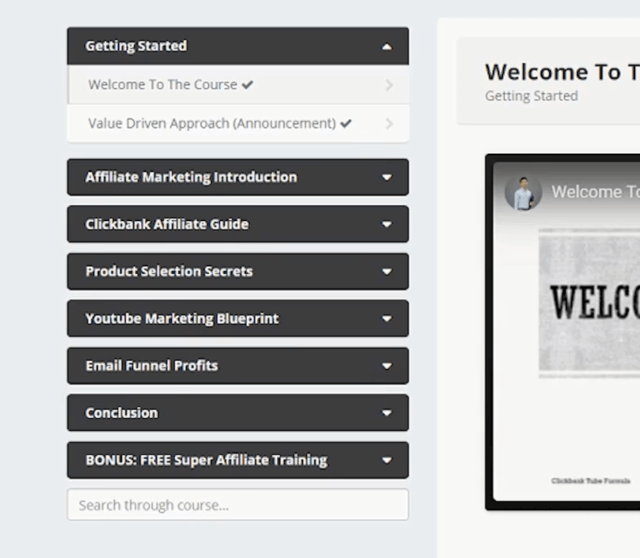 Under the Affiliate Marketing Introduction you find the following sections:
Overview of Online Marketing:
Our Approach
The Core Strategy
ClickBank Affiliate Guide:
What is ClickBank
Account Registration (Getting paid)
ClickBank Lingo
Product Selection Secrets:
Introduction
Gravity Myth Exposed
Production Selection Blueprint
Product Selection Consideration
Niche Selection
Affiliate Tools
Review Copies
Product Selection Demo
Bonus: Best Product Selection Techniques
Bonus: Supplement Technique
YouTube Marketing Blueprint (I will mention just a few of them):
Introduction
Video Creation, Tools
Script Templates, Demo
Shortening your Links
Adding Video Tags
Discover competitors keywords
Email Funnel Profits
Email Collection Overview
What is Click-funnels
Getting the Opt-in Funnels
Email Integrations
Email Auto-Responder Set-Up
Email Follow Up Sequence
That is really comprehensive training.
Support
As you have probably seen, there is a link and email address for support. So you can only write an email.
CB Tube Formula is intended for newbies, so I am sure it is normal to have a lot of questions at the beginning. I am not sure how this kind of support will be able to handle all the questions. Let alone the time to respond.
I would expect some online chat or Facebook Group Community.
It has been several months that this product is on, so I would expect more people on the FB group already.
But not everyone is into FB nowadays.
CB Tube Formula Price Structure
The price of $47 is not bad for the amount of training you get.
And on top of that the tiny upsell, is forgettable comparing other products available on ClickBank.
I also like that the optional upsell is "visible" right at the beginning, so you won't have any more surprises inside the member's area.
Please also note that there is a 30 days money-back guarantee. The reason I mention this is that it happens that some of the products have 60 days and sometimes people get confused.
So CB Tube Formula has 30 days only.
Is There a Better Alternative?
CB Tube Formula is not a bad product, but I think there is a better platform, and you can check it out as well, without spending a dime.
It is called Wealthy Affiliate.
It took me about 2 years until I have found this legit online course. It is great for beginners. Everyone can start for FREE.
The owners of this WA platform want to have every person who is interested in creating an online business to take a look inside and apply the knowledge immediately.
You will learn how to create your own website, how to use keyword research, how to prepare your website for SEO and you can all have it for free.
In the worst case, you will learn something and you can go back to keep searching – maybe you will find a better course.
Then, please make sure to come back to me and let me know about your better alternative 🙂
Anyways, you have nothing to lose, only gain.
Oh and I can personally be your guide through the platform.
My Final Opinion of CB Tube Formula
I think this is one of the few ClickBank products that actually deliver value.
It does not have unrealistic claims on the sales page, it does not promise you huge incomes, in fact, you are told right from the beginning that some kind of effort is needed in order to see the results.
The fact that there are almost no upsells underlines the credibility of the product. At least in my opinion.
But we can discuss the upsells in the comment section below.
CB Tube Formula at a Glance…
Name: CB Tube Formula
Website: www.cbtubeformula.com
Price: Advertised Price $47 + 1 Upsell
Owners: Sylar Solo
Overall Rank:

VERDICT:
It does not happen that often that we see a decent product on ClickBank. But finally, there is something that can be recommended 🙂
I am not saying that this is a perfect product, but it definitely delivers what is promised in the sales pitch. There is also 30 days money-back-guarantee so if for whatever reason you are not satisfied, you can ask for a refund.
CB Tube Formula teaches the legit way how to make money online, more specifically the affiliate marketing using YouTube.
Training material is not outdated so I believe it is worth trying, especially for beginners.
I know that is might be still some open queries I have not covered therefore feel free to leave a comment below, or just ask a question. Looking forward to your feedback,
cheers,
Mike
How to Get Started with Affiliate Marketing Business?
I have been a member of Wealthy Affiliate since late 2017 without prior marketing experience.
Beginning of 2018 I have learned how to build a website that drives traffic and makes sales.
Since the summer of 2019, I am a full-time internet marketer and I work from anywhere I want, whenever I want.
Training within Wealthy Affiliate teaches how to generate a consistent income in the long run.